Your new movie The Space Between Words - in a few words, what is it about?
The film is about loss, love and friendship.
What were your sources of inspiration when writing The Space Between Words? And is any of the story autobiographical?
Mostly real life. I wouldn't say it's autobiographical, but I've definitely dealt with hurt and loss throughout my life, losing friends because of drugs and alcohol and cancer and MS. So - it's never something I personally want to talk about but I felt Willa was a reflection of that.
To what extent could you actually identify with Willa? Or any of the other main characters, really?
To continue what I was saying, Willa is deeply hurt, she had found the one person on the entire planet that made her feel whole and that was taken from her. I wouldn't want to talk about it either.
I feel a special kinship with Edger. He's a loon. He says and does things that portray him one way but inside, and to those who know him, he's a rock. Janet is a great character. Someone who is trying desperately to be anything other than what she is. I've felt that way most of my life.
The Space Between Words treads the very fine line between drama and comedy - now how hard was it to not just veer off into one direction or the other?
I think the main thing that keeps it from going off the rails in either direction is the script structure. Narrative structure holds any good script together. It also holds the actor's performance together from scene to scene and act to act. It's a solid road map so that when we're on set there is very little communication about it - it's all in the script.
What can you tell us about your overall directorial approach to your story at hand?
Though I'm nothing like him, I credit Terrence Malick for my on camera directorial style. When I started out making short films I was very rigid. I wanted the actors to express the character to the audience in a very certain way. When I came back to filmmaking after nearly a decade I knew that's not exactly how I wanted to be on set. I wanted to have more fun and let the actors go. Let them explore the emotions of their characters as deeply as they wanted to. And then direct for specifics from there.
Do talk about your key cast, and why exactly these people?
Well, I'm really the luckiest filmmaker. In the two features I've made I've never had an actor show up unprepared. That might sound like a give-in, but honestly I only work with great people who also happen to be super actors. Lindsae Klein, Michael Draper, Beth Moesche, Willow Finney... everyone in the cast are my friends. When I cast Cecily Overman, at the time I had never met her face to face, and we just got together and talked for about an hour and I said "cool, you got the role." She was a little surprised because she didn't even read for it. I just knew she was gonna hit a home run and she hit seven in one day. I'm really the luckiest filmmaker!
A few words about the shoot as such, and the on-set atmosphere?
Well, because of the lack of money, it took us 2 and ˝ years to shoot. So... that was tough emotionally. We ended up shooting with 4 different cameras, 3 different shooters, a bunch of different lenses, some on purpose, some because that's what we had. I ended up doing sound and camera for four straight days by myself. I made every call, boomed every take, lit and shot every take for 4 straight days, plus all the DIT. There again, great people who happen to be highly talented actors that trust what I'm doing and know it's gonna work out. That's really rare.
I've made a ton of mistakes over the years and shoots that we're supposed to wrap at 10pm ended up wrapping at 4am. I hate that. So I make a concerted effort to make sure our sets are fun, relaxed and above all on time. We have food, drinks, we laugh a lot - a lot!!! Beth Moesche and Michael Draper kept everyone rolling. Beth is a special human. She's deliciously funny! Michael is a clown. But the truth is everyone has fun on our sets. It's kinda a mantra. We take pictures of people being "so stressed out" when actually they're just sitting around having a good time. It's important to be friends and family first on our sets.
The $64 question of course, where can your movie be seen?
Well, we just completely wrapped the movie and had our first screening at the Covellite film fest in Butte, Montana, sorta my "hometown" film family. All of my films will screen there first no matter what. And we're entering the festival circuit as we did with my film Crazy Right. I'm not sure about distribution at the moment. We've had some really good offers. We'll see. We've done exceptionally well with Crazy Right on Amazon Prime through self distribution. Depending on what kinds of offers we get we might go that way too. No matter what it will be on Amazon Prime in 2020.
Anything you can tell us about audience and critical reception of The Space Between Words yet?
The audience in Butte loved the film. It was really great. There were several people behind us hooting and hollering throughout the movie. That was super cool. A gentleman came up to me afterwards and expressed his love for the film and shockingly asked me for my autograph! Of course!! Are you kidding? Hell yes!!
Critically, not too sure yet. I've gotten some initial reviews that were very positive. So that's great. Critics all seem to love the actors and their performances. And really at the end of the day - that's what's most important. These people work day jobs and do this stuff on the weekends and evenings and I'm happy that they're getting the credit they so richly deserve.
Any future projects you'd like to share?
I'm working on several projects.
Baby Girl is a dark comedy that revolves around a girl with a rare medical disorder and the medication she takes is not only experimental and over the top expensive, but makes her a super genius... so obviously that drug trial must be stopped! LOL.
How to Say Goodbye in 12 Easy Steps is a family road trip comedy drama about two sisters taking their dying father on one last fishing trip. I'll be shooting that later this summer/early fall, followed by Davie another dark comedy about a man trying to put his life back together and getting involved with theater actors who supplement their income by acting out "real situations" with unsuspecting people and posting them online.
Lots of fun stuff - hopefully a comedy soon!! Lol.
What got you into making movies in the first place, and did you receive any formal training on the subject?
When I lived in Newport, Oregon I had a girlfriend that kept telling me I should write scripts. We'd go for walks on the beach and I'd make up these ridiculous movie scenarios and she finally convinced me. I wrote the most brilliant 18 page script in the history of brilliant 18 page scripts which was actually just crap but that got me into studying film in general. After about a year we moved to Portland, Oregon and I met some people who liked my writing and we tried to make a short film that didn't get out of the editing room. It was extremely frustrating. I talked to a friend I had made who told me "sometimes ya just gotta move on." It was also such a terrible experience that I decided I needed to direct too. The next three short films were easy and successful and won some awards. We did really well.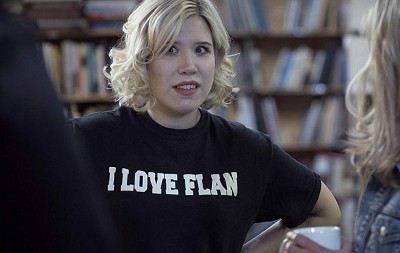 But then trying to make a feature pretty much put a stop to everything: I was listening to people who told me I what I needed. A named actor. A big crew. A great this and a great that. And when you're not finding money for all that it becomes depressing. When I came back nearly a decade later I decided I didn't want any of that stuff. I just wanted to make features. So, I wrote and directed, my buddy Nate shot, I edited and learned sound editing and design. Now, I write, direct, shoot, sound record, produce, edit, set design, craft services if needed, make props, you name it. If it gets me to the set to make a movie, I'll learn how to do nitr.
How would you describe yourself as a director?
Incredibly ignorant. I'm always learning. I'm always pondering. Learning from my mistakes. Seeing things faster. Seeing where I can improve. I used to think that when I was "working" that all I could do was "work." Then a few years ago it occurred to me that reading a book was "working too." I take the same approach to being a filmmaker. I can take the dog for a 2 hour walk and still be "working" because I'm contemplating everything. Constantly working to be the best filmmaker I can be.
Filmmakers who inspire you?
I love Jim Jarnusch. He's an idol for sure. He just does what he wants. He's had some luck with knowing stars, that helps when you don't make films for the masses, but he never seems to succumb to the pressure of making "bigger" movies.
Terry Gilliam has always been a favorite. I think he's struggled quite a bit in the last decade or so but just keeps striving.
I love the Coen Brothers. Their film structure is second to none.
I don't know him or his story very well, but I feel a kinship to Dan Mirvish. I saw a post on FB a few years ago where he was acknowledging the final check being sent to an investor in his first film Omaha... 20 years after making the movie. I think that's the reality of most filmmakers. And 20 years later he makes Bernard and Huey which is a big hit.
Your favourite movies?
Brazil, Sullivan's Travels, Rollerball, Metropolis, Badlands, Deadpool, Following (Christopher Nolan), The Jerk, there's a short film from Australia (I think) called Signs - damn that was fantastic! The Graduate … there are so many!
... and of course, films you really deplore?
I think we all see films we dislike or that don't entertain us but I've learned my lesson on thinking a movie is "bad." It took me nearly 2 years to make Crazy Right, mostly by myself alone in a basement. I'm not discrediting the actors or the DP, hair and makeup, but once everyone walks off set, it's pretty much just me in a room. And it took 2 and ˝ years to shoot The Space Between Words, and there's so much to do, from writing and directing to shooting, lighting, sound, hell, just sending out emails, making sure people have scripts, or call times, or... whatever... it's a ton of work! Just finishing a movie is a huge accomplishment. Filmmakers deserve all the credit in the world for simply finishing a feature. It a tough job. The only thing I think bothers me is the "million dollar" independent film. Pretty much anything over 500 grand should have a different name. It shouldn't be "independent." But that's about it.

Feeling lucky ?
Want to
search
any of my partnershops yourself
for more, better results ?

The links below
will take you
just there!!!


Your/your movie's website, Facebook, whatever else?
amazon.com/exec/obidos/ASIN/B07JD432CK
Anything else you're dying to mention and I have merely forgotten to ask?
Film is my happy place.
Thanks for the interview!
Thank you so much for wanting to interview me. It's a huge honor to simply be asked. There are so many outstanding filmmakers in the world, it's humbling to be asked.