Your upcoming movie Justine - in a few words, what's it going to be about?
Justine goes where the story of De Sade did not go and I wish it had. The original story has an anticlimatic ending with an underlying religious subtext. Iím taking the story to a more concrete, climactic end.
Justine is of course based on Marquis De Sade's novel of the same name - so what drew you to the material in the first place? And other sources of inspiration when writing Justine?
Justine is, in the opinion of many people, the most interesting story by De Sade and Justine is the best character he created, thatís perhaps why it is the one book that has been more often adapted to the big screen. I read a lot of his works during one stretch of time before we made Maleficarum and other movies and it was at that time when I met Mila Joya. In fact I was reading Justine when I struck up a conversation with her, which led to talk with her about working in our movies. She was working as a receptionist. At that time I was considering making a film from any of De Sadeís stories, and Justine is the one that I liked the most.
Another source of inspiration for Justine is, obviously, the Bible, some of the Old Testament but mostly the New Testament. De Sade evidently had issues with religion and religious symbols and iconography.
Your cinematic output very frequently features sado-masochistic imagery - so how much of an inspiration has the Marquis De Sade been on you as a filmmaker?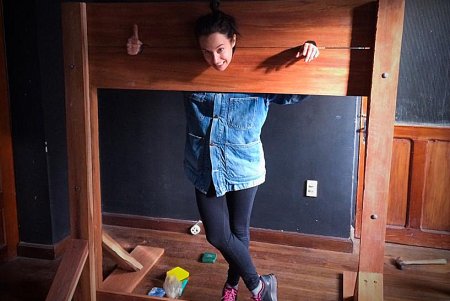 Amy Hesketh, building a prop for Justine
Not as much an inspiration as the sagas of Catholic martyrs or stories of damsels in distressÖ or the Bible. In fact, as most people, I knew as much about De Sade as anyone else who comes across the word sadism, very little. It wasnít until I read ALL of his works that I came to truly understand what he was achieving with his literary works. I understood then his milieu, his philosophy and his position in history, both world history and French history. Charlie Hebdo would not exist without De Sade. He was the first to rub it on your face without fear of consequences.
From what I know, you base Justine on the philosophy of one of the book's characters, Ronin - care to elaborate?
All of the characters in De Sadeís books are extreme expressions of conflicting views of life, death, love, sex, GodÖ and so on. Justine represents extreme virtue and to me Rodin, who wants to use his daughter for the most awful experiments, is the perfect embodiment of the extreme evil zealot. The one who truly believes he should be a god, a cruel, powerful, unfeeling god.
In general, how faithful do you plan to remain to your source material?
Iím using most of the story as the source, of course, all of the characters are taken from the book. Iím turning the end completely on its head, and for that I need Rodin, his dramatic arch has the elements, to accomplish my ends.
Justine is a novel that definitely does not hold back, in neither sex nor violence. So how far do you plan to go, and is there a line you refuse to cross?
A lot of De Sadeís narration is very, very pornographic in the way it is written and the way pornography is understood now. Iím not interested in making a movie where I simply illustrate De Sadeís writing. The violence and sex will be there, of course, in ways I cannot yet describe, but I can say that I will be very faithful to the spirit of the book while using it as a springboard for a more cinematic interpretation of the story. Itís a big book, as you know, and thereís enough material there to make a series of films. So, by condensing the story and taking those parts that best narrate Justineís tribulations, I can have a very intense, interesting film with a totally outrageous ending, which, I insist, is not in the book. Iím adding an obsession to Rodinís obsessions and this one is more theatrical, not clinical, as his obsessions are in the book. In the book Rodin has a keen interest in his daughters genitalia, in the film, heís more obsessed with her soul and her capacity to go beyond extreme pain.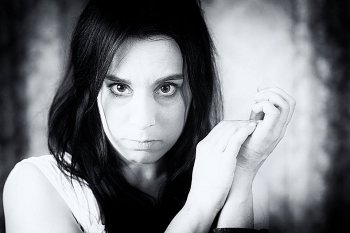 Amy Hesketh
I do assume you'll appear in front of the camera as well - so who will you play, and why exactly this character?
Yes, I will be acting in it, of course, and I decided that who better than me to play a character I understand so well as Rodin. One reason why I can play this character is because he directs those around him, he decides what they will do and whyÖ so, by playing him Iím making things easier for myself. I will direct the film as Rodin would. All I need to do is eliminate any and all inhibitions and make everybody do their perverse worst.
Anything you can tell us about the rest of the cast yet, however tentatively, and what makes them perfect for their roles?
The usual suspects will be there, of course. Mila Joya has the misfortune of having to play my suffering daughter Rosalie, who has a miserable life throughout the film. Justine will be played by Amy Hesketh [Amy Hesketh interview - click here] of course, who else could embody that virtuous woman? Dubois, the malevolent robber, will be incarnated by Gina Alcon. A new actress in our band of thespians, Beatriz Rivera, will play Omphale, Rodinís lover and long suffering victim. Thatís to name a few.
As far as I know, Justine is presently still in its fundraising stages - so what can you tell us about your fundraising efforts?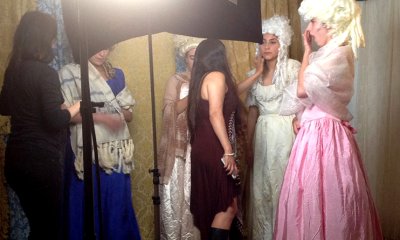 casting Justine
Yes. We have an IndieGoGo campaign right now, to get some of the funds we need. Our goal is 20,000 Dollars, but any amount we manage to get together will be very welcome. So far, as of this writing, we managed to raise over 42% of our goal. We have some interesting perks, so itís worth checking it out here: http://igg.me/at/justine/x/
4977291
Once the budget's in place, what's the schedule, and even if it's probably waaaay too early to ask, any idea when and where Justine will be released onto the general public yet?
The when is not yet established. I will know when Iím done with the pre production and I have my production board ready. That will dictate the time it will take to shoot and also the post production. Iím hoping to have the film ready at the end of this year, or very early in 2016.
Iím hesitant to release it theatrically. But then again, we did release Maleficarum in theaters, so I guess we could. Iíll decide that when I have the film in post. I expect the quality to be as good or better than our most recent film, Olalla, the first to be screened in theaters on DCP, the system that is replacing celluloid. It looks spectacular.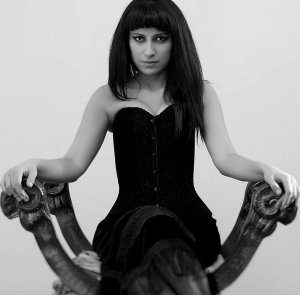 Mila Joya in Pygmalion
Any future projects beyond Justine?
Yes, we always have something burning for the future, both, the near and the far future. Ideas keep coming, in fact. I wrote a script based in Bernard Shawís Pygmalion, which is a film within a film. Weíre just done with the shooting of it. It was directed by Amy Hesketh, I play the Higgins character while Mila plays Eliza. Amy plays old dear Pickering. Erix Antoine is going to be directing his second film, Aventura. Amy has two scripts coming up and I have one huge project already written. Itís just a matter of making one at a time, I guess.
Your/your movie's website, Facebook, IndieGoGo, whatever else?
IndieGoGo http://igg.me/at/justine/x/4977291
Facebook page: https://www.facebook.com/JustineTheMovie
You can get our movies here: http://vermeerworks.com
Anything else you are dying to mention and I have merely forgotten to ask?

Feeling lucky ?
Want to
search
any of my partnershops yourself
for more, better results ?

The links below
will take you
just there!!!

Find Jac Avila
at the amazons ...

amazon.com

amazon.co.uk

amazon.de
Looking for imports ?
Find Jac Avila here ...
Something naughty ?
(Must be over 18 to go there !)

The best version of Justine Iíve see is the one by none other than Jess Franco, with Jack Palance, Klaus Kinski, Romina Power and other stars of that era. I plan to do one better with this one. Francoís version concentrated on the most interesting part of the book, from when Justine escapes prison, ending up with Bressaic and later Rodin and Rombeau. Jack Palance played his character with a touch of over-acting and Kinski was unusually subdued and moody. He played De Sade in prison fighting his demons, so I guess he had to be moody.
Iím going on a similar road, starting with Justine awaiting sentence for her crimes and telling her story to a woman she does not know is her sister.
What happens to her after sheís done telling her story is where my version takes of, going far away, pushed by my unrestrained imagination. In some strange way, my version is more sadistic than De Sade himself.
Thanks for the interview!