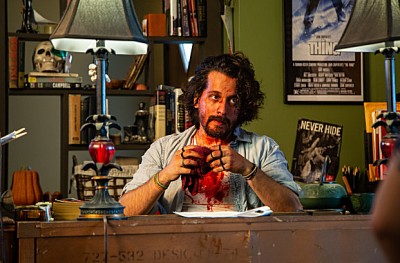 Jac Kessler
Your upcoming movie Popsy - in a few words, what is it about?
Jac Kessler: Morbid justice. The story follows Sheridan Briggs around the time his gambling addiction gets out of control. Itís either pay off his debt to some not so nice people, or gain some extra Ďelbow-bendsí, and probably worse. Heís provided the option of kidnapping children to alleviate the debt, and does it. Where they go, the children, is a bit of a mystery, but itís certainly understood not to be a good place.
Kyle Benham: The DMV. Heís dropping them off at the DMV.
JK: Ultimately, Sheridan does struggle with the situation, with his actions, trying to reason that heís an alright guy, but just in a bad way - and you kinda believe that, as the reader. He just seems like your average idiot gone severely out of control after a series of tiny missteps. Heís far from being an alright guy, that much is clear, but, as the reader, you kinda canít help, or maybe hold out hope, that heís gonna throw in the towel and show us that heís a good guy after all; you wonder, surely heís gonna stop with this kid stuff, right? Thereís something in how King presents him, humanizes this low-life, that makes us want to see him come out on the other side okay.
But, he doesnít. It turns out that the most recent kid Sheridan has nabbed has a bit of a secret, preventing Sheridan from any further character introspection. The kid, is, well, a vampire, and well, so is Popsy. And Popsy, is very...very, displeased.
KB: The beautiful thing about Kingís work is, and always has been his characters. Popsy in and of itself is a quick read. What, itís roughly ten pages? Less? But in that small space we know Sheridan, we know why heís doing such atrocious actions, and yet weíre still able to feel sorry for him on a human level, his back against the wall.
How did the project fall into place in the first place?
JK: An accident, really. We (Pale Moonlight Cinema) were looking at what project(s) to tackle next. We were discussing a few that were already written, as well as some in the early stages, when the concept of doing a Dollar Baby sorta, as Raymond Stanz (Ghostbusters) would say: ĎJust popped in there.í
Iíd heard of the Dollar Baby thing years ago. Maybe over a decade. When the thought came swirling back it was sorta a...yeh. Yes. That. Letís do that. King. Vampires. 80s. Yes, please.
KB: It was definitely a ďyou miss all the shots you donít takeĒ scenario for us. What was the harm in trying? We were all extremely pleased when Jac got the go-ahead from the program.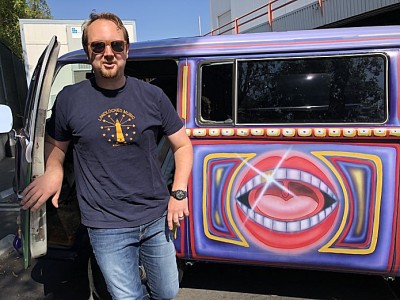 Kyle Benham
With Popsy being based on a story by none other than Stephen King, how did you actually stumble upon the story, and what does the good Mr. King and his writings mean to you on a personal level?
JK: Itís very memorable actually: Michigan. A cabin on the lake. 2002-ish. I was reading from Nightmares and Dreamscapes throughout the week. On that particular afternoon, it was very hot, and I was laid out in a deck chair, the lake creeping up and down the shore over my shoulder. It was a droning silence, one of those stills that carry a haunting quality. And it wasnít because I was reading King, although that certainly made that still more pronounced. That cabin was just... that way. We rented multiple scary movies each night, while there, and watched them all. Well, I did. Most of the others fell asleep by, or during the first one. Although my grandmother made it through most of them. I have extremely fond memories of that cabin; I did a lot of reading and writing.
Anyhow, I remember Popsy very vividly. It is a simple story, by quick absorption. However, it wasnít, and is not, all that simple to me. While itís a quick, rip-off-the-band-aid sorta piece that says: hey, you act like a shit, shit gonna happen back, its crafting holds something that resonates. Itís horror, fast and brutal. The set-up is quick, the pages turn quick, the ending is quick. Itís a well-captured glimpse of what King talks about in regards to the three levels of terror. Thereís, from bottom to top in the sense of Ďhow scaryí: Gross-Out, Horror, and Terror. Terror, the top, the pinnacle if you will, is rare. Itís difficult to achieve the pieces that make it effective resonate in perhaps uniquely different ways to each individual. Sure, thereís the common understanding, or acceptance, of probably what constitutes each level, but I do believe there is some malleability. And specifically with Popsy, some may very much disagree (and rightfully so) that it hits that converted terror (which may be that addictive quality of horror, to so many). My goal is to pull out the moments in which I believe terror exists within Kingís vision of Popsy. When it happens, itíll happen quick. And brutal. And it will be Sheridan to feel it.
On a personal level, what King often means to me is simply, thereís more out there. Is it actually vampires and other such things that may go bump-in-the-night, well, probably not... but he makes you believe, in some weird additional sense manner, that there could be. He makes you believe in the made-up; he makes you want to believe that monsters exist, not because we really want them to -- what we want, is for the heroes he crafts that do battle with those baddies, we want them to exist. He makes us find those heroes within ourselves. I really canít thank him enough for that level of craft.
Apart from the actual story, what were your sources of inspiration when writing Popsy?
JK: Years of horror. Years of reading. I thought on what has and what has not worked in past King adaptations, and jumped in from there. Itís difficult to put a number on it, but maybe the screenplay is 75-80% ĎKingí and the rest is new material, added in to aide the leap from King-to-screen. And by new material, itís really just stuff that is found within his nuisance, and re-structured to fit elsewhere within the story. I found, as the adaptation got going (and any adaptation for that matter), that there would be things lost, things King did via that nuisance, if I didnít try to maneuver them into the screenplay. And these things were elements I thought could not be left behind. They served to tell a more comprehensive story. So, my sources of inspiration, I guess would be: Any time an adaptation glosses over something, all the things Iíve ever liked in horror, and not wanting to make King or fans angry with what I am trying to do!
Do talk about Popsy's approach to horror for a bit!
JK: I have tried to stay true to Kingís approach in my approach. I think I have a decent handle on both the type of horror, and the type of humor, found in Popsy. Now, it could just be my interpretation, but I think King has sprinkled a dark sense of humor in the story, something I find regularly in his work. I think itís there to indicate, to the reader, that itís okay for Sheridan to receive the fate that befalls him. Now, itís not overt, itís not anything that youíd walk away from and say: Ďnow THAT was funny.í Itís more of a feeling. For instance, if say, a pickpocket nabs your purse, or wallet, and then runs off only to get run down by a car -- well, thatís pretty funny. Your senses, your emotions, they go from ĎHEY! Hey, you sonnoffabitch, you get back here!í to something along the lines of an internal shoulder shrug where you say to yourself, Ďwell, serves ya right, jerk.í And maybe you snicker. Or... maybe thatís just me. Morbid justice.
On what I am going to aim for with the horror in Popsy - practical effects, and less is more. I want the audience to feel a rush as the climax approaches. And I want them to feel satisfied with the conclusion, that itís earned. Popsy is a lot about set-up, but itís there so the pay-off to really hit hard. And to achieve that, Iíll be focusing on the characters. Iím not actually approaching it as a horror, so much as I have a story about a guy that nabs a little girl, that shows signs of feeling bad about it. I want to pull out his mounting grief and hatred toward himself, and hover around his sense of liking the girlís spunk. He will grow to like her and maybe, if it werenít for Popsyís arrival, maybe he WOULD be letting her go. Thereís something different about her, something that permeates. And for her, she has a strong role-model in her grandfather, and surely, at first, sees similarities in Sheridan as another Ďfather-figureí there to help her find her lost Popsy. It is incredibly sad, well, it will be, to watch the realization befall her... that this dude sucks. Betrayal. So, really, my approach is to examine their relationship. Trust. Betrayal. Once that runs its course, well, itís definitely a horror movie then. And we have some very, very fun stuff to show you.
Kyle, from a producer's point of view, where do you see the challenges of bringing Popsy to life?
KB: I work out of Los Angeles, with the majority of the Pale Moonlight Cinema crewís homebase being Indianapolis/Muncie. So for me it was all the little things. Communication, making sure everyone stays in the loop on where weíre headed, what weíd like to achieve, and how we plan on doing it.
The locations were an issue as well. I have some experience doing field producing here in LA, but I typically am able to go scout them and get eyes on them myself. I had to really lean on the team back in Indiana for a lot of this, which isnít always fair as they have full time jobs of their own. One of the things I love about Pale Moonlight Cinema is that they always rose to the occasion. No one ever said ďnoĒ, they figured out a way to make it happen. I found that to be reassuring when producing from such a long distance.
Pale Moonlight Cinema is indie filmmaking at its finest. Other than being a lifelong friend of Jacís, seeing what they are able to accomplish through ingenuity, creativity, and sometimes straight up will power, was very impressive to me. There are effects and shots in some of their previous work that Iíve never seen anywhere in other films, horror or no. Itís that kind of work that makes all of challenges that come with production seem pretty small.
Jac, what can you tell us about your (intended) directorial approach to your story at hand?
JK: Iíve probably accidentally touched on this a bit already, but hereís this: Be true to King and true to my interpretations of his nuisance. These are characters experiencing a regular day in their lives, first and foremost. Neither know they are in a horror-story. For the kid, while thereís certainly an element of horror there for a while, the conclusion is almost an action movie, or superhero tale. Not for Sheridan. The goal is to create two separate and individual experiences for each lead, ones that resonate as true to the audience -- and then tie those into the conclusion seamlessly. It might sound weird, but this story, and how King told it, and by extension how I will be telling it, is a fun, demented, little dance. Itís fluid, but concrete. Itís mesmerizing, but terrifying.
Anything you can tell us about your projected cast yet?
JK: Well, I donít know Nadia (the kid) all too well. But so far, her enthusiasm and dedication have been extraordinarily impressive. Iíve been told, by her parents, that she walks around school with the script in hand. So, sheís clearly on her way to be the coolest kid there (and any kid there that disagrees, well, Iíve got a whole crew thatíll disagree right back).
Alex. Oh, where do I start. Thereís a lot of constructively awful things I could say about Alex, but, theyíve probably been said before. Heís great, short and sweet. A perfect actor to bring the miserable existence of Sheridan to life.
We will have a lock on the rest of the cast in the coming days.
As far as I know, you're currently running a fundraiser for Popsy - so do talk about your campaign a bit!
JK: Our campaign has turned, or is turning, into a mini-movie of itself. Kyle and I have been trading short notes/screenplays back and forth in between our own busy lives, Pale Moonlightís daily demands, and the pre-production of Popsy itself. Somewhere in the mix, the idea of the campaign video grew into a... well, I kill the crew. The whole crew (and maybe not nothin but the crew, weíll see).
We really are just having fun with it. Thereís the supposed demand that we present ourselves as formal, and competent, in those sort of videos. But a lot of those videos seem false, to me. I wanted, and I think itís safe to say so did the crew, something that was more Ďusí. So thatís what we did.
KB: It would have been very easy for us to throw up an iPhone and film Jac at his desk. Other crowdfunding crews do that, the videos are fine, and sometimes they achieve their fundraising goal. We wanted to use our fundraising films as a showcase - ďHey, look at the time, effort, and care that weíre willing to put into this three minute video thatís sole purpose is to entertain and educate you on our campaign.Ē Now extrapolate that to what we have planned for Popsy. These were basically our ďjob interviewsĒ to everyone watching the campaign. And, I say as humbly as I can, I think we knocked it out of the park.
Once the budget's in place, what's the schedule, and any idea when and where the movie might be released yet (however tentatively)?
JK: We will shoot a bulk in November, and another bulk in December, isolating whatever we know is bite-sized for 2019. Stuff like inserts shots, maybe some isolated SFX. Just whatever we know can wait, or needs a different sort of focus.
I hope it will be all wrapped and ready by late spring. From there, itís off to festivals, maybe a private showing, too. Hopefully, Mr. King will like the finished product and a wider sort of release can be arranged. Far too early to say.
Any future projects beyond Popsy?
JK: Why yes, indeed. Pale Moonlight Cinema will return to short-shapes (micro-short focusing on the various forms horror can take) for a spell. We have several ready and waiting. There will be some new talent behind some of these, so something to keep an eye on.
I will be just as involved as ever, but a little less frequently behind the camera. Iíll be at my desk working on, well, something I am particularly excited about. Letís just say, I think itís something horror and dark comedy fans will be particularly interested in seeing.
Your/your movie's website, Facebook, IndieGoGo, whatever else?

Feeling lucky ?
Want to
search
any of my partnershops yourself
for more, better results ?

The links below
will take you
just there!!!


InDIEgogo: bit.ly/pmcpopsy - the campaign is live through October 31st at 11:59pm - please help get the word out, donate, and join us as we make Popsy one hell of a film.
Facebook: https://www.facebook.com/PaleMoonlightCinema/
Instagram: https://www.instagram.com/palemoonlightcinema/
Website: https://www.palemoonlightcinema.com/
Anything else you're dying to mention and I have merely forgotten to ask?
JK: As before, thank you Michael. Thanks for taking the time to do this. All the best and more.
KB: Thanks Michael!
Thanks for the interview!