Your new movie Green Eyes - in a few words, what is it about?
Green Eyes is about a young man grappling with the death of his girlfriend, and he loses himself with a young woman who's addicted to ecstasy.
From what I know, Green Eyes was partly inspired by your short Infidelio - so do talk about that movie for a bit, and how the two compare?
Infidelio was my first short film back when I was an undergrad at William Paterson University. I had originally started to write Green Eyes first, but it was too daunting to write a feature script right off the bat, so I thought it would make sense to do a short first, so I took a few of the characters in Green Eyes and decided to do a sort of back-story tale. The short involves the first time we meet the characters Nic and Jamie, as well as Jamie's boyfriend at the time, Glen. It's basically a love-triangle story - the title is a play on infidelity and Fidelio, the latter an in-joke for the movie Eyes Wide Shut - and most of it takes place in one house over the course of a night. I filmed it fairly quickly, and all I had at the time was a little JVC camcorder that I got as a 20th birthday present.
Looking at it now, the quality is pretty rough, but it lays the groundwork for the characters to come in Green Eyes to an extent, though the feature had more on its mind than what the short was. I knew that as I was starting out I just wanted to explore what interested me as a storyteller, and I think an infidelity story is one of the simplest but most direct/powerful kinds of stories you can tell. I was still very much in the learning stage of how to write and direct at that point, which adds to the rough quality aside from the camera and sound, though Green Eyes was also a learning experience, so there's that similarity for sure.
Other sources of inspiration for writing Green Eyes, and is any of this based on your own experiences/actual events?
Not so much the actual incident that kicks off the film - I never had a sudden, passionate encounter with someone while my friends were hanging out downstairs. I think if anything it was me imagining that scenario that did contribute to it, however. I think it was more the mood around me, certain people and experiences of being at parties and knowing certain friends. And though I have never taken ecstasy, I knew people who had and drew on some of their experiences - there's one incident specifically that's in the film, and you'll know it when you see it - as well as the sort of aimlessness of youth that I think many of us experience in our college years. But a lot of the film just comes from my imagination as a creative writer dealing with the topics at hand of sex, drugs, death, relationships, what to do with one's life, etc.
How do the project fall together in the first place?
I had written the first full draft of the script when I was in college, sometime after I finished Infidelio. If I had had my druthers I would've gone out right away to film it, but at the time I just didn't know how I could do it properly, I certainly didn't want to use the same kind of equipment I had when I did my early shorts for sure! But I also just didn't have the kinds of connections I would get in later years. So, the script sat on a shelf, so to speak, for a number of years and I focused on other projects.
Then around 2010, early 2011, I had finished another short called Jealous Jerzy, and I worked with Audrey Lorea for the first time. Her performance just blew me away, but more importantly I got along with her really well, which is most important when you're working with actors - if you can find that moment where you just 'click' somehow. Though the character she played in that wasn't quite like Ingrid in Green Eyes,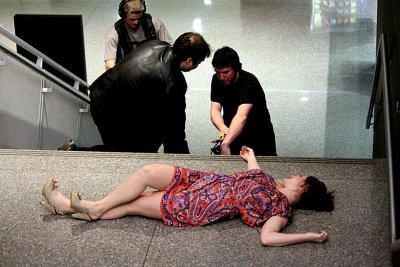 I kept thinking back to the script and seeing Audrey playing the part, and it just made sense in a way. It was from there I started seriously thinking about going back to Green Eyes as making it my first feature film. And by then it made sense because a) I had more connections, including one of the most crucial ones with Matt Rosen, the cinematographer on the film, who was also one of my closest collaborators in terms of the style and look of the piece, as well as making good suggestions for the script, and b) the material lent itself well to doing an ultra-low-budget approach.
In approaching the budget then, I wouldn't have to stretch super-high as far as trying to get hundreds of thousands or whatever to make it. I thought the Kevin Smith Clerks approach could work best for this: hire good, talented people for the main roles, get funds and help through family and friends and, frankly, some credit cards and crowdsourcing, and just go for it. After doing a couple of new drafts on the script, I was able to approach some people through networks - Audrey, after she agreed to play Ingrid, was very instrumental in finding great people to work with, as well as Alex Valderana, my assistant director, who found many others - and get the ball rolling on production.
Some of the dialogue Green Eyes seems to be rather improvised - am I at all right in this assumption, or did you all stick to your script rather rigidly?
Most of the film is very much scripted. There are a couple of scenes where I allowed for improvisation - there's a hallucination sequence in the latter part of the film where, surprisingly, a lot of that is scripted, but a good deal of it isn't - but I wanted that feel of it being loose and how people talk. It's both difficult and easy to get that feel; I like hearing people talk, I'm usually the guy in a room when conversations are going on where I like to listen to other people talk and, again, through those years of hanging out with friends but being the quiet one, it informed a lot of the conversational speak you see in the film. So I'd say a good 90% is scripted, and the rest is improvised, although some of the improv we shot ended up on the cutting-room floor due to time constraints.
How would you describe your directorial approach to your story at hand? And since Green Eyes was your first feature after quite a number of shorts, how does shooting one compare to shooting the other?
Well, the time and effort you have to put into the project is one thing for sure as far as a feature vs a short, though a story is still a story. In a way, there were times doing the movie where I felt like I was doing a series of short films, and the non-linear structure of the script lent itself to that for sure.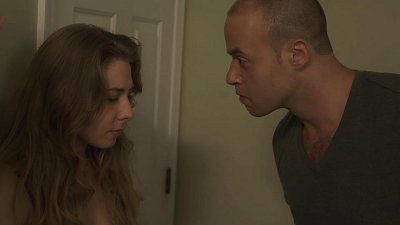 For example, the first three days of the shoot especially had that feel, and I had planned it as such to film over the Labor Day weekend so we could have three straight days to shoot (we mostly shot on the weekends as everyone had jobs throughout). Those three days were each scheduled with each of the leads respectively, so the first day was Audrey Lorea, the second was Tom Wesson, and the third was Dasha Kittredge. All three leads got used to the feel I was going for, or I hoped that would happen anyway, if just on their own before they interacted with each other. And of course there was some adjusting as happens when you start a film such as this, but it got everyone - cast and crew - close enough together so that by the time we had to split apart and come back, we at least had has that initial first bunch of time together.
As far as my directorial approach, it's kind of hard to describe it in concrete terms. I don't go into something, at least in the case of a film like Green Eyes, that everything has to be super-prepared like Hitchcock did on his films. I had a shot-list, but few things, if any I can remember, were storyboarded, in large part because when we arrived on locations at times I would have an idea how to shoot something, but the dictations of where we were and how much time we had made it so we couldn't go too crazy with extra shots or anything.
Because we shot for 17, 18 days, we only had so much time to shoot scenes, though because of the nature of this material and how much dialog there is and emotions to carry through every scene, sometimes very dark but also light, I tried to rehearse with the cast much as possible - first a table read, then more one-on-one or in two's. Sometimes the actors would rehearse without me, like I know Zack Abramowitz and Dasha Kittredge rehearsed their scene on their own, which is actually fine by me. As a director, sometimes, I like to be surprised by what the actors will bring to the table from their own homework, and then I look at my job as finding some extra things they might want to try or can do, maybe give this extra look or take this extra beat. If there is any kind of conscious 'approach' it's probably closest to the Kubrick axiom of 'I don't always know what I want, but I know what I *don't* want', if that makes sense.
What can you tell us about your cast, and why exactly these people?
As mentioned before, Audrey Lorea is basically a dream to have on your production, as an actress or otherwise - since this film she's actually done more work behind the camera, as a director for an upcoming science fiction film called Heaven is Now, which I had the pleasure and privilege of co-producing with my company Whiplash Films, and on location work for other productions - and so got into the character. She moves around a set sometimes like a butterfly or something, almost flying above things with a smile, though she's very serious about her work which of course is paramount. It would be great if she got more work because of this film, albeit I don't know how much she wants to acts vs direct from now on. But she's got the chops for it, that's for certain, and this might sound like one of those minor/shallow things but the camera loves her, like she somehow just has that 'light' a lot of times when she's on camera.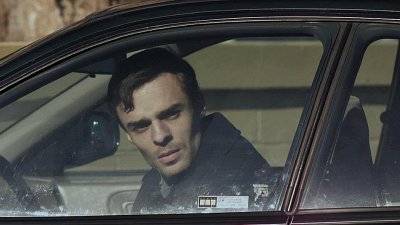 Thomas Wesson was not my first choice for the role of Nic, but I was so happy to get him - I had originally cast another actor, but things didn't work out as planned, and I had to find someone with just six weeks before shooting began. I met him first one on one, just a conversation, and then had him read for the part opposite Audrey. It's one thing that he is extremely talented and maybe the most serious about his work - which is a great thing, and it made me as well as the rest of the cast ultimately more serious about the work as well - but he had solid chemistry with people, especially Audrey and Dasha, which is what I needed the most. If the actors didn't click right, the story might fall apart or not be as believable. These may not be the most likable characters ever, but the actors should make them come alive, and that's all I can ask for as a filmmaker, and that's something Tom brought with him every single day, even when, especially when it doesn't look like Nic is 'doing' much on camera as he is a more subtle, withdrawn character. Tom found the humanity in him, and that's why he's perfect for the role.
Dasha Kittredge was only on the set for three days actually - though I consider her a lead, she has kind of a supporting role in the film, albeit her character is crucial to the story - but every day was a dream with her. We had to shoot a rather crazy scene where she's driving a car on a highway and has to pull over, and I could tell she was scared (she even said as much later on) but she pulled it off like a total pro, even when I had to ask her for another take! I know she came to the project in part because the character of Jamie wasn't like other people she was playing at the time - I think she told me at one point it was probably closer to how she was in her quiet moments, and it made it a little more difficult than playing a more light-hearted or comedic role like she'd been doing. But we had a lot of fun for those days, and particularly the scenes between her and Zack Abramowitz almost made me a better filmmaker - we all brought our A-game for one intense day.
Zack, by the way has been one of my close collaborators and friends for years, and I first met him on my second short film back at WPU. We've mostly done comedy work together (including a short you should all check out, quick little plug for Lines of Glory on YouTube), but this was the first fully dramatic character that he took on with me. Glenn is a complicated kind of character, and one of the difficult things that Zack made work really well was to convey the history of these characters in just a couple of scenes. So that you don't have to go back to Infidelio for the backstory - it's a totally different cast playing the same characters anyway - it's all there on their faces. I only wish I had had more days or more scenes I'd written for Zack, as it was an awesome, intense space to explore.
Other cast came through the help of Audrey and Alex; people like Alan Bendich and Matthew Rappaport I had worked with on other projects and saw their potential for the characters; Tali Custer was another wonderful actress who is best friends with Audrey, so playing her best friend on screen made the chemistry about as natural as basically anything; Suzanne Lynch is another who I only really had one or two days on the film but, again, there are no "small" roles as the saying goes - she brought Jamie's mother to life so brilliantly that it only pains me I can't campaign for an Oscar nomination for her! Everybody brought something strong to the table - even Alex, who actually popped in as a real 'character' in a party scene, and brought a good comic air to things, almost like a scene out of The Office or something.
Do talk about the shoot as such, and the on-set atmosphere?
Though we only had so much time each day, the shoot was rarely ever tense. Many of the cast and crew had worked together before, or, if not, they made good connections on set - since then the assistant cameraman Clarke Mayer and gaffer Mike Dilorenzo have worked on numerous projects for example - and I was very happy about that because the worst thing for me to have is a set where people can't get along, because how can you get to the work at hand? Perhaps it could have been cold and rueful or whatever, but it probably wouldn't have brought out the same level of work and emotion.
There were a couple of times where things didn't quite go as planned; the biggest hiccup involved a couple of bad storms. The first one actually delayed the original shoot date - it was for the weekend *before* Labor Day, but Hurricane Irene hit - and the second was a freak snowstorm, in October! We were shooting inside luckily, but over the course of a morning snow was falling little by little, and by the middle of the day trees just started falling all around outside! We had to call off the rest of the day's shoot - more of a nightmare for me from a producer's stand-point, but as a director I just felt bad we couldn't get the rest of the work done - but of course safety first in a situation that looks like an apocalypse is about to strike!
It was initially strange but then heartwarming to find that people met and had lasting friendships and relationships from the shoot; Audrey especially, I think, got on with several people and brought them on to Heaven is Now (Clarke most of all), and it's just one of those things that came out of what I think was a healthy, well-functioning set.
A few words about audience and critical reception so far?
So far the audience reception has been good and strong; when we screened at the Queens World Film Festival a while back, we actually got the Audience Award which was a pleasant surprise. People seem to get really involved with the film, and that's a good feeling for a filmmaker, even if it's not always positive at least they're reacting to *something*. The worst thing is if you're just indifferent and shrug at it all.
As far as critics go... I can't say it's 'bad' because, frankly, we haven't had a lot of reviews yet! So, we'll see. It's one of those situations where the film has now finally gotten distribution, for DVD and VoD through a small (though sturdy) company. But usually critics review movies that will be coming out in theaters first, or have a much higher profile on video, and we never had a proper run in theaters - just a screening here and there before we met Shami Media. I hope that we can get more from here, and that word of mouth can kick up a bit in the coming months. With independent films like Green Eyes, it's one step at a time unless you can get lucky enough to swing with the big festivals (Sundance, Tribeca, Cannes), and for all of the films that get into those festivals many, many more don't, and not because they are all 'bad', it just comes down a lot of the times to luck of the draw.
Any future projects you'd like to share?
Yes, there is one short film I've directed which is in post production called Dissertation Station - a comedy following an oddball professor as she meets with students over the course of one day - and there are two features in the works, scripts written and ready to go, and at the moment I'm looking for financing for one or the other (or, in an ideal world, both).
They're both comedies to various degrees: one of them is called The Mel Klein Diaries, and would be sort of a vehicle for Zack Abramowitz, about a young, eccentric lawyer who rambles at an important job interview and gets practically blackballed by all the major law firms in the city, so he decides to start up his own law firm and do things rather unusually as far as attracting clients (his main method is literally licking up people off the street who need rides and offering legal services). The other is called Driving Encounters, and was one my thesis projects for graduate school. Its about a young, quirky driving instructor who gets a new student that happens to be an alien trying to acclimate to Earth and obtain a driver's license. I hope to work with Tom Wesson on that as the alien - you might not think it from his part in Green Eyes, but he is one of the funniest actors I've ever seen.
What got you into filmmaking to begin with, and what can you tell us about your education on the subject?
Seeing lots and lot and lots of movies, first and foremost. As a teenager I became what Tarantino might describe as a 'movie-geek' - there was a time period where, along with educating myself on filmmakers of old (50's, 60's 70s especially, but also older films than that), I saw everything that came out in theaters that I could see - multiplex fare, a lot of independent stuff - and I became kind of a movie critic for a while. I still write reviews in my spare time for my blog, The Cinetarium, and the website Film-Forward.com, though it's not really a 'living' of any sort, just something I like to do. I liked the idea of first educating myself on films because I enjoyed them, but wanted more than what I had seen as a kid. I was able to develop a strong sense of what I liked and especially what I didn't like, learning and growing to distrust certain conventions that have become commonplace in a lot of movies - specifically those filmmakers who just decide to tell a 'situation' instead of a real story, and hit the same predictable beats.
Also late in high school I began creative writing and my first attempts at trying to write scripts - I remember reading the actual script to the Coen brothers' Big Lebowski and learning a lot just how descriptions and dialog can be a part of the piece and be very specific to what's going on - though, frankly, some of those early scripts are embarrassing to read today. But, you know, you start off and you may not always know what you're doing or, really, you imitate/rip-off your heroes and influences. It was all apart of just finding my voice first and foremost, and to me that was the important part.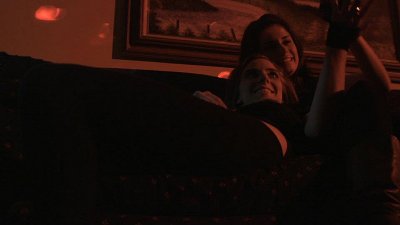 I got in to William Paterson University and that was so important for my creative development, in large part just meeting other people and forming those relationships, many of which I have today (i.e. Matt Rosen). I took film classes there and learned the basics of operating a camera, though, ironically, I may have learned more just from working on my own as all but one or two of the shorts I made at the time were done with my own camera and time. It wasn't as intensive a film program as in another school and it was a concentration in the Communications department anyway. But I learned enough to keep going little by little; I wish I could say I was completely self-taught, but I did learn a couple of useful things in the screenwriting class, specifically about the proper three-act structure, central question, climax, etc. I think it's important to at least be familiar with that so you can, if you want, subvert it.
Later on I got accepted in to the Academy of Art University, where eventually, last year, I got my MFA in screenwriting. I made more projects there, and by this point I had done a lot of work on my own, but I still learned a lot more, in part how to make sure something I write can have some commercial appeal - it is still a business, this world of filmmaking - and keep my own perspective and voice to it. But these are the formal things; ultimately, aside from the actual 'doing' it, I find that I continue to watch lots and lots of movies, and that remains my best education, that it'll never really stop as long as good, interesting movies keep coming out.
What can you tell us about your filmwork prior to Green Eyes, and about your growth as a director?
Before Green Eyes it was short films, with some webseries work here and there. I love being on a set, and I'm not always the director on them; my very first time on a set was as a production assistant for an indie film called The Eyes of Van Gogh, where my whole function was to put giant boards up with he production designer. It wasn't glamorous work, but it was simply great to be a part of something like that, literally getting my hands dirty for the sake of things that people might take for granted when watching the film, where this wall or that is set up or painted this way or that, the little details. And since then, when I haven't been writer/director/producer, the super-auteur-package thing, I've liked to try a lot of different roles when working on friends' projects: script supervisor, camera operator, director of photography, even, recently, sound operator. Aside from make-up and special effects, I've at least had experience in aspects of filmmaking across the board, and I like to have a part in editing all my directed projects as well - the last stage of writing really.
As for my growth, it'd probably be more on a critic to point that out. But I can tell that early on... I made my fair share of mistakes, at times the camera work was screwed up - on the early shorts I did almost everything myself, and I didn't have a sound operator until the shorts I did right before Green Eyes - and I just kept trying to learn from this or that and develop and experiment. In a way my early shorts were much more experimental, and at that time I was getting very much into art-house and foreign films, specifically from that golden period of the 50s through the 70's where filmmaking artistry explored. I liked trying things I wasn't seeing with my fellow filmmakers in college, doing weird things like keeping long takes (sometimes for longer than they had any right to be!) or messing with the sound or music or this or that. Since then I've tried to make things a little more straightforward, but I always keep experimenting. If I can't try something to explore the medium that I haven't seen before, then what am I doing?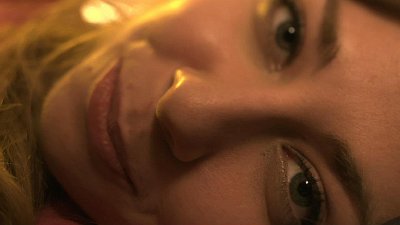 And having a strong cinematographer makes all the difference; if you have someone behind the camera who is willing to take chances and try different things, you can really do anything, which is what Matt brings to the table every time out. If it wasn't for him, I wouldn't be where I'm at today as a filmmaker, or at least as confident a place to take on my next projects, which are a bit more ambitious than Green Eyes.
How would you describe yourself as a director?
I think I'm good with rolling with the punches and making some tough decisions when they have to be made. I've heard other filmmakers say that this is a privileged position but that it's just like any other job where you're the boss, and I think that my personality lends itself to being fair and easy-going on a set. Yet I'm also, as William Friedkin once described, just another member of the crew, and I look to everyone to try to contribute something, at least if they want. People ask me questions and I answer them the best I can, but I ask them questions too - what are you capable of doing, can we get this shot this way, how much light is left, all the usual things. But at the end of the day I am firm in what I don't want to see, and hopefully that translates into something interesting.
Filmmakers who inspire you?
In going back to describing myself as a director, I've looked to other filmmakers of course, the ones who inspired me, in relation to how I can or should or would act on a set. In the process before and during making Green Eyes I was reading the book Cassavetes on Cassavetes, the closest we'll ever get to an autobiography on the actor and filmmaker John Cassavetes, and though I don't follow every path or method he took as a director, his sense of freedom to the process was very inspirational for me. Of course the big three for me are Stanley Kubrick, Martin Scorsese and Ingmar Bergman for a variety of reasons that would take me too long to list, but perhaps the thing that connects them all for me is not just the willingness but the paramount importance of finding new ways to tell stories and make interesting characters (Kubrick's quote 'Yeah, it's real, but is it interesting?' is BIG for me), and especially with Bergman and Kubrick it's the chances taken with pushing the boundaries for drama and dark comedy especially. Scorsese, for a 'movie geek' is a God among men basically.
Other inspirations and influences would include Paul Thomas Anderson, Luis Bunuel, Terry Gilliam, Bernardo Bertolucci, and Werner Herzog among many others. And though he's considered kind of a 'populist' in a sense, Spielberg is an influence as well - I can't have a movie like Driving Encounters with him there in the back of my mind through writing it. But, really, I get inspiration from a lot of different films and filmmakers, and it would make this already long interview that much longer with my ramblings about this film or that. Every film is different and every film brings different influences for me.
Your favourite movies?
Such hard questions now! In no order: GoodFellas, Fanny and Alexander, No Country for Old Men, Vertigo, Mulholland Drive, One Flew Over the Cuckoo's Nest, Stroszek, Clockwork Orange and 2001 and most things by Kubrick, Rashomon, I could go on forever man!
... and of course, films you really deplore?

Feeling lucky ?
Want to
search
any of my partnershops yourself
for more, better results ?

The links below
will take you
just there!!!

Find Jack Gattanella
at the amazons ...

amazon.com

amazon.co.uk

amazon.de
Looking for imports ?
Find Jack Gattanella here ...
Something naughty ?
(Must be over 18 to go there !)

I don't like to trash talk too much but... Manos: The Hands of Fate is pretty awful, and a movie no one should see ever but I'll mention anyway, After Last Season, and any movie that is cynical and a cash grab like the Transformers movies.
Your/your movie's website, Facebook, whatever else?
www.whiplashfilm.com and facebook.com/greeneyesfilm, and my blog is cinetarium.blogspot.com
Anything else you are dying to mention and I have merely forgotten to ask?
I'm just very happy to get this chance to talk about the film with you today, and hope people get a chance to see it - we're at Amazon, Barnes and Noble, FYE and Best Buy online (and hopefully most in-stores as well).
Thanks for the interview!