Your upcoming webseries Strange! - in a few words, what is it about?
Strange! is an action/sci-fi/horror/fantasy adventure. It combines dark comedy with some over the top drama as it tells the story of wizard detective Crames Manticore as he battles dark disturbing forces in trying to uncover the truth of who destroyed his teachers and friends.
What were your inspirations for creating Strange!, and how did the project get off the ground?
Strange! is coming off the heels of my first web series, Raw Heat. Through that show I teamed up with Nick Fiore who also has his own show called Smut Cave. He came to the premiere party we had for Raw Heat and we began collaborating after I told him about my idea for Strange!.The show was able to get off the ground firstly from Nick wanting to film it for free and help produce it and secondly with the help of close friends who I worked with before and were excited by the idea and wanted to be a part of the project. Working a second job to help fund it and being blessed with some funding from a close friend and supportive parents all combined to make the first episode possible.
You also play the lead in Strange! - so do talk about your character for a bit, and what do you draw upon to bring him to life ... and how much of James Manzo can we find in Crames Manticore?
Crames Manticore has had his life altered in a severe way when he was witness to the destruction of the school he grew up in and the deaths of all those close to him. He is hell-bent on revenge and finding out who or what caused the destruction. Unlike some other heroís though his true powers were never fully developed before he found himself on his own, so he is still somewhat of a novice and slightly unsure of how to go about navigating through his new life. Iíd have to say Crames taps into some of the angrier and darker parts of my personality.
Do talk about the rest of your cast for a bit!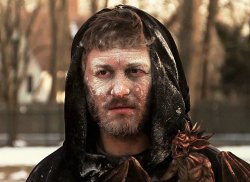 Nick Fiore
The rest of cast is amazing, I couldnít have been happier with how Nick played my teacher in the flashbacks, he is incredibly talented not only as a director and cinematographer but also as a character actor. Brad Steuerrnagel did an excellent job playing the demon. It was a wonderful experience seeing their characters come alive. Kris Eivers and Jillian Vandiveer although arenít in the first episode do make appearances in the series' teaser and even with out lines did an incredible job. Youíll be seeing them flex their acting talents as the season goes on.
What can you tell us about the look and feel of your series?
The look and feel of the show reminds me of something you might see on the BBC. Nick did an incredible job with the cinematography and not only achieved the look I was going for but added his own style to it that really makes the show look like it has a higher budget than it does. If you like horror films and classic sci fi then youíll love Strange! The show is meant to feel like everything and nothing youíd expect from a web series if that makes sense.
Do talk about your director/partner-in-crime Nick Fiore for a bit, and what's your collaboration like?
The nice thing about Nick is that he isnít afraid to experiment and is fully in touch with his dark and disturbed side. So really nothing I could come up with would shock him and he is always on board for just about anything. I almost liken our relationship to that of Walt and Jesse in Breaking Bad, me being the slightly older at times ornery producer to his more laid back younger director/co-producer. Thankfully though Nick isnít smoking crystal meth and I am not trying to be some kind of drug kingpin. Strange! is ambitious but not that ambitious. Overall though our collaborations are fun and brain-storming ideas with Nick is one of the highlights of my day, especially after spending it in a cubicle for 8 hours. It's been a pleasure working with him and collaborating with him and I joke that if Raw Heat accomplished anything it brought Nick and I together to make Strange!.
Despite done on a very modest budget, Strange! features quite a number of complex special effects - so how do you manage, and what can you tell us about the effects as such?
Let's just say I am very lucky and blessed to be surrounded by talented friends who are willing to work on the cheap. Joy Fields handled all of the composite effects, like the fire coming out of the demons mouth to adding smoke effects and layering in the fear bat. Bill Stout constructed the fear bat from scratch and animated it. They sacrificed a lot of time for the project and did such an incredible job. Michael Clark added the skin to the fear bat which was beautifully detailed.
On the practical effects/make up side we had Ingrid Dubberke and Paul Mafuz who supplied the fake blood and turned Brad into the demon with what I consider an award winning make up job. They also had the joy of blasting me in the fast with a liter of blood.
So how are you going to proceed with the series - and any idea when and where your series is going to be released onto the general public yet?
Now that we have raised some money we will begin planning and filming the next episodes, which we already started a couple weeks ago. Theyíll all be released on various video sites such as Youtube, Dailymotion, Blip TV and Vimeo. When is a little open ended at the moment as there is a lot of planning and scheduling that needs to be done.
Any future projects beyond finishing Strange!?
At the moment the only future project is going back and doing another season of Raw Heat!
What got you into the filmworld to begin with, and did you receive any formal training on the subject?
My best friend Sofian Khan got me into film back in 8th grade. All the training Iíve received for film making has come from experience. I never went to film school. Acting on the other hand Iíve had about a year and a half of classes.
What can you tell us about your filmwork prior to Strange!?
Most of it involved making short films with Sofian back in 2003 and working on Pakistani soap operas with director/writer Mehreen Jebarr. Back then I did mostly AD work and handled many other facets of production as everything we did was low budget and with a small crew.
How would you describe yourself as an actor, writer, producer, ...?
I guess Iíll let my work describe me, I am terrible at describing myself.
Actors and filmmakers who inspire you?
Filmmakers: Terry Gilliam, Alfonso Cuarůn, the Coen brothers, Paul Thomas Anderson and Wes Anderson, Terrence Malick
Actors: Denzel Washington, Michael Cera, Kevin Spacey, Daniel Day Lewis, Philip Seymor Hoffman, Bruce Willis
Your favourite movies?

Feeling lucky ?
Want to
search
any of my partnershops yourself
for more, better results ?

The links below
will take you
just there!!!

Find James Manzo
at the amazons ...

amazon.com

amazon.co.uk

amazon.de
Looking for imports ?
Find James Manzo here ...
Something naughty ?
(Must be over 18 to go there !)

Die Hard 1, 2 and 3, Motorcycle Diaries, City of God, Predator, Alien and Aliens, Thin Red Line, There Will be Blood, Beetlejucie, Bullet, Menace to Society, Juice, Above the Rim, Brasil, The Adventures of Baron Munchausen, Time Bandits, Willow, Blade Runner, Y Tu Mama Tambien, MagnoliaÖ the list goes on.
... and of course, films you really deplore?
Anything Jerry Bruckheimerís produced and most remakes.
Your/your series' website, Facebook, Kickstarter, whatever else?
https://www.facebook.com/strangeseries
https://www.facebook.com/rawheattv
http://www.youtube.com/user/watchstrange
http://www.youtube.com/user/watchRAWHEAT
Nicks show Smut Cave
https://www.facebook.com/smutcave
Thanks for the interview!