To call your career as multi-faceted is almost an understatement, so how would you best describe yourself - in one phrase and one phrase only?
Someone who has learned how to develop a life where I follow my passion, earn a good living.
Let's start with James Mapes, the actor: You have recently starred in Robin Hardy's The Wicker Tree, the long-awaited sequel to his own classic The Wicker Man. What can you tell us about that movie, and your character in it?
Director Robin Hardy considers this the second in a trilogy. The Wicker Tree is a horror/black comedy concerning a cowboy and a gospel singer who are sent to Scotland by my character, The Reverend Moriarty, on a missionary excursion to change the pagan worshippers to Christianity. This does not turn out well for the two missionaries.
How did you get involved in the project in the first place, and were you a fan of (or even aware of) the original The Wicker Man?
I was certainly aware of The Wicker Man and had seen it in 1973. But, the backstory is the most interesting part.
I got cast by Robin Hardy in the role of a lifetime in the horror/black comedy, The Wicker Tree. He saw my one-man hypnosis show over 20 years ago. Within two months, he cast me as the lead in two of his films. I thought my career path was made and then - through a horrible financial disaster, he lost all his financing. That was one of the biggest disappointments of my life. But then, out of the blue, he called me from London and asked if I wanted to play a tap dancing, guitar playing, mandolin strumming Texas preacher in his new film. Even though I neither tap dance nor play a musical instrument, I took a risk and did what needed to be done. What a challenging and wonderful time. I was the only American in the film and he put both my wife and me up at a castle in Scotland for 10 days!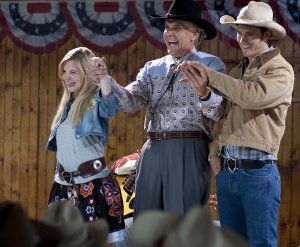 The Wicker Tree
What was it like to work with Robin Hardy, and is it true that you'll also star in his next film The Wrath of Gods?
Working with Robin Hardy was a blast. I was so prepared for the film that when I arrived in Scotland, it was pure fun being on the set and having a wonderful social time with him. He even threw my wife a birthday party in a castle where he serenaded her.
And yes, I am going to be playing the lead villain in the Wrath of the Gods - one-eyed, overweight and bald. It is a heck of a role and extremely challenging.
During your long career as an actor, you have made appearances in quite a few cult and geek favourites, like the original The Taking of the Pelham 1-2-3, Taxi Driver, Star Trek VI: The Undiscovered Country, and Star Trek: First Contact. Anything you can tell us about your work on those movies?
In The Taking of Pelham One-Two-Three I played a cop. I spent a lot of time down in the subway running up and down the tracks. The best thing about that film is that I got to meet the great Walter Matthau who literally kept me in stitches.
In Taxi Driver I played a Secret Service agent. Even though my two lines were cut out of the film, it became a miracle moment for me. It just so happened that the clip that was shown on The Academy Awards had a very visible James Mapes in it. I received more calls than you could imagine and all I was doing was wandering around in sun glasses looking very serious.
The most interesting story about the Star Trek films is how I got to be in the films. I had a friend arrange a meeting with Rick Berman, the producer who took over after Gene Rodenberry passed away. I entered his massive office on the Paramount lot with one purpose in mind – to get a role in one of his films. I took a couple of breaths, walked in and there was a statue of the late Gene Rodenberry with a blindfold tied around its eyes. I asked why and Rick told me that he put the blindfold on the statue so Gene could not see what he was doing to him through his films. That set the tone for a wonderful, fun half hour conversation.
I thought he might say something positive about my dream of acting in a Star Trek film but not a word was said. I got up, shook his hand, thanked him for his time and turned to go out the door. As my hand touched the door knob, Rick said, "By the way. How would you like to appear in my next film?" I did two and was supposed to do a third but got a contract to speak that I couldn't get out of.
As for the actors, I had a wonderful time, met everyone from both casts and have now been to two conventions signing photographs from the films. It is the gift that keeps on giving. What a blast!
You are currently also working on a screenplay together with your wife, right? Anything you can tell us about that one yet?
I don't want to talk too much about it, but it is a thriller and based on a clinical hypnotic regression that I did many years ago. It was horrifying and I got involved with the New York police department. I will play the male lead and be looking for a wonderful actress who is 30 years younger than me to play – well – can't say.
Any other films of yours you want to talk about? Any future projects?
No.
You have also been in quite a few daily soaps in the course of your career, including The Guiding Light, One Life to Live and All My Children. What can you tell us about working on soaps as opposed to working on movies?
I did a lot of work on soaps and began back in the '70's when they were live. It is a whole lot different from film. It was a great training ground and I learned a great deal about acting and being comfortable on the set.
You wrote and hosted the TV-show Through the Portal - would you care to talk about that one for a bit?
I got the idea after watching Crossing Over with John Edward where he "talked to dead people". I decided I could make a reality show based on past-life regression. I took out a business loan, rented a space and built a studio. Then I assembled a three camera crew and a host of wonderful people including stage managers, lighting designer and a wonderful director. The audience was composed of 100 people who believed they had lived a past life and that something from that past life influenced them in their present life. I did a series of regressions, 138 hours of editing and took the final reel out to Hollywood. I sold the idea in less than 24 hours.
You have also done quite a bit of theatre - how does acting on stage compare to acting in front of the camera?
There is no comparison other that all acting is truth. Clint Eastwood once gave me some excellent advice. He said that when your face is up on the screen, your eyebrows are about two feet across and when you are on stage they are a fraction of an inch. So, keep your facial movement to a minimum or you will look phony.
What got you into acting to begin with, and did you receive any formal training on the subject?
I began acting when I was twelve and have studied with some of the best teacher in the world including Jeff Corey, Robert Ellenstein, Stella Adler, Michael Howard - Actors Institute, Lee Strasberg.
Your approach to acting as such?
I work from the inside out and the outside in. I love to wear some piece of costume that will help me "feel" the character.
You have also toured as a stage hypnotist, right? You have to talk about that aspect of your career for a bit, and how does one become a stage hypnotist?
I became a clinical hypnosis in the early '70's and put a stage show together in 1974. I had zero idea what I was doing and learned by making a lot of mistakes. Finally, in 1976, the show- Journey Into the Imagination - took shape. I won my first award Campus Entertainer of the Year in 1977. I've done the show over 1500 times including Broadway and at Lincoln Center in Manhattan.
It is a theatrical stage piece with audience participation. The show is fun but has a great message about possibility behind it. I still do a few to keep my edge.
Apart from that, you are a motivational speaker. Would you like to elaborate? And is my assumption that motivational speaking and hypnotism have quite a bit in common at least vaguely correct?
The one thing that motivational speaking has in common with hypnosis is that you have to hold yorur audience. No one who hears me speak knows I'm a hypnotist.
I've spoken in to hundreds of public and private companies in more than 70 countries. My clients include financial institutions, software companies, the military, the healthcare industry, financial institutions, training and development divisions of large corporations and major non-profit organizations. Companies, associations, universities and business schools including – IBM Corporate, U.S. Coast Guard, Lockheed Martin and The Princeton Center for Leadership Training – have included my writing in training manuals and textbooks.
I have three programs and speak on creativity, break through thinking and leadership. People can visit my website www.jamesmapes.com to learn more.
On top of all of that, you are also a best-selling author. Why don't you talk about your books for a bit?
My first book (1994) was The Magic of Quantum Leap Thinking. My second book and the one which has opened many doors and is now published in seven languages is Quantum Leap Thinking: An Owner's Guide to the Mind (2003). This book covers a multitude of subjects including visualization, risk taking, motivation and creativity. I am really proud of this book. Quantum Leap Thinking: An Owner's Guide to the Mind took me 14 years to write.

Feeling lucky ?
Want to
search
any of my partnershops yourself
for more, better results ?

The links below
will take you
just there!!!

Find James Mapes
at the amazons ...

amazon.com

amazon.co.uk

amazon.de
Looking for imports ?
Find James Mapes here ...
Something naughty ?
(Must be over 18 to go there !)

My new book (nine years in the making) is entitled The Elephant and the Rider: Living an Exceptional Life and focuses on the Subconscious and Conscious mind. It is about learning to manage your thinking.
Actors (or indeed actresses) who inspire you?
Anthony Hopkins, Clint Eastwood, George Clooney, Meryl Streep, Jodie Foster. Orson Wells had a huge impact on my desire to both act and direct.
Your favourite movies?
Citizen Kane, Chimes at Midnight, The Third Man, Humprey Bogart films, Billy Wilder films, all Harrison Ford films, Spielberg films - this is an impossible question to answer since I love film.
Your website, Facebook, whatever else?
www.jamesmapes.com (speaking, CDs, downloads & books – AND you can follow me on Twitter @jamesmapes and connect with me on Facebook and LinkedIn on the home page) www.jamesmapesactor.com (acting site)
Thanks for the interview!