What were your sources of inspiration when writing Suicide Trip?
I donít quite know how to answer that. I know at the end of the movie, I said thank you to Q.T, D.A, and K.F. Guess if you can decode those names (not that hard), then maybe those were my influences at the time.
Suicide Trip tells the same story from different perspectives - so what was the idea behind that approach?
Weíre talking about something I wrote so long ago, itís hard to really figure out what my line of thinking was. I guess I wanted to make it a fun movie and telling it as I did felt right.
What can you tell us about your directorial approach to your story at hand?
Well, every film is different. Been a while since I made one, but thatíll change soon. But that being said, I think that a directorís relationship with the actors is very important. It starts there. Actors are these vulnerable human beings who are opening their ribcage and saying ďhave at it,Ē so if they donít trust you, youíve got nothing.
You also play one of the leads in Suicide Trip - so what can you tell us about your character, and what did you draw upon to bring him to life?
Well, part of what I was making fun of in Suicide Trip was the films of the day. The high school films with all the archetypes. I wanted to take the angry loner and make him as angry as possible. I wanted to take the popular guy and make him so popular it would be comical. Playing Tommy wasnít something Iíd want to do again, but it was cathartic in a way. He was just a ball of rage and unchecked feelings. Iím not sure where it came from.
Have you actually written Tommy with yourself in mind, and to what degree is the character autobiographical?
I wrote him with me in mind, yes. No, not at all. Though everyone has a combative side of themselves.
What can you tell us about the rest of your cast, and why exactly these people?
Well Chris Clark has been my friend since 13. He has a funny relationship with the truth sometimes, so since day one I wanted to work with him. Heís not an actor by training, just by experience. I think a lot of people start off that way. Mike Mandell is just kind of a one-of-a-kind guy, a special dude. Eco and I met right before the film was made and she had the part instantly, even after we did a good amount of casting for Sasha. If I could locate her, Iíd work with her again. Sean GaldoÖ well heís a legend.
Do talk about the shoot as such, and the on-set atmosphere?
Fuck. The shoot was a nightmare. I didnít know what the Christ I was doing, none of us did (not knocking the gaffer, etcówho was amazingójust speaking from a general standpoint). We were making shit up as we went along. Hereís a quick, but good example. We needed a keg for the party scene. When Trent is doing a keg stand in the movie, that wasnít fake. He did a keg stand and then after we were done shooting, we kicked the keg. It was a sloppy night. Most of the crew was staying at the house and people were puking in the grass. It was bad.
Anything you can tell us about audience and critical reception of Suicide Trip?
I mean it never really got noticed by critics. The company that agreed to distribute it was a clowncar. This movie hasnít really ever seen daylight. That being said and knowing them, they probably wouldíve hated it. Roger Ebert was the only critic I care about and heís gone. Miss him and his writing. Wish Iíd known him.
As far as I know, Suicide Trip was your first movie - so looking back at it now, how does it make you feel?
Nostalgic as can be and uncomfortable (when Iím on screen). I love what it represents in my life, which is kinda a creative birthing of sorts.
What made you want to go into filmmaking to begin with, and did you receive any formal training on the subject?
Some. And you know what did? Probably Troma movies. As a kid, they were the equivalent of exploitation movies. I loved the Class Of Nuke ĎEm High movies.
What can you tell us about your filmwork since Suicide Trip? And any future projects on the horizon?
Kalamity and Wild Seven are the two other films Iíve made. Iíve written a bunch. Rarfland, K.A.D, Moonshine Clover, etc. Working on one now Iím probably gonna make this year.
How would you describe yourself as a director?
Shit, thatís kinda a personal question. JK. I just wanna make the film true to what I set out to do. Music speaks to me a lot, I guess. I donít know, itís been a while since Iíve made a film, but Iím sure Iíd better answer this question after making the film Iím writing.
Filmmakers, actors, whoever else who inspire you?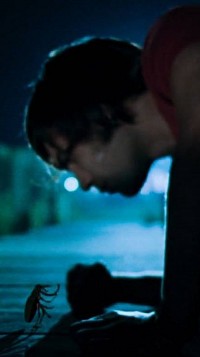 Feeling lucky ?
Want to
search
any of my partnershops yourself
for more, better results ?

The links below
will take you
just there!!!


Robert Forster is my man, heís the best. He finds his way into anything I write. Otherwise, my heart broke beyond repair once Phillip Seymore Hoffman died. It was the moment my idea of the world changed. I always saidówhen watching him on screenóthat if this guy would be okay, so would everything else. If a person can be that genuineóthat honest on screenóand be okay? Everything else will be okay. Well it wasnít and I cried horribly when he died. I like a lot of directors, but thatís an overshare thatís important to me.
Your favourite movies?
Battle Royale has always been my favorite film, as I state it. But Iíve kinda let go of that over the years, havenít watched it as much. I love different films for different reasons. I love the Babadook cause itís one of the most brilliant metaphors Iíve ever seen. I loved Rampage cause itís a silly, fun action movie. Playing favorites is never a good idea.
... and of course, films you really deplore?
Shhh, Iím not talking shit about othersí work. Iíve had it done about my own and it stings.
Your/your movie's website, Facebook, whatever else?
Haha, I donít do social media. Off the grid. If my films have accounts, thatís a shrug for me.
Anything else you're dying to mention that I have merely forgotten to ask?
Well, I hope you enjoy my other films. Your review of Suicide Trip was awesome. Written by a movie fan. I can tell youíre a dude. Stay real!
Thanks for the interview!