First of all, why don't you introduce yourself to those of us who don't already know you?
I'm Jane von Detlefson, actress, producer, and director with Red Feline Pictures.
Do you still remember how you got involved with the fetish scene in the first place?
I began as a photographer taking photos with what might be considered fetish content. Mostly pictures of myself as a dead girl in the forest. I also was an assistant to a photographer who did quite a few fetish shoots, magazine covers of fetish magazines, etc. Being behind the camera gave me an interesting perspective into the world of fetish.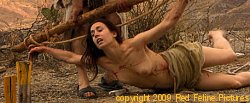 Romana Crucifixa est...
How did you first hook up with Red Feline Pictures, and a few words about the company as such?
I joined Red Feline Pictures in October 2005. I saw a movie that Jan Jac had made (under a different name) in a film festival and talked to him after the screening. I arranged to do a casting with him. I learned about Red Feline Pictures after that. I was thrilled, to say the least.
Red Feline Pictures was founded in 1997 by Jan Jac and Camille Duka. They wanted to make a film about torture, something that would be unlike anything anyone had made at that time. So they made Red Feline on the Cross, which I consider to be an amazing classic torture film.
What can you tell us about your very first fetish-shoot, and was it much of a challenge for you to do what you did in front of a camera?
The first movie I shot with Red Feline Pictures was Red Room. That was challenging because of the intensity and amount of suffering I had to bring across, due to the horrible things that happen to my character. I was not overly familiar with the portrayal of suffering and had to draw upon experiences I've had in which I've suffered and amplify them.
My biggest challenge with these roles has been to enter into the mind of a victim. Someone who endures an incredible amount of pain and suffering and loses all hope. It takes a lot out of me to do that.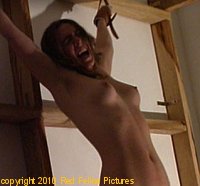 Training Jane
You appear naked in pretty much all of your films. Has on-screen nudity ever been a problem for you?
As far as I know, I was born naked. Our bodies should not be seen as shameful. Humanity is interesting and beautiful to look upon. Many people think that by showing their nude body to the world they are giving away something precious. I find this idea akin to people thinking that a camera can steal your soul.
While Red Feline Pictures uses a fair share of gore effects, much of the torture in these films is very real. What can you tell us about being at the receiving end of a whip (or whatever other torture device), and are you also a sub in your private (sex-)life?
I think it's hard to tell what is real and what isn't real in some of our movies. What we try to bring across is a realistic portrayal of torture.
We use real leather whips and real suspension, things like that. I don't count the lashes, but lots are cut out in the final editing. So I actually end up taking a lot more lashes from the whip when we're shooting. My skin is pretty raw afterward and I like to take a couple of days off in between scenes.
As for myself, I'm particularly fascinated with the psychology of suffering, violence, torture, imprisonment, and Stockholm syndrome among other things. My fascination with these subjects is why I act in these movies. A professor of mine once told me that the only way to truly understand a subject is to experience it. I believe that being in front of and behind the camera makes for a more complete experience and thus understanding.
Have you ever thought about crossing the line and playing a dominant role in one of your films (or have you actually done it for that matter)?
In a film I shot with Gabrielle D'Cleda my character is forced to whip her. I don't mind doing it. I wouldn't mind doing it again. I know how it feels, so it gives me a different perspective.
Red Feline's films are usually pretty extreme. What are things you wouldn't do on screen?
Anything I wouldn't do in real life, such as being nailed to something for real. Or dying for real. I hope I never die. Woody Allen doesn't recommend it. I'm pretty sure he knows what he's talking about.
Of all the torture and humiliation you were exposed to in your films, which did you enjoy the most, which could you have done without?
I absolutely hate having my head dunked under water. And I dislike being upside down. I did both of those things at once in Agent X.
I don't enjoy torture, that's part of its appeal for me; doing things I don't like. However, suspension has to be one of my favorites, and the parts of the movie that are more gymnastic. As adults we rarely get to play and contort our bodies like we did as children.
I also like the parts that involve humiliation, being made to cry and feel helpless. In everyday life I'm a very in-control person, so it's a release of emotion for me to be otherwise.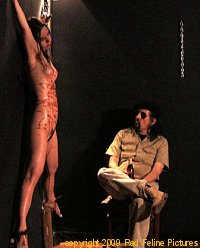 Jane von Detlefson with Jan Jac
in Agent X
What can you tell us about Jan Jac, mastermind and resident director or Red Feline Pictures?
Jan Jac is a genius and incredibly interesting to talk with. He's lived all over the world and has many stories. Working with him is like making a pillow fort in the living room; structured, but fun.
A few words about Camille Duka and Gabrielle D'Cleda, Red Feline Pictures' other stars?
Both are amazing actresses, Camille studied at the Pygmalion in Paris. She's very serious.
Gabrielle is the opposite of the characters she plays. In real life she's constantly moving, complaining, and cannot stop talking. When she's acting, she suddenly becomes very focused and quiet.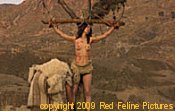 Romana Crucifixa est...
A central theme in most (all?) Red Feline-movies is crucifixion. Would you like to comment on that?
Jan Jac had a Catholic upbringing. I attribute his interest in crucifixion to that.
Most historical references to torture involve religion, so we often draw upon that for our stories; Saint Plays, literature and accounts of martyrs, etc.
Personally I find crucifixion to be a very challenging position physically. It puts a lot of strain on the entire body and it's difficult to breathe.
I once heard that you prefer to be called an actress to being called a fetish-model. Explain, and what is your background in acting?
I'm a method actress. I began studying acting when I was 6 years old. Later on I did a fair amount of theatre and musical comedy on stage.
I'm not sure why women acting in fetish movies are referred to as models. I always thought that models stood still for a camera. Actresses act. Maybe I'm just out of the loop on that subject.
Have you acted in any movies outside of Red Feline's catalogue of films?
Yes, I had a lead role in a horror film that will be released in 2011. I also have a lead role in an independent film being shot this year.
As an actress, would you like to at one point leave the fetish-world behind or take a break from it to star in something completely different, let's say a romantic comedy?
I'm involved in independent cinema under my given name, in front of and behind the camera. I'm releasing the first feature film that I wrote and directed this year.
Subversive romantic comedy is more my speed. Or a comedy along the lines of Bubba Ho-tep, that was a great movie, or Evil Dead 2. Bruce Campbell is super funny.
Most of Red Feline's films have actual plots (at least to an extent). How important is storytelling in the context of torture movies to you?
Storytelling is very important to me as an actress and a viewer. I cannot play a generic victim, there has to be a certain logic, story, and subtext to the movie for me to understand and enjoy it.
Storytelling can often be as simple as highlighting gestures and body language in a movie. The language of film is visual, after all.
You also have a hand in production of the Red Feline-films you are in. How big is your creative input actually?
All films are a collaborative effort. I develop the story, plan the production, find locations, costumes, set up lights, direct parts of the movie, etc. I'm also the gaffer for all of our films, because I'm handy with tools. For me, collaboration is the spirit of independent cinema.
Your films are often shot in gorgeous and very atmospheric locations. How do you even find them?
I like to explore. I used to visit abandoned factories as a teenager. It's a passion of mine to travel aimlessly and pay attention to my surroundings.
We found the location for Romana crucifixa est... by taking a day trip on a random road and just looking out the window for many kilometers. I saw a high plateau in the mountains off in the distance and simply stopped the car. It was quite a hike getting there, but obviously worth it.
Let's talk about your films one by one:
What can you tell us about Agent X?
I'm an agent who is captured by the enemy and tortured for information. At the point when I finally give in, my torturer tells me that they already have the information, now it's just for fun. It's horribly sadistic and one of the most physically difficult films I've made.
Aristocrux?
I'm a bored aristocrat who is captured by a serf, tortured and crucified. I had a huge amount of fun with this one because of the castle location we found and I love to dress up in costumes.
We shot the movie in some interiors of the castle and then shot the rest outdoors, a few hundred meters from the castle. When we were almost done shooting (I was dying on the cross), some tourists came along and saw me. They ran away so fast it was incredible! If it were I, I would have stayed and watched, but I'm a different sort I guess.
Red Room?
This was the first film I shot with Red Feline. I play myself, obsessed with finding the location where Red Feline on the Cross was filmed. I end up captured and tortured in much the same way Red Feline was. At the end, I'm nailed to a wall and have a crown of barbed wire shoved on my head.
A few words about the wonderfully titled Romana Crucifixa est...?
I play a Roman woman who is captured, tortured and crucified by a Barbarian. It's our take on a traditional crucifixion fantasy. The location for that one is amazing. We plan to shoot another film there.
I had biting ants crawling over me the entire time we were shooting. Also, a man tried to steal our equipment and I had to chase him off with a stick, naked and covered in fake blood.
The Perils of Jane in the Green Inferno?
I play a hiker who is in the wrong place at the right time. We shot the series in the cloud forest in the tropics for 3 days. By the end I was so covered in scratches, insect bites, and whip marks I thought I would never recover.
Training Jane?
That's two shoots that Jan Jac and I did at different time and locations.
We don't use special effects, because we did it for practice, I was working on my acting and reactions to torture, testing my limits. So, you can see the real whip marks in that one because they aren't covered in blood effects.
The Via Crucis of Jane?
The Via Crucis is a series of movies that started with Camille and Jan Jac working out different scenarios for crucifixion and how it would work on camera. The Via Crucis of Jane is the continuation of that study, taking it a bit farther, because I like to go a bit farther than Camille. We're releasing Crux 2 very soon.
The 64-Dollar question: Where are all these films available from?
DVDs: http://redfeline.com/dvdstore
VOD: https://redfeline.com/vod
And more information can be found at: http://redfeline.com/home
Any future projects you'd like to talk about?
Right now we're shooting my first feature-length film without blood. It ends with my death and has lots of torture. The advantage to working without blood is that my hair doesn't stick to my body. I hate that.
Do you have your own website, MySpace, Facebook, Twitter, YouTube, whatever else?
You can look me up over at the DFN: http://darkfetishnet.com/Jane/
Are there any fetish performers you look up to?
I like all performers. Especially mimes. I love mimes.

Feeling lucky ?
Want to
search
any of my partnershops yourself
for more, better results ?

The links below
will take you
just there!!!

Find Jane von Detlefson
at the amazons ...

amazon.com

amazon.co.uk

amazon.de
Looking for imports ?
Find Jane von Detlefson here ...
Something naughty ?
(Must be over 18 to go there !)

Actresses (or indeed actors) who have inspired you?
Isabelle Huppert, Jeanne Moreau, Giulietta Masina, Charlotte Rampling, Steven Seagal, Marcel Marceau.
Do you at all watch fetish films in your private life?
Are Jess Franco's films considered fetish?
Your favourite movies?
The Night Porter is my favorite film. I don't think another movie will ever be made that I love as much.
Other than that, I watch lots of Hammer films, Claire Denis, Catherine Breillat, Curtis Harrington (who was a good friend of mine in real life), Mario Bava [Mario Bava bio - click here], François Truffaut, Eric Rohmer, Alejandro Jodorowsky, Federico Fellini, Jess Franco, Roger Corman [Roger Corman bio - click here], Takashi Miike, etc. I probably watch too many movies.
... and of course, some films you really deplored?
I don't like most Hollywood films. Life on earth would be so much better if people didn't kill their own creativity.
Thanks for the interview!