Your new song Déracinés quand même - do tell us what the lyrics are about, and what were your inspirations?
When I first wrote Déracinés (French for "without roots"), I was inspired in Déracinés, a french space opera comic of Gildas Jaffrennou and Gelweo. A beautiful story about two humans lost in space. It was in last November. I was a little depressed, with a lot of doubts - you know, I try to search myself... to understand meaning of life... and... I wanted to talk about identity, about backgrounds. As a mixed guy, I suppose that these questions are very... important. I'm not alone, of course. And then, I contacted the rapper Mc Coco. It was really a challenge for me, I knew her a little, and I just said: ''Ok, hip hop, rap, all this, it's not really my style, I prefer 'chanson', pop music, but we can just try something cause I know that you're very interesting.'' And she had a lot of things to say about identity, travel, about Africa, Europe... and Déracinés quand même ("Without roots anyway") was born.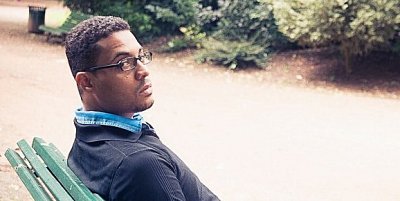 Some of your fans might be surprised to see you branch out into hip hop - so how did that happen, and what can you tell us about the style of the song as such?
You know, I like when it's true, when it's sincere. It's not my problem if the song is techno, pop, dance, country, classical, anything else. I just like beauty of sound, beauty of words, beauty of notes. The melody is very important for me. And you know, I don't have the feeling to belong to this ghetto of 'Chanson Française'. I mean it's a white white old men world, most of the time, with clans, conflicts, it's not really easy. I needed to breathe. Of course some of my fans were surprised but... it was a good surprise cause I talk about the same themes. Just the musical aspect is different. It's a mix of pop and rap, it's a little bit more 'mainstream'.
What can you tell us about your partner on Déracinés quand même, Mc Coco, and what was your collaboration like? And how did you first meet even?
Mc Coco is an extraordinary woman. Really. I respect her, I like her. Her life is a book. She's atypical, with no fear. She likes to sing in concert, she likes the public, she makes the show, you can be sure of that. She comes from Cameroon, maybe it explains why the feeling between us is good too. I grew up in Gabon, in Central Africa, near Cameroon, there is a lot of common points.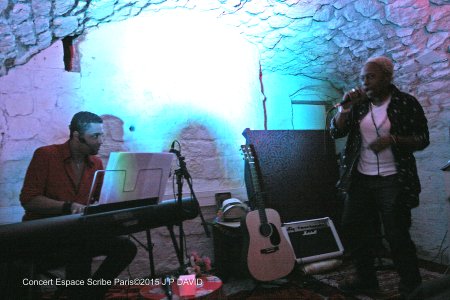 Jann with Mc Coco
I meet her in a big associative night in a Parisian theather in 2012. The contact was quick, normal, we just said 'ok maybe we'll work together'. But I must confess that... it was not my priority. Time passed and in November 2014, I contacted her on Facebook. Just cause... it's very strange, just cause my intuition was telling me that it would be a great adventure. Very quickly, we recorded in studio, and then we were invited by radios, TV, it was really... disturbing.
So what can you tell us about the videoclip of Déracinés quand même - what's the story of that one, and how does it relate to the song?
Déracinés quand même is a song about exile and the difficulty to keep something of our identity in a different world. The forest is a beautiful symbol, not only about roots of course, but this is the nature, the origins...
Jeff Bonnenfant, who is a very good friend, realized this clip near Le Mans.
The events of Déracinés quand même take place in a forest, like so many of your movies - why choose that location again?
Like a friend of mine said ''you couldn't imagine a movie or a videoclip with Jann Halexander without a forest in it.'' Most of the time I think it's true! Forest, it's so mysterious for me. For example, I ve walked alone in beautiful pines forests around Hogsback, in Eastern Cape, in South Africa. I was thinking about Life, Death, deep Love...
In the clip, when Mc Coco finds the dead body - could you explain her reactions?
Yes. You know, sometimes in Africa, in the desert, migrants who try to go to Europe find dead bodies of other migrants. They don't really have time to bury them. So they close their eyes, cover it, sometimes they cover the body a little, they make a prayer then they continue to walk...
The video was directed by Jeff Bonnenfant, a frequent collaborator of yours - so what was your collaboration like?
I've known Jeff Bonnenfant for a long time, maybe 2002 or 2003, you know. It's a strong friendship. He doesn't talk a lot, he just... acts. He does the job. It's a nice relation. Human first, and of course professionnal.
What can you tell us about the shoot as such, and the on-set atmosphere?
Sun was shining, beautiful blue sky, and... wind was blowing. Wind in this videoclip is... a fantastic actor. Really. All the videoclip has a phantasmagorical ambience to it.
The $64-question of course, where can your song be obtained, your video be seen?
People can see this videoclip about YouTube, essentially, just writing our names Mc Coco, Jann Halexander, Déracinés quand même. The song is available on the albums Amour and Pars et gogo too, on Bandcamp.com, Noistr.com. I shall thank Monique Hottier, secretary of my own label too, for the organisation. And she realized the other videoclip Pars et gogo, the second featuring Mc Coco.
Any future projects you'd like to share?
I ve given some concerts in February and March in Paris, it was tiring but very... beautiful - people come to see you, there is a magical connection during one hour and more. You know why you choose this kind of life... I want to give more beautiful concerts...
I can say that I'll come back the 7th of November for a new show, Affidavit, in Paris. I hope other concerts in Paris, in France, in Europe, anywhere.
Your website, Facebook, whatever else?
Yes. The french website is http://jannhalexander.blogspot.com. I receive a lot of messages on Facebook too, on https://www.facebook.com/jann.halexander. The English-speaking people can visit the website http://jannhalexanderinternational.blogspot.fr.
Anything else you are dying to mention and I have merely forgotten to ask?
Thanks for your website, very interesting, very rich, and for your fidelity.
Thanks for the interview!
Link Déracinés quand même: https://www.youtube.com/watch?v=jWqulbK5Roo