Your movie 48 Hours in Purgatory - in a few words, what is it about?
It's a tricky movie to summarize, but I'd say it's about how complicated we are as people. We'd like to be easily able to categorize folks and their experiences, but that's only possible for the most shallow of souls.
What were your inspirations when writing 48 Hours in Purgatory? And since you're a filmmaker yourself, how much of you can we find in your main character Brody?
48 Hours in Purgatory was fuelled by a number of things. There's a story about it's technical genesis below, but I think the key ingredients were my interest in observing people beyond the veneer of first impressions and my own need to hammer through a lot of rubble from the sudden loss of my father a few years earlier.
Maybe my actor friends would disagree, but I'd say I'm not much like Brody, I don't think. That said, there are a lot of parts to everyone. I certainly stand directly in his shoes and take it in when Serena attempts to drive home the point that things in life just happen, and he can't shoulder the blame for the things he doesn't control.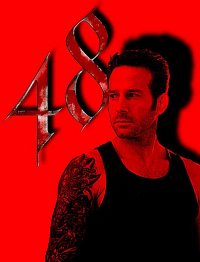 Andrew Roth as Brody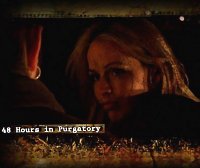 Emily Alatalo as Veronique
What can you tell us about your directorial approach to your subject at hand?
Well, in truth, I was kinda of feeling my way along, as it was my first feature. I made just about every fantastic mis-step that could be made, but learned a lot. I really embraced some approaches, and reworked others.
As a writer/director I've come to realize that I only get to be possessive of the characters until I hand off the script. Yes, I'm laying out a route for the actors, but if I really trust the actors to get to the heart of my characters, the film will benefit greatly. Unless the actors stinks. But I'm sure that never happens...
I often go back to the same actors based on this trust aspect. Those connections are hard to forge and I treasure them, despite what some of them may think at times.
Being in a similar situation as the test subjects in 48 Hours in Purgatory, how do you think you would react?
Terribly! I love solitude, but that's a situation that would ruin me. In the recent trailers there is footage of Veronique interviewing folks on the street. Not included (so far) is the clip where she interviews me (sort of). My reaction to the idea is negative! Maybe I'm already nuts?
Check out some actual, unscripted street reactions here: https://www.youtube.com/watch?v=UQk2goDnvKg
What can you tell us about your key cast, and why exactly these people?
I could ramble forever about these guys. There are a mix of trained actors and one-timers. It's sometimes obvious (but sometimes not). We had limited resources and I really wanted people I felt exemplified the characters.
Emily Alatalo wasn't actually my first choice for Ronnie, but she was great! I suppose the fact that she leads two of my upcoming features is a testament to how things going unexpectedly in the casting world can sometimes lead to the best possible outcomes.
I've worked with a number of the actors several times since, again because they are excellent and because we have developed a great trust.
Nifty factoid: Wallace is played by my high school history teacher, Mr. Barker.
Do talk about the shoot as such for a bit, and the on-set atmosphere!
The shoot was a blast. Long days, but the crew had boundless energy and were SUPER efficient. My buddy and co-conspirator Mike Klassen was the AD and he runs a very organized, tight ship. Thanks to that, chaos was rare and we knocked this film out in record time, considering how much ground we had to cover.
I've had some amazing shoots since, but I can't remember one running so smoothly as 48 did.
The $64-question of course: Where's your movie available from?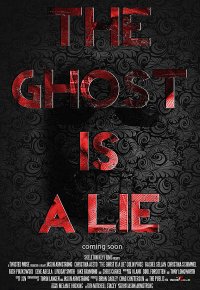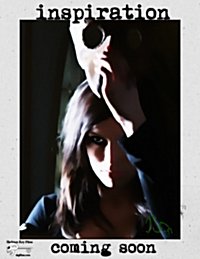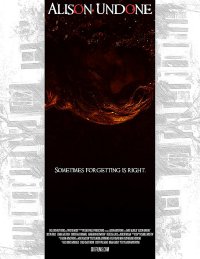 48 Hours in Purgatory has been waiting to hit the public for a few years and as we have other releases coming soon, we thought it was time to set it free. It also felt like the right project to try a new way of marketing. We kept the price as low as we could to maxsimize the film's audience.
It's available on DVD and even VHS (limited time) at our webstore via PayPal: http://skgfilms.com/?p=422
It's also available to buy or rent digitally, hassle-free via PayPal @ http://www.indiereign.com/v/cd54a
As far as I know, you have no less than three almost-ready films in the pipeline. Why don't you talk about those for a bit?
Yes we do! Up next is The Ghost is a Lie which follows a group of filmmakers heading into the woods to take a last stab at their careers and the found footage genre. As you might expect, this takes an unfortunate turn.
It's a project that was entirely crowdfunded at IndieGoGo and stars a lot of actors I'd never worked with in a format I'd never tried. It "begins" in January, but I can't say a lot about that. The launch will be a bit nuts, suffice it to say.
Following that we have Inspiration, a film about a young novelist escaping a bad marriage and returning one last time to the horror material that made her successful. Isolated in a small Northern town, stuff begins to get pretty weird for her and it culminates in a whole lot of crazy going-on.
Lastly in this slate of films is Alison Undone, which we co-produced with James Morales of Solid Weld Productions and Chad Chatterson, an independent producer and good friend. It's a really great story about a woman with psychogenic amnesia - missing just a short time period or event - who travels with her fiancé and best friend to the place where she spent her last summer before college. It turns out that sometimes forgetting is best.
Any future projects beyond those you'd like to talk about?
I'm really excited about the project that lays beyond those, Bitter. It's probably my most personal script, written directly on the heels of 48 Hours in Purgatory. We've put it off because it can't really be made cheaply or quickly. It can certainly be an indie film, but the amount of funds and time required will be MUCH greater than we've had the chance to give before.
It's a story about two women who meet in the most bizarre of circumstances and impact each other in profound ways, even as they evade both law enforcement and a terrifying man with eyes for retribution.
Nothing has been finalized, but a financing trailer is circulating among the prospective producers and we shall see what happens. I suspect we'll be in production in the summer of 2014.
What got you into filmmaking in the first place, and did you receive any formal training on the subject? And what can you tell us about your filmwork prior to 48 Hours in Purgatory?
Well, my training in film consisted of devouring movies as a kid and running around with a video camera whenever I got a chance. No schooling, though 48 Hours in Purgatory (which we actually shot twice) and the excellent crew who were all just finishing up film school taught me a LOT.
I played in a band for years and we wanted to wrap things up with an EP where each song was driven by a character. Purgatory was the general outline. I wrote a novel based on the idea (out this spring) and when we went to film (on our own the first time around) 48 Hours in Purgatory became the event leading up to the novel. After refinement, we crewed up and shot a "proper" film, at least within our means for the time. The EP never happened, but music may come back to play a part in the things we're doing going forward.
A few words about your company Skeleton Key Films, and the philosophy behind it?
We've been going SO hard at filmmaking, we haven't really taken the time to philosophize a lot. That said, we just want to tell interesting stories that entertain and hopefully provoke thought. We're artists first, and whatever means we need to use to tell the stories we have to tell, we'll use.
How would you describe yourself as a director?
Just a guy trying to bring stories to life. I hear a lot of fancy words floated about, but at the core of it, a director is just that: a guy or gal directing traffic in an effort to tell a story they believe in. It takes such a team effort, I can't imagine ever taking all the credit for a film.
I like to approach everything from the characters outward. I want to see their heart and reasons shine through whatever's going on. I feel like maybe the "goings on" almost become the side dishes when a character is shining via their proxy, the actor. I will gladly halt everything to discuss character with an actor, but I love it even more when those moments come where I can't even see the actor there beyond the character. Then it's time to watch and "direct" (interfere) as little as possible.
Filmmakers who inspire you?
I never answer these questions well, because I think they often draw a blob of pretension out of filmmakers. Honestly, I don't follow filmmakers specifically, but among my consistent favourites are Darren Aranofsky, Cameron Crowe, and John Hughes. These guys just elicit such fantastic characters and tell stories that stick in your brain.
Your favourite movies?
Here's my top eleven (not in order), which will seem to have no reflection on my attachment to psychological thrillers:
So I Married an Axe Murderer, Empire Records, The Labyrinth, High Strung, Say Anything, Singin' in the Rain, Ferris Bueller's Day Off, The Wrestler, Halloween ('78), Ernest Goes to Camp, (seriously), The Watchmen.
... and of course, films you really deplore?

Feeling lucky ?
Want to
search
any of my partnershops yourself
for more, better results ?

The links below
will take you
just there!!!

Find Jason Armstrong
at the amazons ...

amazon.com

amazon.co.uk

amazon.de
Looking for imports ?
Find Jason Armstrong here ...
Something naughty ?
(Must be over 18 to go there !)

I just can't get into the Transformers- or X-Men-movies. I don't know if there are any films I hate, though. Safe Haven was pretty bad, I guess.
Your/your movie's website, Facebook, whatever else?
Skeleton Key Films' site: www.skgfilms.com
Facebook pages:
SKG: https://www.facebook.com/skgfilms
48 Hours in Purgatory: https://www.facebook.com/48HIP
Inspiration: https://www.facebook.com/pages/Inspiration/218367461620699
Alison Undone: https://www.facebook.com/AlisonUndone
The Ghost is a Lie: https://www.facebook.com/TheGhostIsALie
Anything else you are dying to mention and I have merely forgotten to ask?
Only to encourage readers to dig into independent cinema. There are amazing stories out there that won't turn up on Amazon hit lists and box office buzz sites. When a film is made for the love of the art, it's almost definitely going to be excellent at the story level.
Thanks for the interview!
Any time!