Your upcoming movie Deathwoods - what is it about, storywise?
Deathwoods is your classic slasher film. Young twenty-somethings go camping and plan to party it up for a weekend. They drink a lot of booze, smoke a lot of drugs, get naked and tell "true" scary stories. Eventually they are hunted down one by one and dispatched in horrific ways by an unknown killer. The question is who would want these people dead and why? Much like our prior film The Legacy, Deathwoods is a grindhouse film that doesn't take itself too serious, has a lot of fun with its genre and is basically Friday the 13th meets Scream.
Deathwoods is extremely, how shall I say, democratic when it comes to killing off its characters and takes fan involvement to a whole new level. Would you like to explain?
It is exactly that. Taking fan involvement to a whole new level. After realizing our film needed a little more flavor to make it stand out in a sea of similar films, we thought involving the fans and letting them be a part of the writing process of killing our characters just seemed like a cool idea. Not only can they help us fund the film but they get to be involved with the writing, acting and producing of the movie. Truly giving the fans an awesome experience and more input in the genre we all love. I'm personally really excited to see what everyone comes up with. Especially when it comes to creating the kills for our horror icons Ari Lehman and John Dugan.
How did the concept come into being in the first place?
With Deathwoods we were hoping to do something innovative. We already made a tongue-in-cheek slasher film (The Legacy) with the tag line "Everybody DIES!" and we didn't exactly want to do the same thing twice when Scott Conner approached myself and Roni Jonah with his fun slasher script Deathwoods. At first we started out doing the same shtick. After going back and watching the footage we already shot for Deathwoods we realized we weren't exactly bringing anything new to the table. So we thought about it for a bit and realized "we need to make this film interactive! Let's let other horror fans CREATE OUR KILLS!" Basically it was a way to take the same cliché camp that we all know and love and make it even more fan friendly. Involve the people that truly care about the genre and let them create the difference we felt we needed.
You have written the script for Deathwoods together with Scott Conner, right? What were your initial inspirations, and what was your collaboration like?
Actually Scott approached Roni and myself during one of our guest appearances at a Nashville Horror Convention. He had just seen our film The Legacy, enjoyed it in all its campy goodness and asked if we would be interested in helping him create his film Deathwoods. He had an idea and a script of sorts in which Roni and I helped polish up. Scott is a big fan of horror and much like us, was inspired by the Friday the 13th-series.
With Deathwoods being a slasher, is that a genre you're at all fond of, and your genre favourites?
Absolutely! I'm a big fan of the slasher genre in all its forms. For me it was all about the 80's. I am a child of the 80's after all but we had all the classics. Friday the 13th, Texas Chainsaw Massacre, Nightmare On Elm Street, Halloween (78 I know), My Bloody Valentine, Maniac, Madman, Child's Play, The Stepfather, Prom Night, Sleepaway Camp - I mean the list goes on and on... Today I enjoy such films like the Scream-series, Hatchet-series and Behind the Mask. I would be hard-pressed to pick a favorite.
On your indiegogo-page you mention the "3 B's of B movies". Would you like to explain, and how do they fit into Deathwoods?
I feel the 3 B's is fairly open ended and our version is Boobs, Blood and Brutality. These particular items are a must for B movie slashers. Let's face it, we love this genre and we rent/buy these things with a certain expectation. If you don't give the fans what they want, they will burn you alive. Deathwoods will not disappoint. Especially with our interactive kills. We want this film to be brutal and fun. Not to mention we have a damn sexy cast of talented people and the majority of us will be naked somewhere in the film. If you check out our Facebook page cast photos you will not be disappointed.
Deathwoods' motto is "Everybody Dies", right? You have to elaborate on that!
This is the one thing myself and, writer/director/actress, Roni Jonah like to stick to with our slasher films. That being NO ONE is safe. The person you may think is the star may suddenly die. Violently. And without warning. Anyone and everyone can and mostly likely will die in our films. We aren't saying they will stay dead, we are just saying they will all more than likely die.
Your film also stars horror veterans such as Ari Lehman, John Dugan and Debbie Rochon. How did you get them interested in your project, and what is it like working with them?
Scott Connor was able to work out a deal with Debbie Rochon (and Jim O'Rear) while at the Full Moon Horror Convention in Nashville (a show we highly recommend to everyone). We were able to work out some time and film some great stuff with both Debbie and Jim. And I mean great. They had little time to prepare for some dramatic footage and they pulled it off like the veterans they are and they did it very well.
As for Ari - Roni and I met him at several horror conventions we were all guests at and we quickly became friends. Thus we cast Ari in our films Hell House and The Zombie Movie. So we've already had the pleasure of working with Ari before and the guy is awesome. Fun to be around. Lots of energy and a great actor. He knows a thing or two about playing deadly games in the woods and we know all the fans out there will enjoy what Ari brings to Deathwoods.
As for Mr. John Duggan, I have yet to personally work with him on film. We were both in the films Monstrosity and Hell-Ephone but never in scenes together. Now with that being said I met John much like Ari, as a guest at a few horror conventions. We've talked and he's a very nice guy. Great stories and just a blast to be around. I very much look forward to actually working with him personally. His scene in the film is a lot of fun. Add that to the fact that a fan gets to murder Texas Chainsaw Massacre's grandpa, and we have ourselves a winner.
A few words about the rest of your cast?
The rest of Deathwoods is phenomenal. They are all sexy and talented people and we all share a love for horror. Which makes me extremely happy. There are too many to talk about as I will just ramble about how much I love these folks. However here is a list of our sexy cast and some of their film credits. Roni Jonah (writer/director/actress from The Legacy and The Zombie Movie), Julie Streble (Star of Girl Number 3), Julie Anne Prescott (Slices, Deadly Dares: Truth or Dare IV), Megan Wilson (Red River and Scream Kings), Andie Noir (The Deepening, The Hospital), Dawn Lyn (Hell House, Thing Girl 4), Chris Baker (Love Sucks), Derek Sturgeon (Run for Your Life), Ryan Adomaitis (Drummer for First Jason), Mike Nusser (The Zombie Movie), Shane Abell (The Zombie Movie) - and the list goes on and on with some newcomers such as Tracy Jacobey, Bridget Smith, Jesse Miller and more!
As we speak, Deathwoods is still in production of course. How far along is it, and how will you proceed?
Deathwoods is close to 50% completed. With the new campaign we've of course added a bit more work to our plate but it's well worth it. We start finishing up starting this month and into the next. With luck will will have a finished product by the end of June... or early July release.
What can you tell us about your directorial approach to the subject at hand?
My approach is fun, rough and gritty. I like to move at a fast pace and I think the films energy will show that. We like to keep the film set light and fun. To the outside looking in it looks like we are just having a big party... and we are. We just like to film as we do it.
Deathwoods is also used to crossfund another film, The Hospital. Why, what can you tell us about that movie, and are you in any way involved in it?
Being indie film artists we know how hard it is to find support when it comes to create these films and taking them from script to screen. Thus we want to make sure we help just as much as we ask for help. The Hospital was a no brainer. It's written and directed by our friends Daniel Emery Taylor, Jim O'Rear and Tommy Golden and stars even more of our friends. Not to mention it's going to be BRUTAL. These guys are going all out and it's going to be awesome. I'm personally not involved in the film (unless they need me to die in some horrible fashion later) and although they are doing fine without our help, we wanted to make sure they know we support them. Be sure to check out their indiegogo campaign as well.
Let's go to the beginning of your career: You have initially entered the filmworld as an actor, right? What can you tell us about your first acting experiences, and have you received any formal training on the subject?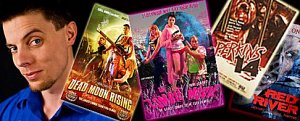 I started in theater years ago. However I started later in life than most and had zero training behind my belt. I was about 21 during my first acting jaunt on stage. From then on there was no turning back. I was content with stage for a long time until I finally decided I wanted to try film. My first film audition was for the zombie film Dead Moon Rising. Oddly enough my first audition out and I got the lead role. Dead Moon was eventually released worldwide and opened a lot of doors for me in the indie film world. With it I was lucky enough to meet a lot of awesome talent. Eventually I decided to try my hand at directing and with a big push from Roni Jonah I did just that. My first film was actually a practice film called the Legacy. We had no real plans of pushing it as we wanted to use it as a learning tool. However it started to receive a lot of local press after WWF wrestler Al Snow joined the cast thanks to Roni. Roni was once a professional wrestler who managed Mike The Miz Mizannin, and she was trained by Al. Once he was involved we asked our friends Jim O'Rear and Daniel Emery Taylor to come play with us. With that The Legacy was a hit in all its campy goodness, and trust us it's campy. But also delivered a story and some very good acting... none of which most people saw coming. Since then we have been on a roll. By we I mean Roni Jonah and I as we direct together almost always. Currently we are trying to finish up our way overdue film Hell House, as well as a grindhouse re-edit of The Legacy, Roni's feature film directorial debut The Zombie Movie and of course Deathwoods.
What can you tell us about your approach to acting as such?
My approach at the start was limited. I knew the lines I needed to say and that was just about that. As I learned and grew as an actor (as I'm self taught in all things film from acting to directing, to producing and editing), I found how to find the truth and meaning behind the words. The reasons these characters say and do what they do. As such I've become much more of a method actor. I mean I'm not doing Shakespeare over here (although I have before), but I am giving it my all with every outing.
Going through your filmography, I've stumbled upon titles like Saucer Sex from Beyond, Flying Saucer Sexodus, and Saucer Sex Peep Show. Am I the only one seeing a thread here, and would you like to elaborate?
All those titles are thanks to Lexington filmmaker Jerry Williams and are part of a series of films from Jerry. I told Jerry my IMDb looks as if I did porn. A lot of porn. But I'm ok with that... I enjoy porn. However I've never been in one. Yet.
Any other films you've acted in you want to talk about?
Dead Moon Rising was my first. George Bonilla's Monstrosity and Hell-Ephone were also early on. Then I was lucky enough to play in Little Sex Shop of Horrors with Roni Jonah (which you can find on Youtube) and other films like Girl Number 3, Sword Bearer and Jacob Ennis' Red River [Jacob Ennis interview - click here], in which I had the chance to play my first movie monster! Recently I had a chance to cameo in Michael Rosenbaum's (Lex Luthor from Smallville) Old Days, which lots of folks should get a kick out of. And of course currently we are working on the zombie comedy The Zombie Movie and the bad ass vampire flick Love Sucks! Oh and I'm doing an internet web series called Simply Drunk...
According to my information, you took to directing in 2009 with the films The Legacy and Hell House. What made you climb into the director's chair, and what can you tell us about these movies?
Mostly I wanted to try my hand at it. Roni Jonah gave me the push I needed to do so and I haven't really stopped yet. Although recently Roni has taken over the directing on current projects and I do more of the camerawork and editing.
You have recently also produced, co-written and starred in The Zombie Movie. You just have to talk about that one for a bit!
The Zombie Movie is awesome. It's Galaxy Quest meets zombies! Basically I play myself... sort of. I play Jason Crowe and in the film we are "filming" Dead Moon Rising 2 when suddenly a zombie outbreak occurs. In which I go from bad ass action hero to prissy, no idea what to do, stereotypical drama queen actor. The Zombie Movie has a lot of political undertones about indie film making, actors and society as a whole all mixed in with a lot of fun, action and zombie gore! It should be done by August.
Any other films of yours you'd like to talk about, any future projects?
Other than Deathwoods and The Zombie Movie we are currently re-editing The Legacy into more of a grind house film and trying to finish our long overdue film Hell House, of which I'll be releasing a trailer soon. We are also currently working on a vampire film called Love Sucks which is going to be awesome. Can't wait to share more about that one... Roni and I are also involved with William Lee's supernatural action film Architect of Chaos which is also going to be extremely bad ass. Take a look at the cast and you can see why. Also you can send Architect of Chaos to the Oscars. Check out their Facebook for all that info.
Actors and directors who inspire you?
People like Robert Rodriguez, Guillermo del Toro and Joe Carnahan are people I enjoy the most. Not to mention any indie film maker that puts forth the effort to make a movie. I have much respect for you.
Your favourite movies?

Feeling lucky ?
Want to
search
any of my partnershops yourself
for more, better results ?

The links below
will take you
just there!!!

Find Jason Crowe
at the amazons ...

amazon.com

amazon.co.uk

amazon.de
Looking for imports ?
Find Jason Crowe here ...
Something naughty ?
(Must be over 18 to go there !)

From Dusk Til Dawn, Desperado, Day of The Dead (original), Smokin' Aces, Braveheart, Monster Squad etc...
... and of course, films you really deplore?
I'm not sure if I deplore many films but I remember hating The Pest. A lot.
Your website, Facebook, indiegogo, whatever else?
www.facebook.com/deathwoods / www.indiegogo.com/deathwoods
Furthermore:
www.facebook.com/thezombiemovie
www.facebook.com/pages/Allbass-Productions-Love-Sucks/306771159371278
www.facebook.com/pages/Architect-of-Chaos/138179649578819
Anything else you are dying to mention and I have merely forgotten to ask?
Nope. I've rambled enough.
Thanks for the interview!
Thank you! We really appreciate you taking the time to talk to us.