Your new movie Easter Sunday - in a few words, what is it about?
Easter Sunday Movie is based on a true urban legend in northern Virginia about a person who wears a Bunny costume and kills people with an axe.
How did the project come together in the first place?
Jeremy Todd Morehead the director had written the script and had been working on it for many years. He brought the script to many people and nothing happened. Then he showed the script to me and after I read it I said "we can do this"!
What can you tell us about your collaboration with your director Jeremy Todd Morehead, and how did the two of you first meet even?
We had worked together in the past when he managed a business and I did security and we shared similar interest in films and horror.
What were the main challenges making Easter Sunday on the production side of things?
The main challenges besides ensuring that we stayed below budget was finding the time to get all the people involved in the film together. We all had jobs that support our lives and this was a passion project for all of us. So coming together and getting each scene done and everything we needed filmed was a huge obstacle.
You also co-created the bunny mask for the film, right? So do talk about the creation of that one for a bit!
Well Jeremy Morehead created the Bunnymask for the film and my wife and I made reproductions of it. But Jeremy and I put together the whole concept. We had a costume rehearsal and we played with many different versions and outfits until we found something we thought gave the audience a great visual and also could be seen as comedy.
Playing the bunny-masked killer - how do you even prepare for such a role, and honestly, how much fun is it to let loose and slaughter people?
I think all human beings have violent tendencies that they wish they could play out. And given such an opportunity if more human beings could do that without actually injuring anybody then maybe it could serve a purpose. I certainly feel that playing an evil character who kills people for fun was a great way to get out any anger that I had without actually hurting anybody or being disrespectful. I tried not to copy the famous slasher killers out there and overall I think I managed a different type of slasher. A more vocal and playful killer. Someone who enjoys the violence he brings down on his victims and knows how to have fun with it. So many killers in the slasher genre are silent. But we are not trying to be purely a slasher film. What we have made is an homage to the cheesy horror comedy genre of the 80s. Something that people can eat some popcorn and laugh at and also be disgusted by. We have 16 plus kills in this movie and it's only 1 hr and 35 minutes long. So on average it's a death every 5 minutes. If we are able to tell a funny story get some laughs in between all our awesome kills then I think the audience will appreciate my performance. It's a lot of fun fake killing people but you also have to know when to turn on and off the crazy.
Easter Sunday was also one of the last films of the late Robert Z'Dar - so what was it like working with him?
Robert Z'Dar was a consummate professional. Not only was he willing to help on set but he was a valuable asset on set to all the other actors including myself. Working in a scene opposite such a horror icon was a dream come true. He was not just an actor on set but he became a friend to many of the cast and crew. He talked on the phone with the cast and crew after the film and was heavily invested emotionally in our film and the outcome and I think he would be proud of how his performance and the film itself has been completed.
Anything you can tell us about the rest of your cast, and to what extent were you involved in the casting of the movie?
As producer of the film the casting fell on myself and Jeremy Morehead as well as Kim Gunzinger who helped us get in touch with some of our cast. It was really more about finding people that we could trust and rely on than anything else. Because of our budget and our time constraints we wanted to surround ourselves with people who had been willing to go the extra mile to help us finish the film.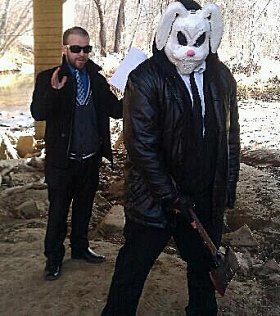 with Jeremy Todd Morehead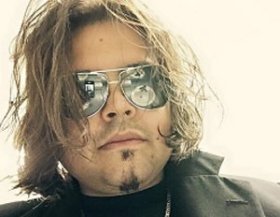 Do talk about the shoot as such, and the on-set atmosphere!
As the film became closer to completion we came together as a cast and crew and things on set became easier for all of us. We became more efficient on set and banded together as if our lives depended on it. Because this film depended on us coming together and working in unison. It wasn't easy but we pulled through.
Any future projects you'd like to share?
Currently I am working with Joe Nardelli and Mark Torgl on Toxic Tutu, a Toxic Avenger mockumentary which follows Mark Torgl who played Melvin the mop boy. They are also using the film as a way to bring to light bullying all over college campuses and other areas in the US. Also im working with Joshua Bruce, a new up and coming young director who is making Burn in Hell. The movie stars actors from AMC's Comic Book Men like Mike Zapsick and Ming Chen. Also Rob Bruce the pop culturist himself is in the film. Jeremy and I are also working on another project called Werewolf Santa with writer Jason Smith, and we are in negotiations to secure the starting funds for that film as well as working on a short film that I am not at liberty to reveal anything about except the title Peek-A-Boo.
What got you into the filmworld to begin with, and did you receive any formal training on the subject?
I have taken camera course classes as well as radio production and editing classes. I also studied liberal arts for a few years before joining the marine corps. But mostly I think that Jeremy Morehead our director would agree that our training has been years and years of watching films, documentaries, special features and making the film itself. Anyone can go to a class and take a course. But the true lesson is learned from doing. And 2 plus years of making an independent film is better than any class the world has to offer. Instead of thinking about doing something sometimes you just have to do it and learn from your mistakes as you go.
Filmmakers, actors, whoever else who inspire you?
I am inspired by stories of filmmakers. I am inspired by Kevin Smith's story of how he risked it all. How he used his comic book collection to make something he believed in. Something I started saying to people recently is "if you're not willing to risk it all, you're not willing to risk it at all". The people that are willing to risk what they have been comfortable with to place themselves in an uncomfortable situation are the people that inspire me.
Your favourite movies?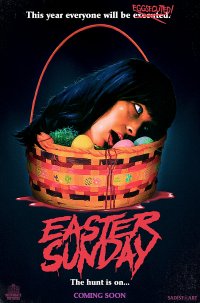 Feeling lucky ?
Want to
search
any of my partnershops yourself
for more, better results ?

The links below
will take you
just there!!!

Find Jason Delgado
at the amazons ...

amazon.com

amazon.co.uk

amazon.de
Looking for imports ?
Find Jason Delgado here ...
Something naughty ?
(Must be over 18 to go there !)

Some of my favorite films are Star Wars, Jason X, Wes Cravens New Nightmare, the Hatchet series, The Burning, The Matrix, the Terminator films, Starship Troopers.
... and of course, films you really deplore?
I strongly dislike Shaun of the Dead. I think it's a lazy film. I think with that budget a lot more could have been done. I really deplore movies that are not financially responsible. Filmmakers that spend $50,000 doing something I can do for $10,000. Filmmakers that don't use film financing for the film and otherwise use it to support themselves. I host 2 radio shows a week I am working on producing 3 films I hold 2 part time jobs and I raise 2 children with my lovely wife and strongest supporter Lelah. And yet I am still capable of utilizing my time and money appropriately. I would say my strongest skill is utilizing money and placing people in positions effectively.
Your/your movie's website, Facebook, whatever else?
Facebook: EasterSundayMovie.com
Official trailer 2015 https://youtu.be/bJVQxukJXwU
Anything else you're dying to mention and I have merely forgotten to ask?
Douglas Fisher returns in 2015 to finish the terror he began 24 years ago. Starring Robert Z'dar as Sheriff Arkin and the first Jason Ari Lehman as well as Mr. Hush Edward X Young. Screening at Four State Slasher Con Oct 16-17, sponsored by Fangoria - Robert Z'Dar's last stand.
Thanks for the interview!