Your new movie Exploited - in a few words, what is it about?
Exploited is about a psychotic down & out filmmaker called Jack Hess who is trying to make the ultimate exploitation film which causes him to venture too far & enter the world of snuff filming.
Exploited is a rather radical re-cut of one of your earliest movies, Home Made - so what made you take that film to the editing suite again, and what were the inspirations behind both the new version and the original movie?
I made Home Made back in 2006 and spent most of that year doing it. Originally I pitched it to Vipco and it was looking to be released on their Screamtime Collection. It was supposed to be the film Suicide meets Cannibal Holocaust, I wanted to use the found footage style to show Jack Hessís killings. The original script was the first half having two detectives track Jack Hess down and raid his house while he escapes. They find all his material which cues the second half of the film - seeing all Jackís crimes playing out resulting in the end climax of Jack coming back to collect his trophies killing the two policeman. I wanted to give it a real grindhouse feel, however I was told by Vipco that the film Suicide had not made them that much money and it probably was not a good idea to go down that root, so subsequently I ended up going a more stalk and slash American cinema mainstream root which looking back I felt wasnít the right choice. I was also pushing for a 90 minute running time for distribution which on my mega low budget was causing me to MILK the film out! I tried to prolong scenes out to create tension etc but I felt it just made some of the film boring.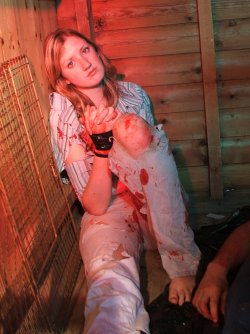 I ended up with a near 90 minute feature that did get a few DVD releases but it certainly was not the film I originally set out to make and I was a bit disappointed with the end result and it had very large mixed reviews, some very negative. I had pulled a lot of strings and collaborated with many people on this project and learned a lot as a filmmaker embarking on the journey, it was almost its own film school for me! I had another crack and made Home Made 2: The Footage, which was a lot more true to my original vision but I felt it lacked some of the exciting bits the first had in certain places, however I got the second film released that initially saw the death of Jack Hess.
I was looking back at both films after a few years and could see where I had gone wrong and decided to bring all the footage in from both films complete with a new score and re-cut the film and make Home Made Redux - my true vision of the film. This edit went on for years on the side while Iíve been involved in other productions. In the meantime I shot more material as Jack Hess which I originally planned as another spin off film, but as all my Home Made movies it started to suffer a curse and was looking like it may not see the light of day due to various reasons that was quite sad to me, and I was growing full of disappointment for that project. While editing Home Made Redux I thought I would try and salvage what I could of that footage and build it in my master edit as it was still the same character and storyline which fortunately worked resulting in Exploited.
I think everything worked well together in the end and it has turned out much more how I originally envisioned it and I feel I have caught the atmosphere of Suicide, which was one of the original inspirations for the film and still remains as an inspiration to the new edit. I have tried to also give it much more of an exploitation cinema style as I am a big fan of grindhouse.
Exploited does get quite extreme at times, so was there ever a line you refused to cross regarding gore, violence and the like (for other than budgetary reasons)?
I wanted to push Exploited as far as I could as I am trying to show the world through the eyes of a deranged filmmaker who will do anything to get the most extreme and graphic footage as he can to shock and stand out from the influx of indie films, it is a sort of fingers up to the industry in a way, but also a nod to what I love! I wanted to show the audience what Jack Hess sees using the camera as his eye and vision and so I did not want to hold back from content, I like making an audience uncomfortable and so I was not afraid to get too extreme.
The newly shot scenes for Exploited - what can you tell us about shooting them, and how weird was it to go back to this old story after that many years?
The new footage is from the lost Jack Hess film I spoke about earlier that was shot in 2011, 5 years after Jack first hit the screens. It was a bit surreal returning him to the screen but also felt right and in a scary way natural! It was hard work though, and more intense and harder to shoot than the previous 2 films. As always, time is a major factor making indie films, there is never enough time to get everything you need shot!
Do talk about the initial Home Made-shoot for a bit, and the on-set atmosphere!
Back in 2006 it was very exciting to be making a horror feature film, it was at that point my second feature, the first being Sick Bastard that had gained distribution which gave me quite high hope for Home Made as I was pushing that film 10 times further than Sick Bastard (or so I thought, I actually prefer Sick Bastard as a film).
I was very enthusiastic on set & excited to be shooting another film. I had been meeting a lot of new filmmakers at the time that wanted to further themselves so I invited a lot of people down on set to help and get involved, something I am not so keen to do now! I found the more people on set the less got done, I ended up dealing with so many people it was distracting me from the matter at hand. I did work with some great cast, but I also roped in some friends - BIG mistake. I am very thankful for them helping and supporting, and I did need more cast, but as they were not overly bothered about being actors it does show in their performance a bit & I feel it hurts the project in a way that makes some parts look a bit amateurish, but as Iíve said I used Home Made as a big learning curve as a filmmaker.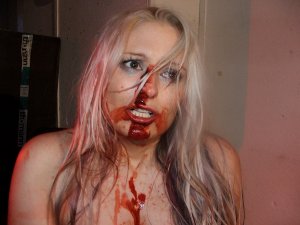 I did keep a video dairy while shooting the movie, and made quite a big documentary about the making of Home Made in which I share my highs and lows, as although I was enthusiastic it was slowly knocked out of me and I did struggle keeping it all together. I spent about 6 months on and off shooting, and some mini shoots were much better than others. I did get quite stressed at times, but that does not help when certain cast members decide to go and shave all their hair off half way through filming their scenes! I also had to do a re-shoot due to a technical error with equipment that was a bit of a nightmare. Two cast members were not keen on one another that created a bit of tension, and an actress was fine with most things, but when it came to putting a bit of make-up on for a dream sequence she kicked off like there was no tomorrow. I spent half my time dealing with issues! I at the time had just got a Sony Z1 HDV camera, had a bit of investment and got a nice bit of kit costing £4000 - and on the first day of using it on the shoot the set fell down onto it, so I think you can guess how happy I was about that!
But overall looking back and looking past the various troubles it was a fun shoot to do with some good laughs and I had free range as it was my project so I was able to experiment and play about a bit.
The feature length documentary following me making Home Made back in 2006 can be seen fully uncut here: http://www.openfilm.com/videos/home-made-documentary
What can you tell us about your key cast (old and new footage alike), and why exactly these people?
I had Colette Green play the hostage in Jack Hessís lair. I had worked with her in London and got to know her well while we were runners at Princess Productions. We also became friends with Marc Price while we were there and I teamed up to make an epic scene from my movie Zombie Village with Marc in which we invited Colette down to be in front of camera instead of behind it. She had a great time and was quite natural. I brought her down to my neck of the woods in Milton Keynes late in 2004 to finish off Zombie Village in which she was great to work with and was happy to try lots of different things out, so it was a no brainer to bring her back for Home Made.
Matthew Verity - the guy I mutilate in the back garden is an old college friend of mine who studied media and filmmaking with me, and we had collaborated on student projects together. He fancied a go at acting and I wanted to work with him again, I found it quite easy to work with Matt as we had built up a good friendship over the years.
Sarah Gardner who is the woman home alone that I prey on was an old friend who I roped in as I was short on numbers! She was up for a laugh - too much at times! She had no acting experience so I certainly had my work cut out with her! She did not like anymore than 1 take, any make-up applied, and was a handful! But she helped me out when I needed it and am thankful for that.
Kaz B who came in for the spin off shoot was a real pleasure to work with. She was up for anything as she loves the same kind of movies as I do and we had the same understanding of that kind of cinema. I think that was important as the content with her was so extreme and explicit a lot of actresses would not have done it so I certainly needed the right person on set. She wanted to push herself and was very pleased to be on board the project. She gave me no hassle and I had a great time working with her, so much so she came back to do my film Lustful Desires with me.
... and since you play the lead, what did you draw upon to bring your character to life, and being a horror filmmaker yourself, to what extent could you identify with the frustrated snuff filmmaker of your movie?
I used my own frustration at getting movies made and even more frustration at distribution. I tried to add that element of realism, but also wanted to have a bit of fun and create a very dark and troubled man who is pushed too far in at times a very unrewarding industry. I wanted to add that slight depressed and disappointed approach to the character - almost he felt sorry for himself and everything he had tried had failed so he had nothing left to lose so why not just go all out with a bang and push everything too far.
Iíve had many frustrating years as a filmmaker with a fair few disasters - so it was not hard to get myself worked up about it!
The key question of yourse, when and where will Exploited be released onto the general public?
Iím aiming for a DVD release later this year that will be a double bill with my other film Lustful Desires that is having a bit of a redux done to it at the moment. Fingers crossed it will be released by WWMM and available on amazon.com later this year.
Any future projects you'd like to share?

Feeling lucky ?
Want to
search
any of my partnershops yourself
for more, better results ?

The links below
will take you
just there!!!

Find Jason Impey
at the amazons ...

amazon.com

amazon.co.uk

amazon.de
Looking for imports ?
Find Jason Impey here ...
Something naughty ?
(Must be over 18 to go there !)

I am currently writing away at a new grindhouse short film for a bigger project that I am hoping to reveal soon, it could be very exciting indeed.
Your/your movie's website, Facebook, whatever else?
News and information on my films can be found here:
www.facebook.com/jason666films
Anything else you are dying to mention and I have merely forgotten to ask?
I would like to thank all the cast and crew for their help and efforts in the project, it has been a long struggling journey, but one I am glad I have undertaken and am pleased with the final result these many years later.
Thanks for the interview!