Your new movie Fluid Boy - in a few words, what is it about?
Jason: Fluid Boy tells the story of an unsuspecting innocent actress who gets more than she bargained for when she attends an audition for a new indie horror film that soon escalates into a full blown snuff movie
The film does serve a deeper purpose however and looks at the exploitative nature of the film industry and how it destroys souls and creates monsters!
Wade: Fluids, fluids, lots and lots of fluids, and one poor miss that has to deal with them...
How did you come up with the concept of Fluid Boy?
Wade: Jason was wanting to make a snuff film for another project and we got chatting on the phone, which is usually how menacing ideas come about, and then Fluid Boy was given birth too, it's not a romantic comedy, but I suppose that depends on your idea of what's comedic and romantic.
Jason: I have always had an interest/fascination in the sub-genre of snuff films, and have attempted to make a few entries into this area of filmmaking, but nothing I was ever too pleased with. I wanted to shoot on a retro format which adds to the grittiness and overall look and sell-ability of it actually being a snuff. I happened to come into possession of a few VHS cameras and an opportunity presented itself to me, I did not want to delay anymore - this had been on my wish list to make for a long time!
Do talk about your directorial approach for a bit?
Jason: I wanted to gross the audience out, I knew we would be compared to some very good and extremely hard hitting films out there so I was conscious to put my own spin on it and while saluting these other classics also make my own mark and unique entry into this sub-genre.
I wanted to make sure we was all comfortable and confident in what we were doing and all singing from the same song sheet. I was happy with the very small team I had assembled and had faith in them, I had spoken in great detail about exactly what I wanted and hoped to achieve from the project so when it came to shooting we could roll all the cameras and create utter madness!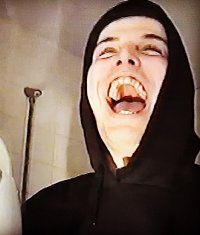 Wade
Now I'm guessing that much of Fluid Boy was improvised on the spot - so how much of an outline did you have for the movie's events, and how much of a strain was it to come up with stuff to get the film to feature length?
Jason: I had the initial idea and as with this style of film was conscious that there was a very basic plot outline and does not take long to tell the story! What I hoped would help carry the story and make it feature length was to create tension and a sense of uneasiness throughout the film to give the audience a real journey to go on! I spoke to Wade as I knew he would be able to carry an audience with his performance, as he had done in our previous collaboration Twink.
I spoke to both Wade & Samantha [Samantha Keller interview - click here] about what was going to happen and were the film would start and where we needed to end it. When I approached Wade to first do the film he got very excited and bounced a lot of ideas around with me which helped give me the confidence that there was enough ideas to fill the running time we were setting out to get. We did have a slightly different ending planned out at first but I think it all worked out for the best.
The complete dialogue was improvised that I know some cast hate, but I believe if it is done right and everyone is on the same wave length then you can get some amazing moments. Wade had worked with me on improv before and enjoys it and is also very good at it so I had a lot of trust and faith in him to deliver the goods. The last film I worked with Samantha on, Impotent Killer, was fully scripted so this was a complete different style for her to work on with me, but she did even better than I hoped for, she thoroughly took the character on and brought her to life. Once we got going we flew through it, the only problem we faced was how long we had the location for, time was against us as it always is with filmmaking - time can be your worst enemy!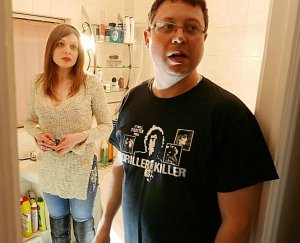 Samantha Keller with Jason on the set of
Impotent Killer
Wade: It's a style we're probably more comfortable working with than a structured script, so banging out the madness just tends to come naturally to us- I find scripts so limited and often can prevent whacky oneliners and cringe moments popping up, so for this type of film I think improvisation was the right way to go. I mean c'mon, it's hard to remember your lines while taking a dump on someone's lap!!!
Do talk about your respective characters for a bit? And since you've done quite a few movies together I'm guessing you're having a rather good rapport with one another - so how come in the films you're both in you always play antagonistic characters? And how much fun is it actually to be one another's bane in these films?
Wade: I think the great thing about this particular flick is we took the opportunity to generally abuse each other, and take sly digs, it's how we show love for one another!!! Having the good rapport is obviously a must, and I guess it's handy when feeling comfortable enough to spit venomous remarks at each other.
Jason: It's great fun, we have a very good working relationship together and help move each other along with our joint projects. We make a good team and so it can be very amusing being such enemies on screen, and in Fluid Boy there are a few rude digs at one another personally! We were both ready and expecting it - that's the kind of crazy nutters we are! But then I guess you have to be a bit mad to make a film like Fluid Boy!
Playing such clashing characters gives you the opportunity to really go all out and mad with your character and have a lot of fun, and get some outrageous content, which is exactly what we want and like.
How easy or hard was it to actually cast the female part in your film? And what can you tell us about Samantha Keller, how did you find her, and what was your collaboration like?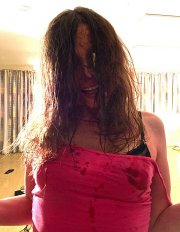 Samantha Keller, a little worse for wear
Jason: Samantha approached me a while back as an actress looking for parts and she had a great interest in the horror genre, which of course is great for my films! She caught me at a good time as I was just about to embark on making a short exploitation film for the Grindsploitation anthology. I sent her the script for my entry Impotent Killer that she really liked and was happy to come on board. That shoot went great, and I was really pleased with how dedicated Samantha was and how easy she was to work with, and as I got chatting I realised we shared the same love and passion for horror cinema and liked the same movies etc and she had a very good understanding of the genre.
Soon after Impotent Killer, Fluid Boy was on the cards so without even thinking I offered the role to Samantha as I knew it was a very hard role to fill and one not too many actresses would be keen to do! I needed someone who was not afraid to go that extra mile, and someone who believed in the project and didnít mind being involved in an extremely controversial film! I was delighted she agreed but to be honest thought she would as I believed it was her cup of tea.
It was even easier working with Samantha on this shoot than it was on the last one, but it was a very different kind of shoot. She very quickly understood the film I was trying to make and fell straight into character, it was a real breeze and pleasure to work on.
The film depicts events pretty much in real time - so how long did it actually take to shoot it?
Jason: We amazingly got the film wrapped in 5 hours!
What can you tell us about the shoot as such, and the on-set atmosphere?
Wade: Shits and giggles...literally!!!
Jason: The atmosphere on the shoot was great, we all gelled very well together, had a real laugh and good time. It went very fast, if anything I could have done with more time!
Filming this movie was great fun, it took a while for me to set up as I used 6 cameras! I was shooting on HD, HDV & VHS! There was no way anyone else could have been involved shooting this as there was nowhere to hide other crew! It was like Big Brother - we could see every inch of that room on camera!
Anything you can tell us about critical and audience reception yet? And any idea when and where Fluid Boy might be released onto the general public?
Jason: So far I am really pleased with the audience reaction - people seem to like it more than I thought they would which is a great thing. I always worry and am nervous when people first watch one of the new films, and this film is certainly not to everyone's taste!
It should be seeing a DVD release in the near future from WWMM.
Wade: I guess it'll be a little while before any home releases, but we have an American release confirmed and in discussions for others. A few reviews have started dripping in, all good so far (thank fuck), with this one in particular I cannot wait to see customer reviews, It'll be a test of how much people are willing to stomach from a sick flick
Any future projects you'd like to share?
Jason: Iím returning to the pre-production desk to plan future projects later this year, as for now Iím sorting distribution out for several projects. I have many releases coming soon including Fluid Boy, Necrophiliac: The Lustful Dead, Exploited & Lustful Desires and my entries to Grindsploitation 1 & 2 and Virus of the Dead: Uploaded. Iím also currently in postproduction with Eileen Dalyís feature film Witches Can Be Bitches that I am editing.

Feeling lucky ?
Want to
search
any of my partnershops yourself
for more, better results ?

The links below
will take you
just there!!!

Find Fluid Boy
at the amazons ...

amazon.com

amazon.co.uk

amazon.de
Looking for imports ?
Find Fluid Boy here ...
Something naughty ?
(Must be over 18 to go there !)

Wade: Currently I've been pretty busy with some dealings stateside including possible new films, as well as the possibility of going on a Twink USA screening tour in November, but that's early days at the moment.
Your/your movie's website, Facebook, whatever else?
www.facebook.com/jason666films
www.facebook.com/fluidboysnuff
Anything else you're dying to mention and I have merely forgotten to ask?
Jason: I want to thank everyone for their continued support.
Thanks for the interview!