Your upcoming movie Creek Encounters - in a few words, what is it about?
A sci-fi horror movie where a group of teachers battle an unknown alien force. Set in a school they must work together to stop the alien virus from escaping and taking over the world. What we think is just a normal day at Creek High, the school becomes a place of cat and mouse - the teachers are being hunted, but they must take measures to prevent the virus from escaping.
With Creek Encounters being of the sci-fi horror variety, is that a genre especially dear to you, and some of your genre favourites?
I love Aliens, Donnie Darko, The Thing, The Faculty, these type of movie have inspired me to do a sci-fi. We just never have enough money to do this type of film.
Other sources of inspiration when dreaming up Creek Encounters?
I really liked The Mist and that get me thinking we need to make a sci-fi horror feature film. We also wanted to do something different without involving a ghost this time.
Now sci-fi horror movies demand their fair share of special effects almost by definition - so what have you planned for Creek Encounters, and how do you plan to achieve them?
We plan to have a crashed spaceship site, and also a giant alien spider that creeps through the school hallways effecting and controlling everyone it comes into contact with. We are going to use a mix of practical effects and CGI to create the spider, which will be the size of a car.
What can you tell us about Creek Encounters' overall approach to horror?
The movie will focus on ... drama, action, and paranoia. I think the gore scenes will be a lot more effective when you care about the characters.
With Creek Encounters being set in a school, what can you tell us about your projected location, and why film there?
I think it's a really interesting place to film, and taking into account the teachers' different skills to battle this unknown alien force.
Do talk about Creek Encounters' intended cast, and why exactly these people?
We got Tamara Glynn back because she did a fantastic job with Morris - we actually got everyone back from Morris, because of the on-screen chemistry, they all really worked well together. Kansas Bowling [Kansas Bowling interview - click here] was also someone that was of interest and is very much up and coming. She also plays Blue in Once Upon A Time In Hollywood.
You're currently running a fundraiser for Creek Encounters - so what can you tell us about your campaign?
We have an amazing line-up!! Check out some amazing perks we are offering. Help make the magic happen, we would really appreciate it - www.indiegogo.com/projects/creek-encounters-feature-sci-fi-horror-movie#/
Check out our IMDb - www.imdb.com/title/tt13098780/reference
Once the money's in place, what's the schedule, and when and where might Creek Encounters be released, however tentatively?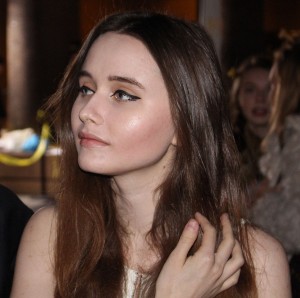 Kansas Bowling
We are looking at 2022. We have already received distribution offers for Creek Encounters.
Any future projects beyond Creek Encounters?
Not at the moment, but after this I am sure we will be looking at making another feature film.
Your/your movie's website, social media, IndieGoGo?
www.indiegogo.com/projects/creek-encounters-feature-sci-fi-horror-movie#/
IMDb: www.imdb.com/title/tt13098780/
Facebook: www.facebook.com/Creek-Encounters-11387
Twitter: twitter.com/CreekEncounters
Thanks for the interview!
Thanks Mike!