Your new movie 7th Day - in a few words, what is it about?
The film follows seven days in the life of a serial killer named Allen. He's having a bit of a mid life crisis and can't decide between his career and romance. And by career I mean killing. The romance is an imaginary love affair with Denise a waitress from the restaurant where Allen works at.
How did you get involved with 7th Day, and how did the project get off the ground in the first place?
I was approached by Mark Leake after he had seen a screening of my short film Lamplight. We began meeting and breaking down what was at that point a 2nd or 3rd draft of 7th Day.
What can you tell us about your writer Mark Leake, and what was your collaboration like?
He's a mysterious guy that I shouldn't speak about... just kidding, he's a nice and super smart guy. He's become a really good friend during this entire process. He just happens to like to write really intense stories. I've been in a lot of creative projects over the years and he's been the most generous hands down. We would meet and I'd give my advice and suggestions about the script. The next time we would meet those suggestions would be in the next draft. There's a lot of my ideas in the last version of the script made better by Mark Leake's writing.
Do talk about your directorial approach to your subject at hand for a bit?
I wanted to make the most realistic and gritty film I could. I felt it was important to include simple setups and minimal camera movements. To try and make the audience feel as if they were in the room with the madness. Also I knew I needed to humanize the lead character as much as possible or the film wouldn't work.
7th Day features quite a few quite gory scenes - so what can you tell us about the film's effects work, and was there ever a line you refused to cross regarding blood and violence?
We started building a lot of FX months before filming began and kept filming gory flashbacks while editing. There was one, it was during the scene where he cuts the girl's back with the box cutter. It was originally written that he has going to have intercourse with the wound. I pulled the plug on that during filming and just had him finger it instead. Because that's way more tasteful!
You just have to talk about the film's very macabre humour for a bit, and how easy/difficult was it for you to identify with it?
A lot of the dark humor that came through in the final version were actually from "accidents" that we built upon on set. I have a dark wit and it was fun to build these shots organically with the actors and crew. If you meet me in person you'll find I tell way more jokes than corpse rape anecdotes.
What can you tell us about 7th Day's key cast, and why exactly these people?
Most of the cast I had worked with in my area since my day job is film work. I had some people in mind as I worked out the script with Leake. I held auditions and mostly used the people I originally had in mind during preproduction and script writing.
Do talk about the actual shoot and the on-set atmosphere for a bit!
Even though the subject matter was very bleak on most days, we had a lot of fun. I know that sounds like cliché post production talk. But I'm good friends with amazing filmmakers and they were willing to help for nothing. We are all used to doing hard work and really enjoy what we do. So the sets were relaxed and productive. I remember editing audio takes and thinking, "God we were laughing a lot!"
The $64-question of course: When and where will the movie be released onto the general public?
7th Day DVDs available for pre order now: http://www.amazon.com/exec/obidos/ASIN/B00FRWI01C/researmytras-20 and will ship October 29th . Bluray, VOD, and in store release early 2014.
Any future projects you'd like to talk about?
I am currently working on a collaborative project with Drew Bolduc (The Taint, Science Team) - we are still writing the screenplay and hope to shoot sometime next year. We met on Return to Nuke 'Em High for Troma while doing SPFX. It was an idea born over gallons of yellow food dye. It's working title is Pee the Movie. It's a horror comedy I hope to make as intense as Dead Alive (Peter Jackson). I want to shoot it like old Asian action film. I love Stephen Chow (Kung Fu Hustle) and Jackie Chan films. I saw The Raid and was convinced white guys can make Asian style cinema and kick ass!
As far as I know, you have entered the filmworld as a special makeup effects artist - so do talk about that aspect of your career for a bit, and what can you tell us about your training on the subject?
Universal Monsters were my first love, I would only check out horror-related books even in preschool. My parents thought it was a phase. Even while in college at the Art Institute of Pittsburgh. They offered a special effects/film program and I had teachers from the film industry. Tom Savini was just leaving the school to pursue personal things but was still involved. Rick Catizone who did the stop motion for Evil Dead 2 was a sculpting teacher. Jerry Gergelly (Day of the Dead etc.) was there at the time and was very good with us. I recall his lessons all the time. I've spent the last 15 years working in cable TV and indie film in the Baltimore/D.C. area. It wasn't until I formed Aftermath FX Studio with Kaleigh Brown that I started getting these higher profile jobs. You can't do big jobs alone. We've grown a lot adding several part time employees. Last year we completed Troma's Return to Nuke 'Em High Vol 1, 2 and we did FX for the V/H/S 2 segment A Ride in the Park. We got to work with Ed Sanchez and Greg Hale (Blair Witch Project, Lovely Molly) on that. I learned quite a bit from those guys, they were very supportive of Kaleigh and I. We were relative no ones and they trusted in us and we owe them a lot for that! I think the gore worked great in that piece. I like that my first bigger feature FX ended up being zombies with my Pittsburgh schooling and all!
What made you try your hands at directing eventually?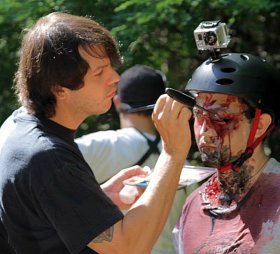 Jason M. Koch working on V/H/S 2
Once I began to understand filmmaking as a child I wanted to do it all. Everything interested me. My father was military so I guess I got the mentality to work your way up the ranks from him. I knew you couldn't just join the Army and say "I'm a General!" So I have waited until I had experienced film making from many different crew positions before directing. Starting with FX of course. You're never really ready I guess. I got brave enough to try my hand at directing in 2009 with my 30min short.
What can you tell us about your filmwork prior to 7th Day (in whatever function)?
I've covered a little bit of my filmmaking past already. I suppose the other more notable experience would be my work on Elfman directed by Ethan Wiley starring Wee Man and Jeffrey Combs. It was a kids Christmas movie and I was Gaffer on it. It was shot by my friends, litterally some of the same people who had worked on 7th Day. The director had wrote House starring William Kat. Ethan also worked with Chris Walas on Gremlins. And of course Jeffrey Combs of Reanimator- and From Beyond-fame. Here you have all these intense horror guys making a kids movie. Then throw in one of the stars from the Jackass-films! It was an amazing time that would take an entire other interview to get into.
How would you describe yourself as a director?
Ask me that question again in ten years...
Filmmakers, special efffects artists, whatever else who inspire you?
Lynch, Cronenberg, Jodorowsky, Stan Winston, KNB, Screaming Mad George, Eddie Vedder, Thom Yorke...
Your favourite movies?
Evil Dead 2, Day of the Dead, Lawrence of Arabia, Touch of Evil, Santa Sangre, Elephant Man, Martyrs, Deep Red, Enter the Void, Taxi Driver.
... and of course, films you really deplore?

Feeling lucky ?
Want to
search
any of my partnershops yourself
for more, better results ?

The links below
will take you
just there!!!

Find Jason M. Koch
at the amazons ...

amazon.com

amazon.co.uk

amazon.de
Looking for imports ?
Find Jason M. Koch here ...
Something naughty ?
(Must be over 18 to go there !)

I'm a huge fan of bad cinema so this is tough. Without a doubt I hate Grease and most musicals (except I think Hedwig is amazing). Heart Beeps comes to mind because with the names involved with that film how was that so terrible and void of any human emotion?! I've made my son watch that one as punishment before.
Your/your movie's website, Facebook, whatever else?
https://www.facebook.com/pages/Dire-Wit-Films/310530062316823
https://www.facebook.com/pages/7th-Day/184725308237953?ref=hl
Anything else you are dying to mention and I have merely forgotten to ask?
Vote for my ABCs of Death 2 entry M is for Munging! Its made by the 7th Day-crew, check it out! http://26th.abcsofdeathpart2.com/entry/m-is-for-munging/
Thanks for the interview!