Your new film Desperate Visions - in a few words, what is it about?
Well... Desperate Visions is a slam-bang double feature of 2 short films - Lady M. (a modern silent film) and Chump Change! Both films are unlike anything seen before!!
Why did you choose the double feature approach for Desperate Visions? And what made you believe the two stories at hand would work well together?
The last 2 films I did were features and I wanted to do an anthology horror film next like Tales from the Crypt and the Amicus anthology films. Originally it was going to be 4 short films making up Desperate Visions, but Lady M. started to grow during production, ideas started flowing and we decided to expand that film to about double the original size, so I decided to do a double feature. I like it that way as it is a good contrast like Beauty and the Beast. Lady M. is beautiful and dream like - very female -, while Chump Change is very grimy, funny and very male - like a dirty joke.
What were your main inspirations for Chump Change?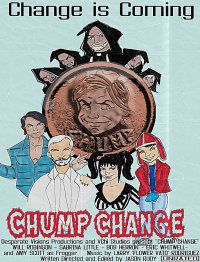 I wanted to make a funny buddy comedy with 2 of my favorite actors - Amy Scott (who plays the character Frogger in 3 of my films now) and Will Robinson (who always plays the perverted character of Willie, now in 3 films as well). So I wanted them to act together in a few scenes. Also I used to work with a guy who was obsessed with coins - he would take coins out of the register and compare them, feel them, study them and lots of other things. I feel like many people do, in that coins are some of the dirtiest things in the world, so one day I was thinking what if someone was so obsessed with coins that after being cursed, everytime they masturbated, coins came out of their penis. So off I went and made the film. I want people to look at coins in an entirely different way and have achieved it so far... I feel that is a way to be a smuggler as a filmmaker - to get your thoughts or messages out there in a way where you get people to think in a different way and subscribe to that message, where they wouldn't think about it before. I feel that my films are original and I try to do things not seen before. Imagination is the key.
With Chump Change, you took the comedy route, which is something new to your films, right? How easy was it for you to get into comedy mode, and how would you describe your approach to comedy as such?
Even though I haven't made straight up comedies before, comedy has been a strong element in Love Blade and Sukeban: Octopus Pot and those elements always struck a chord with my audiences. I am a really funny and imaginative person, so I wrote what I find humorous and went with that. Chump Change has been rewarding as everyone laughs at the points I created for laughs, and it feels good watching that with an audience. Like a well planned chart that hits at the right moments.
What were your inspirations for Lady M.?
I love Jean Rollin - he is one of my favorite filmmakers, and I am always inspired by his budgets and films. His imagination was so superb!! So I wanted to make a film like his and I decided to mix the formulas of a revenge film, High Plains Drifter, Jean Rollin, ghost stories, and the myth and character of Lady Midday aka Pscipolnitsa (based on European folklore).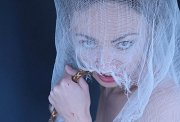 Kenyon Page in Lady M.
You made Lady M. as a silent - to put it bluntly, why?
Well It didn't start off as a silent, as it was woven into Chump Change as the film Desperate Visions. After a few test screenings I decided to alter the film and change it up, as I felt the rhythm and pacing of the film was off, and the 2 films felt awkward as 1 film. So after separating them, we reedited Lady M. and as I was watching it for the untold time, I had an inspiration to make it into a silent film as our soundtrack always felt that way and the framework of the film suited the silent format. I went through my vast video and DVD library and studied how music was used in those silent films and most importantly how Frank Black did the score to The Golem - on which he did a magnificent job! So we have... the main character's narration/ music/sound effects/ambience and such but we have speaking cards for the onscreen actors, which also makes it feel like a foreign film as it makes the audience read along and keeps them into the film.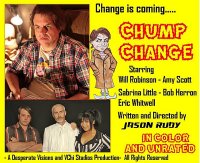 How would you describe your directorial approach to your film's two segments, and did you consciously try to apply different styles to the two films at hand?
I approached Chump Change as a grimy, 70's low life street film, with lots of tight shots and a few long distant shots. Very minimal and very truthful - despite the concept of the film's message. On Lady M. I wanted it to feel very dream-like with layered/overlapping shots, very fluid movements, and very wind-oriented scenes and feel. I love the wind and it figures into my daily thoughts and writing. that is one of my inspirations.
What can you tell us about the actual shoot of Desperate Visions?
Chump Change was shot first in Nov/Dec of 2009 and Lady M. was filmed in Jan - July of 2010. The filming went well, and we had some down time in the middle of filming Lady M. as schedules overlapped and we were forced to add more shoot days Lady M.
The Post Production process took the longest as we kept editing and working on the film and trying to find what worked and what did not work. My co editor on Lady M. used a tension graph system and had that mind set of editing which was a new process for me, but I liked the way he approached it and looked at the film as a map, graph and formula study.
A few words about your cast and crew?
We had a fun and energetic cast and crew even on a shoestring budget, they gave their all especially Kenyon Page (the star of Lady M.) She took the role on with all her heart and might and delivered an amazing performance which stands among the best that I have directed. She really sacrificed herself for the movie and pushed me as a director in a great way, which is what you want your actors to do in the best possible way. That way they don't just walk through the role and instead really live and breathe the role!
What can you tell us about critical and audience reactions to the film so far?
Some love Lady M., some love Chump Change, and some love both. I am amazed at who loves Chump Change, so many women think it's so funny, so that makes me happy as it really is disgusting, shocking and funny. Shocking usually turns some people off but not in this case. At first it's shocking but as it goes along you get desensitized to it and it gets funnier as it goes along. It's been cool hearing people ask me about the films and their interpretations after some of the screenings. That is one of the great things about art. What they see and feel and ask about.
Let's leave the present behind for now and move head-on into your past: How did you get into filmmaking in the first place, did you ever receive any formal education on the subject, and what can you tell us about your early filmmaking days?
Well I was writing scripts and filming little films while working at a video store. I had always been a big movie buff, very knowledgeable about midnight movies, cult videos, horror film and film studies in general since I was 15 years old and was a religious reader of the Psychotronic books and magazine and the like. I read and studied those, along with watching thousands of films and studying structure, storytelling formats, different character archetypes, and so on and so forth.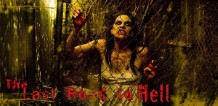 So one day I was talking film to a customer, who I found out was a local film director. We talked a few times and he was impressed with my knowledge and desire to do film, so I worked on 3 of his films and went from a freelance camera operator on 3rd unit exterior shots to being an assistant director on set and filling in as director many days when the original director would not be at certain shoot days. After that in 2007 I moved on and decided to start my own production company with what I learned on those films and my own ideas and began with the short film The Last Road to Hell which was filmed in the summer of 2007.
Is it true that in your teens you actually trained to become a wrestler, and did you ever pursue that career later on?
Yes, I trained first when I was 16 years old in the Buzz Sawyer ran wrestling school in Sacramento, CA. I did that for almost 8 months or so 3 times a week, before the school closed down. I picked up training again when I was about 24 years old, when another school was operating and was trained by Paul Demarco and Oliver S. I did that for about 18 months and was helping train other wrestlers but was accumulating injuries and that school also closed before we got to run shows. I did wrestle regionally and in Northern California on various cards for a span of about 6 months. I got married and was not interested in all the travel at that time in my life. So I left it behind.
Your first feature film has the beautiful title Sukeban: Octopus Pot. What can you tell us about that film, and how did you come up with the mad title?
The title I took from a commentary track from a pinky violence film from the 70's: The 2 gentlemen were talking about titles that were considered (but not used) for the film that was being viewed and Octopus Pot was one. So I took that and combined it with Sukeban (which is "girl boss" in Japan). My original plan was to make a series of Sukeban Films starting with Sukeban: Octopus Pot. I have kept that going with a girl boss protagionist in all my films but I didn't go the gang route all the way. Although the working title of Love Blade and Lady M. were Sukeban: Love Blade and Sukeban: Lady Midday, so I have been keeping my concept still going in that direction and also on the next few productions coming up.
A few words about your second feature Love Blade?
Love Blade is the story of a woman who gets a homicidal urge to kill every time she is turned on. She meets someone with the same condition who has answers for her questions. Basically it was my feelings about being and staying single and staying in a certain space in order to be an artist. Art is odd as some need to be in discomfort or pain to create and some can do it with a family and such, it's whatever keeps you creating and staying young and free. I like Love Blade a lot and it probably has the most meaning to me so far of my films. It has odd concepts and has been compared to Cronenberg-films in some of its body horror thinking and philosophy. Chump Change and Love Blade both are Body Horror films.
Like Lady M., your first two features also feature women out for revenge. Would you like to elaborate on that?
Yeah that goes back to my Sukeban theme for my films. Also I would rather look at a beautiful woman living and killing instead of some guy doing the same thing. If I am going to create I want to create what I want and love.
Any other films of yours you'd like to talk about? Any future projects?
Why yes... Right now we are in production on the next film which is going to be a mondo film about Sacramento, CA and some of its infamous history. Its title is Mondo Sacramento. Stories that I was told as a boy and later researched as an adult fascinated me so we are filming 7 short films and putting them together with a host. We are in talks with some names now and are negotiating with them to make this film more of a wider release with a bigger audience. Filming begins on the first film in September so we are busy getting that going as we speak. And it will be the biggest budgeted yet!
By and large, your films are reminiscent of grindhouse flicks and midnight movies of yesteryear in both style and story. Why is that?
Being born in the 70's I spent a lot of time in old theaters and drive-in theaters that have since been bulldozed. I love that time frame of movies and that is what I love to make is those different types of films that can fit in that cannon. That seems to be my card of choice and people like it.
Whyt can you tell us about your production company, Desperate Visions Productions?
It is a Sacramento, CA based production company specializing in midnight /drive-in movies and films of that genre. Our motto is "Show the unshowable speak the unspeakable" - which I read was what David Cronenberg said when he was making his first films.
When it comes to filmmaking, you seem to have worked in pretty much every position, from producer, writer and director to cinematographer, editor and the like. Which do you prefer, what could you do without?
Interesting question, I would say the best is writing, directing and editing, the least would be the producer, financier and driver, but when it's your money you have to count every penny if you want to keep going forward. But if I had a producer that was too hands-on it would corrupt or compromise my visions which I can not allow. I like collaboration but not working under someone else's commands.
Besides, you also appear in small parts in your movies every now and again. What can you tell us about Jason Rudy, the actor?
(laughs) Jason Rudy the actor... well I like to cast myself as mean and evil characters. So far I have been: a murderous pimp in Room 412, a demon conjurer in Last Road to Hell, a porn director in Sukeban: Octopus Pot, a hit-man named Lou Seefert who worked for the devil, a demon king of the bums in Chump Change, and a real lowlife used car dealer in Lady M. In the next film I will be playing Satan so I am looking forward to that! I've received notice and praise for my acting in different articles and conversations even though it's the least thing I like doing - which is also an answer to your previous question.
Filmmakers who inspire you?
John Waters, Jean Rollin, Russ Meyer, David Croneberg, Sam Peckinpah, Jean-Luc Godard, John Cassavetes, Stanley Kubrick, Tobe Hooper, Quentin Tarantino, Coen-brothers, Paul Thomas Anderson, Francis Ford Coppola and many others.
Your favourite movies?
Like many other people it changes and goes back and forth - I'd say some of my many favorites are Lolita, Blade Runner, Exorcist, Thriller - A Cruel Picture, Fight for Your Life, Orca, Contempt, horror films from the 1930's and 70's, American films from '67 to '74 , the first Bad News Bears film, Japanese pinky violence films from the 70's... just to name a few!
... and of course, films you really deplore?

Feeling lucky ?
Want to
search
any of my partnershops yourself
for more, better results ?

The links below
will take you
just there!!!

Find Jason Rudy
at the amazons ...

amazon.com

amazon.co.uk

amazon.de
Looking for imports ?
Find Jason Rudy here ...
Something naughty ?
(Must be over 18 to go there !)

That would be a bigger list... mostly big studio, commercial, brainless, cookie cutter films that have no balls from about 1977 to present day. Anything with toys, Smurfs, Transformers, etc. or mass commercial appeal like Kate Hudson, Adam Sandler, Kevin James, Jim Carrey etc..
Your/your film's/your company's website, Facebook, whatever else?
Our website is www.desperatevisions.com - you can order the films through our website or at Amazon.com.
Facebook us at the company page - https://www.facebook.com/pages/Desperate-Visions-Productions and at the DVD-page at https://www.facebook.com/dvisions.
Contact us today!!!
Anything else you are dying to tell us that I have merely forgotten to ask?
Nope... you asked a lot of good questions and it was a pleasure being interviewed by you.
One thing is if anyone is interested in the next production - questions or acting - contact me by email asap and we'll talk, or if you're interested in past productions please email me as well, I'd like this to keep expanding so I can keep on being an independent filmmaker.
Thanks for the interview!
Thank you for the interview.