Your new movie Valley of the Sasquatch - in a few words, what is it about, and what can you tell us about your character in it?
Man vs Sasquatch, the ultimate smack down! LOL, that is the short version but honestly it is way deeper. It's like a serious drama about a father and son struggling to keep their lives together from falling apart at the seems that spins into a heart pumping run for your life Bigfoot horror flick. I play Roger Crew, recovering alcoholic that recently lost his wife and job and is trying to get life back on track for himself and his son Michael. Only problem is he doesn't have the greatest track record for parenting skills. He starts off a bit unlikeable but by the end you see a change for the better.
What did you draw upon to bring your character to life, and how much of Jason Vail can we find in Roger?
I actually pulled from my brothers. I'm a single guy, no kids of my own, but an uncle 9 times over. So I looked to my older brothers a bit to give this guy some weight, the stern dad in us all that comes out when needed. But the reality is, like in life it is just a cover for the real you, they still want to be careless and silly. But dads don't get the option all the time. I think if I could go back and do it over, I might try bring more of me and less of my brothers into it, lol. Roger can be a prick at times, not that I'm saying my brother's are pricks, lol, not at all, just that being a dad is a tough path to stay on, you become this other person a little.
How did you get involved with the project in the first place, and to what extent could you relate to Valley of the Sasquatch's horror theme?
Like our director John Portanova [John Portanova interview - click here], I love anything Bigfoot. I grew up in the 1970's, Bigfoot was all the rage. I still remember the Six Million Dollar Man episode, In Search Of and a few other shows that all came out around the same time. So this was a no-brainer, I was down from the moment Sasquatch passed in front of my eyes.
I met John via another director friend Elias (Gut) [Elias interview - click here], he had met one of the producers Matt Medisch from a film festival years ago for Elias' film Gut that I acted in. Well. Matt was in need of his two main characters just weeks away form shooting. And Matt remembered me from Gut luckily. He reached out and Elias threw my name into the ring. The rest is history.
What can you tell us about your director John Portanova [John Portanova interview - click here], and what was your collaboration with him like?
He is just a great guy. So darn funny yet serious at the same time. Which made working with him great. He kept things light even during the most stressful of times. Not an easy task for any director and especially it being his first feature. His humor was so dry at times, I couldn't tell if he was joking or serious, lol. There was quite a bit of leg pulling going on, but that's what made it so fun. I was very impressed with John, there was sooooo much going on all the time and he was non stop, we would shoot a 12 or 14 hour night shoot and when I was crawling into bed he was holding crew meetings afterwards talking over everything. I was like, man, that is passion and dedication to the craft. Most indie directors would just hit the sack and wing it the next day.
Do talk about the shoot as such, and the on-set atmosphere!
Laid back, well paced and fun. I don't recall any bad moments at all. We were like a family by the end. I was quite sad to leave and go back to reality in Atlanta. Everyone knew their job, even the PA's in training. Everyone worked hard but at the end of the day it never felt like work. It was run like the military as far as what they got done day to day but super laid back like you were just hanging out with your buds on the weekend sort of thing. Perfect combination of work and fun.
Any future projects you'd like to share?
I'm cast in a film called The Rectory. That shoots in LA/UK. And another horror flick down the road called Why I Went Into The Woods - both fantastic scripts and I can't wait.
What got you into acting in the first place, and did you receive any formal training on the subject?
I was a photo major turned actor. I dabbled in high school but didn't get the bug until 2 years into college. I changed majors finished out my undergrad degree in acting and then went to a three year graduate program and got a MFA in acting as well. A lot of acting, maybe too much when I look back at it all, lol.
What can you tell us about your filmwork prior to Valley of the Sasquatch?
I've done about 60 indie films of all shapes and sizes. Most of which I did in NYC when I lived there for 12 years. It was all no budget stuff, most of the time I never got paid or very little, usually lost money at the end of the day all to build my resume and my chops. It wasn't until Gut and Abraham Lincoln vs Zombies that things started to break through a little. They both were distributed and started to get me noticed as an actor and as a horror actor especially. I make fun of Abraham Lincoln vs Zombies often, as I cringe at my performance, but that film has done a great deal for me and I am thankful.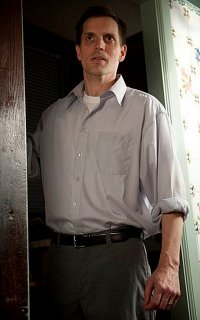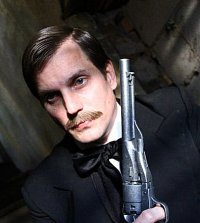 Abraham Lincoln vs Zombies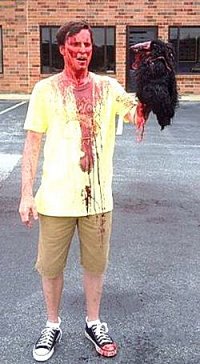 Crow Hand!!!


Feeling lucky ?
Want to
search
any of my partnershops yourself
for more, better results ?

The links below
will take you
just there!!!

Find Jason Vail
at the amazons ...

amazon.com

amazon.co.uk

amazon.de
Looking for imports ?
Find Jason Vail here ...
Something naughty ?
(Must be over 18 to go there !)

You have also been in quite a few popular daily soaps, right - so how what's it like working on those as compared to working on a movie?
Soaps kick your butt. It is fast and furious. I was never a lead, thank God, because I don't know how they guys did it? I remember watching the actors constantly memorizing lines, trying to keep up with the work load. They shot a one hour episode a day. A DAY! Phew. Tough gig.
Besides movies and TV, you've also done your fair share of stagework - so what can you tell us about Jason Vail, the theatre actor, and how does performing on stage compare to acting in front of a camera? And which do you prefer, actually?
Wow, you have done your research. Yeah, I was a theater, wait…theatre guy (that's how theatre people spell it, lol) for nearly two decades. I actually did a lot of Shakespeare if you can believe it. I loved acting on the boards (term for the stage), it was a thrill. Nothing is more exciting and challenging than a live audience. I've lost count but well over 50 plays, regional theater, off off and off Broadway. I have a lot of great memories and part of me would love to return. But it is a switch and I am good at holding on to the bad habits. And film and theatre acting don't mix. It is like oil and water, lol. I don't like one over the other, it is more necessity that I stick to film and TV now. Theatre never paid sadly and still doesn't very well and takes up a ton of time and energy. I just don't have that much to give these days.
How would you describe yourself as an actor, and some of your techniques to bring your characters to life?
I'm a drama guy. I've never been great at comedy. I do it but I am always like… wouldn't you rather use a guy from Second City? Why me? I was trained in all the techniques, I would type them out but I can't spell half of them and I don't feel like googling them, lol. I learned a lot. But at the end of the day, the actor's goal is to put a living breathing human in front of an audience and you have to make them (the audience) buy it, believe your performance. That is what I try and do. Sometimes I fail and sometimes I knock it out of the park. When people appreciate your work, then you know you are on the right track. I didn't receive a best actor nomination for over 20 years, lol. So I admit, I am a slow learner. But you don't stop. You can't, acting is a life time goal.
Actors (and indeed actresses) who inspire you?
Gary Oldman, Viggo Mortensen, Sean Penn, Idris Elba. Guys that transform. I love that about actors. Ones that really go there and don't give a crap.
Your favourite movies?
Blade Runner, Highlander, State of Grace - oh man, I hate this question because I like fantasy, escapism. And so the movies I watch are usually not art films, lol.
... and of course, films you really deplore?
Man, I hate films that use the same formula and the same actors over and over. I don't want to call people out but Vince Vaughn films, Martin Lawrence films, that type of thing where an actor gets safe and does the same crap over and over. I just can't support it. It happens with dramatic actors too, I don't watch Taken 1, 2 or 3 because of that, and I like Liam Neeson, but seriously - time to do something different.
Your website, Facebook, whatever else?
https://www.facebook.com/jason.vail.79
Anything else you are dying to mention and I have merely forgotten to ask?
I have several other films in festivals this year - please try and check them out. Crow Hand!!! is a crazy little short I did, it's playing in SXSW, Atlanta Film Festival, Crimson Screen FF and Boston Underground Film Festival as well as the badass looking Cinedelphia Film Festival. My feature Dorchester's Revenge is also playing around the country at many venues, so please look them up on Facebook.
Thanks for the interview!
Thank You Michael, it was a real honor and I appreciate you taking the time to reach out to me.
Best, Jason Vail