Your new movie Shockwave Darkside - in a few words, what is it about?
Five soldiers, on their way to battle, are shot down behind enemy lines on the dark side of the moon. They have no choice but to try and walk back to their side of the war with limited oxygen. Along theyway they make a discovery that can save their lives & get them rescued, but also lose the war for their side.
What were your sources of inspiration when writing Shockwave Darkside, and did any current political events influence your storyat all?
Shockwave Darkside is deeply rooted in the morality plays found in classic science-fiction television shows like The Twilight Zone or the original Star Trek. I've always been a fan of this type of storytelling, so when it came time to plan out my first feature, I thought that this was pretty fertile ground for an update. Most science fiction is of the spectacle variety these days, so I wanted to try and do something a bit more plot and character-driven - which also made sense from what I could do from a budget perspective as well. I wanted to use this type of storytelling - simple, stark narratives that shed light on larger issues of the day, but also give it an updated 21st century visual spin.
Once I had a sense as to the overall take, it was pretty easy to look around and find real-world inspiration as jumping-off points for the story. I think that's part of why The Twilight Zone and Star Trek have lasted so long, their stories can be both timely and timeless, so it wasn't too difficult to look at the newspaper and extrapolate how this very desperate world that we portray in the movie came to be.
With Shockwave Darkside being set on the moon, where was it actually filmed, and what kind of a challenge was it to set up moon-like sets?
We shot at night in a huge industrial sand pit on Cape Cod in Massachusetts. The sand crews would leave for the day and we'd set up in the evening and film throughout the night. It actually worked out because they could pretty much bulldoze the pit to our liking, so we literally could have a different location each day if we wanted to - so that was a blast.
We also studied NASA photographs from the moon landings as reference and tried to approximate how the sun would hit and affect the landscape. Our directors of photography Bob Fiske and Joe Gabriel did an amazing job of replicating the environment - so by the time the sun went down, it literally felt like we were on the moon. We had this big coffee table book of lunar photographs on set so any time we were in a lighting jam, we'd go 'let's see what Buzz Aldrin has to say' and huddle around it.
We shot the movie in 3D, so the play of textures with the sand and harder-edged space suits also did a great job of helping carry the illusion, as did the color correction from our VFX supervisors Wayne Johnson and Adam Natrop. There they had quite a job of removing the beige-color of the sand so it looked more like the original lunar photographs. As things were coming together in post-production, we also added a slight blue tint to give it an overall colder vibe.
You also have to talk about the wonderful costumes and production design of Shockwave Darkside for a bit, and to what extent were you involved in that aspect of your movie?
I was pretty involved. I had a mood board of designs from concept artist Ron Cobb for the original Alien movie that I constantly looked at for reference for the aesthetic of the moon base where our heroes live. Once Chris Plummer (our production designer, not the actor), came on board, we realized that he was independently looking at the same images, so I knew we were in good hands.
I really wanted to get the idea across that our characters - who live in a dilapidated base in a crater on the moon - were essentially the underdogs of the story. They're on the losing side of the war - so their living conditions are crumbling and everything is retrofitted and barely working. Their technology, years out of date, is outmatched by the enemy, so they really are behind eight-ball at every turn in the story.
This notion pretty much influenced everything we did with them, from the design of the sets, to the suits and the CG model of the moon base.
When talking to Robert Westerfield, our armourer, he saw the suits as the equivalent of a WWI tank - pounded metal, that, when someone is killed inside it, is hosed off and then put on someone else. I thought that not only was this a perfect approach for this world, but also gave additional tension in that our characters will be trapped in these leaking and taped-up suits without any hope for repair.
Conversely, the 'bad guys' of our story has a much sleeker and sophisticated feel. Everything is polished and graceful. Their suits have defensive shielding and they use orbital drones instead of ground personnel - so even on a limited budget we wanted to find ways to differentiate the various factions and keep the odds stacked against our characters.
Do talk about the effects work in Shockwave Darkside for a bit, and having an special effects background yourself, how deeply were you involved with this?
Yep - I was pretty involved with that too. I was one of the producers as well, so I saw this as an amazing opportunity to help optimize the process as much as possible. There was so much going on between the 3D as well as the research and development to figure out how to pull off our 1,000+ cg shots, partical effects and Heads Up Display animations - I figured, it would be better for Director Jay to understand all the various trade-offs and production considerations as noted by Producer Jay. A pretty schizophrenic existence, I know - but ultimately one that worked better for the movie because I knew what we could pull off.
That said, the story of the visual effects work of Shockwave Darkside could literally be a movie in and of itself. Wayne Johnson of Into the Void FX is such a big part of Shockwave Darkside, we couldn't have done it without him. He's really a guy who doesn't know the word 'impossible', so he and supervisors Adam Natrop, Keith Mc Gregor and Jeremy Wanek literally figured how to handle the above VFX needs as well as building all the CG models, creating a rendering pipeline, managing all the data as well as 3D alignment, color correction and final output - it was truly a herculean task. We also couldn't just go out and buy another piece of software or more computers if we ran into any issues - so these guys had to get very creative with the resources they had.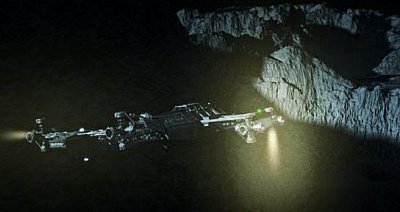 My producers Dan De Filippo and Dave Marken run a management company - so they have a great knack for putting people together. They introduced me to Wayne as well as a motion graphics company in Buenos Aires called Bambula - who designed all of our Heads Up Displays . HUDS play an important part of our story - so while Wayne & Co were off figuring out the ins and outs of their pipeline, we were designing and building our HUD files and getting them ready for animation.
John De Mayo, who I met during the production, volunteered to do all of our partical effects - so he was kinda a third track of the VFX team. He literally spent years building a library of dust, smoke, lasers, muzzle flashes and missiles and then animating them against files that Wayne would dropbox to him. All of those elements would go back to Adam and Wayne to be dropped into the movie and then aligned.
It was crazy. We would literally do tests and figure out how to do one sequence, and then kick those shots into production while we were approving or concepting others. Then rinse and repeat all down the line. Nutty, but so much fun!
What can you tell us about your overall directorial approach to your story at hand?
I think the most important thing that I realized about being a director is that you have to speak to everybody somewhat differently. Everybody to an extent is performing - be it from our amazing caterer, to the actors, to the guy who is animating our spaceships -, so you have to figure out what interests them, what they want out of the experience creatively, and then figure out how to get it for them while still serving the needs of the story. You need to be somewhat of a social chameleon, so to an extent it was like hosting a party and then making sure that everybody is having a good time.
At the same time, you're there to serve the story - so you have to keep everything on the rails. That means protecting it from bad ideas, recognizing good surprises and fielding bumps in the road. I try to stay flexible and positive - and hopefully it rubs off!
Do talk about your cast, and why exactly these people?
Our awesome casting directors Sig De Miguel and Steven Vincent lined up a mixture of interviews and auditions in both LA and New York.
The first person we cast was Rich Ceraulo, who plays Corporal Kim in the movie. I was just bowled over by his intelligence and personality that I treated him as the lynch pin to build the rest of the troupe around.
I always saw Shockwave Darkside as an ensemble piece, so I was not only casting with en eye toward the performer fitting the character, but also how they might play off each other. We didn't really have time to do a group rehearsal beforehand, so it was a bit of a leap of faith going in, but once we actually had the first table read right before shooting, it got very exciting.
Alex Cendese (Private Schorr) and Sonequa Martin-Green (Private Lang) did these incredible auditions. They were funny, intelligent and very versatile - I just had so much fun working with them and really felt like we could give those characters depth far beyond what I had written.
Bill Sage (Sergeant Dalton) came in with every much of the gravitas as you might expect. Mei Melançon was the last addition to the cast. We spoke on the phone and I actually didn't meet her until she arrived on set, but one of the things that I remember from our initial call was she had this way of sizing up the situation very quickly and efficiently. I thought it would be amazing if that attitude somehow translated to the character. It did, of course, and she - like the rest of the cast give tremendous performances in the movie. In fact, the acting is usually the first thing that people cite after they see the film.
What can you tell us about the shoot as such, and the on-set atmosphere?
The atmosphere was by and large a happy one as far as I can remember. It was very difficult shooting at night in the sandpit - and we ran into a variety of weather. So it was very physically demanding - but I think spirits were pretty high.
We had a large monitor that we rigged to show 3D, so cast and crew could gather around and see what we were shooting - which I think went a long way for morale. Because it was a small cast and crew, it was a pretty tight group. I also think the quality of the acting really kept everybody engaged and proud to be on the film - which goes a long way when it's 4am and you're being rained on!
There were a few personalities of course, but that's the nature of production. One of the nicest things that was said to me was at the wrap party when Joe Gabriel, one of our DPs, mentioned that the whole experience made him feel like he was nine years old and playing The Empire Strikes Back in his backyard - which was exactly the kind of on-set vibe that I was going for. I wanted everybody to embrace and unleash their inner geek - and by and large, I think that's what everybody kinda left with.
Anything you can tell us about audience and critical reception of your movie yet?
From the get-go, we wanted Shockwave Darkside to be different, so it's been really interesting to check out the reactions. Some people get it and love it, and other's just don't - which is totally fine and expected. One of the great things about independent film is that you can take risks and try and make something as unique as possible - in fact, I think that's probably one of the reasons why indie cinema is still around. It's a place where you can be a little more off-the-beaten-track and unique.
Any future projects you'd like to share?
I've been writing away - but nothing definite to announce just yet. I did do some writing work on my friend Alfred Padilla's terrific Best Man in the Dark, starring Alex Cendese who also played Private Schorr in Shockwave Darkside.
When it comes to filmmaking, you've worn many hats over the years - so how did you intially enter the filmworld, and which position(s) do you enjoy the most, which could you do without?
I started out as a production assistant like pretty much everybody else - getting coffee and whatnot. The craziest thing I had to do was drive across the state of Michigan to pick up a Northern Pike that somebody spent all night fishing for for a commercial. Along the way I started producing visual effects and then alternated between writing and producing commercials and industrials.
Overall, I have spent more time on the producing side of things - but to me, that's also the most stressful because the whole apparatus is on your shoulders. That said, I do enjoy putting things together and working with - and learning from - talented people, so each of the jobs I've had, writing, producing and directing really appeals to various sides of my personality. Each has their plusses and minuses, rushes and frustrations.
What can you tell us about your filmwork prior to Shockwave Darkside?
I've been bopping between advertising, television, film and interactive for some time now. I wrote, produced and directed the short film Surveillances - which was a WWII spy tale, and was lucky enough to travel the world with it. I directed a few episodes of 1,000 Ways to Die for Spike and did some work for the SyFy Channel.
How would you describe yourself as a director?
I try to do my homework and be as prepared as possible - but also be willing to throw it all out the window should somebody have a better idea or something radically change.
I also try to keep it light. I feel life is a lot easier in general if you have a sense of humor, so I want to keep everything as loose and collaborative as possible. I just find that everybody can perform better if they are relaxed - so that's really my mantra. I want people to enjoy working with me and on the project, but at the same time the director is the protector of the project so I also have to be able to dig in my heels if need be.
Filmmakers who inspire you?


Feeling lucky ?
Want to
search
any of my partnershops yourself
for more, better results ?

The links below
will take you
just there!!!

Find Jay Weisman
at the amazons ...

amazon.com

amazon.co.uk

amazon.de
Looking for imports ?
Find Jay Weisman here ...
Something naughty ?
(Must be over 18 to go there !)

Oh man, that's such a long list. Let's see... Howard Hawks who pretty much tackled every conceivable genre. George Lucas, of course for well, being George Lucas!... And of course Spielberg for being Spielberg... Ridley Scott's eye, Stanley Kubrick for just seeing the world in such a unique way, David Lean's command of the epic and the sublime, James Cameron's chutzpah, Terry Gilliam's mischievousness, along with the new kids like Joss Whedon, JJ Abrams, Matt Reeves, Chris Nolan and Neil Blomkamp.
I'm sure there's about a thousand others that I'm forgetting!
Your favourite movies?
Star Wars, Superman (1978 baby!), Dr. Strangelove, Lawrence of Arabia, Forbidden Planet, 2001, The Producers (1967), Young Frankenstein, Frankenstein, Raiders of the Lost Ark, Blade Runner, Aliens, The Day the Earth Stood Still and, of course, Big Trouble in Little China!
... and of course, films you really deplore?
Oh, there's a bunch of 'em as well - but one thing I realized after making Shockwave Darkside is that movies - even the bad ones - can start out as labors of love, so in empathy to the filmmakers, I'd like to keep that list private.
Your/your movie's website, Facebook, whatever else?
Sure, the website is: www.shockwavedarkside.com
You can find us on Facebook at: www.facebook.com/Shockwave-Darkside-118286964854938
Anything else you're dying to mention and I've merely forgotten to ask?
Nope - I think you pretty much covered it all... and more!
Thanks for the interview!
You're welcome! This was really a lot of fun, so thanks for the interest in Shockwave Darkside!