Your movie The Scarehouse - in a few words, what is it about, and what can you tell us about your character in it?
The Scarehouse is a revenge flick that centers around two sorority girls who end up in jail for murder. I play Lisa Jenner, one of their sisters they plan on torturing and killing, but Lisa gives them a tougher time than they anticipated.
What did you draw upon to bring your character to life, and how much of Jennifer Miller can we find in Lisa?
So much! Lisa is the tomboy of the group. She is a little rough around the edges. That was a lot like me growing up, I'm pretty sure I didn't wear a dress until I was 25. I was Ninja Turtles over Barbies and I feel like Lisa would have been too. It's clear in the film she has had some fight training, and I got my start in stage combat in theatre school. Shooting those fight scenes with Sarah Booth [Sarah Booth interview - click here] and Kimberly-Sue Murray, oh man I can't describe how much fun I had.... Flips and hooks and head smashes. Awesome.
How did you get hooked up with the project in the first place, and to what extent can you identify with the film's horror theme?
I came about the role in this crazy back ended way. I heard about the auditions for this film but at the time wasn't able to make it. (I've known Sarah and Kimberly since theatre school at Dawson College back around 2006 so I was thrilled for them undertaking this project.) So one day I finished up my day job as a receptionist and see all these missed calls from Sarah and some guy Gavin. I have about 8 voicemails, the gist being "Can you be on a train to Windsor Ontario at 6am tomorrow morning?" When I finally get to speak with Sarah and Gavin they tell me that they are in the middle of shooting The Scarehouse and an actress is dropping out because she's gotten a huge opportunity on an American TV show. (When you're a Canadian actor, you want those American credits!) Without much thought I agreed having never read the script or know what I was getting myself into. I knew I would be in good hands with Sarah. So there I was on a cold train at 6am the next day reading the script off my tiny iPhone because I didn't have enough time or ink to print it out. Let me tell you, when I got to the broken glass/dildo plan for Lisa, I was ready to jump off the train and walk back home! Luckily that never came to fruition. I'm so lucky that the role I ended up with was Lisa. If I had had a chance to read the script and audition it would most certainly have been for her. As far as identifying with the films theme, I mean everyone has revenge fantasies. I had a nasty ex in theatre school and I wanted to pelt his house with rotting meat.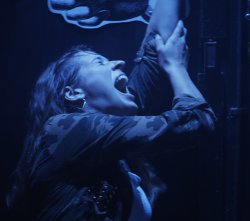 What can you tell us about your director Gavin Michael Booth [Gavin Michael Booth interview - click here], and what was your collaboration like?
I love Gavin. I adored working with him. I was terrified that first day on-set because I was just thrown into the mix as a replacement at Sarah's suggestion. She told me "If anyone can play Lisa, it's you." I loved that, but I knew Gavin hadn't seen a single thing I'd done, never saw me audition. I was terrified of disappointing him! After each day of shooting I would pull Sarah aside and ask her "Does he like what I'm doing?! Does he think it's crap?!" She laughed me off and assured me he was happy to have me on board. Gavin is so easy to talk to and shoot ideas around with on-set. He let me tweak Lisa how I wanted and for an actor that is the most fun, that's when you feel like you get to stretch that artistic muscle.
What can you tell us about the shoot as such, and the on-set atmosphere?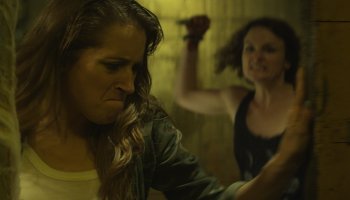 Jennifer with Sarah Booth
Well I can tell you about the on-set smell! That place stunk! It will be forever burned deep into my nostrils, but it's one of those things where you learn to love it. Almost helps you get into character like sense memory. People on set were ridiculously nice. I was well taken care of. Especially off set at Mike Carriers place! Mike's wife Danielle was the bomb, I don't think she slept. There must have been about 10 of us at any given time staying at their house and there was always clean laundry and fucking fresh cookies every morning.
Any future projects you'd like to share?
January 26th on Bravo you might recognize a little nurse in pink on 19-2. There is also an upcoming episode of Helix where I play a brainwashed pregnant cult chick.
What got you into acting in the first place, and did you receive any formal training on the subject?
So I was in highschool, 16 at the time, and everyone and their dog is asking what CEGEP (weird Quebec post-highschool thingy) are you going to? What program are you taking? I DON'T FREAKIN KNOW WHAT I'M DOING WITH MY LIFE! I'M 16!! So then I get the brilliant idea of doing EVERYTHING. One day I get to be a doctor, one day I get to be a pilot, one day I get to be an adderall-addicted mother. I had been on stage as a dancer since I was 4, so it wasn't a huge leap to add lines to a performance. So I ended up studying at Dawson's Professional Theatre Program.
As far as I know, you got your start in theatre, right? So what can you tell us about your theatrical career, and how does performing on stage compare to acting in front of a camera?
I love theatre, I just wish it would pay the bills. You don't get that rush of being in front of a live audience in film. If you screw up in film you can re-do a take. If you screw up on stage you had better figure out how to make it work. You're always on your toes. I don't have much of a theatrical career anymore sadly, I'm too picky. I won't do theatre in the summer because that's when film and TV really heats up. One day on a set works out to 3 weeks of pay in theatre.
How did you eventually get into movies and TV, and what can you tell us about your filmwork prior to The Scarehouse?
Film and TV is the natural progression from being a theatre grad. Some people get lucky and book roles right out of the gate, some audition for years before they start booking. I ended up easing into film and TV by doing tons of commercials. Everyone wants me to sell shit. But that's fine! Pays the bills and gave me an ease and confidence in front of the camera that translated into the audition room for bigger better projects. The Scarehouse was my first feature, but it's really like any other shoot, just on a bigger scale. It's essentially the same process.
You of course also have to talk about your directorial debut All Tied Up for a bit, and what prompted you to be on the other side of the camera as well?
I had started writing a TV series with my now-boyfriend Johnny Sa. Months in we found out that the exact same idea had been picked up by HBO. Disheartened we gave up on the project, but I really started to miss writing. We came up with a game where Johnny would text me with two characters and a conflict and I would have to write the screenplay. We have a few of these collected now, but he really loved All Tied Up, so we funded it ourselves and shot it. The only reason I ended up as director is because I am a control freak and All Tied Up was my baby. We flirted with a few directors but none of them saw the project the same way we did so I ended up doing it. Thank god for our Director of Photography Kes Tagney. He pulled more than his weight on that baby.
A few words about your production company Saw-Mill Productions, and the philosophy behind it?
Saw-Mill (a mix of Johnny SA and Jennifer MILLER) became our little production company thanks to All Tied Up. We have a slew of scripts and ideas and zero money. My ultimate goal is not to be a director or writer, but sometimes when your career feels like a ten year old Chevrolet Cobalt that can't make it out of the snow you have to get out of the driver seat and push. Saw-Mill was a way for us to make our own work. (Side note, anyone have a car battery they can sell me?)
How would you describe yourself as an actress, and some of your techniques to bring your characters to life?
You always always always have to love the character that your playing. Even if you are some kind of child murdering psychopath you have to find a way to love it, otherwise you come across as insincere. Everything about acting is subjective, you can't possible take every technique everyone has taught you over the years and apply it, you take what you believe in and use it. I think that's why I love acting, there are no real rules. I'm rubbish at being told what to do. I think that what helps me the most is replaying in my mind the characters past events. What has happened to this person that led them to the exact spot they're in now? That will influence their future decisions.
Actresses (and indeed actors) who inspire you?
Just people around me. There isn't one person who's career I follow. I'm always watching people work around me, everyone has something to teach you. If they are doing something terrible, then at least you can save yourself from making the same mistakes.
Your favourite movies?

Feeling lucky ?
Want to
search
any of my partnershops yourself
for more, better results ?

The links below
will take you
just there!!!

Find Jennifer Miller
at the amazons ...

amazon.com

amazon.co.uk

amazon.de
Looking for imports ?
Find Jennifer Miller here ...
Something naughty ?
(Must be over 18 to go there !)

The Lord of the Rings trilogy hands down. It was the first time I was obsessed with the world a film created. I've watched the thousands of hours of behind-the-scenes footage wanting to know everything about how the films were made, the sets, the props, the score. I am probably the most annoying person to watch the films with. I am constantly interrupting the movie with little "Did You Know?" facts.
... and of course, films you really deplore?
Gone Girl. Ugh. Just pick something and stick with it. You can't do EVERYTHING. Make a freakin' choice.
Your website, Facebook, whatever else?
http://jennifermilleractor.com/
http://www.imdb.com/name/nm3595226/?ref_=rvi_nm
Thanks for the interview!
Thanks Mike!