I know we have talked about this before [click here and here], but do bring us up to speed: Your upcoming movie Eyes Upon Waking - in a few words, what is it about?
After two suicide attempts within a week's time, Taren Foley is unhappy to find herself alive in an emergency ward. How do you help someone who is suicidal to have the will to live? You start by changing the stigma of depression! "You make it safe to discuss this subject with others and not keep it locked up inside." Eyes Upon Waking is inspired by a true story about one woman's struggle to come to terms with her own existence.
Eyes Upon Waking is a very personal movie, its subject matter hits very close to home - care to elaborate?
Eyes Upon Waking is a passion project, told from my heart, about the disease of suicide and how it is misunderstood by society. This film uncovers the darkness in the minds of those who suffer from their emotions, yet shows how light can be found with the right kind of help. Those who are lost to us cannot be returned - I know this too well because 18 years ago, I tried taking my life twice with in a week.
One of the themes of Eyes Upon Waking seems to be "Depression = Press On" - could you explain that a bit, both in the context of your movie and of real life?
Well, I know this is a tough subject to discuss and at times tough to watch because it is 85% true. Since trying to take my life, I have decided to no longer see things in a negative light. I try find ways to turn negativity into something positive. People see the word depression and automatically associate it as something sad and hopeless. I see the word and gather strength because a lot of people that suffer from this are very intelligent, loving and creative. They just happen to have a chemical imbalance, therefore it effects them in a much different way than others that don't suffer.
What are the challenges of bringing Eyes Upon Waking to the screen from a producer's point of view?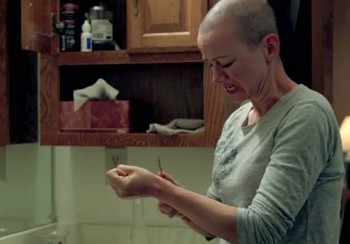 Wow, where do I begin? I can't speak for other producers because each project is a challenge in its own way. For me, from the beginning, I have had a numerous amounts of support from friends, family and strangers, but that does not necessarily get it on the screen. It takes a good amount of money to not only make a film, but to make a quality film to reach a wider audience. As a producer you need to be conscious of the spending and allow yourself to compromise without affecting the outcome. When I started this film I was hoping to raise 2-5 million. After we started filming, I realized for an independent film, as long as you have a stellar script, amazing cast and crew on top of an amazing message, you don't need to necessarily spend that kind of money for big named actors. That it is wise to cut back and concentrate on making the best film you can for what you do have. So long story short, getting the financing needed is my only challenge. The rest just all fell into place.
As far as I know, parts of Eyes Upon Waking are already filmed - so what has already been shot, and do talk about the shoots so far!
We have about 60% shot so far, leaving us with just 12 days needed to complete. The footage shot so far consists of the opening of the film, all our flashback scenes and footage with some of our supporting characters. We still need to film our other two leads and introduce the audience to our comic relief Carlos along with the ensemble cast. I'm looking forward to the last two weeks of shooting because the heart of everything and humor is yet to be revealed. You can watch our progress on our website https://www.eyesuponwaking.com, we have everything from behind the scenes footage to character breakdowns, PSA's, coverage, still shots, personal notes from strangers sharing their stories and all our links to social media (Facebook, Twitter, YouTube).
As you're playing the lead role, so essentially yourself, in Eyes Upon Waking - what kind of a challenge is that, really, and have you ever considered having Taren played by someone else?
This screenplay asks the viewer to go through a full process with the lead, who changes significantly over the course of the story. Just as Taren rejects any sympathy or support from others at the beginning of the film, the authors refuse to soften her nature to draw the audience to her side. It is only when Taren begins to develop empathy for others that the viewers can develop empathy of their own for the character, creating a mutual learning curve that becomes the true spine of the narrative.
When I started interviewing others for this role, I would ask the actor if they ever had thoughts of suicide or tried taking their life? The majority said they have not, that they felt this was the role for them because it would be a great challenge. I quickly realized that the only way to give this role and film true justice is to play it myself. Relive it! There are a lot of non-verbal actions that I felt an actor could not relate to if they have never been in this situation or suffered from depression. As far as approaching it as an actress, the only challenge was to make sure I stayed out of my head. Once I just allowed me to be in the moment, the rest came organically. Also, it was not until I started filming that I finally realized why I tried taking my life in the first place. It has been a great release for me.
What can you tell us about the rest of your cast, and why exactly these people?
I hand picked them all myself. All my characters except for one actually existed. The actress who is playing my Maria was a huge first win. I felt she would have been more of a challenge to find because I wanted someone with broken English in real life. A good friend recommended Rosa Frausto to me and once I had her read, right then and there, I knew that not only did I have my Maria, I knew this was all finally coming together, that this is happening. My second challenge was finding an actress that could play my younger self. I was producing a short film called The Stray and got to work with a young Zoey Diaz - https://www.imdb.com/name/nm5050729/. She had just finished filming the Katy Perry music video Wide Awake where she played the young version of Katy. At that time I felt she was too young, but the longer it took for us to shoot here scenes the better the timing was. Zoey was the right age and for someone still young, she nailed every scene! I feel so fortunate to be working with such strong, talented actors that are out there working regularly in television and film.
You're currently running a fundraiser for Eyes Upon Waking - so do talk about your campaign for a bit!
We are currently running our campaign on IndieGoGo through August 20, 2018: https://igg.me/at/EUW/x
ALL FUNDING is put towards making this film! We have over 100 items to choose from (Jewelry, purses, clothing, houseware, luggage and electronics) that have been donated to help us reach our goal. The great thing about this campaign is you can GIFT an incentive, you can donate to the film but give the perk to someone else. So if your looking for a birthday or holiday type gift, we can ship out the item you chose right away (except for the DVD, screenplay and other that needs to wait till completion of the film). All T-Shirts will be ordered once campaign ends.
Once the budget's in place, what's the schedule, and any idea when and where the film might be released yet, however tentatively?
We only have two weeks left to shoot and we plan on completing in 2019. We did achieve US theatrical distribution from a reading back in 2013 but right now I'm concentrating on how we can get this film out there to the widest audience possible. We already have requests to show to congregations, military bases and various vet organizations.
Any future projects beyond Eyes Upon Waking?
Always - https://www.imdb.com/name/nm2157090/
Your/your movie's website, Facebook, IndieGoGo, whatever else?
IndieGoGo: https://igg.me/at/EUW/x

Feeling lucky ?
Want to
search
any of my partnershops yourself
for more, better results ?

The links below
will take you
just there!!!


Our latest trailer from our last two shoots can be seen here: https://www.youtube.com/watch?v=1ILd3cLhPTc&t=4s
Our Facebook page has behind the scenes footage (BTS) from our last two shoots and some edited scenes for viewers to get a feel of what it is like on our set: https://www.facebook.com/EyesUponWaking/
Anything else you're dying to mention and I have merely forgotten to ask?
We were just accepted to team up with From the Heart Productions, Inc. to have our film, Eyes Upon Waking, under their fiscal sponsorship (501c3). This is all ready opening up more doors for us.
Goodwill Tucson just let us know that we have their continued support with gift cards for our wardrobe and furnishings once we go back into production!
If you are interested in becoming an executive producer and would like to see our business plan, treatment and coverage, you can reach us through info@eyesuponwaking.com
As always from the bottom of our hearts, thank you for supporting this True Story in hopes to change the stigma of depression.
Depression = PRESS ON
Thanks for the interview!