Your short Contact - in a few words, what is it about?
The movie follows a couple that seems very much at ease with themselves and the world, and their adventure of procuring and taking a strange underground drug. The woman, played by Zoë Daelman Chlanda, finds herself plummeting into a nightmarish bad trip, and her lover tries to pull her back out. Contact is about feelings of love and connection, but not in the Hallmark card sense of those words. Taking risks with someone is a pretty scary proposition. Some viewers have taken the movie to be an anti-drug public service announcement, but for me the drugs were a vehicle for me to get at the insecurities that are lurking under the skin of our main character.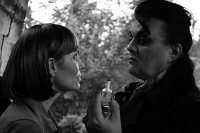 Zoe Daelman Chlanda, Alan Rowe Kelly
What inspired you to make the film, and was any of this based on your personal experiences?
A few years ago, I directed a short film called The Pod about a nocturnal drug-induced adventure, and while I was happy with some aspects of that film, particularly genre filmmaker Larry Fessenden's cameo as the transgressive, philosophical dealer, in many ways we had not pushed the material far enough. With Contact, we pared down the material to the essential, eliminating almost all dialogue, all traces of backstory, all exposition, we even shot this picture in black and white. Our goal was to create a pure cinematic experience. Maybe someday, I'll attempt the project again as an even more experimental one-minute emotional hand grenade. As for the personal experiences within the film, I'd prefer to keep those personal. The movie no longer belongs to me; it's for the audience to interact with and interpret, should they so choose.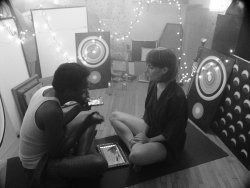 Robin Leigh Davis, Zoe Daelman Chlanda
Your personal views about (hallucinogenic) drug use?
We should have total freedom, but be careful what you wish for. I know a particularly talented and famous independent horror filmmaker who says that if he ever took LSD again, he would probably rip his eyes out of their sockets.
A few words about your principal cast, some of whom had to go through some pretty rough scenes?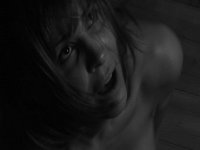 Zoe Daelman Chlanda
Our cast was one of the best I have ever worked with; brave and fearless and with a very clear-eyed shared intelligence. Working with an actress like Zoë informs the film; she attacked the role with serious discipline. We had extensive rehearsals with her and Robb Leigh Davis, who plays her lover, and developed the underpinnings of the relationship. By the time we arrived on set, their characters felt very real to us, even though CONTACT is a minimalist short film, only 10 minutes long. Minimalism only works if you see the tip of the iceberg but vast depths underneath are suggested. I am also grateful to Katherine O'Sullivan and Tom Reid, who play her parents, and they reveal a great deal about the family dynamic through very specific gestures and actions. We had a lively and thorough rehearsal with them as well. Those rehearsal periods are when the movies really come to life, and the process of shooting them is capturing moments in time that we've explored. Working with actors is one of my great joys.
What can you tell us about the shooting of the movie itself?
For the scenes involving the parents, we used natural light coming in through the windows at an opportune time. Cinematographer Dominick Sivilli loves using the smoke machine, not to create a fog effect but to pick up the beams of light coming through the window. The effect is beautiful and can be achieved on a low budget if you are resourceful and lucky. I bring it up only because this was the first scene we shot and it set the tone for the entire production; we fostered a creative environment where the work was taken seriously, and everyone was committed to being good. It was a rigorous, lively and intense experience making the movie, but also an incredibly happy one because I enjoyed working with all of my collaborators. As for the scene where the lovers take the drug, that was perhaps the most demanding set of challenges for the actor, but we worked with a skeleton crew and did everything possible to make it a comfortable and safe environment for them to work. They're naked, they're dealing with special effects, and the material is very emotionally intense; but at the end of the day we all felt very good about what we had shot; it was a positive and fulfilling experience.
Nobody who has seen your movie is likely to forget the scene in which during a kiss the lead character's mouth is stretched beyond breaking point. Now where did that scene come from exactly, and how was it achieved?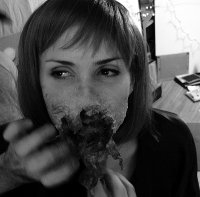 Zoe Daelman Chlanda
The special effects were designed by Daniel J. Mazikowski, who I'd worked with on my previous film The Pod and on James Felix McKenney's Satan Hates You (which I co-produced with Jim, Lisa Wisely and Larry Fessenden). The effect was done in multiple parts, one of which was an appendage connecting the two actors coated in layers of squishy latex that Zoë and Robb could tug on. It demanded enormous reserves of patience from them, as well as trust. We were all very proud of the effect in the finished film. As for our influence, are you familiar with the painting by Edvard Munch called The Kiss? Lovers are entwined and their faces seem to be fused together. The image has always haunted me, and became the starting point for Contact. The rest of the film was a build towards that moment in the story.
Contact has led to you directing your debut feature, the still in-production The Sadist. A few words about that film?
The Sadist came about as a direct result from showing Contact online. It was an experiment to see if we could generate a viewership this way instead of submitting to film festivals, and the horror blog-o-sphere caught wind of us and was very supportive. We were fortunate that the producers of The Sadist enjoyed our film and hired me to direct their movie, which offers an intense and character-driven twist on the killer in the woods movies we've become familiar with. Instead of considering the movie a slasher film, I treated it instead as if we were making a Universal horror picture. My biggest request was to hire a strong physical actor with charisma, presence and depth as the titular villain — not simply a stuntman or body builder. Of course we found someone who I thought would be very good, and by God he was more than good… I'm sure this will lead into your next question!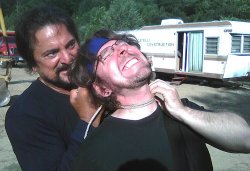 Creative differences between Tom Savini and Jeremiah Kipp are resolved on the set of
The Sadist
The Sadist stars special effects legend Tom Savini. What can you tell us about him, and how was it to work with him?
Working with Tom Savini was rewarding both personally and professionally. I called around to other directors asking what he was like to work with, and they said he was enthusiastic, dedicated, passionate about his craft, and loved playing movie villains. That was very much the man I encountered. If Tom dislikes someone, it's pretty obvious. You don't wonder how he feels about you. He approaches his life and his work with a refreshing candor. But if he trusts you, he'll go above and beyond the call of duty in ways that are innovative and remarkable. It was a really great collaboration, and I'd love to work with him again sometime.
You have also recently produced Satan Hates You by James Felix McKenney. A few words about that movie and its rather stellar cast?
That was made by Glass Eye Pix, an independent production company in New York City that specializes in bold and unique genre films. Jim was making a movie in the style of the 1970s Christian Scare Films, which have a kind of Old Testament fierceness to them combined with the raw, grainy grindhouse feeling of drive-in horror movies. That was a banner experience, and Jim creates a wonderful family atmosphere on the set. Our cast included genre veterans such as the lovely Debbie Rochon, who is unerringly professional, the colorful and incredibly funny Michael Berryman, and Reggie Bannister from Phantasm, who was very much like the fun Reggie persona he plays in those films. I loved working with Angus Scrimm previously on I Sell the Dead, also for Glass Eye Pix, and consider him an old school character actor from Hollywood who comes to the set knowing his lines, very prepared, and courtly and respectful towards the people he works with — a true gentleman.
Any other current or future projects you'd like to talk about?
Right now, it's all about post-production on The Sadist. But there are other projects waiting in the wings. We'll be shooting pickup shots in the spring, so in the meantime my editor Dominick Sivilli and I will be cutting Crestfallen, a work-for-hire short film we made out in Bloomington, Indiana for producer Russell Penning. That afforded me the opportunity to work with the very talented Scream Queen Deneen Melody [Deneen Melody interview - click here], and the movie was co-produced by Marv Blauvelt, who has been the hub of the wheel for Midwestern horror movies lately. There are a few other projects that are waiting to break; let's see what the future holds. But I have a monster movie I'd love to direct, as well as a post-apocalypse horror film starring Jerry Murdock and Zoë Daelman Chlanda, who are fast becoming the Tracy-Hepburn of independent horror.
Prior to Contact, you had already directed quite a number of shorts. Why don't you talk about those for a bit?
I wonder if it was a poor career choice to make so many short films over the years. I am proud of how they turned out, particularly one I made in 2003 called The Christmas Party that toured international film festivals for three years, including prestige fests like Cannes and Clermont-Ferrand and generated some wonderful reviews. That led to my doing a series of work-for-hire movies for Canon to show off their new products, including the first film ever shot on the Canon XL2. I felt like I learned a lot about directing, working with the camera, working with the actors, and a lot about myself, but in retrospect I wish I had chased down some other feature length projects. Certainly, that's where I am at now in my career. Someone who was quite smart about making short films was Anthony Sumner, a talented Chicago filmmaker who put all his short films together into an anthology film called Slices of Life. Aspiring filmmakers should really think about going in that direction with their work instead of treating short films like stand-alone works; they are useful as calling cards otherwise, but that's all.
You've also worked on quite a few films as assistant director over the years. A few words about that aspect of your career, and some of the films you've been working on?
I had banner experiences working as assistant director on Glenn McQuaid's I Sell the Dead, Alan Rowe Kelly's The Blood Shed [Alan Rowe Kelly interview - click here] and James Felix McKenney's Automatons. When you're working with a strong director, the assistant job feels like you're paving the road for something special. My most recent great experience was working on a Dutch-American co-production called Somewhere Tonight starring John Turturro. Watching him do scene work, the way he carried himself on set and the way he shaped his performance, was beautiful to observe; and when he spoke about his character's intentions, I'd never heard anything so poetic yet so clear. In some ways, my assistant director career has taken a backseat to producing and especially directing, but I'm still open to working on project I believe in.
How did you get into the film industry in the first place?
In high school, I made hundreds of terrible movies in my backyard. And I had my heart set on going to New York University, I think because Martin Scorsese had gone there. I chased after every grant and scholarship I could get my hands on, and compiled a three-minute reel of my lousy movies. Those, combined with my strong SAT scores, got me into college; I was a poor kid done good. After film school, I was fortunate enough to get a job right away doing production coordinating for a documentary production company that made movies about art, architecture, music and dance—they were making a doc about Philip Glass and other New York composers at the time. That launched me into the film industry, and I've been there ever since.
Over the years, you've pretty much done it all, writing, directing, producing, assisting, and who knows what else. What do you like the most, what could you do without?
Hey, I love making movies. Sometimes the low budget world can grind you into despair, especially as a freelancer. It is a tough racket. Making movies at this level will test your stamina, your finances, your soul. Directing movies is a passion of mine, producing and assisting is a vocation, and writing can be both the loneliest place and the most comfortable, since that is where you have the most freedom; writing words on the page costs nothing but creative resources. I would love to find the time to write more often. But right now, directing and producing take up most of my time.
Throughout your career, you seem to return to the horror genre quite regularly. Is this just coincidence or is horror a genre dear to you?
I have loved the horror genre ever since I was a child. There is an early picture of me as a toddler standing next to a blackboard having drawn pictures of Frankenstein, Dracula and The Wolf Man, and my first home movies were horror movies, with zombies in the backyard using all the kids from the neighborhood and space ships made out of the washer/dryer and my grandfather's metallic sculpture collection. I have always loved the possibilities inherent in the horror film; it unlocks the imagination.
Directors who really inspire you?
When we were making The Sadist, I was watching a lot of John McTiernan (Predator), Paul Verhoeven (Robocop) and Samuel Fuller films — smart B-movies that grabbed you and never let you go. But I also love the actor-driven freedom of directors such as Robert Altman and Mike Leigh. It would be great to see more horror films using their techniques. And during Contact, I am sure I had David Lynch and David Cronenberg on my mind, though I was more looking at photographs by Gregory Crewdson and paintings by Edvard Munch.
You favourite movies?
Off the top of my head, I love Paul Verhoeven's Robocop, Carol Reed's The Third Man, Mike Leigh's Naked, Andrzej Zulawski's Possession, John Carpenter's The Thing, Ingmar Bergman's Shame, anything with James Cagney, and David Lean's Lawrence of Arabia, but this is far from a definitive list. I love watching The Texas Chainsaw Massacre, Dawn of the Dead, Videodrome… all the usual horror classics were incredibly important to me. The original King Kong… Son of Frankenstein… I could go on and on with this.

Feeling lucky ?
Want to
search
any of my partnershops yourself
for more, better results ?

The links below
will take you
just there!!!

Find Jeremiah Kipp
at the amazons ...

amazon.com

amazon.co.uk

amazon.de
Looking for imports ?
Find Jeremiah Kipp here ...
Something naughty ?
(Must be over 18 to go there !)

And of course, movies you really deplored?
I really, really hate Home Alone. I find it stupid, irresponsible and not funny. Horror films are always attacked for their amoral content, but I feel like the characters in this movie behave like leeches. It's easier to attack genre films because they aren't hidden under a sugary-sweet coating that often covers the most reprehensible movies.
Your website, Facebook, MySpace, whatever else?
I don't have a Web site, but here are some links to my work.
CONTACT (short film): http://vimeo.com/16334767
THE SADIST (trailer): http://vimeo.com/14663470
CALVIN KLEIN spec commercial: http://vimeo.com/9811101
ARMANI EXCHANGE spec commercial: http://www.youtube.com/watch?v=UCEwea3gUiI
THE CHRISTMAS PARTY (short film): http://www.facebook.com/?sk=messages&tid=1532134393274#!/video/video.php?
v=180419384855&subj=708994855
APARTMENT (short film): http://www.youtube.com/watch?v=FPRsK5QksLk
MY FACEBOOK PAGE: http://www.facebook.com/#!/profile.php?id=708994855
Anything else you are just dying to mention and I have merely forgotten to ask?
We covered a lot of ground, don't you think?
Thanks for the interview!