Your new movie Sader Ridge - in a few words, what is it about?
The simple answer: It's about a woman named Sam who inherits a home from a family she doesn't remember. Her adoptive parents never shared her history, and now she goes to the home with some friends in tow, to uncover her past and learn about her family and herself.
The in-depth answer: It's about a lot of things. It's about friendship and family. It's about the way we choose to define ourselves, the memories we keep and the memories we actively bury. But history has a way of surfacing and we never can keep things buried forever, despite our best efforts.
What were your inspirations when writing Sader Ridge, and what can you tell us about your writing partners Matt Medisch and John Portanova, and your collaboration with them?
My goal was to create the kind of horror film that I like most. While I'm a fan of all kinds of horror, the ones I truly respond to are the ones that get under your skin. At the same time, I'm not a fan of the new wave of "torture horror" that's become so popular. When I sit down with a horror film I want the filmmakers to try and scare me. It's harder to do now, and maybe that's because of my age, but I still always hope to be scared. Not disgusted, not disturbed, but truly scared. And the ones that accomplish that goal are the films that have atmosphere, that effectively convey foreboding, and immerse their audience in the world presented. I also think it's okay for horror films to be about something. Horror is a wonderful genre for exploring real concerns and ideas in a way that typical dramas can't. I'm not saying it's a superior genre, but it can utilize metaphor in an interesting and unique way.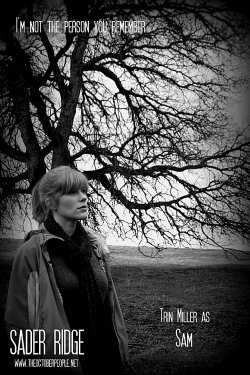 Working together with Matt and John is like having a dream team. They've been with me since the very culmination of this idea and we were able to succeed at creating this film because of the individual strengths we each bring to the table. We're all equal parts of a trifecta, and Sader Ridge would never have happened if not for their contributions. Our collaboration sessions are fun and satisfying because even if we don't always agree, at the end of the day we all care so much about the work and the end result that we're always able to reach a conclusion together that ends up making the project better. And that can only happen when everyone respects each other as much as I respect Matt and John.
Of all of the (five) characters in your movie, who do you identify with the most, in whom do you find the biggest chunk of yourself?
In order to write these characters and make them feel real we had to see the situation from each of their perspectives. That being said, I think that Sam is the one I identify with most often. Her hardships through the course of the story, her doubt, her angst, her suffering, they're all right there on screen and my heart breaks for her every time I watch the film. I can also relate, on a personal level, with her yearning for answers about who she really is. I think people tend to put a lot of emphasis on where they've come from and who they've come from in their search to better understand themselves. It's an inner journey that many people share.
How would you describe your directorial approach to your story at hand?
Patience is the key, first and foremost, with this story. I wanted the film to unfold naturally and allow the audience to feel the rhythm of the story. This was the way in which I felt we could get under the audience's skin. There are also techniques throughout the film, little touches, where I try to put the audience in Sam's shoes, but always in a subtle way so that the sense of unease happens naturally and you start to question what's real and what's not. But hopefully this never happens in a way that calls attention to itself.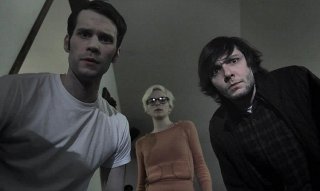 Brandon Anthony, Andi Norris, Josh Truax
But most importantly, I just wanted to let the actors do their work and never undercut them or draw attention to myself or the camera. We had an incredible cast who truly gave their all for this project and as a director, the best thing I could've done is just support them and let them work. A story like this lives and dies by the characters and dedication of the actors to bring them to life.
What can you tell us about your cast, and why exactly these people?
We put together an absolutely fantastic group of actors from the Seattle area. We chose the people that would best embody these characters and, by doing that, most of the hard work was already out of the way. The right actors and lots of rehearsal are key ingredients for me and the way I like to work.
Sam was always going to be the character that I felt was hardest to cast because we needed somebody that audiences would love on-screen immediately. I felt that if you loved Sam then you'd buy all of the characters that surround her and never question their dedication to her. And Trin Miller was absolutely the perfect actress for the role. She has a charisma in front of the camera that only adds to her formidable acting skills and unerring instincts. As I mentioned earlier, all of Sam's struggles are perfectly visible on screen, and that's due to Trin more than anything else.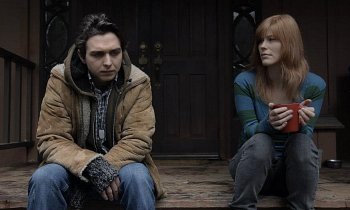 D'Angelo Midili, Trin Miller
And speaking of charisma, D'Angelo Midili brought it to the screen in spades. This guy is the real deal and we've been working with him as long as we've been working. His ability to flip the audiences expectations, to have you rooting for him one minute and then questioning him the next, is a delicate act that even the most seasoned of veterans can have difficulty in navigating. Watching D'Angelo work is a beautiful thing and I'll continue to work with him until he's too famous to return my calls.
Our supporting cast, Brandon Anthony, Andi Norris, and Josh Truax, also brought every ounce of dedication I could've ever asked for. They were all three true professionals that I was honored to work with and honestly, some of my favorite moments on set were working with them. They were fearless and generous in helping to serve the story and the other actors, and their contributions are what allowed this story to really come together. It's a testament to them that even if they don't always get the screen time of our two leads, they make such an impact on so many audience members.
I think a key element of Sader Ridge is its location - so what can you tell us about it, how did you find it, and what were the advantages and challenges shooting there?
We had this location before we even had our story. This piece of property belongs to our Producer, Matt Medisch, and his family. He grew up there in Northern California and I spent a good chunk of my high school years hanging out there.
As we talked about what our first project would be as The October People, it made sense for us to use what we had. Since we didn't have much of a budget to speak of, we had to write our story around available resources. But I don't think we had to compromise in any way by using Matt's property. The place is absolutely spooky and perfect for bringing an atmospheric horror film to the screen. As such, this location was always the sixth character for me and it was integral to the story to give the property a personality and put the audience right there on the land with the characters. The only disadvantages we faced were the years of wear and tear we brought to the house in our 7 days there!
Could you talk about the actual shoot and the on-set atmosphere for a bit?
The shoot itself was a lot of work. Since we only had 7 days to bring this film to life (an absolutely crazy schedule for a film of this kind, with plenty of suspense and some action scenes to boot) we had to hit the ground running and never look back. There was no time to think or question the direction we were going. Our thorough pre-production was essential to finishing the film.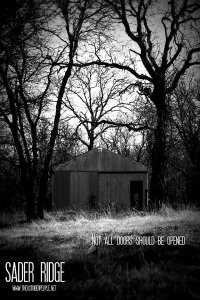 That being said, the overall feeling on set was so positive. The entire cast and crew got along amazingly and everyone believed 110% in the project. When you have so many people all honed in on a single objective, and they believe in the work, there's no feeling quite like it. We all lived there on the property. We had our editor (the amazing Autumn Lisa Mason) working away in her office (her cave, as we liked to call it) while we were shooting. We had a chef (Marcus Todd, whose food and demeanor were both fantastic and absolutely essential) who was constantly working to take care of us and make the set a warm, comfortable place. It actually felt more like an artist's commune rather than a film set and it's funny to me that such a tense, scary film could come out of such a "lovey dovey" and fun environment.
What can you tell us about audience and critical reception of Sader Ridge so far?
The film's reception so far has been fantastic and beyond my wildest dreams. That's not to say that I felt Sader Ridge wasn't a worthwhile film or that I wasn't proud of our accomplishments (I honestly couldn't be happier with the film we created), but as a project that started out as more of a calling-card to show people what we, as The October People, were capable of, I never considered that it might also resonate with people in such a way. Of course, not everyone feels so positively about Sader Ridge, and that's fine, but it's clear to me that there's definitely an audience of people out there that see the story and characters the same way that we do and react to it very passionately.
Any future projects you'd like to share?
We have many projects in the pipeline. Our next film is more of a monster movie with Sasquatch taking center stage, written and directed by our partner, John Portanova. It's still very much a character driven piece, like Sader Ridge, but we also explore the "reality" of Bigfoot in the Northwest. We've drawn upon legend, and even some real life accounts, to create a story that will blend character with suspense, action, and some great horror set-pieces. I'm really excited about this one and its potential. At this time we're just putting some finishing touches on a financial packet for the film and then we'll be sending it out to interested investors.
We're also working on a co-production with Imagos Films, another local Seattle company whose first feature, Motivational Growth, is playing festivals this year along with Sader Ridge. We met them at the Sun Valley Film Festival in Idaho when we were fortunate enough to have our film play in a double feature with theirs. We were blown away by Motivational Growth, which is a powerful piece of genre filmmaking. We're currently putting together an anthology film with them, but one that's unlike anything audiences have seen before. It mixes horror with sci-fi, action and drama to create a character and a world that's exciting and unique, and I can't wait until we start really digging into this one.
Beyond that, we have other scripts already written and ready to go, and plenty of ideas waiting to be developed. The October People definitely has plenty on their plate for the foreseeable future and I wouldn't have it any other way.
Let's go back to the beginnings of your career: What got you into filmmaking in the first place, and did you receive any formal training on the subject?
I've loved film since I was a kid. I was reading about films and the stories behind their development since before I can remember. That being said, it never occurred to me when I was younger to think about film as a career. As dumb as it sounds, these names like George Lucas and Steven Spielberg... I knew them but they weren't "people" to me. A guy couldn't have made Star Wars, right?
But I was always interested in art and self-expression. My first dream-job was writing. I wanted to be an author. But ultimately, the solitary nature of that endeavor didn't agree with me. I picked up the guitar when I was 13 and played it constantly. I even had a band with producer Matt Medisch (please contact us directly if you'd like to book us for gigs or birthday parties). I got into photography and illustration. I loved it all and wanted to do it all. But film still never occurred to me.
Until one day, I sat down with my good friend Nathan Jones, whom I will always thank for this, and he showed me The Seven Samurai and Yojimbo, all in one day. It was the turning point. I could see for the first time how each element of those films were choices, made by individuals. It was such a simple thing but it was revelatory for me.
From there, I've never looked back. I attended the Seattle Film Institute's Total Immersion Filmmaking Course, and from there I got a job on a feature film set where I met many of the collaborators I still work with today, including John Portanova (I used to tell him what to do; I miss those days!).
What can you tell us about your filmwork prior to Sader Ridge?
It was mostly short films. John and I collaborated on a monthly web series called Adler & Zenith for about a year and a half. That was great experience for both of us but, unfortunately, our production model was too labor intensive. We were writing 12 page scripts in 2 days, shooting those scripts in another day or two, and then editing for about a week before we'd throw the episodes online and start writing another script. In retrospect, it was insanity. But come to think of it, it was probably pretty good experience for shooting a feature film in 7 days.
You just have to talk about your production company The October People of course!
The October People is a company that's still in its infancy, but even so, it's already been one of the most satisfying accomplishments of my life. We're a company devoted to filmmaking but we're committed to making films in the way that we want to make them. John, Matt and I are the perfect team because, even if we may have different opinions about some films or what works for us, we all value the same things in filmmaking and we want to accomplish the same goals. I'm very excited about the future of The October People because we can guarantee that any film we release will be a film we care passionately about. I've always felt that as long as you do that you'll always find a mutual audience.
How would you describe yourself as a director?
I'm very calm and personable on set. I do my homework and come to set prepared. But collaboration is what I enjoy and what I strive for. I work to empower my collaborator's and help them in bringing their best work to the film. I encourage suggestions and ideas from my crew and I feel my job is just to make sure we don't stray from the ultimate vision of the film. I want everyone to feel like they have a personal investment in the project and that their contributions are invaluable, because they are.
Filmmakers who inspire you?
My favorite director is Akira Kurosawa. Not just because of the effect his films have had on me, but because of his ability to wring so much out of each of his stories. He leaves no stone unturned in exploring an idea. On top of that, he's the most successful filmmaker I've seen in being able to capture that thing that I refer to as being "cinematic," which is the rare moment in a film where all the elements - music, editing, acting, movement - come together to create something greater than the sum of their individual parts.
Besides him there's Stanley Kubrick, Ingmar Bergman, Wong Kar-Wai, Sergio Leone, Paul Thomas Anderson, the Coen Brothers, Carl Theodor-Dreyer, Hayao Miyazaki, etc. I could go on and on and on (and on)...
Your favourite movies?

Feeling lucky ?
Want to
search
any of my partnershops yourself
for more, better results ?

The links below
will take you
just there!!!

Find Jeremy Berg
at the amazons ...

amazon.com

amazon.co.uk

amazon.de
Looking for imports ?
Find Jeremy Berg here ...
Something naughty ?
(Must be over 18 to go there !)

Wild Strawberries, Paris, Texas, Alien, Two-Lane Blacktop, The Seven Samurai, The Passion of Joan of Arc, Yojimbo, Once Upon a Time in the West, Goodfellas, The Apartment, In The Mood For Love, Chinatown, Star Wars, Blade Runner, Oldboy, McCabe and Mrs. Miller, etc. I could go on and on and on (and on)...
... and of course, films you really deplore?
Movies that don't challenge you, that talk down to their audience. I can't tell you how many blockbusters I've seen where I'm checking my watch in the theater, right in the middle of a giant action set-piece. I'd rather watch a movie I hate than watch a movie I can't wait to get out of.
Your/your movie's website, Facebook, whatever else?
www.theoctoberpeople.net is our website. You can also find us on Facebook under The October People, as well as our Sader Ridge page. There's tons of great information about screenings and reviews, not to mention updates on future projects at both places. And finally there's our Twitter account, @October_People.
Anything else you are dying to mention and I have only forgotten to ask?
I think we covered everything! Thanks for your time.
Thanks for the interview!