Your upcoming movie Velvet Vengeance - in a few words, what is it about?
A young woman goes to hunt the person that killed her brother but little does she know that she is going up against an ax wielding maniac that dresses like a doll. Little does the killer know the simple girl next door is a grade A all American bad ass with a big gun. It's a good time for the whole family.
Velvet Vengeance is based on a short film of yours by the same name. So what can you tell us about the short, what inspired you to expand it to feature length, and what are the main differences between the short and the long version?
The short honestly started as a practice film but then really took off. People really liked the idea of the girl next door becoming a bad ass. I started working on the feature length script while I was shooting the short. It just felt like there was more to the story that I was not able to include in the short. Then once the short did what it did I decided that I should dust off the script and make a go at it. The big difference between the short and the feature is me. I've grown so much as a filmmaker since that short. Now with a bigger budget, a better script and a better director I think we can deliver a new type of horror film. A hybrid of more old school hands-on action in the style of The Killer, Billy Jack and Death Wish meets 80's style horror like A Nightmare On Elm Street 4 and Friday the 13th Part 6.
What inspired you to write Velvet Vengeance to begin with?
The thing that got the ball rolling first was the Eric Morse novel Jason's Curse. It was a Friday the 13th-novel that I read when I was maybe 12. If you're a Friday the 13th-fan then it's a really fun read. I was writing a fan film based around that when I decided to go ahead and throw out the Friday the 13th-thing and make it more personal. The longer I've lived with the story the more different elements have come out.
What can you tell us about your directorial approach to your subject at hand, and the intended look and feel of your movie?
The approach to this movie is trying to use all the various tools to get a reaction out of the audience. When I'm planning my shots I'm trying to do it in a way that will draw the audience in and let them really jump feet first into the world that I'm creating. I want them to have the same feeling I got the first time I saw Billy Jack kick the shit out of the bad guys, or the feeling I got the first time I watched A Nightmare On Elm Street and the mystery of Freddy was being revealed. Even the feeling I get when I listen to Anthrax' Inside Out and I get that surge of power that makes you feel like really getting out and doing something. This movie in some ways feels likes it's been 29 years in the making. It's made of so many elements from my various influences. The look is going to be a late 80's early 90's action film mixed with a top notch slasher film with a few western elements tied in cause nothing beats a good western.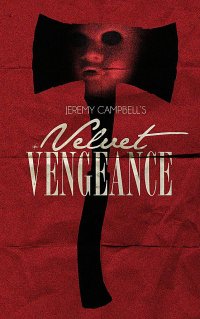 The story of Velvet Vengeance suggests quite a bit of gore. So how far are you going in that direction, is there a line you refuse to cross, and how important are blood and guts for your movie to begin with?
To me gore serves two purposes. One is the punchline to a joke. It's almost like a 3 Stooges short. Hatchet and Tucker and Dale VS Evil are perfect examples. I plan on using gore for laughs during a few scenes but the other purpose is to show the true lethal nature of the killer. This is honestly more of the action influence. A good example would be Predator. You're dealing with a very deadly killer. Yes we have a strong hero but she is going up against someone that has no regard for human life. A person that will tear into someone with an ax just to see the look on their face before they die. So for this movie gore is more important than movies I've done in the past. Luckily I've got a very good effects artist that is loving the idea of getting to deliver these effects. The line I refuse to cross is using gore to substitute for story. If the story calls for gore, I'm more than happy to break out the guts, but if you need extreme close ups of horrific violence or sloppy gore simply cause you don't have a script worth bragging about then you're making nothing more than a violent porno.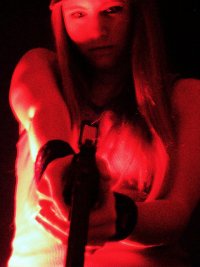 Andee Martin
From what I've heard, you also plan to feature quite a few strong fight sequences in Velvet Vengeance - so what can you tell us about that aspect of your film, and your preparations for those scenes?
You're going to see some major old school throw downs. Luckily I don't have to do much to get ready other than plan but our star Andee Martin is training 5 days a week to get ready. She working on kickboxing, grappling, boxing and strength and conditioning. Not to mention she is going to start gun training soon. She is already used to handling guns but she has to pull off a few John Woo style tricks in the movie. I'm a huge fight fan, and I've got a little training so I'm writing the fight scenes myself based on what I would like to see in a movie. Expect to see a few Aikido throws, some BJJ, lots of Maui Tai and lots of good old fashioned brawling.
What can you tell us about your two female leads, Dani Bliss Gavit and Andee Martin, what makes them perfect for their roles, and how did you first hook up?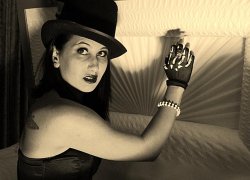 Dani Bliss Gavit
They are perfect for the roles cause they rule. I first worked with Dani during a photo shoot. It was a burlesque style photo shoot inside a funeral home. Dani is a competitive runner, burlesque performer and huge horror fan. She is perfect cause she brings 3 key elements to the role of Dolly, our crazed masked killer. 1 She is an athlete. This helps cause chopping people up with an ax can be exhausting. 2 She brings the sex appeal. What is more fun than having a female Robert Englund type that is attractive [Robert Englund bio - click here]? 3 She knows the horror genre. She loves the fans and knows how to really be scary.
Andee Martin will be playing Alice the girl next door that turns into Charles Bronson. Andee really is Alice. There is not much difference in my eyes. Andee is a great actor and a even better friend. As a director it's very important to have a familiar face on each project, someone that will not bail on the project without notice or create drama cause they are bored. Andee is that person. She shows up knows her lines, knows her mark and never has a bad thing to say about anyone on the cast or crew. That is what I value in a actor. PK to my KR :)
You of course also have to talk about the rest of your cast for a bit?
We are still putting the cast in place, but the ones we have lined up are some great ones. Only a few of the original cast will be coming back. A lot of the characters have changed so we were not able to bring back everyone, while other actors - who knows why some actors do what they do lol.
Nathan Ducker is an actor that will be returning. He played Vince in the short and will be reprising the role again with a few twists. Nathan is another pro like Andee. He even showed up during the short on his days off just to help with the crew. Guys like him make dealing with actors worth while.
Roger Walker is also coming back. He played Sherriff Kilmaister in the short and is coming back as Sherriff Van Cleef. Roger is a guy that really brings it. He is going to be bringing the creepy by the gallon in this one.
Alice is also getting a mini me. You will be seeing a young Alice that will be played by Kelsey Walton. She is the youngest cast member, but I think she has more credits than anyone else. That kid is always working on something. Alice also has parents in this one.
Carl Bailey will be playing her father. We wanted someone that when you see him you would say that is how she got so tough and Carl has that factor. His wife will be Joy Freeman Deleon. She played the psychiatrist in the short and was nominated for best actress based on that performance.
Taking the role of the psychiatrist in the feature is Elisa Castillo. We also have a few people coming in for some hilarious cameos. These include Kevin A Green, Chris Macone and Laiken A Thompson. We are still casting, but so far we have a terrific cast. So far so good but there is always a drama queen lurking in the dark. Let's keep our fingers crossed we avoid them this go around.
As far as I know, the film is still in pre-production as we speak. So when will you go into production, what's your schedule ... and even if it's waaay too early to ask, any idea when the film's going to be out yet?
We start shooting this May. We are now 3 months away from rolling and I can't wait. The schedule is 12 days total. The life of a indie filmmaker right? The plan is to have the movie ready to be delivered this October. It will not be a full on release cause we are still looking for a distribution deal, but expect lots of film fest screenings.
Any future projects beyond Velvet Vengeance?
None. I have a ton of scripts written and I'm always writing but this is it. I'm putting everything I've got into this project. We have not even started shooting and I've worked harder on this project than any other. I plan on this movie being a game changer so hopefully the movie after this will be even bigger.
Let's go back to the beginnings of your career: What got you into filmmaking in the first place, and did you receive any formal training on the subject?
Film is in my blood. Some of my earliest memory's from before I stared school is movies. I grew up in video stores. When I was a kid I would go to local video stores and just hang out. I could not afford to rent a movie so I would just read the back of the boxes and spend hours inside cause I wanted to be around movies. It was when I was 25 or 26 when I finally took the leap and started directing. My wife bought me a $200 camcorder from Best Buy and the next day I made a short with my nephew as the star. After that I would spend almost every weekend shooting something. That was my film school. Teaching myself every aspect of film from the ground up. I would write a short, shoot it, edit it and show it. Other than that I watched at least one movie a day and read at least one script a week. As I got better so did the gear and the projects. Then after a year of that I got into my first film fest and even got nominated for best short film. Now three years later I'm working on my first feature and there is a real interest in the project. I'm thankful and blessed to have even been given a chance to make that first short let alone be where I am today. I have not slacked either. I know I need to improve so I still study film, techniques and take my camera out every chance I get just to practice new camera moves and editing techniques.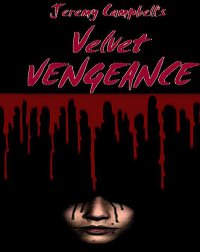 What can you tell us about your filmwork prior to Velvet Vengeance?
I've shot a lot of stuff lol. It all honestly feels like practice. Every time I start a new project I know that I'm only going to get better from it so the next time I do something then it's going to be better than the last. In my first year of directing I did 6 short films, 2 music videos and 3 online commercials but I'm proud of each one of those projects. Velvet Vengeance the feature though really is my calling card. Now is the time to step up and really show what I can do.
One can't help but notice that pretty much all your films are of the horror variety - a genre at all dear to you, and why?
I've done a few comedies and people enjoyed them, but yeah ,horror really seems to be the one that I'm know for. The best way that I can sum it up is that horror films are like the bookmarks of my life. I grew up with them and have always loved them. If I want to recall a chapter of my life then I go back to what horror film was I watching at that time.
How would you describe yourself as a director?
That seems like a question that is better for the people I've worked with. Just make sure to ask the ones that like me. If nothing else I would say the best way to describe me as a director is determined. I try to keep the vibe fun and fast paced on set but I'm able to do that cause I know way ahead of time what it is I want when I get on set.
Filmmakers who inspire you?

Feeling lucky ?
Want to
search
any of my partnershops yourself
for more, better results ?

The links below
will take you
just there!!!

Find Jeremy Campbell
at the amazons ...

amazon.com

amazon.co.uk

amazon.de
Looking for imports ?
Find Jeremy Campbell here ...
Something naughty ?
(Must be over 18 to go there !)

The biggest influence is John Carpenter. I even keep his trading card in my wallet with a note that say's you are your way to reaching this level. To me John Carpenter is a real filmmaker. He is a guy that knows classic films like Howard Hawks and John Ford. He frames his shots, edits his movies and writes the scores. He is a guy that is in charge of his vision and knows what he wants. Sergio Leone, John Woo, Steven Spielberg, Howard Hawks, George Romero and Wes Craven are a few others.
Your favourite movies?
Jaws, Once Upon A Time In The West, Rio Bravo, Texas Chainsaw Massacre, Escape From New York, Rocky, A Nightmare On Elm Street, Matinee, Wayne's World, Clueless, Some Kind Of Wonderful, Hard Boiled, Die Hard, Tucker and Dale VS Evil, Trick Or Treat - and the list just goes on and on.
... and of course, films you really deplore?
Rob Zombie remakes, torture porn and Michael Bay movies.
Your/your movie's website, Facebook, whatever else?
We have a Facebok page. I suggest everyone add it to your likes cause we are always updating it with new announcements.
Anything else you are dying to mention and I have merely forgotten to ask?
Dude you covered it all lol.
Thanks for the interview!