Your new movie Painkiller - in a few words, what is it about?
First off, I should warn you: I'm not very good at doing anything in a few words.
I describe Painkiller as a body-horror film that is part creature story, part psychological thriller. It examines addiction in all its forms -- from drugs to co-dependency. Two scientists, who are also lovers, develop an organism that replaces pain with pleasure. They're trying to find a way to manage pain without medication. The female scientist volunteers as a test subject for the organism, and things take a nasty turn as she becomes more and more dependent on pain. The scientists' world starts to crumble, and the male scientist desperately seeks help from a few other characters who enter the situation.
What were your inspirations when writing Painkiller?
I suppose the comparison to David Cronenberg's They Came from Within is unavoidable -- because of the organisms -- but I didn't deliberately set out to ape that film. Cronenberg's film is more about sexually transmitted disease, whereas Painkiller really is, at its core, about the horrors of addiction. The plot is fairly personal, and I don't think any other plots influenced it directly. At least not consciously.
As far as the dialogue and structure go, I drew inspiration from many of my favorite authors. Some of the male scientist's detailed explanation was meant to evoke the first-person protagonists you might find in Lovecraft or Poe. Perhaps he over-explained at times, but I wanted him to serve as an antithesis of my character, who spoke very little and didn't share nearly as much information. My character's dialogue was often brief and noirish. That's my love for James Ellroy. Some of the repetitive lines -- many of which ended up on the cutting-room floor -- came from my admiration for David Mamet. Cormac McCarthy is in there as well -- or, at least, that was my intention. I was purposely dark and sparse at times -- not giving all the answers, leaving things open to interpretation. I think McCarthy is brilliant at that.
I really had No Country for Old Men on my mind when working on Painkiller -- both the Coen brothers' adaptation and the novel. I had initially wanted no music in Painkiller. If you watch No Country for Old Men, you won't hear music until the closing credits, which is so bizarre for the Coens, who often make music a deep part of their work. Yet, with No Country for Old Men, I didn't even notice the lack of soundtrack because the film feels so raw and grim and real at times. I wanted that same mood for Painkiller. Unfortunately, when I watched the first cut, I knew the film wouldn't work without some kind of soundscape. I credit Jeff Gould -- our editor, director of photography, cinematographer, location scout, executive producer, et cetera, et cetera -- for fixing that. Jeff worked incredibly hard on the film, and he'll always have my gratitude for his contributions.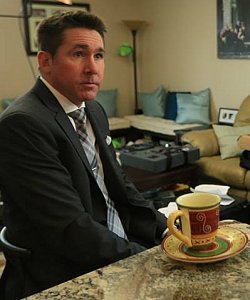 No Country for Old Men influenced me in other ways. What I love about that story is that it refuses to conform with conventions and satisfy the audience. Typically, particularly in American cinema, Llewelyn or Ed Tom would have gotten into a gun fight with Chigurh in a big finale, and the bad guy would lose. The end. But that doesn't happen at all in the book or film. Llewelyn's death isn't even seen, and it has nothing to with Chigurh. It feels so anticlimactic. Carla Jean dies over a coin flip, and Chigurh stumbles away from a car accident. Then he's gone. It ends abruptly with Ed Tom describing a dream. It's beautiful and ballsy in so many ways.
I'm not saying we bucked convention with Painkiller -- and I sure as heck didn't write anything on the level of McCarthy -- but I certainly wanted to leave certain questions unanswered. I butted heads with some people over that at times. I didn't want to be literal about everything. I'm fine with surreal. I appreciate the genius of David Lynch. I wanted to find a balance. On one hand, I didn't want to confuse the viewers. On the other, I wanted to challenge the audience a little bit.
How did the project fall together in the first place?
Serendipity, I suppose. Many of the cast and crew members worked on Rob Dimension's Baggage [Rob Dimension interview - click here]. I had donated some money to that project -- earning myself an associate producer credit in the process -- and I was scheduled to play an extra in an office scene. A few days before the shoot, Rob contacted me because the guy who was going to play his boss in that scene had to drop out. Rob asked if I wanted the part. I jumped right at the chance. I only had a couple lines, but I had so much fun, and Rob is a huge inspiration. Anyway, Baggage gave me a chance to work with Jeremiah Kipp [Jeremiah Kipp interview - click here] and a lot of the other crew and cast members who came on board for Painkiller.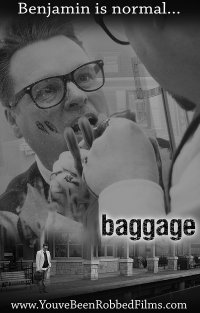 Shortly after Baggage came out -- probably in the summer of 2013 -- Rob posted something on Facebook that said (and I'm paraphrasing): "People always ask me how to go about making indie films. My advice? Just go for it." That statement got me wondering whether I could make a movie. In a comment to the post, I told Rob that he was right -- it was important to go for it. And I mentioned that I had this idea about a body-horror film called Painkiller where an organism replaces pain with pleasure. Jeremiah saw my response to Rob's post and sent me a private message, encouraging me to write the script. I thought he was just being nice. But throughout the rest of 2013, he checked in periodically to see whether I had worked on the script. And I hadn't. I had the ideas in my head, but I just couldn't get them down on paper. It was a combination of laziness and not feeling one-hundred percent confident in the story.
Finally, on January 1, 2014, while nursing a New Year's Eve hangover and watching television, I decided I just had to write Painkiller. I sent Jeremiah a note, telling him he'd have a script by the end of the day. I wanted to put myself on the hook so I'd be forced to deliver. And I kept my promise: I sent him a script later that night. I had no idea whether he would like it, but I figured just the act of writing the script was an accomplishment. Luckily, Jeremiah was into it. He sent me some notes back, and we were ready to go.
From there, things came together very quickly. I think we pretty much had the core crew assembled within forty-eight hours. I'd like to think it was because people really loved the script, but I think people mostly wanted to work with Jeremiah because he's so talented. I don't blame them. I was excited to work with him myself. I had never made a film before, and I was flattered that he wanted to be involved.
At times, Painkiller goes quite far in its depiction of violence - so was there ever a line you refused to cross when writing the film?
Funny you should say that. My script is much more subtle than some of the things we shot. The female scientist is a victim, and I didn't want to seem like we were glorifying the violence committed against her. I didn't want anything to feel gratuitous or exploitative. While the subject matter is unpleasant, I think a lot of the violence is implied. For example, there's a pretty nasty beating in the film, but the camera pulls back and the shot goes out of focus, so you never really see the brutality. You hear it, however, and the mind paints the picture. I'm a big fan of less is more, especially in horror. I wanted the audience to fill in some blanks. That's what's so great about a movie like The Texas Chainsaw Massacre or Psycho. Your mind tricks you into thinking you're seeing something far worse than the film is actually showing.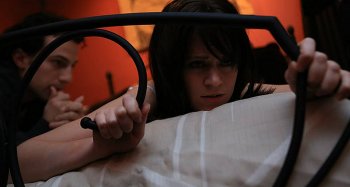 In Painkiller, there are moments of slicing and stabbing, for sure. But like the movies I just cited, most of it's hinted at. You may see the aftermath or hear the wounds inflicted, but the violence itself isn't graphic. You do see the creature burrow into the female scientist's back. That was a change from the original script. Initially, I wanted the creature to be injected with a syringe. I had envisioned something much more phallic, without any bloodshed. I wanted it to appear more pleasurable than painful. But after collaborating with the crew, I agreed that it made more sense to show the creature burrowing. I think it's very effective, very visceral, but not gory. There are a lot of quick cuts as it enters her body. It doesn't come across as prolonged or unnecessarily vicious -- I hope. Beyond that, and without spoiling much, there is one murder that is fairly rough -- although not bloody. I didn't write it that way. In the script, I described the death as almost off-camera. But when it came time to shoot that scene, we went with the moment and what you see was largely improvised. At first, I was afraid I'd be unhappy with it, but after seeing the film, I'm pleased with how everything turned out. It's one of my favorite scenes in the movie.
You're also one of the stars of Painkiller - so did you write your character with yourself in mind, and what did you draw upon to bring him to life?
I definitely created him with me in mind. That's the nice thing about being the writer: I could mold the script to my strengths and weakness. And I could come up with a character that was fun to play. And I did enjoy the part immensely. Plus, I had the right wardrobe, which maybe is why I was a good replacement as the boss for Baggage. I have a lot of suits in my closet. I love putting on a suit and going into the office. I'm such a corporate sellout, and, come to think of it, I may be typecasting myself.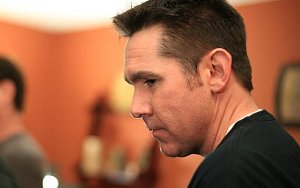 Joking aside, I don't want to spoil anything, because my Painkiller character is presented as someone fairly mysterious. I can say, however, that I pictured him as a social chameleon. He is able to blend into any sort of situation seamlessly, even when his motivations may not be immediately obvious. I'm a big fan of films and books that invite interpretation. I don't like to be spoon-fed. There's a downside to that philosophy though. I've received criticism from viewers who felt I didn't give enough detail about my character. But that was a conscious decision on my part. There was a moment in the script where a character asks mine: "They say you...is any of that true?" The character just trails off without completing the thought. And my character ignores the question, so you never really find out what the other character was trying to ask him. I wanted the audience to form their own opinions. What could the secret be? What's their conclusion based on what they've seen and heard? Unfortunately, the line didn't work in the film, and it had to come out. Which is too bad. I think it could have been a quiet moment that spoke volumes.
Why didn't you give yourself the lead male role?
I pictured the scientists as a young couple -- brilliant, loving, well-meaning, but ultimately too naïve. I'm middle-aged. No way I could play someone in his twenties without looking ridiculous. There was a more pragmatic reason though: I wanted the best possible actor for the role. I recognize my own limitations, and I didn't want to hurt the film with a weak performance. The male scientist serves as the narrator. He carries a lot of the story. That requires a good actor with a strong presence. I think Thomas Mendolia really delivered in the role. I think all of the cast members delivered.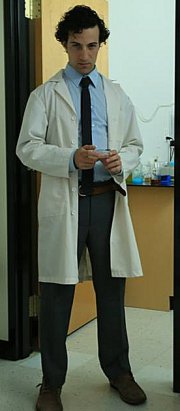 Thomas Mendolia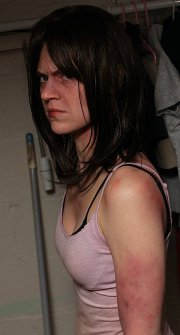 Kelly Rae LeGault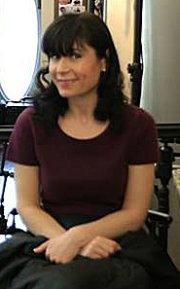 Jill Di Donato
Each character undergoes a transformation of sorts, and that can be challenging to convey. I wanted a dichotomy for all the characters -- although their opposites are more subtle from part to part. The male scientist goes from someone caring and driven to someone selfish and obsessed. This change is expressed mostly through his dialogue. Kelly Rae LeGault [Kelly Rae LeGault interview - click here], on the other hand, doesn't have much dialogue as the female scientist, yet she masterfully used a range of emotions and expressions to show her character's devolution into something animalistic -- without ever quite losing the character's sympathetic humanity. I can't imagine anyone else in the role. Jill Di Donato also does a good job of bringing the necessary contrasts to the dominatrix role. We see how her professional life differs dramatically from her personal life. She's believable in both aspects. And, of course, my character has different faces as well. He smiles kindly. He sneers with disdain. He is whatever the situation dictates. But for the male characters, Thomas easily did the heavier lifting. Among the cast members, I am the least experienced, but I did my best not to be the weak link. That's another reason why I thought a seasoned actor would be better for the lead role. I don't regret that decision. Besides, I think my part was more fun.
What can you tell us about your director Jeremiah Kipp [Jeremiah Kipp interview - click here], and what was your collaboration like?
A lot of people worked very hard on Painkiller, but without Jeremiah, the film never would have happened. As I said earlier, he encouraged me to write the script. He believed in it. His reputation drew the cast and crew. Jeremiah and Jeff had worked on Baggage. Our makeup guy -- Daniel Mazikowski, or Maz -- drove all the way from Alabama to New Jersey to work with Jeremiah again. And Maz was brilliant! All of the cast members had worked with Jeremiah previously, and I agreed with all his picks for the roles. His casting choices improved the film. In short: If it weren't for Jeremiah, I wouldn't be talking to you now.
Where my collaboration with Jeremiah helped the most was with my performance. I'm not a trained actor, yet Jeremiah got the very best out of me. For that matter, he got the best out of all the cast, all of whom were fantastic. Just look at Kelly. She trusted in Jeremiah, and the proof is in the film. The part of the female scientist did a lot to Kelly physically and emotionally. Jeremiah described her as fearless, and I couldn't agree more. The results of Jeremiah's direction and Kelly's performance are amazing. People are really taking notice. I'm glad, because Kelly gave her all -- and then some.
For my performance, Jeremiah experimented with some pretty cool things to set the right mood. For example: There is one scene where my character and another character are supposed to be angry with each other. So before we shot the scene, Jeremiah had us shout, "Fuck you!" back and forth at each other. It kept getting more and more intense. That helped us tap into some realistic fury, so when Jeremiah suddenly called for action, the performances felt very authentic. I know I was pretty fired up.
Since you were writer, actor and executive producer on the film, how hands-on or hands-off were you when it came to creative decisions?
I'm happy to say that most of what I wrote in the first draft is what we shot. I'm a perfectionist when it comes to writing -- perhaps anally so -- and I truly did choose every word with care. As noted earlier, there were some things that changed -- the burrowing scene, a death scene -- but, in retrospect, I'm happy with those decisions, even if I may not have been completely sold at the time. Additionally, there were some things that I envisioned which didn't work. It was my first script, so I had these grand ideas that simply weren't based in the reality of low-budget film-making. We were at the mercy of available sets and other constraints that made some of my ideas impossible. I'm talking about minor things like lighting preferences though. I honestly don't think the film suffers from their exclusion. There's only one creative decision that, to this day, upsets me. I should have been firmer in what I wanted, and I could kick myself for caving so easily. Fortunately, it's barely noticeable in the film, so I don't lose any sleep over it. Beyond that, I tried to stay hands-off. I considered the experience a crash course in film-making. The crew was fantastic, so I pretty much sat back, watched, learned, and let them do what they were there to do. Am I going to tell Jeremiah how to direct a scene or Jeff how to frame a shot? No way. I had every confidence in them. I was right.
You said that, with the exception of a few things, your script was pretty much what was shot. But did the script evolve any during the writing process?
Before the writing process, actually. I admitted that I kept putting off writing the script. That was partially because I wasn't satisfied with what was in my head. The male and female scientists, the organism, the disastrous experiment -- those things were always part of the plot. But originally, I had planned on a three-character story. We'd have the scientists, and I intended to play a colleague who, having not heard from the couple in a while, went to their apartment to find out what was going on. And from there, I thought the tale might unfold sort of like Poe's The Fall of the House of Usher, with my character -- the visitor -- learning of the story from the other male character. And at the end, I would discover how badly things had gotten with the female scientist. The activity teased at the beginning of the finished film and revealed at the end -- I had originally saw that as the final shot. Conceptually, I always liked the idea of the scientists and a creature that replaced pain with pleasure, but the punchline in my planned script felt flat. I just knew the story was missing something.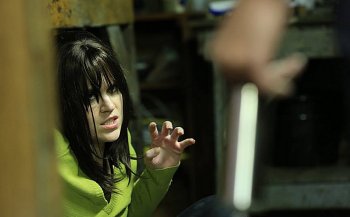 The addiction aspect of the story came from my own struggles with pain medication. I herniated discs in my neck twice -- once in 2008, again in 2011 -- and I underwent two fusion surgeries. Come to think of it, during the Baggage shoot, I was dealing with pain that required surgery. Back to my main point: The nerve pain that comes with disc herniations -- it's just a constant, depressing drain. I took painkillers before and after my operations, and I went through withdrawal when I stopped the medication. While I never considered myself an addict per se, I know people who have pretty much ruined their lives because they got hooked on pain pills. The script, as I had originally seen it, was meant to reflect that type of misery -- symbolically in a horror film. But, if I may make a private joke, it wasn't enough. Then I had an epiphany. In late 2013, I witnessed what I would consider an abusive relationship. And it occurred to me that addiction isn't limited to substance abuse. It's possible to get addicted to a person -- to lose yourself in a toxic relationship. That realization opened up the script possibilities, giving me new ideas to explore without straying too far from the original premise. I trashed the idea for my first character and started to develop the character I ultimately played in the film. But I needed a logical reason for him to enter the story. That gave me the idea for the dominatrix character. At that point, everything for the plot clicked and I felt like I had a script worth writing.
What can you tell us about the shoot as such, and the on-set atmosphere?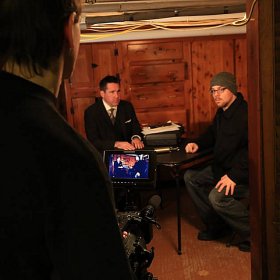 There were some clashes of personalities, but, for the most part, I think things went fairly well. I can tell you this: Much of the movie occurs in a place that the script refers to as the "cramped room." It's supposed to be the apartment that the scientists move into after losing all their money. We filmed in a family's basement. It definitely fit the bill. Jeremiah said it was like filming in a submarine. That's probably the best analogy. I think it gave us the right grimy and claustrophobic look that showed the scientists' decay, but the location did wear on people's nerves. To give you some idea: I'm not particularly tall -- a couple inches shy of six feet -- and my head was practically touching the ceiling. There were exposed pipes and wires hanging down, and I did crack my head a couple times. It wasn't unusual to hear an actor or crew member suddenly shout profanities after banging into something. We brought in cheap, used furniture to dress the set, and that further ate up limited space. Add all the equipment to the mix -- the lighting, the cameras, the sliders, the boom mic -- and we were really, really uncomfortable. At one point, while doing a jib shot, the camera banged into the ceiling, and I thought, "Please don't break. I can't afford to add an expensive camera replacement to the budget." To make matters worse, we went a few days over schedule while shooting there -- everywhere, in fact. That didn't do much to help mood or morale. When we finally wrapped those "cramped room" scenes, we all breathed a sigh of relief. It felt good to get out of there. I'm sure the people who owned the house were happy to see us go too, as our presence was disrupting their lives. The basement was in the house of a wonderful family, and I'm grateful that they were gracious hosts and good sports in many ways. But I also know we really overstayed our welcome.
I'm just glad no one got killed -- at least not in reality. I already talked about a murder scene that we shot in a way that wasn't written. I wonder if the frustration and ugliness behind the camera seeped in front. That's not necessarily a bad thing. At one point, Jeremiah reminded me that some of the best films ever made were shot in deplorable conditions. I'm not saying our conditions were deplorable compared to, say, The Evil Dead, nor am I trying to compare Painkiller to some of the best films ever made. But I can definitely see how tension and discomfort can influence creativity and take a film in unexpected directions. That murder scene might be a prime example of how the atmosphere affected what we shot.
The $64-question of course, where can the movie be seen?
That's an expensive question. The answer isn't nearly as costly. DVDs are available for seven dollars. Digital downloads are available as well for even less. There's also a rental option -- very reasonably priced. I wanted to give people choices, without forcing them to spend too much. I'm not trying to make money. I just want people to see the film. I'm proud of it. I'm submitting to festivals. We'll see how that goes.
How would you describe audience reaction?
I'm still trying to build an audience, to be honest. But one thing that has been gratifying: Most people who have seen the film -- or who have read the script -- have been very complimentary. And, as the writer, I love how people seem to approach the film in different ways. Some see it as a straight-up horror story. Some see it more as sci-fi. One viewer told me he sees it as a cautionary tale. Someone else described it as kinky. It's been called creepy. It's been called thought-provoking. It's been called a love story. People who suffer from chronic pain have told me that the film really resonates with them. People who have gone through bad relationships or addiction relate to the film in a different manner. And, yeah, some people have hated it.
My point is that the film hasn't been pigeonholed, and I love that. I didn't want to force any single idea or plot point down the viewers' collective throats. I played with symbolism, especially in emphasizing relationships: husband and wife, customer and provider, mother and child, masochist and sadist. There's a yin and yang throughout -- even down to my choice for the pocket squares for my suits. I left the characters nameless for a reason. To some extent, I wasn't concerned about their identities. I was concerned about what they represented. That meant leaving some things open-ended. To give an applicable horror context: Some people love Rob Zombie's Halloween remake. Others prefer John Carpenter's original. It depends on whether you want the back story. Do you need to know what turned Michael Myers into an unstoppable bogeyman? Or do you like his inexplicable transformation? There's no right or wrong answer. It's individual taste. Personally, I prefer Carpenter's film. I don't want to know everything. Not knowing is scarier, at least in my opinion. It's more fun, even if it does demand more of the audience.

Feeling lucky ?
Want to
search
any of my partnershops yourself
for more, better results ?

The links below
will take you
just there!!!

Find Jerry Janda
at the amazons ...

amazon.com

amazon.co.uk

amazon.de
Looking for imports ?
Find Jerry Janda here ...
Something naughty ?
(Must be over 18 to go there !)

I'm not suggesting that Painkiller is a deeply intellectual exercise. If people enjoy it as a creepy creature story, I couldn't be happier. I just mean that I tried to write content that can be mined further if a viewer wishes to do so.
Where can people learn more about the film?
We're on Twitter and Facebook as painkillerfilm. Please give us a like at www.facebook.com/painkillerfilm. Tell your friends. Tell your family. Stop a stranger on the street.
Our web site is www.painkillerfilm.com. If you're reading this and you haven't seen the film, please stop by the site and check out our trailer. If it looks interesting, you can rent the film for a buck. If you hate it, you've only lost fifteen minutes and a U.S. Dollar -- which isn't even a full euro. If you really hate it, you can give us a poor rating on IMDb and send me a nasty message. But I'd really appreciate it if you just watch. I'm not trying to turn a profit or break into Hollywood. I just want people to experience the story.
Thanks for the interview!
My pleasure. Thanks for the opportunity.