With your new movie The Haunting of Alice D being a ghost story, is that a genre at all dear to you, and some of your genre favourites?
I do enjoy thrillers and horror movies, it's a genre I got into when I began acting. My favorites are The Shining, The 6th Sense, The Orphanage. I love suspense and I love thought provoking stories.
(Other) sources of inspiration when writing The Haunting of Alice D, and what made you pick exactly this subject - a ghost in a former whorehouse - for what I believe to be your directorial debut?
I didn't know this would be my directorial debut when I wrote the screenplay... it just happened this way. I like to write stories that make you think and that are fun to watch and act in. I like complex and troubled characters, so I created this twisted tale.
What can you tell us about your movie's approach to horror (as in suspense vs sudden shock, atmosphere vs all-out gore and the like)?
It's more about the build-up and suspense in this one. We have a lot of things going on that you might not notice in the first view, things moving... Alice hiding, etc. While there is some gore, it's defiantly more about the scares and suspense.
Many (me included) also read a feminist message into The Haunting of Alice D - at all intended, and care to elaborate?
Ha ha. Yes, well I've read some people think I was trying to hide a feminist message in there. I'm not hiding anything. I don't think your sex or sexual identity should limit you from doing anything. I never limit myself, and to those who feel threatened by what they perceive as a feminist message, I think they probably feel threatened for a reason. In The Haunting of Alice D, characters of both sexes can be perceived as "good and bad", and the character I play is a prostitute who engages in sexual situations and nudity on screen. So I was actually quite surprised when I saw some of the comments about a hidden feminist message. I honestly was just trying to create interesting and complicated characters, like a lead girl who is both sweet and innocent, and yet has decided to sell herself for sex for one night.
How would you describe your overall directorial approach to your story at hand? And how would you describe yourself as a director in the first place?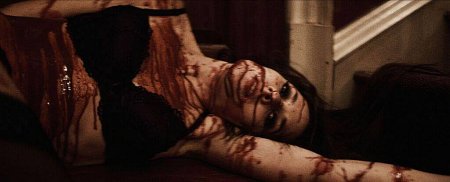 I'm very laid back on set and I love working with talented artists who are putting forth their awesome performances and creations to culminate in our film. For The Haunting of Alice D, I knew what I wanted and I felt like hiring actors and crew members that would be able to facilitate that vision was obviously the best approach for me as a director. I cast and crewed the crap out of this movie, meaning I worked very hard in pre-production putting together the most incredible team I could, so that filming would be smooth. From our amazing cinematographer Eric Latek, composer,Carlos Vivas, producers who had my back Chris Maltauro, Kristina Page and Josh Hammond, and with the rest of our tiny, but extremely kick-ass talented crew... I was able to let everyone do their job, overseeing this awesome creation coming to life, and work with our talented group of actors.
You also appear in front of the camera in The Haunting of Alice D - so do talk about your character, and what did you draw upon to bring her to life? And have you at all written Natasha with yourself in mind?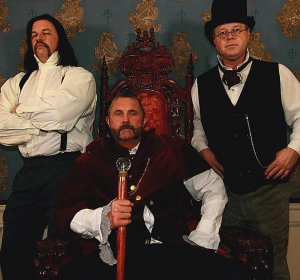 Al Snow, Kane Hodder, Barry Ratcliffe
I honestly wasn't sure who I would play, I just wanted to make sure we had the best actors in their spots and then I would fill in whatever role was left. I prefer playing dark and troubled characters, so Natasha was a great fit for me. She is kind of leading the main character (Jenny, played by the terrific Megan Hensley) into the situation... So it was fitting J I like Natasha. I don't think she is a bad person, just someone who has gone down a dark path. She feels empathy for the Jenny character, even though she's "been around the block" and is quite hardened herself. I think there is a part of Jenny's innocence that she sees, that reminds her of her old self... and maybe as an actress who has been doing this for over ten years, I could relate just a little bit J
What can you tell us about the rest of your cast, and why exactly these people?
As I mentioned before, we spent a lot of time in pre production. I had worked with most of the actors before, actually everyone besides Kane Hodder and Juan Riedinger, who were both beyond fantastic. I couldn't be more happy with our cast. Everyone nailed their characters and everyone got along so well. It was a lot of fun.
You of course also have to talk about your wonderful location for a bit, was this all one house, done in a studio, a composite? And what was it like filming there?
We shot 98% of the movie on location at a gigantic and amazing mansion in Rhode Island called The Beach Mansion. That place is so gorgeous and was its own character in the movie. It's beautiful, it's foreboding and it was perfect for us! We also housed most of our cast and crew there during filming.
What can you tell us about the shoot as such, and the on-set atmosphere?
This was one of the smoothest and most fun shoots I've ever been on. Cast and crew got along so well. Most of us stayed in the 9000 sq ft mansion during filming, so there was a lot of fun during and after filming.
Anything you can tell us about audience and critical reception of your movie yet?
People love it, people don't love it... Ha ha. If you want to be an artist, you have to be okay with criticism and praise. I've had a lot of supportive comments and observations and some not so... It's all good. I'm just so grateful to be able to do what I do.
Based on the experience on The Haunting of Alice D, could you ever be tempted to return to the director's chair - and (other) future projects you'd like to share?
Yes! Working on writing two right now, another horror and a drama. I'm not sure which will come first.
What got you into acting in the first place, and did you receive any formal training on the subject?
I've been a ham my whole life. I started acting in horror movies and taking classes, while living in Boston, and while I was looking for a hobby. At that point I was just out of school and feeling quite unfulfilled with my life... It went from there...
Can you still remember your first time in front of a camera, and what was that experience like?
I was so nervous! Ha ha. My first on camera work was for a short that was in a 78hr film festival... And yes, I remember it quite well. The acting bug bit pretty hard on that shoot.
What can you tell us about your filmwork prior to The Haunting of Alice D?
I've written and produced two features, a thriller, Lure (renamed A Lure: Teen Fight Club by distro company), and a comedy, Money Shot (also renamed by distro and released by Kevin Smith Movie Club)
I've acted in a lot of great projects like the cult classic Bloody Bloody Bible Camp and most recently Dog Eat Dog with Nicholas Cage and Wild Boar, directed by Oscar winning SFX artist Barney Burman in his directorial debut. Also starred in The House Across the Street that came out last year, alongside Alex Rocco, Ethan Embry, Eric Roberts and Courtney Gains.
How would you describe yourself as an actress, and some of your techniques to bring your characters to life?
As I said before, I love complicated and dark characters... I like playing people that are quite opposite to me. I always research the character I'm playing and their motivations. Other than that, I try and know my lines while also leaving them so that they come out fresh. Hard to explain, but I don't like being so prepared that my actions and reactions aren't natural.
Actresses (and indeed actors) who inspire you?
I'm inspired by so many people. Actors and actresses that take risks, and make themselves vulnerable.
Your favourite movies?

Feeling lucky ?
Want to
search
any of my partnershops yourself
for more, better results ?

The links below
will take you
just there!!!

Find Jessica Sonneborn
at the amazons ...

amazon.com

amazon.co.uk

amazon.de
Looking for imports ?
Find Jessica Sonneborn here ...
Something naughty ?
(Must be over 18 to go there !)

The Shining, The 6th Sense, Dances with Wolves, The Last of the Mohicans, Glory, The Patriot (can you tell I want to act in an epic period piece? J), movies that make you think!
... and of course, films you really deplore?
Hmmm... I'm not super into action movies with lots of machines fighting...
Your/your movie's website, Facebook, whatever else?
https://www.facebook.com/alicedmovie
Twitter: @alicedmovie and @jesssonneborn
Thanks for the interview!
Thank you so much!