Your upcoming movie Murder Eleven - in a few words, what is it about?
The film at it's core is a race against the clock for two detectives to try and stop a serial killer before he gets victim number eleven, but what they don't know is the killer already has her. It's a story that takes place half in the world of the victim who has been taken and her possible killer who is surprised by someone coming home who shouldn't have and half in the world of two detectives trying to do everything in their power to stop this killer who somehow always manages to stay multiple steps ahead.
What were your inspirations when writing Murder Eleven?
I read about a case of unsolved murders of a few prostitutes in Atlantic City, and with my law enforcement background I thought I could tell a unique story into the dark world that these ladies live and work in.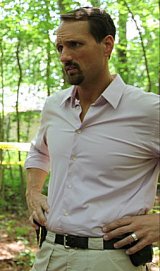 Jim Klock
You also play a lead role in Murder Eleven - did you actually write the character with yourself in mind, and what did you draw upon to bring him to life?
I did write the character for me. I first wrote the character and one scene of the film to work on in a acting workshop. I used a lot of experience from my cop life with this character, one particular group of experiences was drawing on people who would really hurt the ones they loved because they "loved them so much", it was always a disturbing sight to see someone violently beaten by a loved one and then have the suspect say "I did it out of love".
Do talk about the rest of your cast for a bit, and why exactly these people?
Julienne Irons was in the acting workshop with me and the first scene we ever did was playing these characters in a scene from the film. She was fearless and is a fearless actor. She is so professional and a student of the material, I knew she was perfect to play this complex and challenging role and I was not surprised she won best lead actress at the Down Beach Film Festival for her portrayal.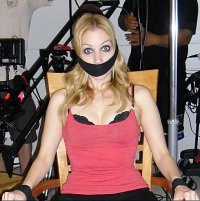 Autumn Federici
Autumn Federici [Autumn Federici interview - click here] I had worked with twice before and just adore her as an actor and person. She gives every ounce of herself to a role and the production. For this role I knew she had it in her eyes, I knew she could draw you in, make you feel for her, scared for her, and pull for her.
Richard Reid, I had also worked with before and I liked his vulnerability mixed with his natural presence. Playing an undercover cop is hard, most actors play them too tough, Richard was able to tap into the toughness being an act covering up a part of who he really was and at the end of the day he wanted to be a good cop and take down bad guys.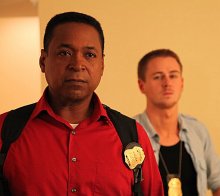 Michael Mack, Richard Reid
Michael Mack I had also worked with before and known for many years. The role he played of Detective Mayfield is based on several cops I worked with over the years. I wanted the patience and calmness Mike brings with his style of acting. I knew he could land those special qualities of a veteran homicide detective that has seen so much but never gives up.
How would you describe the look and feel of your movie?
I wanted the look and feel to be claustrophobic and the look to be as close to the natural eyes as possible, to feel real. My hope was for the audience to feel like they were in the rooms with these people, living in their shoes for a moment in time.
Your movie's story suggests quite a bit of violence - so how do you go about that aspect of your film, and was there a line you refused to cross?
When you base a film in reality and write from my set of circumstances you can't judge it, violence is real in this world and evil people do evil innocent people. I didn't let the level of violence or language get in my way, I just told the story in a truthful manner, from both the good side and evil side.
Do talk about the actual shoot and the on-set atmosphere for a bit?
12 days during a hot June month in Atlantic City. All night shoots so really only about 10 hours of actual work time to shoot the film. It was roughly an 11 person crew for the most part and I loved them all and was super blessed to have them. The atmosphere was twofold, a well-oiled machine on one hand, I have been in the blue collar microbudget world for a while so I'm very comfortable in that type of environment. As an example I also AD'd the film myself and kept to the schedule I built. My producing partner Darrell Martinelli who has been with me from day one is the back bone that gives me the support to actually succeed in these movies. My DP Chris Hubbart is not only one of the finest people you will ever meet but you cannot ask for a more loyal and talented teammate and our associate producer Emily Adam's who is kind of the "Mom" of our set's just keeps it all together.
The other half was intense and no nonsense. Playing this character on top of producing and directing added a new element I had not encountered before. It created a tense atmosphere at times for sure, this type of subject matter on top of the physical side of making a movie did have it's challenges but the team held it together no matter what and we achieved what we set out to do so by the end it felt like a knock out win for us all. I have to pinch myself at times for how blessed I am to have these people who worked with me.
The $64-question of course: When and where will the film be released onto the general public?
October 22 it will be release on DVD and certain on demand outlets.
Any future projects beyond Murder Eleven?
I just directed a feature film River Guard in Wilmington, NC over the summer starring Eric Ladin, Brett Cullen, Jeff Kober, and Peter Jason. The next film I am set to direct is called Do No Evil, another script I wrote. This is a thriller in the cop genre.
As far as I know, you initially entered the filmworld as an actor - so what got you into acting in the first place, and did you receive any formal training on the subject?
I started acting in high school and then in college. During my time at the police department I studied film acting in D.C. as well as doing theater. I fell in love with acting in high school but didn't have a clear path of how to pursue it. After being a cop for a few years when I went back to college I had a professor tell me I should pursue acting professionally and that's when it began. I then started making movies on the side as well to write parts I wanted to play.
What made you pick up directing eventually?
After producing several films I decided I wanted to take a stab behind the camera and work with actors, it really was all about the actors and story telling. How to create characters and help actors explore more than what is on the page. It was something I didn't just wake up and say now I will direct I really considered it for a while and started with an 11 minute short in one location with a few actors just to test the waters. I knew from the first prep work I did that I was going to love the journey though. But I'm a super collaborative director, I'm not super technical so I really rely on my team and DP. I want everyone to have a voice on a film I'm directing.
What can you tell us about your filmwork prior to Murder Eleven in whatever function?
I started producing in 2001 with my first feature film I wrote called My Turn, I did this while working as a cop full time. Then I did several shorts, a documentary, another feature called Sway, then eventually moved to LA fulltime where I started acting more and directing. That led to me producing Trials of Cate McCall with Kate Beckinsale. When I first moved to LA I supplemented my income by providing high end security services. I worked with Kate and we stayed friends, years later I was able to help put a movie together with her at the company I work with as a development executive called Sunrise Pictures. My CEO Peter Schafer is also a producer on Murder Eleven and big supporter of me as a filmmaker.
How would you describe yourself as an actor and as a director?
Blue collar and truthful. I believe in respecting the process and every member of the crew and cast. I try to set a tone with work ethic and by being a gentlemen. I feel you have to create an enviroment people want to show up for and know you have their back but also know the film itself has to be respected and more important than any one person. I compare film making to a team sport. I don't understand ego at all in a business that is so collaborative. As an actor I want to be the best I can be while I try to help the other actors be the best they can be and as a director I try to do the same.
Actors, writers, filmmakers, whatever else who inspire you?
Johnny Cash inspires me and is a huge influence on me, his truthfulness and grit, "if at first you don't succeed, try and try and try again."
Billy Bob Thornton - I watched a documentary on Billy Bob who inspired me to just write and make movies.
Ed Burns - he has style he stays true to it, he said he wants to be the Irish Woody Allen and he sure and hell keeps trying to be.
Hugh Jackman - I've worked with several people who worked with him and he is always a gentlemen and treats people with respect.
Danny McBride - we are from the same small Virginia city and he busted his butt for ten years couldn't book a co-star role but never gave up and he is not letting up now, he is a working son of a gun.
Clint Eastwood - his talent and style as a filmmaker sets the bar in my opinion.
Your favourite movies?

Feeling lucky ?
Want to
search
any of my partnershops yourself
for more, better results ?

The links below
will take you
just there!!!

Find Jim Klock
at the amazons ...

amazon.com

amazon.co.uk

amazon.de
Looking for imports ?
Find Jim Klock here ...
Something naughty ?
(Must be over 18 to go there !)

Unforgiven, Seven, and Slingblade.
... and of course, films you really deplore?
I try to take something good from every film and because I know how hard it is to make a film I tend not to really hate on many films.
Your/your movie's website, Facebook, whatever else?
Anything else you are dying to mention and I have merely forgotten to ask?
No I think we covered it all.
Thanks for the interview!