Your new movie B&B - in a few words, what is it about?
A couple of gay guys get more than they bargained for when they bait the owner of a remote Christian guest house. Mischief turns to terror when a Russian neo-Nazi checks in.
What were your sources of inspiration when writing B&B, and is any of the film based on personal experiences or the like?
I love Hitchcock and all kinds of suspense thrillers but I've not seen any where it's about a gay couple. Me and my husband stayed at a B&B a few years ago where we didn't feel at all threatened but had a definite sensation of not being entirely welcome. It was that germ of unease I realised could be magnified for a suspense film. Then my friend and producer Jayne Chard inspired me to write it!
B&B is rather limited when it comes to locations - so what kind of a challenge is it for you as a director to keep things interesting under these circumstances?
Itís a good challenge because it forces you to think visually. We did long takes, circular tracks, split screens and shot some scenes in infrared. A lot of the film is about characters watching things and trying to figure stuff out so there are lots of pov shots which I love.
Where was the movie filmed actually, and what were the advantages and challenges filming there?
It was filmed on the outskirts of Bristol, a town in the west of England. The main location is a farmhouse and the challenge here was the tight space for crew and actors to work in. Also the mud! We had problems using the heavy dolly upstairs because the house was so old we had to use special structures to keep it safe. The other main location was a park in Bristol which was exposed on a hill. We filmed during storm Imogen which looked great in terms of waving trees but not so easy to record sound and keep actors warm.
Do talk about your overall directorial effort to your story at hand!
Making anything is always a battle against the clock especially when you're going for something visual. It's not hard to cover a scene, it's much more time-consuming - and rewarding - to get the shots which allow the audience to experience the story first hand, to put them where the characters are so they feel the emotion the characters are feeling. It's always a battle between making sure the story is being told and making sure it's being told in the most visceral way.
One of the difficulties was filming the night scenes in infrared. Rather than using the usual movie dodge of a red filter we shot infrared for real which gives an uncanny look. The brightest part of the image is where the subject is radiating the most heat. It gave us quite a few problems with cold noses which show up black but also some really unexpected and visually beautiful surprises. And the trickiest problem of all - how do you film a dead body in infrared? The actor can hold his breath and not blink as much as he likes but he can't stop radiating heat and his body is supposed to be cold.
What can you tell us about your cast, and why exactly these people?
The main cast is only five people who are all very important for the story.
Tom (Bateman) and Sean (Teale) who play the main couple were both incredibly dedicated and hilarious. It was hard to get through some of the scenes where they were laughing but they could also pull out the stops at any point and make you feel raw terror. I'm so grateful to them for creating a relationship that seems real to me and isn't the same as what I've seen on screen before. They weren't afraid to be occasionally annoying and unsympathetic and unheroic like real people are and that makes me love them even more. Tom and Sean had their work cut out making us believe in their relationship with no screen time to show how their characters had met or even what they did for a living. All the story was focused on the current situation they found themselves in. Tom and Sean did work off camera to build a rapport that really helped the scenes.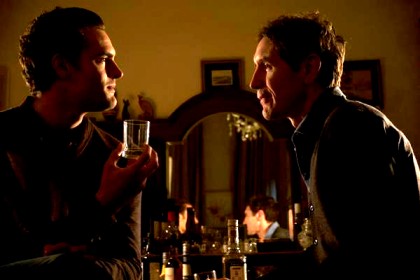 Paul (McGann) had an amazing ability to find the humanity and humour in what could have been a cold character. You really feel for him as a father and find yourself rooting for him in the strangest places. He made me laugh a lot.
Callum (Woodhouse) was a real find. He has a very tricky line to walk, an innocent teenager with some dark passions. He threw himself into it and worked out some great business with Sean. Their conversation through a locked door was a highlight for me.
James (Tratas) has some of the hardest scenes to perform, his character is such an enigma and we don't fully understand his agenda till the very end. His physicality is extraordinary and he makes such a compelling screen presence. The film relies so much on everyone's reaction to him that we were very lucky to land someone with his charisma.
A few words about the shoot as such, and the on-set atmosphere?
I like to give the actors as much room to play as possible. Being their director is not the same as being their boss. They're in charge of the performances I just have to make sure they feel safe and relaxed enough to experiment. Having written the piece helps to change it when things aren't working or they have a better idea. I'm always rewriting. I always storyboard before the shoot but Iím very open to changing things if an actor or the DOP has another idea. I like a relaxed set where people are having fun, I believe thatís when you get the best work.
Anything you can tell us about audience and critical reception of B&B?
So far audience and critical response has been great. People do seem to enjoy experiencing something different.
Any future projects you'd like to share?
Iím working on another thriller with producer and friend Jayne Chard.
What got you into filmmaking in the first place, and did you receive any formal training on the subject?
I studied Physics then did a one year postgrad course in Film and TV. Then I worked as an editor, then writer, then writer/director.
For all fanboys out there reading this, you of course have to talk about your work on TV's Doctor Who for a bit! And how did you get the job even?
I was asked for an interview by the producer who was looking for someone to take on the third block of of filming which was to reintroduce the iconic villains the Daleks to the new audience. I had done some science fiction and horror previously so I was a good fit. I was a fan of the show as a child. After I started filming they asked if I would come back to do some more episodes at the end which I was very happy to do. I loved working on that show.
Other past films and TV shows you've worked on you'd like to talk about?
Iíve done a mixture of science fiction (Doctor Who, Space Odyssey), horror (Ultraviolet, Apparitions, The Secret of Crickley Hall) and thrillers (Trance, The Replacement). I like anything where thereís some suspense and visual storytelling.
Having both worked on feature films and TV shows, are there any differences when it comes to directing, and which do you prefer, actually?
I try to put as much oomph into anything, whatever medium itís for. In cinema you arguably need less close-ups and can afford to let things play out longer without going in close quite so much or intercutting quite so hard. The movie frame also takes up more of your field of view so you can allow the eye to rove around more. The biggest difference is that cinema takes place in a dark room and the image has more command over the space. In TV youíre competing with many more distractions. Which is why TV can tend to be a bit more hyperactive.
How would you describe yourself as a director?
Someone who always puts the story first.
Filmmakers who inspire you?
Hitchcock, de Palma, Mamet, Schrader.
Your favourite movies?
Vertigo, 2001, Mishima.
... and of course, films you really deplore?
It would be unfair to mention - it's too hard to make films!

Feeling lucky ?
Want to
search
any of my partnershops yourself
for more, better results ?

The links below
will take you
just there!!!


Your/your movie's website, Facebook, whatever else?
Anything else you're dying to mention and I have merely forgotten to ask?
Thatís it!
Thanks for the interview!
Youíre welcome!