Your upcoming movie The Gravedigger's Tale - in a few words, what is it about?
The Gravedigger's Tale is about a young electrician who is called to a cemetery one day to fix a broken down freezer. A bored gravedigger tells him horrible tales of all the graves heís had to dig up to make room for the new bypass being built through the cemetery grounds. One story stands out from the rest, the dissenter of Rose Burswick.
How did the project come into being in the first place?
After writing a lot of short stories myself I soon came to realize that, tho I was proud of them, they werenít going to truly stand out from everything else floating around on the internet. Mainly the dialogue was my problem so I began reading old horror stories. Thatís when I stumbled upon The Year's Best Horror Stories, an old anthology series of talented writers from all over. Thatís when I found The Gravediggerís Tale, a story just waiting to be made into a short film. Witty dialogue, great build up, and a satisfying ending.
What can you tell us about The Gravedigger's Tale's writer Simon Clark, and how did you track him down even? And what was your collaboration like?
Man, Simon Clark is a true legend and honestly a great man. From Doncaster, England, which is great because my family is from England. He has been called the ĎStephen Kingí of the UK, award winning novelist, been broadcast on BBC Radio, and I even believe he has written material for the band U2. He told me The Gravediggerís Tale was his first professional sale in the 80ís which is an honor on itís own, to trust me making something that kickstarted his fruitful career.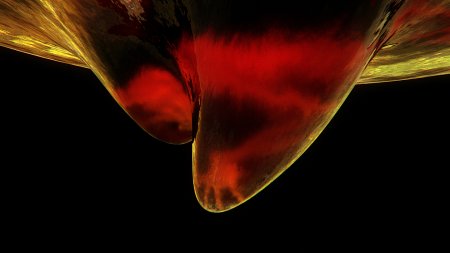 After reading the short story and wanting to make it so badly I began looking into who published the stories, or people who represented him. I struggled but then came across his personal website and noticed you can book him for events, so I sent him a gods honest e-mail telling him my situation, what his story meant to me, and what my plan was if heíd sell me the rights. To my surprise he wrote back, he gave the ok to make it and said go for gold. We worked out an agreement if I made a certain amount of money then he would get his cut. Since then I have kept him up to date on the project and we have become friends. It goes to show that people with true talent and deserved fame are very generous and kind, I find that people who claim theyíre talented can be real jerks.
Do talk about your film's approach to the horror genre (as in suspense vs sudden shocks, atmosphere vs all-out gore and the like) for a bit, and it horror a genre at all dear to you, and why (not)?
This is where my passion comes into play, old school horror is one of the truest memories I have when remembering my childhood. While kids where wanting to watch Charlie and the Chocolate Factory, I was begging to watch Nightmare On Elm Street, The Changeling, and Alien. Because we had an incredibly small budget I chose to do the old Twilight Zone style. Use clever dialogue and atmosphere to tell the story and get a vision in the audience's head, then reward the viewer at the end with some blood curdling horror. Not gory, but disturbing, the "less is more" approach. The moment you realize the gravediggerís tale wasnít just a story, Rose Burswick is real, it is what camp fire tales are made from. Itís like the good old days when people had the ability to tell a good yarn.
What can you tell us about your directorial approach to your story at hand?
My approach to the project was what true horror fans would recognise as the beginning of horror, the beginning I mean 20ís to the 70ís style horror, from Boris Karloff [Boris Karloff bio - click here] to Christopher Walken. Not the new generation of horror which is recycled so much we know what is about to happen, or films that just have violence because it can. Iím talking real stories, real people, put into situations that take you out of the everyday, and into an unreal nightmare. The Gravedigger's Tale is my homage to old films such as The Blob with Steve McQueen, Hammer Films, Ghost Story, The Changeling, shows like Twilight Zone, Night Gallery, Tales From The Crypt. Back when tales of horror meant something.
A few words about your key cast and crew, and why exactly these people?
First was my AD, sound man, and part editor Orson Hyde, he helped a lot. He and I where studying at JMC when we met and instantly we got along, talking movies and everything else. Then I met Michael Thompson who plays the electrician, he also helped find Nick Neild, the gravedigger. Michael plays the gormless electrician well and Nick looks exactly like I had in mind for the gravedigger, also Nick is from Doncaster which is where the characters in the story are based from. Chelsea Boreham played the young working Rose Burswick and did this great approach of a ghostly young radium factory worker. Melanie Oliver played the older Rose on the verge of death and gave a hauntingly great performance, happily reaching outside of her comfort zone. Joel Rademaker is doing the score, if anyone is more of an old school horror fan than me itís him. He has introduced me to some great directors and films, and he loves the music made by old legends like Bernard Herrmann. We had a producer, Kristina Barry, but unfortunately she had to dropped out so I took that role. But before she left she found the two awesome make up artists Taylah Wilson and Whitney Tooth. They did a great job by giving wear and tear on the guys, and creating old school make up for the girls. Lastly my friends Ed Howson (at Keelback Productions) and Mat Hough gave what they could spare to fund the project, Iím really grateful and I think theyíll be happy with their investment. My uncle Tony Champ, amazing artist, hand painted the original cover art, which he and I are proud of. And then thereís me - DOP, director, editor, visual effects, compositor, 3-D work, sound mixing, producer, screenplay, etc.
I take it that for The Gravedigger's Tale, the right location was of the utmost importance - so what can you tell us about yours, and what were the advantages and challenges of filming there?
There was no question that we had to film exteriors at a real cemetery. I was thinking of just guerilla shooting but did not want to risk the chance of being kicked out and not getting my shots. So I applied for a permit and luckily it was cleared the day before shooting, with some catches - one: no filming landmarks that could be recognizable to the cemetery, two: one day to shoot, three: no close ups of grave stones. I already knew theyíd say no to making horror so I said I was making a drama. Instead of filming the real cemetery office I built a 3-D model, which turned out to be creepier. Shooting at the gigantic Toowong cemetery in Brisbane was really cool, itís old, has history, and some insane grave stones.
What can you tell us about the shoot as such, and the on-set atmosphere?
First day we shot the interior cemetery office scene, it was cramped and dirty, which was perfect. Everyone got to work straight away and we started strong. Nick had a ton of lines to act and slowly things got edgy because he started struggling a little bit. I did my job and we figured it out together, filming the last shot as the sun was going down. We got it done but later I realized one of the memory cards were corrupted and I lost a fair chunk of footage, so I had to deal with that in editing.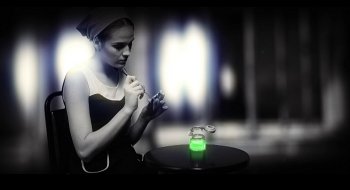 The cemetery shoot went really smooth and was a lot of fun. The last day was a greenscreen shoot, and it was great. I had so much freedom but had to direct more then on location shooting. Because we had to step back in time to the 1920ís for the flashbacks I feel greenscreen was a good choice. I know there is a bunch of filmmakers and fans who claim to hate CGI and greenscren work, but I see it as another tool for filmmaking, just donít overdo it and use it to compliment your film. These CGI haters forget to realize that special effects began in 1902 with A Trip To The Moon, a film that made people realize that the magic of film could be taken further than our imagination. After that film we began to see some of the greatest films ever made because of the push to experiment with special effects.
The $64-question of course, when and where will the film be released onto the general public?
Iím not sure when it will be unleashed to the public but it will be finished by Halloween this year (2014). I will enter into a few festivals but its purpose is to get attention for a bigger project.
Any future projects beyond The Gravedigger's Tale?
The plan is to use The Gravedigger's Tale as a Ďpilotí type piece to get funding in order to make Australiaís first horror anthology feature film. Iíd like to work with Simon Clark some more and bring his stories to life, but thatís entirely up to him.
Also Iíve written a feature screenplay called Meat, an adventure horror about three Aussie backpacking food critiques who stumble upon the black market human meat trade in Hong Kong. Iím working on an outback sci-fi horror feature called Bring Me The Axe, which is about a commissioned team sent to find coal pockets, but they discover ancient rocks used for necromantic rituals (The Thing meets The Killing Box). Lastly Russ Welsh [Russ Welsh interview - click here] is writing a screenplay called Car Troubles which we will fight to get made, and I will direct this feature.
What got you into filmmaking to begin with, and did you receive any formal education on the subject?
Other than watching movie after movie, I drew a lot of pictures as a kid - we were poor and drawing was a way of entertainment. I guess over time I began creating stories behind the characters and worlds I drew. This helps now because I draw my own storyboards. I had a strange childhood, I remember living on the land and always being out in the bush alone, digging up stuff and finding cool sticks. I dug up cow bones once and treasured them. I began watching the TV show Movie Magic in primary school which showed all the behind the scenes of my favorite films and I tried to copy it, building miniatures, and blowing shit up with fire crackers. I did Film and TV in high school and made some fun shorts which had everything in them that the teacher said not to do - swearing, violence, drugs, etc. I bought my own camera and filmed everything, from parties with my mates, fights, to early short films, then learnt how to edit on the free Windows Movie Maker.
I tried doing a TAFE course for film and TV but dropped out, I felt uncomfortable there. I got a job filming weddings and corporate events. Filming weddings is how I got all my gear and learnt to film fast, fast, fast! You canít miss a moment at a wedding, or you wonít get paid. Right now Iím two trimesters away from getting my bachelor degree in 3-D animation, itís a priceless knowledge for a filmmaker to have, for example if I have nothing to film I can plan shots in 3-D, do previsualisations, set build, and motion track, etc.
What can you tell us about your filmwork prior to The Gravedigger's Tale?
My first paid gig was doing a promo video for my old work place, Specialists In Timber Floor Installations (STFI). I did weddings and corporate videos for Playback Studios. Then I began doing my own stuff like music videos, promo videos, and animation. My last short film was Unstable, an experimental film where me and Mat Hough explored character, camera angles, sound, acting, and editing. It didnít have any sort of direct audience, it was simply for us to experiment and be constructive with.
How would you describe yourself as a director?
What Iím trying to become is a director who can find the strange sides of life, understand the peculiar actions that lay out a great story. Find that magic in cinema that gets me so excited to even think about seeing a film. Inspire people to feel the power of real story telling, to help bring ideas to life. I enjoy finding the motivation that causes a man to kill, the mysterious characters that make you fall in love, the interesting people who you want to follow every step of their journey, and most of all I want to find a style that is me, the style that can bring you other worlds, journeys, and feelings youíll never feel in your reality.
Filmmakers who inspire you?
Thereís Clint Eastwood as a director because he brings down to earth stories to life, mixes comedy with true arse kicking action, great characters, and is just always satisfying to watch.
Dario Argento for his realistic approach to murder and awesome scores.
Steven Spielberg because he makes the magic in cinema that I strive to create.
Ingmar Bergman, he touches the very soul of human relationships. My favorite is Wild Strawberries.
Sergio Leone, just a master of character development and cinematography and pacing.
John Carpenter, who has a totally unique style, an independent filmmaker that brings studio quality to all his films.
Alfred Hitchcock, clever filmmaking with fulfilling story structure.
Peter Weir is a great Aussie who is capable of twisting reality.
Wes Craven, responsible for some truly terrifying scenes.
Your favourite movies?

Feeling lucky ?
Want to
search
any of my partnershops yourself
for more, better results ?

The links below
will take you
just there!!!

Find Joel Champ
at the amazons ...

amazon.com

amazon.co.uk

amazon.de
Looking for imports ?
Find Joel Champ here ...
Something naughty ?
(Must be over 18 to go there !)

Iíll rattle a few off here - The Thing (Carpenter), Once Upon A Time In The West, Wild Strawberries, Jaws, Alien, Mystic River, Platoon, Rolling Thunder, Close Encounters, The Mosquito Coast, Tenebre, Psycho, Evil Dead, Taxi Driver, and so many more.
... and of course, films you really deplore?
Ted, all the new crap for 12 year olds like Divergent, Maze Runner, basically a lot of films these days simply because there is no story and the actors are soulless.
Your/your movie's website, Facebook, whatever else?
The Gravediggerís Tale - https://www.facebook.com/gravediggerstale
My channel - https://www.youtube.com/channel/UCC4DUx3RphHoAh2Xi2i73jw
My Facebook - https://www.facebook.com/JoelRaeChamp
Anything else you are dying to mention and I have merely forgotten to ask?
Thanks for giving me your time.
Thanks for the interview!