Your new movie The Wolves of Savin Hill - in a few words, what is it about?
It's about confronting one's past and coming to terms with one's present. People have things in their lives that they have to eventually confront. This is a story about that, set in a modern city, suffused with criminality and horror. It's about imagination. Loss. Death. Childhood. In a few words.
What were your inspirations when writing The Wolves of Savin Hill?
There were many. John Boorman's Point Blank was the main influence. But I also think about the films that were unexpectedly inspiring. The films that I would call my "most influential" are the films that remain with you forever, that impact you in ways you never expected, and that change your point of view. A few others that come to mind in my making of this film: The Limey, Taxi Driver, A Woman Under the Influence. I have loved Cassavetes from the beginning, Scorsese [anything he's done is worth studying], Truffaut's The 400 Blows. The loneliness in that film inspired me. There's a quality of loss, absence, and I wanted to produce that here.
To what extent do you identify with The Wolves of Savin Hill's protagonist Tom? And to what extent with Sean maybe, or any of the other characters in your movie, really?
My only identification with them would be the sense of abandonment of one's own judgment. When fear becomes the predominant choice. As children, I was always the kid who did what no one else wanted to do. I often abandoned my judgment when making films as a kid. I would jump between buildings, dive off of the hoods of cars [my super 8 filmmaking] at about 30 mph. I did this all the time so that I would have something on film at the end of it, and I often risked everything for that. This is what people do. When you want something bad enough or are trying to evade something, you'll often do what others just will not do. These two protagonists reflect that. They've both gone too far and each lacks judgment. I met William Friedkin once and asked him regarding the car chases. I asked, How far is far enough? He said, tongue in cheek, that he was young and foolish and would never do what he did again. I smiled. We take these risks. And one has to measure whether the risks outweigh the rewards. These two men fail to do that throughout the story, and they pay a price. That kind of thing appeals to me and I think it's worth writing about.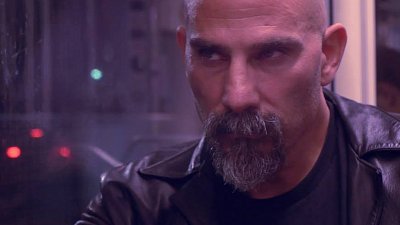 The Wolves of Savin Hill at times quite deliberately ditches linear storytelling for a more associative approach - so how easy or difficult was it to not lose your story in the process?
Once we decided to tell the story this way, it became obvious that there was no other way to do it. We had to tell the story through the eyes or experiences of each person, so we set up a dialectic—past and present, geography. We have two characters moving toward each other. The back and forth, the shifts in time and place, are psychological and also help us to bring a bit more intimacy into the film. Lastly, there was the practical side of this. It just made more sense. We placed certain imagery [inserts] over movement and were able to suggest ideas in this way. It becomes a kind of cut-up, but this was the visual style that emerged.
What can you tell us about your directorial approach to your story at hand?
First, to be as intimate as possible with the actors, but also to move quickly. We didn't want to sacrifice the quality to get the shot, but this kind of speed helped get actors into performance quickly. It became documentary-like. I avoided marks, created compositions as we went. It's intuitive and felt a bit like Friedkin's French Connection to me. He would tell his camera to follow the actors. I really like this style. I also felt it was important to allow the actors to take risks, to make unexpected choices. They were very good, so it worked well. You have to have good actors to do this. We would shoot rehearsals a lot too.
Do talk about your cast, and why exactly these people?
Everyone brings something unique to the set, and I thought about this a lot as we approached people. We kind of knew who would work for each part and went for it. Working with great actors like Kurt Fuller, Jack McGee, David Cooley, Tonya Cornelisse, Jason Oliver, Suzanne Willard, Michael Massee, Paul Carafotes, Tim De Zarn, and Brian Scannell makes my job easier. I learned so much from them. These actors are all extremely talented and generous. I had a fabulous cast.
What can you tell us about the shoot as such, and the on-set atmosphere?
The on-set atmosphere was generally pretty good. When people are working for very little or no money, it makes the set strangely much more positive and fulfilling. Everyone was great. There were some difficult shoots, but people seemed to rally each time and it always seemed to work out very well in the end. We got our shots. And we did it quickly and did our best to make sure everyone was comfortable. I believe in listening to people. Communication is so important.
The $64-question of course, when and where will the film be released onto the general public?
We plan to release the film in the spring. We have a few more festivals to attend.
Anything you can tell us about audience and critical reception of your movie yet?
It's been very good. We've won awards at every festival we've shown in and the audience response has been great. We're very encouraged.
Any future projects you'd like to share?
I have several projects, including a short I just produced called Highway with Tonya Cornelisse, which was recently accepted at the San Diego film festival, the same festival where we showed The Wolves of Savin Hill. We won the prestigious Chris Brinker Award for "most outstanding first feature film." We really made a nice impression down there and we're expecting a nice experience again with Highway. The next feature I want to make is entitled Killing Jane Doe. It's a crime thriller and it's pretty much ready to go. I also have another crime thriller and a horror that I want to make. So I have them lined up, so to speak.
What got you into filmmaking to begin with, and did you receive any formal training on the subject?
I started making films really young. I fell in love with making super-8 films with my family and friends. It just took off from there… I was 7 when I made a film titled Marked Men. That's the first thing I remember putting together as a film. With a little outlined script with events and effects and stuff like that… We felt like we were making an epic war film. We shot it in a day, at Presidents Golf Course in Quincy MA, for the staggering amount of five dollars. Making films like that… with your best friends, being creative, it's just the best… I made all kinds of films, mostly horror. They were easy and fun to make… titles like… Fragment of Fear, Maniac, Bell Boy, Full Moon, The Reaper. They usually revolved around special effects or stunts. I have great memories of making these films, a lot of fun… And seeing Jaws for the first time as a kid on the big screen. I knew that was what I wanted to do, was to make films after seeing it. The experience was incredible… Made a huge impression that will always be with me. It simply changed my life.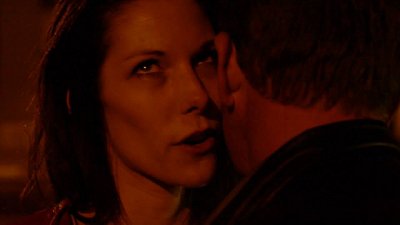 What can you tell us about your filmwork prior to The Wolves of Savin Hill?
I've worked in film for so long and I've worked with so many people on so many projects. I made films and then I got into the distribution end for a while and learned quite a lot, though that model is gone. I love producing and directing, and of course, writing. So I am now spending my time more creatively than ever. I want to continue to produce, but writing and directing—I'm most comfortable with.
How would you describe yourself as a director?
Inspired, practical, hard working. I like to work with actors. I like to take risks. I'm interested in crime stories.
Filmmakers who inspire you?
The filmmakers who've inspired me are the ones who tend to make the films that remain with you forever, that impact you in ways you never expected, and that change your point of view. A few that come to mind: Cassavetes, Scorsese [anything he's done is worth studying], Truffaut, Kubrick, John Ford, Coppola, William Friedkin—these are some of the main influences. There are just so many…
Your favourite movies?

Feeling lucky ?
Want to
search
any of my partnershops yourself
for more, better results ?

The links below
will take you
just there!!!

Find John Beaton Hill
at the amazons ...

amazon.com

amazon.co.uk

amazon.de
Looking for imports ?
Find John Beaton Hill here ...
Something naughty ?
(Must be over 18 to go there !)

The films that I would call my "favourite" - a few that come to mind: Taxi Driver, Jaws, A Woman Under the Influence. I have loved Cassavetes from the beginning, Scorsese [again--anything he's done is worth studying], Truffaut's The 400 Blows, John Ford's The Searchers, Tornatore's Cinema Paradiso.
... and of course, films you really deplore?
Films that lack emotion. I tend to go for emotion. And films that lack vision.
Your/your movie's website, Facebook, whatever else?
https://www.facebook.com/wolvesofsavinhill
http://wolvesofsavinhill.wix.com/thewolvesofsavinhill
Anything else you're dying to mention and I have merely forgotten to ask?
Come see our movie! We're playing at the Action on Film Festival on Saturday, September 19th, 5pm. Kirkorian Theater, 410 S. Myrtle Ave. Monrovia, 91016. For tix and info: http://www.aoffest.com
Thanks for the interview!