Your new movie Mailer Daemon - in a few words, what is it about?
Mailer Daemon takes place in a world where emails are handled by demonic creatures, rather than basic computing functions. We follow one mailer daemon, Todd, as he seeks a chance for appreciation when he intercepts an email from a troubled teenage girl.
Mailer Daemon is based on a story by Seth Di Salvo - so how did you happen upon the story, and to what extent was Mr. Di Salvo involved in the making of the movie (if at all), and how much artistic license did you take with the material?
Seth and I were good friends and collaborators in college. After college, I went on to aid Seth in producing content for ad agencies. He approached me with the idea, and the first draft of Mailer Daemon, in the summer of '16, which I immediately fell in love with. From there, he and I embarked on a journey to see it to fruition. Eventually, we started moving in separate directions, and once I had saved enough money to produce the movie, Seth decided to step away from the project, and so I made the film with some colleagues that I had met in the film business. The film itself is my own, but I always maintain that Seth was the originator of the idea. We still maintain a rapport today.
What can you tell us about your sources of inspiration when scripting Mailer Daemon?
I can't say in regards to what sources of inspiration I pulled from when writing the script. I had countless drafts of the script all the way up to and during the actual shooting. During the writing of the film, I learned of the three act structure in script writing, and how most films adhere to having five major plot points. I would read well regarded scripts to study their structure, and see if I could apply it to Mailer Daemon's script. I'd say we mostly achieved that.
To what extent can you actually identify with Mailer Daemon's lead character Todd, the lowly office worker?
As I mentioned before, Seth was the originator of the character Todd, and I remember the time period in which he conceived the idea. So I would say that Seth could probably identify with Todd's character more than I could. But once I learned of the character, I looked for ways to connect his plight with my own at the time. I can say that there have been times while working, even in the business that I love, where you feel like your work is going unnoticed, and it was those moments and experiences that helped me to find a common ground with Todd. Also, I think I can say that our star of the film, Mr. Joey Harmon, found much communality with the Todd character. It was one of the reasons why he was able to bring so much naturalism to the role.
Todd's very old fashioned office - now how much fun and what kind of a challenge was it to furnish the place?
I'd say the office was what gave me most anxiety about the film. We were set to shoot it in an office at UNO, but we would have to adhere to strict hours. Once we started constructing the flats for the office at my house, we realized just how much of a dilemma it would have been to shoot in a place with limited access. That's when I had the idea that we would just build the set in my dad's garage. Luckily, he was okay with the idea, and he played a huge role in the actual construction of the set. So the office that you actually see was built within my dad's garage. Our incredible production designer, Elena Bueso, decorated the set with all sorts of finds from garage sales, as well as from my cousin's storage workhouse, and our terrific art director, Paul Matthews, built all of the wonderful moving pieces featured in the office.
With being limited to just one set for the entire film, what were some of your techniques to keep things visually interesting?
Keeping the entire film to one set was a choice I made during the writing process. We tried many things to show the passage of time, like the amount of cigarette's in Todd's ash tray, and the number of of emails delivered that day. It became more of a challenge to stick to only one location, especially during the reshoots, but I'm glad that we were able to stick to it. And of course, just trying to keep the pacing brisk was a must.
What can you tell us about your overall directorial approach to your story at hand?
Overall directorial approach - this was easily the biggest thing I had ever taken on. Luckily, I had some truly amazing people on board to help me make this possible. Most of the men and women involved had much more filmmaking experience than I had at the time, so I knew going in that I would be doing quite a bit of learning during the whole process. I think that by not trying to wear too many hats at once, and adopting a team sport mentality, while having as much fun as possible, was what got us to the finish line.
Do talk about your key cast, and why exactly these people?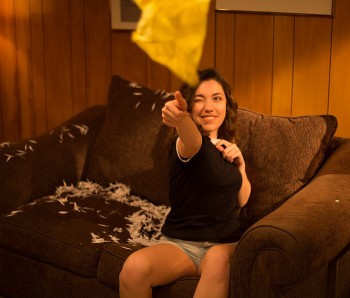 Love this question! The cast was incredible! Not just the key cast, but everybody that had a part in front of the camera. Everyone was so professional, and so passionate about the project! We had may people self tape auditions, as well as come in for auditions. I remember when Joey Harmon came in, he was the last person we saw that day, and I just really loved his natural quirky energy. I thought it lent itself so well to what I was envisioning for Todd. His personality alone is what holds this film together. And we fell in love with Annette Watson as soon as she walked into the room. So much fun, nervous, hilarious energy about her. Truly engaging person. Rain Scott-Catoire was instantly my choice for Kelley, and she was beyond prepared for the role. And I remember watching Dave Tiefen's reel. He showed some really impressive range. I knew he would be a perfect fit for the Jeff role, and he knocked it out of the park! I'll always appreciate my stellar cast for what they did for the movie.
A few words about the shoot as such, and the on-set atmosphere?
Thankfully, we made the right choice to shoot the whole thing in my dad's garage. That alone made things so much more tranquil, as I was literally playing on my home turf. Had we tried to pull it off at UNO, jeez, my stomach turns just thinking about it. My awesome family was present for the whole thing, to help out as needed and to make sure everything ran smoothly. I was surrounded by support every step of the way, which made it easier, and more fun.
The $64-question of course, where can Mailer Daemon be seen?
We are just now embarking on our festival run, so currently, Mailer Daemon is not open to the public. I believe that once we've exhausted our festival ambitions, say maybe in a year or so, I will make the Vimeo link to the film public, for everyone to check out.
Anything you can tell us about audience and critical reception of Mailer Daemon?
So far, we've received some pretty positive reviews from different sites and what not. I think the only criticism we've received is that it wraps up rather abruptly. That was a decision we made during the reshoots, and I think that decision resonates our whole theme of instant gratification, or rather, how true self worth comes from within, not from others. Audience reception has been fairly positive. Most people just really love the design and cinematography aspects, so I'll take that in regards to my terrific crew. I'm honestly just waiting for someone to shit all over this thing. Pardon my French, you can edit that however you desire.
Any future projects you'd like to share?
I am always working towards the future. I have a short script that I am very excited about that I hope to get off the ground sometime this summer. It's honestly a complete 180 from Mailer Daemon. Just a very simplistic story about a man and his son trying to connect on a fishing trip. Sounds boring I know! Other than that I am working on a feature that centers around my time working at an apartment complex during college. And there might be a little psycho horror sprinkled in to that. Anyways that's pretty much all I feel like sharing currently.
What got you into filmmaking in the first place, and did you receive any formal training on the subject?
I've always enjoyed telling stories, even from a young age. As I got older, I started appreciating movies more, and once I got to college, I started taking script writing courses. That's when I really grew a passion for writing, and just the desire to one day write a really good screenplay. And then by watching movies, I developed a similar desire to convey messages in fun and unusual ways, visually. These are the things that excite me about continuing to make movies.
What can you tell us about your filmwork prior to Mailer Daemon?
Prior to Mailer Daemon, I had only one other project that I submitted to festivals. Called The Cover Up, it's a no budget short that I shot at the house I lived at in college with my two other roommates. Some of my LSU film friends helped me produce it, including Seth, and we had a really good time making that one. After that was when I became a production assistant on NCIS, which taught me a lot about how a big budget production runs. So that was pretty much the extent of my film experience before Mailer Daemon.
How would you describe yourself as a director?
This is a tough question. I think right now, while I'm still gaining experience, I really just try to be a people's person, a team player, and I try to promote a space where nobody feels like they are overstepping when they suggest ideas. Obviously the hardest thing about directing is getting in front of everybody and saying, "Okay guys, this is how we're gonna do this," so I do a great deal of storyboarding so that everyone has an idea of what we're looking to capture before we even get on set. I think you can't be over prepared for this type of thing, but I definitely try to be.
Filmmakers who inspire you?
Paul Thomas Anderson, the Coens, Park Chan Wook has been one of late. Also, I do a lot of digging into young directors' backgrounds, to see what their approach was to breaking in, even if I'm not the biggest fan of their work. Ari Aster is a young director right now who made a slew of shorts before getting the chance to do a feature. He and the Safdi brothers are definitely in a place that I want to find myself in a few years down the road.
Your favourite movies?
This is way tougher of a question than most would believe. I try to watch a wide variety of films, so my tastes jump all over all the time. Dark comedies are always a favorite, movies like Raising Arizona. Also a big fan of The Graduate. Parasite has got to be my favorite movie I've seen so far this year, followed closely by Uncut Gems. I need to really sit down and come up with legitimate answers to this question soon.
... and of course, films you really deplore?

Feeling lucky ?
Want to
search
any of my partnershops yourself
for more, better results ?

The links below
will take you
just there!!!


Oh man, movies I despise. I'm not going to get into this too much. I will say that I have a digital pile of movies on my phone that I need to see but can't bring myself to watch solely due to their ridiculous run times. I can't think of a movie that I utterly despise. I will say that I am a part of the party who thought Joker was an overrated film. And I'll just stop with that.
Your/your movie's website, Facebook, whatever else?
Here is a link to my film's page: https://www.facebook.com/mailerdaemon1/ - please give us a follow!
Anything else you're dying to mention and I have merely forgotten to ask?
I can't say so. These questions have been great, and many of them have jogged my memory!
Thanks for the interview!