Your new album Fall of the Cicada - how would you sum it up in just a few words?
If I had to boil the description of this album down to its most rudimentary form, then I suppose I would have to say that it is just as melodic as it is heavy.
How would you describe the musical style on Fall of the Cicada, and how has it evolved from your previous albums?
Fall of the Cicada is by far the heaviest and most challenging material I have ever written since establishing Johnny B. Morbid back in 2005. It is a far cry from the simplistic beginnings of this project for sure. I was only eighteen years old when I began this project which started out with the intentions of being nothing more than just for fun so the very early material wasn't exactly the most technical or impressive, but it did serve the purpose of what I was going for at that time. I feel as though I really did not hit my stride until I released the 5th album (Monsterpiece) in 2009, which I consider to be the larval stage of the two albums that would follow which are Welcome to Die! and Fall of the Cicada. I stopped limiting my writing capabilities around that time and began composing whatever I wanted regardless of whatever labels people wanted to put on it. What was originally a tongue-in-cheek, horror punk project had now mutated into what I feel as though is its own monster by incorporating elements of punk, thrash, black metal, death metal and power metal into my material. The lyrical subject matter may not be as straight forward as it used to be, but there is still an evident dark quality to them which has and always will remain consistent.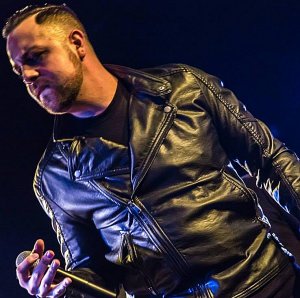 You of course also have to talk about the lyrics on Fall of the Cicada for a bit, and what were your sources of inspiration?
Two of the songs on Fall of the Cicada were actually written about a couple of my favorite films, but I will not disclose which because that would take the fun out people trying to figure it out for themselves. I will, however, tell you that the songs are "It Came From The North" and "Future in Flames". The inspiration for some, if not all of the other tracks would be the general cycle of life and time as we know it. There is an underlying message of only being able to participate as an inhabitant of this planet one time and to be aware of that fact by not allowing yourself to be held down by any fears or obstacles that may compromise your ability to truly live before it's all over. The lyrical content of the title track is probably the most personal for me though because it is about making sacrifices for your ambitions and passions regardless of the consequences or the more than likely possibility of failure. There is an overabundance of delusion in the field of independent music and this is a brutally realistic song that lyrically shatters any chance of me ever being accused of that despite what anyone may think or say. I know where I currently stand in the grand scheme of things and this song is a lyrical reaffirmation of just that.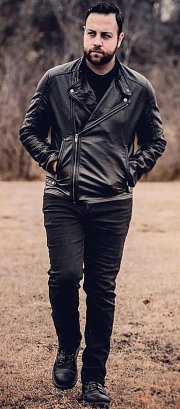 What can you tell us about the musicians featured on Fall of the Cicada, and what did they bring to the table?
Miles Austin performed drumming duties on this album and completely knocked it out of the park in my opinion. He is responsible for making the songs I wrote for Fall of the Cicada truly come to life. I basically gave him the freedom to virtually do whatever he wanted on the songs with just a little direction from me. This was also his first bout regarding anything having to do with Johnny B. Morbid.
Count Vlad Cadmus performed some guitar solos on this album as well as some random rhythm guitar parts here and there that I had written, but were better suited for him to perform on the record for sure. This is a guy who studied classical guitar in college so it would be very stupid and stubborn of me if I were to deny him opportunities to improve and expand on my material. The main focus is a well-executed and polished final product and Kyle is definitely not someone I have to worry about in order to make that happen. I've known him since 2004 and have shared the stage with him way before Johnny B. Morbid was even a thought.
I first met Christopher Jay when I was the bassist of Michale Graves (ex-Misfits vocalist). He became the touring guitarist for a little while. I had Chris perform some acoustic guitar parts on Fall of the Cicada because I wanted him to be involved and also because he was the right man for the job. He also contributed to gang vocal parts.
Brian Morelli is the live bassist of Johnny B. Morbid but is a jack of all trades so I felt in necessary to enlist him for piano and keyboard duties on Fall of the Cicada. He also plays drums and guitar.
Do talk about the recording process for a bit ... and in all, how long did the album take to record?
The recording process can sometimes be a bit stressful due to gear malfunctions or other little things that may occur. Miles and I had the biggest feat because preparing for this album and tracking it was mostly our combined efforts. We actually had zero rehearsals before we hit the studio for Fall of the Cicada. Our only true preparation for this album was me sending guitar demos of the songs to Miles via e-mail and him learning and playing to those tracks on his own time. No keyboards, lyrics, vocals, or bass guitars were put to the songs until we were tracking the album. It took two full weeks to track the entire album and just a few additional days for it to be mixed and mastered. I lived at the studio where we recorded the album for the entire two-week duration. There was an interim of two months before I received the final product, but it was well worth the wait.
What can you tell us about audience and critical reception of Fall of the Cicada so far?
It seems as though the fans have been responding surprisingly well to this release even though it is so much different from previous ones. I had feared that Fall of the Cicada had the potential to perhaps turn people away since it is so different, but thankfully that has not been the case. Some fans have even stated that this is their favorite Johnny B. Morbid album, which speaks volumes to me because I really pushed myself to the absolute limit for this album as far as my writing and playing abilities are concerned.
Any plans to perform the album live/take it on the road any time soon?
Yes, absolutely! I am currently working on something for June 2015 and we may even be venturing into Canada for the first time as well.
(Other) future projects you'd like to share?

Feeling lucky ?
Want to
search
any of my partnershops yourself
for more, better results ?

The links below
will take you
just there!!!

Find Johnny B. Morbid
at the amazons ...

amazon.com

amazon.co.uk

amazon.de
Looking for imports ?
Find Johnny B. Morbid here ...
Something naughty ?
(Must be over 18 to go there !)

Later this year I will be collaborating with former and current members of Summer's End, Swashbuckle and Suburban Scum to release an EP under the name Atomic Werewolf. We will most likely never play live, but we wanted to just do something fun together for the hell of it.
Your website, Facebook, whatever else?
www.bandcamp.com/johnnybmorbid
www.facebook.com/johnnybmorbidband
www.instagram.com/johnnybmorbid
www.youtube.com/user/njhousecore
Anything else you are dying to mention and I have merely forgotten to ask?
All Johnny B. Morbid albums are available here: https://itunes.apple.com/us/artist/johnny-b.-morbid/id192545631
CDs and T-Shirts can be found here: http://johnnybmorbid.com/JOHNNY_B._MORBID/MERCH.html
Thanks for the interview!