The project you're currently developing, Nemesis - in a few words, what is it about?
It's a female led action thriller about a British government assassin who tries to save two young sisters from sexual exploitation by a street gang. It leads her to an aristocratic child killer at the centre of an influential paedophile ring and sets her against her own bosses.
What were your inspirations for writing Nemesis?
Richard Selwyn-Barnett told me that he'd like to be involved with making a gritty British action film with a similar subject to The Lost Son, an Arts Council/Canal+ funded thriller about sex trafficking. I wasn't sure that it was a subject that I wanted to work with, but the more I researched, the more I felt that I had to tackle it.
What can you tell us about the intended look and feel of your movie?
That kind of narrative drive is what I'm aiming for with Nemesis, a hero that you'd trust with your life and blistering action that has you yearning for the moment when she gives the bad guys what they deserve. I've been studying krav maga, Israeli military close combat, for two years as part of my research, to give the lead a fast, realistic, hardcore fighting style.
Will you appear in front of the camera in Nemesis as well, and if so, have you written your character with yourself in mind?
I almost expected to have to play the lead villain, as I didn't think many people would relish the role of a multimillionaire child killer, but I've spoken to several actors who say they'd love the challenge.
As far as I know, Nemesis is still in its development stages - care to elaborate on the status of things?
It's the first project that I've tried to raise funding for instead of just paying for it myself. I'm passionate about the subject matter, so it's frustrating talking to people for whom the dollar is the bottom line. After two years working on the screenplay, I have no development funding as yet, so I can't afford to pay production professionals who could help with the search for the budget. I have had very positive feedback from a US production company, but it's still early days.
Another future project of yours is Blood for the Hunter - could you talk about that one for a bit?
It's a supernatural action thriller about a woman trying to save her younger sister from a cult that is reviving ancient gods with blood sacrifice. 16-year-old Jess Stafford goes missing while jogging near Hobbes' Wood. Her father gets together a team of mercenaries and goes looking. Skilled, and heavily armed, they're ready for anything human. But Hobbes Wood is a portal to the Old Forest and Jess has been taken by the Wild Hunt. Soon the search team are lost, leaving only Jess's sister Kate and security operative Alice to go on a rescue mission that will pit them against terrifying ancient demons and their cult followers. Ultimately, guns don't work and the cult must be fought hand to hand, with steel. Lots of sword, knife and spear action is the aim. There are loads of great martial artists in the UK dying to work on big action projects. I'd love to put them to work making something awesome.
Any other future projects of yours you'd like to mention?
I'm working on a supernatural western, inspired by a couple of amazing locations I'd like to use in northern Spain. I'd like to make a mediaeval sword film with historically accurate European martial arts – a kind of European ronin movie. And I have a sci-fi concept about a clash between transhumanism and religious zealots – kind of Blade Runner, if the replicants were the heroes, meets Assault on Precinct 13 in the Antarctic.
You first entered the filmworld as an actor - so what got you into acting in the first place, and did you receive any formal training on the subject?
I started acting at school when I was 17. It was the first thing that anyone had ever said I was good at, so I took acting and directing as part of my degree. But I got talked out of it as a career and spent most of my life teaching English as a foreign language.
What made you pick up writing and directing eventually, and how would you describe yourself as a director?
I loved directing when I studied it in college. I'd wanted to write since I was a kid, but never had anything I wanted to write about until I started looking for scripts to act in in fringe theatre. I started with a very mixed bag. I co-wrote comedy sketches for shows that myself and Ben Shockley did in student unions to get our Equity cards. I adapted Joseph Conrad's Heart of Darkness for two actors on a bare stage. Then I started writing shorts to experiment with filmmaking on cheap cameras, to see what I could learn. Bloodmyth was my first completed feature script. What I learn from acting feeds into my writing and directing. My directing helps my writing. Everything feeds into everything else. What I want to do with all of them is tell good stories well. I think a director's job is to have a vision of the experience they want the audience to have; To put together the perfect team to realise the vision; then to inspire, support and bring out the creativity in everyone in the team so that the film grows to be the best it can be.
What can you tell us about your filmwork prior to Nemesis (in whatever position)?
I've acted in independent British films, shorts and features. I've done three action features now for my friend Ross Boyask, all in character roles. I tend to play criminals, military or police. Bloodmyth was my first crack at directing a feature, in two weeks, using my own money. It's about a man who believes he is carrying out experimental archaeology by recreating ancient methods of human sacrifice and the people on a survival course who are unlucky enough to be chosen as his subjects. I've also been involved as an actor, and once as director, in quite a few projects that never made it. My first ever feature role was a nice little ghost story that got two thirds through the edit before the filmmaker ran out of money and gave up filmmaking forever.
Besides movies, you have also done lots of theatre, right? So how does performing on stage compare to acting in front of a camera?
All my theatre work has been in studio venues, where the size of the space means that the performance doesn't need to be radically different from film. I love doing theatre. There's a great buzz from sharing work with a live audience, but at the same time, I get a lot more nervous, especially when I've written and directed – there's no-one else to blame if the audience don't like it.
How would you describe yourself as an actor, and some of your techniques to bring your characters to life?
I've studied the main acting theories and I take tools from all of them when I approach a character. For anything complex I use the available information to build a model of the character in my own head, like a computer simulation that will run on its own. Then it's a question of listening to the other actors and reacting. Sometimes though, no acting is necessary or desirable. If your character fires a gun, for example, you don't need to act tough while you do it. It looks fake. You just need to focus on your aim.
Actors, filmmakers, writers, whoever else who inspire you?
The actors who inspire me are the ones I get to work with. There are so many amazing performers out there that you've probably never heard of. Some of them I work with in the actors table reads at the London Screenwriters Festival, some on film projects - people who've worked whatever flexible jobs they could get to make ends meet for years because they love acting. People who never give up.
I loved the Roger Corman [Roger Corman bio - click here] horror films with Vincent Price [Vincent Price bio - click here] when I was a teenager and they were on TV a lot. I like the fact that he maximised his resources and time, shooting films back to back, re-using sets, taking spare studio time to shoot something. It's also amazing that he gave early chances to so many people who became successful in the industry. His example, together with Robert Rodriguez' book Rebel Without a Crew, inspired me to make Bloodmyth.
For a while, Korean and Japanese filmmakers have been making films that seem to have been made with more freedom to be more quirky or push boundaries, maybe because they don't have to follow the Hollywood paradigm or maybe because investors there are more daring. They're more likely to challenge you, to make you think, or to surprise you.
Your favourite movies?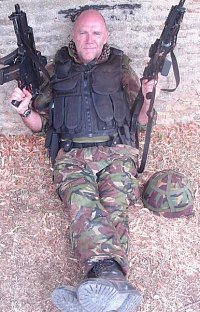 Unwatchable


Feeling lucky ?
Want to
search
any of my partnershops yourself
for more, better results ?

The links below
will take you
just there!!!

Find John Rackham
at the amazons ...

amazon.com

amazon.co.uk

amazon.de
Looking for imports ?
Find John Rackham here ...
Something naughty ?
(Must be over 18 to go there !)

There are so many movies that I love and a list would change every day. Harvey with James Stewart is probably my long-term favourite. I know it's not very cinematic because it's based on a play, but it feels like a hug. It was my grandfather's favourite and it's my father's, mine and my son's.
Today's list off the top of my head: The Man from Nowhere, A Bittersweet Life, Miike's 13 Assassins-remake, Cold Fish, Castaway on the Moon, Lady Vengeance, The Thing, Aliens, The Good, The Bad, The Weird. An honourable mention goes John Wick. The premise is ridiculous but the action is pure poetry.
... and of course, films you really deplore?
Every film has taken a team of people a huge amount of effort to make and I think you have to respect that. It does make me sad, though, that bad films use up investment that could make better ones.
Your/your movie's website, Facebook, whatever else?
My website: http://thejohnrackham.com
Rogues' Yarn Facebook: https://www.facebook.com/Rogues-Yarn-Film-118189174868764
My Facebook page: https://www.facebook.com/John-Rackham-24713159159
Nemesis Facebook page: https://www.facebook.com/unsheathedsword
Blood for the Hunter on Facebook: https://www.facebook.com/BloodfortheHunter
Twitter: https://twitter.com/johnrackham
https://twitter.com/Nemesisthemovie
Damn, I have a lot of social media pages! That's the short list!
Anything else you're dying to mention and I have merely forgotten to ask?
I can't think of anything.
Thanks for the interview!
Thank you!
Special thanks to Richard S Barnett, founder of IIWYK!!!