Your new movie Age of Kill - in a few words, what is it about?
It's about a disgraced black ops sniper, Sam Blake (Martin Kemp) who receives a call from a masked terrorist who has kidnapped his daughter (Dani Dyer) saying he has 6 hours to kill 6 seemingly random people or his daughter will be killed.
How did the project fall together in the first place, who initiated it and who was the driving force?
I had been talking to writer Simon Cluett about 2 separate ideas – a ticking clock sky movie and something akin to the old hooligan movie ID but with National Front types rather than football hooligans. Neither idea was quite working separately but by joining them together they worked. I took the concept to UK distributor Platform Entertainment and they greenlit it very quickly.
Do talk about your director Neil Jones [Neil Jones interview - click here] for a bit, and what was your collaboration like?
Neil is also my producing partner, so we work together every day in our office thus it wasn't like working with a new director. But he's a total pro – he brought a very ambitious vision to Age of Kill, particularly in terms of action set pieces, and he realized it. We are very different characters but that makes our partnership work – where I'm weak he's strong and vice versa. We always have a laugh.
Maybe connected to the last questions, how much of a hands-on or hands-off producer are you, and did you have or demand any creative control over the film?
My business is entirely producer-lead. Low budget, commercial films have to be, there's no room for auteurs. But that doesn't mean I storm around the set chomping a big cigar bellowing at people through a megaphone. Well, not often. I'm generally very involved in every aspect of a movie from inception through to release but if I've hired the right creative people to make the films, the idea is that I shouldn't really need to interfere.
Do talk about your movie's many action scenes for a bit, and how were they achieved? And what are the challenges for a producer when it comes to action movies in general, and of course regarding Age of Kill in particular?
Well we're not the first UK filmmakers to attempt an action film – Terry Stone and the Gilbeys did it with Rollin With The Nines and set the bar very high indeed. What we wanted to do was make a British film that was really different – not a cockney gangster movie but something that can at least try to compete with the big boys (and I'm not talking about Avengers Assemble, just straight-to-video American action movies) – and to do that we needed big action set pieces – which thankfully Neil and the guys delivered. The Bad Boys style helicopter chase is something we're all particularly proud of.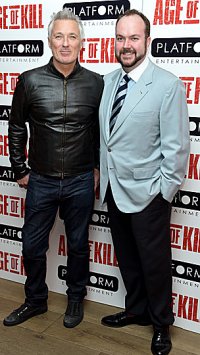 Martin Kemp and Jonathan
From what I know, Age of Kill, while big in scope, was shot on a relatively tight budget - so what kind of a challenge was that then?
It's bloody hard. We make these films for a few hundred grand which baffles many people but so long as the scripts are written to the budget it is just about achievable. And stretching the budget isn't just about helicopter chases and fight scenes – it's about getting top quality actors in… and we were very lucky to land Phil Davis, Patrick Bergin, Dexter Fletcher, Bruce Payne, Nick Moran et al. Yes a lot of these actors come and do these films because they are pals of mine and I can pick up the phone but they wouldn't do it if the scripts weren't good.
Now I'm taking a wild guess and claim that it was you who brought Martin Kemp to the project - so what made him perfect for the role, and what can you tell us about your professional relationship with him?
Yes it was. Martin and I have been very close friends for the best part of a decade, he's a big part of my life. Over the years he has opened a lot of doors for me and always supported me – to be honest without him I doubt I'd have a career as a producer. He's been a director for me several times and done some little cameos but he's never been a leading man for me. The role of Sam Blake seemed a great fit for him and the distributor really liked him so it was an obvious choice. Martin and I know each other so well it's just easy – lots of laughing and lots of hugs. Neither of us have that need to be the alpha male, we'd both rather just sit back and have a cocktail. He's also responsible for the genius casting of Ian Ogilvy in my film We Still Kill The Old Way – we were struggling to find a leading man and Martin had seen Ian in some old TV show and called suggesting him and as it happens it just couldn't have worked out any better. Martin's what I call a life-enhancer – having him around just makes people happy. He's a diamond.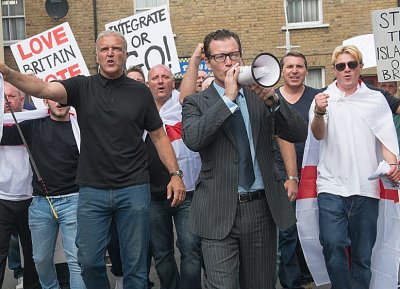 What can you tell us about the shoot as such, and the on-set atmosphere?
It was tough because the pressure was on and it was last summer so it was sweltering. One day at Wimbledon Studios doing the Britain First fascist scenes some of the extras were getting a bit restless waiting about in the blazing sun. Nick Moran sensed this and jumped up on a table with his character's megaphone and led them all in a chorus of 'Sweet Caroline' – it was a classy act from a class act.
A few words about audience and critical reception of Age of Kill so far?
As ever with these films the reviews are mixed – but I don't make films for critics, I make them for people who buy DVDs. You have to understand that as a child of the 80s going to the local video shop to hire a film was a big deal. If the people who buy my films in ASDA or Tesco get anything like that thrill then I've accomplished everything I set out to do. Every week Neil and I go to HMV on Bond Street to buy our DVDs and also to check out chart positioning, what's trending and what people are buying – or not buying. It's a really important part of our week. Of course we normally go to the pub after.
Any chance for a sequel to Age of Kill, and/or other future projects you'd like to share?
It all depends on the numbers the first one achieves. We'd all love to but you have to be careful not to get caught up in your own hype. There are certain sales targets to be met and if they are then sure, Age of Kill 2: Rogue is very much a possibility!
What got you into producing to begin with, and did you receibe any formal training on the subject?
I wasn't smart enough to be a writer or director!! I just seemed to fall into it really – I used to work for a famous producer/director called David Wickes who taught me so much – I didn't go to university but learned so much more from David than I would have done had I gone.
What can you tell us about your filmwork prior to Age of Kill?
It was variable. The films I've made before I started Richwater in 2013 that are worth watching are limited in number – White Collar Hooligan, Stalker, Devil's Playground… that's about it. But since I made Vendetta I am proud of pretty much all the films we've made – especially We Still Kill The Old Way and its sequel We Still Steal The Old Way and, of course, Age of Kill.
How would you describe yourself as a producer?
I think I'm pretty easy going – I'm one of the boys when I need to be and I'm tough when I'm negotiating but I don't think I'm particularly difficult. People say I'm prolific but I always feel I could achieve so much more.
Producers, filmmakers, whoever else who inspire you?
David Wickes who I used to work for is a constant inspiration. Also the late Bryan Forbes and Brian Clemens, both of whom gave me a lot of advice when I was young. Guy Ritchie, Mathew Vaugh, Nick Love – I think if you watch my movies you can see the influences pretty clearly!
Your favourite movies?
How long have you got? My favourite movie is Jaws, but then (in no particular order) The Monster Squad, Star Wars, The Long Good Friday, Fright Night, The Lost Boys, Taken, Die Hard, Commando, the Rocky series, Love Actually, Groundhog Day, Gremlins, Dracula (1958), On Her Majesty's Secret Service, Death Wish, Live & Let Die, The Wild Geese, Warlords of Atlantis, The Dark Knight Rises, Avengers Assemble, Get Carter… I could go on for days. I LOVE movies.
... and of course, films you really deplore?

Feeling lucky ?
Want to
search
any of my partnershops yourself
for more, better results ?

The links below
will take you
just there!!!

Find Jonathan Sothcott
at the amazons ...

amazon.com

amazon.co.uk

amazon.de
Looking for imports ?
Find Jonathan Sothcott here ...
Something naughty ?
(Must be over 18 to go there !)

I think its unfair to pick on other people's films knowing how much effort goes into making them: the film industry in the UK would be a much better place if we all supported each other. But that's part of the reason it's less an industry and more a sort of creative car boot fair. But in a general sense I don't much care for musicals (except Little Shop of Horrors) or westerns.
Your/your movie's website, Facebook, whatever else?
You can follow me on Twitter @sothcott – it isn't terribly serious and you won't learn much but I sometimes tweet good restaurant recommendations.
Thanks for the interview!