Your new movie The Harrowing - in a few words, what is it about?
The Harrowing is the story of one man's descent into madness. Ryan Calhoun is a vice detective whose partner is ritualistically murdered. Put on administrative leave, he starts his own investigation that leads him into a forensic hospital where he starts to see demons and his entire life unravels as he falls into hell and questions what is real and what isn't.
What were your sources of inspiration when writing The Harrowing?
I'm a fan of mind-bender thrillers like Jacob's Ladder, Angel Heart and Shutter Island. I love those movies that explore the darkness within the human psyche and unravel one's perception of what is reality. It's the unreliable narrator scenario... is what we are seeing true or not. I also love demonology and demon lore and I thought it would be a phenomenal mash-up as a foundation of where this store would go.
Without wanting to give away too much here, The Harrowing's third act pretty much turns everything one thought one knew about the film's narrrative on its head - so what was the idea behind this, and how easy or hard was it to not lose the plot in the process?
Once I knew the direction the story was going, I was able to keep track of it. Each scene was built one on top of the other, progressing that narrative along with the twists and turns. The second half of the movie questions reality so what was more important was being true to Calhon's journey as a character and ensuring that each conflict or obstacle or horror that he faced that he reacted in a real way, which in and of itself, continued to unravelh is sanity. I want people to question the story and what they've seen and have to decide what the truths of the story really are.
To what extent could you actually identify with The Harrowing's lead character Ryan Calhoun and the ordeal he goes through, and how much of you can we find in him?
That's a great question. From the beginning, I wrote The Harrowing specifically for Matt Tompkin's to star in so a lot of Calhoun is built first and foremost around Matt and all the things about him that I wanted him to bring to the character. But some of me always creeps into the characters I write. Loyalty is incredibly important to me so how Calhoun's reacts to his best friend's murder and the lengths he goes to find the truth are inherently me. I'm also very open about the fact that I'm a recovering addict. I've been clean and sober for thirty years but I had to face my own inner demons, and had to struggle with what is reality and what were hallucinations and false realities I created. I brought a lot of that to the character and the way I wrote him.
You have to talk about The Harrowing's main location, the mental institution for a bit, and was this just studio-created or an actual place - and if the latter, how did you find it, and what was it like filming there?
The place we found to film the institution was a pretty incredible find. It wasn't a mental institution at all but an old building being turned into a school. It had this really great, sterile institutional look to it and had all of the spaces we needed for the overall story. They were really happy to have us there filming and they let us do as much as we needed to make the movie. It was right in the middle of a suburban middle class neighborhood so there was nothing scary about it.
What can you tell us about your directorial approach to your story at hand?
In horror, it's very easy to get lost in the special effects and violence and sensational elements of the genre. For this story, I needed to keep everything grounded in human nature. I approached every scene seeking the truth of the characters and how they would react to what they were faced with. Horror is all about the unseen, the unknown, the dangerous, that which is more powerful than us and has the power to destroy us. Horror is a lack of control. If I can keep the audience invested in the human story, they will begin to experience the same horror that ends up pummeling the characters.
Do talk about your key cast, and why exactly these people?
I've been doing movies in Dallas for nearly twenty years. With The Harrowing, we really wanted to use the best of the best so all of the actors are people we've known and worked with for a long time. Some we wrote the roles specifically for and others we brought in because they were so perfect for the roles. In the case of Michael Ironside as Lt Logan and Arnold Vosloo as Dr Whitney, I had worked with both of them before. I always knew that Michael would be awesome as Logan but when we stared kicking around names for Whitney, Matt and I knew that Arnold would be absolutely perfect.
A few words about the shoot as such, and the on-set atmosphere?
The Harrowing was really a home team, hometown movie. Making this movie was such a joy and we were able to surround ourselves with cast and crew that we love working with and that are a pleasure to be around. It's funny, people think horror movies must have these really dark, heavy moods and more often than not, they're a ton of fun, which is exactly what make this movie was like.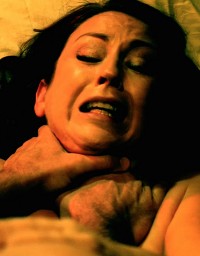 Feeling lucky ?
Want to
search
any of my partnershops yourself
for more, better results ?

The links below
will take you
just there!!!


Anything you can tell us about audience and critical reception of The Harrowing?
The reaction has been fantastic. It started with the film festivals. It was great to see people in a theater environment watching the movie and enjoying it. And now with the release, we're starting to hear and read the critic reviews and they have generally been great. You can't please everyone, and I don't typically look for reviews, but with The Harrowing, it's generally been so positive over and over again, it's really gratifying. At the end of the day, you make a movie because you have a story to tell and you want to entertain audiences, and that's what's been happening here.
Any future projects you'd like to share?
We always have projects we're working on to get off the ground. I just got done working as a producer on William Brent Bell's new movie Separation which will come out in theaters in 2019. And we have a few others that should be going before too long.
Your/your movie's website, Facebook, whatever else?
My directing website is jonkeeyes.com and company website is highlandmyst.com. I'm on Instagram and Twitter as @jonkeeyes and also on Facebook.
Anything else you're dying to mention and I have merely forgotten to ask?
If you check out The Harrowing - or any indie movie - please go rate it on IMDb and even write a short review if you have time. These star ratings are incredibly important to the life and longevity of a movie and ensure that these movies keep getting good placement on the digital platforms.
Thanks for the interview!