Your new movie Funeral Day - in a few words, what is it about?
Funeral Day is about feeling stuck and trying to get unstuck. Itís about dealing with oneís mortality and the mortality of those you love. Itís also about checking your balls (or the balls of a loved one) if you feel a lump. Funeral Day is about a guy, Scott, who gets himself into some ridiculous situations while trying to live his life to the fullest.
How did the project fall together in the first place? And were you supposed to both direct and play the lead from the get-go?
Kris Elgstrand had written the script for himself to potentially make several years prior to me directing it, but he had put the project on hold while he set out to work on another film. I had read it back then and liked it, so when I was looking for a script to produce I asked if I could read it again. We talked about me making the film, I optioned the script from Kris, he did some rewrites and that was that. Not quite as simple as that, but not too far off. While the thought of me directing came up early on, my initial intention was just to produce and play the lead. Eventually there was talk of co-directing and then as we moved forward it made more and more sense for me to direct. I had done some directing before, but this was my first feature. I wasnít quite sure what I was getting myself into, but once the decision was made there was no turning back. Iím very glad about that decision.
What can you tell us about Funeral Day's writer Kris Elgstrand, and what was your collaboration like?
Iíve known Kris for quite some time now. Kris has a wonderful sense of humor, a twisted one, that can be both riciulous and thoughtful, in your face and dry, all at the same time - and I love that. While his writing and comedy can seem heightened at times it is very much based in reality and often stems from real life situations he has either experienced or heard about first hand. Iíve worked with him in various capacities over the years - actor, director, producer, I even produced an album of his - so I feel very comfortable working with him. And yeah, since I brought it up, you should check the album out - Songs of the Sad Sack, Volume 1: I'm so Disappointed
Do talk about Funeral Day's brand of comedy for a bit, and to what extent does it align with your own sense of humour?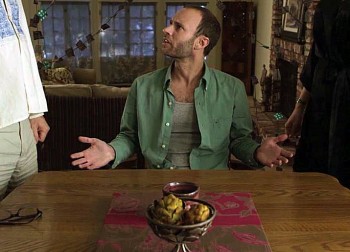 As I mentioned, Krisís comedy can be quite twisted and while at times the humor in Funeral Day may seem ďout there,Ē I feel it is very much grounded. Just because (spoiler alert) a prostate milking may seem ridiculous to you, it doesnít mean that it isnít happening in your neighborís house right now. You might want to call them before you pop over next time. I love both highbrow and lowbrow comedy. I love a good fart joke and I love humor that may require a bit more sophistication to get or a couple of viewings to even notice that it was a joke in the first place. I really appreciate when you get both in the same film or show. I think the British version of The Office does that wonderfully as do many of the Coen Brothersí films. Iíd like to think that we achieved that in Funeral Day. I love dark comedies and I appreciate comedy that is played as real as possible. I donít know that I love the Ben Stiller movie, Along Came Polly, but I love Phillip Seymour Hoffmanís performance in that. He plays it so real and he is by far the funniest guy in that film. PT Andersonís Punch Drunk Love is another great example of a film that I find darkly funny, Strange and funny in moments but also beautiful and emotional - heightened while at the same time grounded. But again, bring on the fart jokes.
As mentioned, you also play the lead in Funeral Day - so what did you draw upon to bring him to life, and how much Jon Weinberg can we find in Scott?
I can certainly be neurotic, but Iíd like to think that Iím not quite as neurotic as Scott is (those that know me may tell you otherwise). Iíd also like to think that I would deal with some of the situations Scott finds himself in quite differently. That being said, I very much understand Scottís behavior and understand his fear of death and losing those close to him. My own neuroces and fears certainly helped me understand why he does what he does. I think that was a key part to bringing Scott to life - trying to understand him as opposed to simply judging him.
What can you tell us about the rest of your cast, and why exactly these people?
I feel so damn fortunate that we got the actors we did. It really was so great to have worked with all of them - both as an actor and as a director. The really simple answer to ďwhy those people,Ē is that they were so right for their parts. Everyone brought so many wonderful and specific things to their characters. I could easily gush about about each actor for quite some time. The very least I should do is mention the main cast. Tygh Runyan, Rahnuma Panthaky, Dominic Rains, Suzy Nakamura, Tyler Labine, Sarah Adina, Kristin Carey & Jed Rees. My advice is to look them up and see what they are up to and watch their stuff.
Do talk about the shoot as such, and the on-set atmosphere?
We had a really great team - both behind and in front of the camera. It was really great working with cinematographer Jeffrey Cunningham. Heís very poised on set and quick on his feet. That certainly helped keep me somewhat calm. Somewhat. And as I mentioned before, the actors were all so great and they were game to get a lot done in a short amount of time. It certainly wasnít smooth sailing, though. It was a fairly difficult shoot. We had pretty good size crew that worked really hard to make sure we got what we needed, but even so we had some very long days and we were chasing the light on most days. While it was mostly a pretty comfortable set, it did get tense at times. We had various issues come up, like losing a location mid way through the shoot, finding out that we couldnít be in part of another location that we had paid for and gotten a permit for, and we had a couple of crew members that didnít see eye to eye. Of course those types of issues arenít unique to Funeral Day, but it was still certainly a challenge at times.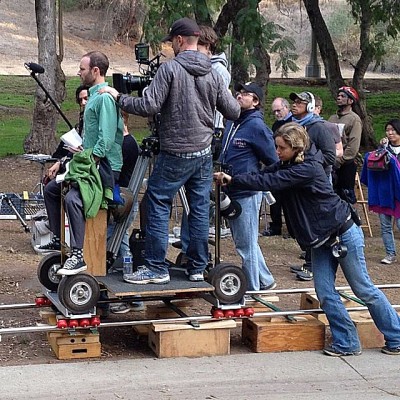 The $64-question of course, where can your movie be seen?
Letís call it the $3-10 question because Funeral Day can be yours to own or rent at this low low price. But you must act now!!! Funeral Day had a theatrical release in LA earlier this month. Iím a fan of seeing films in the theatre so I was very happy about that. Funeral Day is now available on VOD/Digital and yes, even DVD, at all the usual places like iTunes, Amazon, VUDU, YouTube, Shaw (if youíre in Canada) and more. And Iím told itís now available in quite a few markets around the world.
Anything you can tell us about audience and critical reception of Funeral Day yet?
I was quite pleased with the filmís festival run and the response it got. Funeral Day played some really great fests, including the Twin Cities Film Fest, Key West Film Festival, Twister Alley Film Festival, Gig Harbor Film Festival, Jim Thorpe Independent Film Festival, Vienna Independent Film Festival and more. The film was nominated for quite a few awards and took home a number of them including a few for Best Comedy and some for Best Director. Towards the end of post production the film also got the attention of Mike Craycraft, the founder of the Testicular Cancer Society, and we ended up partnering with the organization to help educate and get the word out about men checking themselves more frequently for testicular cancer. During the recent LA run of the film a number of survivors came out to see the film. They came up to me after and told me how much they enjoyed it and laughed and all that good stuff. That was really awesome to hear.
Any future projects you'd like to share?
I recently put together a few testicular cancer PSAs that Iím quite proud of. They came about as a result of my relationship with the Testicular Cancer Society. They will be released in the coming weeks. I got to work with a lot of great people on them and Iím excited for people to see them. Iím also working on a series with Ethan and Dominic Rains (Dom plays TJ in Funeral Day). We are still in the early stages, but hopefully weíll be able to share more soon.
What got you into acting to begin with, and did you receive any formal training on the subject?
I didnít act at all prior to university, but I appreciated theatre and I loved going to the movies when I was younger. My parents exposed my sister and I to the theatre and to films from a pretty early age. Iím very fortunate for that. When I went to university (University of British Columbia) I wasnít sure what I wanted to focus on. I had wanted to take an acting class for some time so decided to try my hand at it. I auditioned and didnít get in at first. I tried again, got in and loved it. I ended up getting a degree in theatre and continued my training at the Atlantic Theatre Company in NY for a bit and then got my post grad from the London Academy of Music and Dramatic Art in London. You probably got that from the name.
What got you into directing eventually?
When I was at university I took a theatre directing class and really enjoyed it. It was a lot of work but it was really fascinating having to look at the whole picture in both a broad sense and also in an extremely detailed way. Certainly different than as an actor when mostly looking at a script through your character. I also appreciated collaborating with the writer and actors in a way that was different than what I had experienced as an actor. After that experience I directed a couple of one acts that Kris (writer of Funeral Day) wrote and we took the show on tour. I directed a few more smaller theatre things, but then didnít direct anything for a number of years. I then decided to produce and direct a short film that I acted in as well. I wasnít really convinced that I should be acting and directing at the same time, but I had a really great crew and felt comfortable taking on both roles because I knew I had good people around to help guide me when needed. Thatís the longer answer.
The short answer is that I got into directing so I could have more control.
Actors, filmmakers, whoever else who inspire you?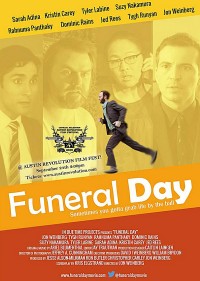 Feeling lucky ?
Want to
search
any of my partnershops yourself
for more, better results ?

The links below
will take you
just there!!!


There are a lot of people - actors, filmmakers, artists, musicians - who inspire me so Iíll just list a bunch and be upset with myself later for leaving out so many. Philip Seymour Hoffman, Michael Fassbender, Cate Blanchett, Woody Harrelson, Carey Mulligan, Michelle Williams, Michael Stuhlbarg, Michael Shannon, Chiwetel Ejiofor, Sam Rockwell, Adrian Lester, Frances McDormand, Tilda Swinton, Naomie Harris, Zach Galifianakis, Matthias Schoenaerts, Michel Gondry, Barry Jenkins, Paul Thomas Anderson, Julie Taymor, Dee Rees, Alejandro G. IŮŠrritu, Derek Cianfrance, Rachel Morrison, Emmanuel Lubezki, Basquiat, Brendan Monroe, Sigur Ros, Shara Nova (My Brightest Diamond), Sufjan Stevens, Radiohead, Enigk, Prince, Jonathan Safran Foer. Iím also inspired by the actors in Funeral Day and Iím not just saying that. Getting to work with such talented people kept me on my toes. I had to keep up. And that goes for people on the other side of the camera as well.
Your favourite movies?
Festen (The Celebration), Eternal Sunshine of the Spotless Mind, Moonlight, Fargo, Punch Drunk Love and many of PT Andersonís films - to name but a few.
Your/your movie's website, Facebook, whatever else?
FuneralDayMovie.com, Facebook.com/FuneralDayMovie, Twitter.com/FuneralDayMovie, Twitter.com/weinbergjon, Instagram = @FuneralDayMovie & @TheJonWeinberg
Anything else you're dying to mention and I have merely forgotten to ask?
Iíve probably already said too much. Thanks so much for having me do this!
Thanks for the interview!