Your upcoming movie Dead Bounty - in a few words, what's it about?
Jordan Pacheco - While Dead Bounty is a zombie movie it's more about the characters and how they react when faced with a slow and painful death. Some rise from the chaos and become heroes others will do anything it takes to survive.
David Langill - It's a zombie flick. But what separates Dead Bounty from the others is that it's more of a action/drama film that takes place during a zombie outbreak. Dead Bounty will show how people react, in different ways, when everyone is living through their worst day.
What were your inspirations when writing Dead Bounty?
JP - Definitely Night, Dawn and Day of the Dead, our zombies are slow shambling and we are aiming for a Romero feel, but also the Friday the 13th franchise as the entire film takes place in the woods. Our secondary group of characters would fit right into a Jason movie.
With Dead Bounty being a zombie film, which are these days a dime a dozen - what do you think makes yours stand out of the crowd?
JP - I think our characters are unique and are played by very talented actors not to mention the incredible cinematography. Ken Willinger has been getting really incredible shots on the RED Dragon camera.
DL - It does seem like every independent filmmaker makes a zombie film. Dead Bounty will stand out due to, in part, its characters, story and high production value. A lot of thought went in to character development to make each interesting. There's an actual plot to the film and not just random people and zombies. Dead Bounty brings a high production value not only with it being shot on the RED Dragon Camera but behind the camera is Emmy award winning director of photography Ken Willinger.
Zombie films seem to demand quite a bit of violence almost by definition - so what can you tell us about the gore effects in your movie, and was there ever a line you refused to cross?
JP - Well it being a zombie film we have lots and lots of people being ripped open and eaten alive. It's not the seasons changing the leaves red in New England, it's our FX artist Phil "Skippy" Adams making a bloody mess nearly every day of shooting.
DL - We have some of the best special effects / makeup artists in the area; Rob Marin, Phil "Skippy" Adams and a long list of their helpers. Most, if not all, of our blood effects will be practical. Is there a line we won't cross?... I'll say this, along with lots of gore and guts there is one particular scene that should be very memorable.
From the production side, which were the main challenges of making a movie like this?
JP - Filming in the woods for the entire film has been a challenge, set ups take longer and dealing with the sound from the generators is always an issue. But man is it worth it, everything we have shot out there looks so dam good.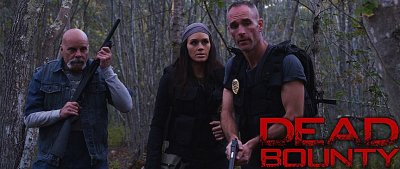 Tony Moran, Cate Carson, David Carpenter
DL - 90 to 95 percent of Dead Bounty is filmed outdoors. So there has been some delays due to weather. New England is beautiful to film outdoors but Mother Nature cannot be tamed.
Do talk about your directorial approach to your story at hand!
JP - As a director it is important to me that we create an original film while at the same time staying true to Romero's films that inspired Dead Bounty. It can be especially difficult with the zombie extras, so to make sure we have a consistent style of zombies I do a brief zombie school with each group of extras. Showing them the movements and expressions I'm looking for. I approach every scene with this in mind, as a horror fan would I enjoy watching this?
What can you tell us about your key cast and crew, and why exactly these people?
JP - This could take a while lol. For the key cast we have Tony Moran (Halloween) who was in our first film Provoked, and Timothy Patrick Quill (Army of Darkness), who David and I met at a horror con in Florida, both play seasoned bounty hunters in the film. We chose them because they fit the roles perfectly and played off each other very well. Not to mention they're from two of my favorite films growing up. There is also David Carpenter, who plays our lead bounty hunter, he nailed his audition and had this Clint Eastwood-feel to his portrayal of the character. Cate Carson plays "Hannah", our only female bounty hunter who was originally a male named Billy but she had requested a chance to read for the role. Having worked with her in the past we knew she was talented and let her read. She had the best audition by far so I rewrote the character as female. And Jaquelyn Fabian plays "Samantha", Jackie was the lead in my first short film Murder Kills and had a small role in Provoked. Aside from nailing the audition for Dead Bounty she brings a quirky and fun energy to the set.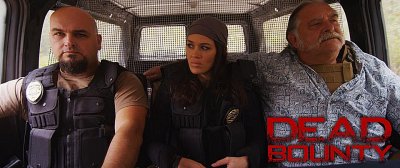 James Baker, Cate Carton, Timothy Patrick Quill
Ken Wilinger is our DP and is incredibly talented with the camera, you can really tell he cares about every single shot. Rob Marin and Phil "Skippy" Adams are our lead makeup artists and with their team bring our zombies to life... then death lol, and our producer David Langill who without I'd probably go nuts, he handles everything on location so I can focus on directing and making sure I get what im looking for. He also takes care of all the paperwork and scheduling which I am not a fan of doing. Our entire cast/crew was chosen not only because of their talent and work ethic but because we enjoy being around them and know they are passionate about film.
DL - You will always hear people say "This is the best cast and crew I've worked with...", and often say that on each new project they work on. I show that by bringing back cast and crew members who have shown they are the best and a pleasure to work with. Many cast and crew from Dead Bounty I have worked with in the past. I understand that there are "key" positions in each department but I feel that everyone is an important part of the team. Each person, whether it's in front or behind the camera, bring their A-game each time to set. Please visit the Dead Bounty IMDb page to see all the hard working individuals that have brought Dead Bounty to life - http://www.imdb.com/title/tt2990352
A few words about the shoot as such, and the on-set atmosphere?
JP - It's like heaven for me, I'm surrounded by friends and we are all doing what we love. Granted my heaven is often filled with death and gore but there's no place I'd rather be than on set. Sure it can be hectic and stressful at times but then you always get at least one moment each day where you're like "Holy shit were making a movie". When we put our cast & crew together it's very important that we build a team that we will enjoy working with day in and day out, sometimes on long 15 hour days.
DL - The on-set atmosphere is outstanding and I couldn't ask for a more pleasant one. There's not a single complainer in the bunch. There may be times where we have long days, but everyone still gives it their all take after take. The term film-family is an accurate phrase on the Dead Bounty set. Everyone looks out for each other and always willing to lend a helping hand.
The $64 question of course, when and where will Dead Bounty be released onto the general public?
JP - Dead Bounty is looking at an early 2015 premiere, I toyed with the idea of doing a Easter release but I think the film will be ready before then.
DL - We're hoping for an early 2015 premiere of Dead Bounty. We have already received inquiries regarding distribution so we're hoping to lock that in later in 2015.
Any future projects beyond Dead Bounty you'd like to share?
JP - We are in preproduction for two films, Sexy Slasher and Book of Ash, and I'm writing a horror webseries I'd like to film the pilot episode for in the next few months.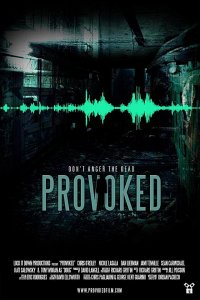 Feeling lucky ?
Want to
search
any of my partnershops yourself
for more, better results ?

The links below
will take you
just there!!!

Find Dead Bounty
at the amazons ...

amazon.com

amazon.co.uk

amazon.de
Looking for imports ?
Find Dead Bounty here ...
Something naughty ?
(Must be over 18 to go there !)

DL - There are always projects in the works. Follow on Facebook and Twitter to stay up to date.
Your/your movie's website, Facebook, whatever else?
www.facebook.com/LockItDownProductions
Twitter and Instagram:
JP - HauntedDirector
DL - Twitter @NewEnglandIndie
Anything else you are dying to mention and I have merely forgotten to ask?
JP - It's not Dead Bounty-related but our filmed Provoked has been picked up for worldwide distribution by WildEye Releasing, we are very excited about that! keep an eye out for new cover art and a release date. Also Cate Carson who plays "Hannah" in Dead Bounty is a director herself and her film Whiskey Boys has made it into the top 20 for Project Green Light! So a big congratulations to her and her cast/crew!
DL - It's that wonderful time of year... HAPPY HALLOWEEN!!!
Thanks for the interview!
JP - Thank you!
DL - Thank you, always a pleasure!