You've recently done the sound for the movie Defarious - so before anything else, what's that movie about?
Defarious is a short horror film about a young woman who is haunted by her nightmares so bad that she begins to become delusional about what's in her imagination and what is actually real.
So what can you tell us about your work on the sound, and to what extent do you think your sound design helped carry the story and/or atmosphere?
I was fortunate enough to be able do some of the sound design for the film. I think the sounds I helped create for the film will make the audience feel like they are experiencing the situation with the character. We tried to make it feel as real as we could without over-doing it. The sounds and music in Defarious will remind you of the classic horror films of the late 70's and early 80's. Like those films we tried to create a feeling through the sounds and the music with the help of imagery. As well as leaving certain things to the imagination because some times that is a lot scarier than anything you can put on screen.
How did you get involved with the project in the first place?
At the time I was just starting my own production studio, but had an interest in working on films because I had done music for so many years. I wanted to venture into a new world of audio. Chase Michael Pallante [Chase Michael Pallante interview - click here] contacted me stating he was going to be working on a horror film, and I am a huge fan of horror. He asked me if I would be interested in doing some sound for the film, and I agreed. It was the best of both worlds for me.
What can you tell us about Defarious' director Chase Michael Pallante [Chase Michael Pallante interview - click here], and what was your collaboration like?
Well first and foremost I consider Chase Michael Pallante family. I have known him for well over ten years. Ever since I've known him he's been passionate about movies - particularly horror films. Knowing him and how driven he is I knew that once he got his chance to work on his own it would be amazing. And I wasn't wrong. Defarious is one of the best short horror films I have seen. He put so much work and dedication into creating this film. Chase Michael Pallante has always been the type to think outside the box. During this collaboration we would both stay up late nights around the clock working on the sound for the film. He knew exactly what he wanted and would do a great job explaining it to me. I would then work for hours on trying to create the sound that was in his mind. For months we would exchange files with notes on what would work and what needed to be changed. It was a long process, but Chase made it fun and interesting just because that's the type of personality he has.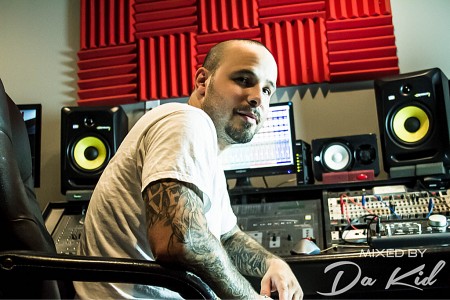 photography by: White Wave Musik Studios
courtesy of R&F Entertainment
Do take us through the process of doing sound design and sound mix for Defarious?
The process was long. I had to forget everything I knew about mixing sort to speak in order to allow my imagination to create the sounds. I had done music for so long that I was stuck on everything needs to be perfect mentality. However, when you're creating sounds sometimes imperfection is what is needed until the post production team does the sound final mixing and mastering. Once I allowed myself to break free of "the audio mixing rules" I had learned in school I was able to start having fun and creating sounds in order to achieve what we were going for.
As far as I know, you not only did the sound design but also helped out as a boom operator on set - so do talk about the shoot for a bit, and the on-set atmosphere?
Yeah I went out on the set for one night and helped out as a boom operator. It was an interesting experience for me because I had never been on a movie set before. So much was happening; practice shoots, hair and makeup, scene setups, etc. But everyone on set was eager and willing to help out in any way they could. The cast and crew worked well together and provided input on what we thought would work and not work in the scenes. Chase Michael Pallante from the very beginning wanted to make Defarious into a great film. And so did everyone involved.
So how did you get involved in the filmworld to begin with, and why of all things as a soundman?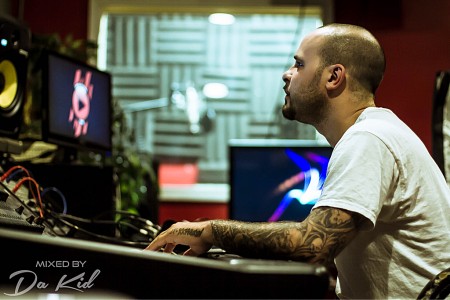 photography by: White Wave Musik Studios
courtesy of R&F Entertainment
After graduating from audio school I had done an internship at a music production company that worked on big Hollywood films. That was my first exposure to working in the film industry. So when I started my own company I wanted to pursue that avenue, but more with sound instead of music. I chose to be a soundman because it allowed me to still be creative.
What can you tell us about your filmwork prior to Defarious?
I really didn't have any prior filmwork until Defarious, however, I did years of audio engineering in the music industry.
Sound designers, filmmakers, whoever else who inspire you?
I would say that John Carpenter and his film Halloween inspired me. That film was so well put together from the visuals to the sound design and music. As a child it frightened me and to this day I still love to watch that movie every halloween because it still frightens me.
Your favourite movies?
My favorite movie is Halloween...hands down.
... and of course, films you really deplore?
Anything that is a musical.
Your website, Facebook, whatever else?

Feeling lucky ?
Want to
search
any of my partnershops yourself
for more, better results ?

The links below
will take you
just there!!!


I currently don't have any social media but I would like to tell people to go to www.Defarious.com for more information on the film. They can also visit the film's Facebook page: www.facebook.com/DefariousIsComing/ and on Instagram: www.instagram.com/defariousfilm @defariousfilm.
Subscribe to the film for exclusive details at www.DEFARIOUS.com and pre-orders for the film begin October 1 and everyone can watch the film when it releases on Friday, October 12!
I am so proud of this film and I know everyone else will love it too.
Thanks for the interview!