Your upcoming movie Gory Graduation - in a few words, what's it going to be about?
Joseph: A group of seniors on the cusp of their high school graduation are stalked by a menacing figure in a ceremonial cap and gown.
Nathan: And faculty, too!
What were your inspirations for dreaming up Gory Graduation?
Joseph: Back in the late `90s/early 2K era, someone had listed Gory Graduation on the IMDb with a few cult stars attached. So, being a slasher movie completist at the time and social media still in its infancy, I went on the hunt for it but couldn't find anything. It was later proven to be fake. I always loved the evocative title and the hunt in which I was consumed. So, "this movie should exist," we always thought. And now it will.
Nathan: Thereís not much more I can add to this. I loved the title and thought it was such a missed opportunity that nobody had utilized it yet. So I decided, "why shouldnít we use it?"
With Gory Graduation being a slasher movie, is that a genre you're at all fond of, and some of your genre favourites? And what do you think will make your movie stand out of the crowd?
Joseph: Slashers are absolutely my favorite. With a simplistic plot structure, you can bypass a lot of exposition that can easily bog down your narrative and focus instead on other important factors: blood/gore, likeable characters, suspense, etc. Plus, slashers carry the whole "this could really happen" aesthetic which, to me at least, is much scarier than a ghost or zombie. As far as favorites, Black Christmas from 1974 is, to me, the perfect slasher film: permeated with atmosphere, likeable (flawed, not mean) characters and it's scary down to the core. Going from that, I also adore Stage Fright, The Texas Chainsaw Massacre, Halloween, Prom Night, My Bloody Valentine, etc. As far as "standing out from the crowd," we're not trying to reinvent the wheel ŗ la something like Scream - we're embracing what makes these movies "popcorn" fun. I can say that a lot of recent slasher films rely way too much on characters who yell and scream and curse at one another to a sickening degree; that is something we want to sidestep.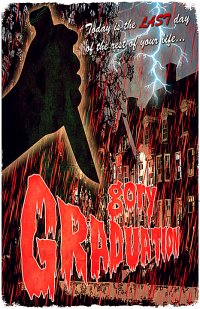 Nathan: Like Joseph, slashers are my favorite. I have loved them for as long as I can remember. My absolute favorite film is the original The Texas Chainsaw Massacre. Some of my other favorites are Killer Party, Pieces, Donít Go in the Woods, Sleepaway Camp, Splatter University, To All a Goodnight, Criminally InsaneÖ I could really go on for days talking about my favorites.
Do talk about your movie's approach to horror for a bit (as in suspense vs sudden shocks, atmosphere vs all-out gore and the like)!
Joseph: If I had to describe the tone, I'd say we're trying to mimic the silly, "anything goes" bodycount of something like Friday The 13th V: A New Beginning or I Still Know What You Did Last Summer, with Stage Fright-esque suspense sequences with just a dash or two of John Waters dark humor in the dialogue. Oh, and lots of gore, because you can't have a title like Gory Graduation without showing buckets of the red stuff.
Nathan: With our last film we tried to make it very serious for the most part. I felt that for this film I would want to make it very cheesy and fun. Definitely not something that should be taken too seriously. Thatís not to say we are trying to make this a goofy comedy. It is very much horror but slightly tongue-in-cheek Iíd say.
What can you tell us about the film's intended overall look and feel?
Joseph: We obviously love `80s horror but feel trying to recapture that era is fraught with problems, not the least of which is spending too much of your budget on wardrobe and not in other areas that would benefit your film. A lot of indie filmmakers try their hand at teasing hair, purchasing spandex and splashing the right color here and there and end up neglecting the story, characters, suspense, etc, and all for naught - most of the time, their attempts at recapturing an era that is long gone is never perfect, defeating the purpose. Of the attempts, I'd say maybe only one or two got it right (I won't name drop), and that may even have been by accident. We're just going for a clean, polished "film" look, I'd say.
Nathan: The feel of the film will hopefully just be fun. Not to be taken too seriously. Just a fun and hopefully suspenseful film.
Anything you can tell us about your projected cast yet, and why exactly these people?
Joseph: I'd say their auditions told us everything we needed to know about them. Personally, I'd rather work with hungry up-and-comers rather than, say, has-beens or divas, and these particular actors gave wonderful readings and are waiting anxiously to tackle the material. I've often toyed with the idea of snagging a "name" to get recognition but for as much of a blessing that can be, it can equally be a curse.
Nathan: I think the actors we have cast will do a fantastic job. Iíd love to work with some of the horror stars from my favorite films but that does take up quite a bit of budget and thereís a lot of red tape to go through regarding SAG. Some day it would be fun to work with some of the wonderful 80s horror stars, though.
As far as I know, your film's still in pre-production as we speak - so what's the schedule, and any idea, however tentative, when and where the movie might be released onto the general public yet?
Joseph: Filming begins in the summer of 2015. We're putting the final touches on the script/story right now and funding begins at the end of January. That's all we know right now. We're going to try to find some sort of distribution but if all else fails, we'll self-distribute.
Nathan: Self-distribution can be quite a nightmare sometimes. Itís a lot of work to take on. I think finding a distributor would be a great idea. I have heard horror stories about distributors regarding money and the filmmakers not seeing any moneyÖ But the fact is we never saw any money from The Night Before Easter and we distributed it ourselves.
Any future projects beyond Gory Graduation?
Joseph: There was another semi-infamous fake title that we liked - we'll probably make that a reality, too. Other than that, a couple of short films are still on our plate (one is being shot right now) and I have an idea for an "old dark house" slasher with a twist and a Thanksgiving slasher as well, but we'll see how Gory Graduation goes first.
Nathan: Thereís so many great ideas we are throwing around now.
What got you into filmmaking in the first place, and did you receive any formal education on the subject?
Joseph: I think every kid who loves movies as much as we do (horror, in particular) at one point in their life says to themselves, "we're going to make a movie." It only took us ten years of our continuing friendship to actually pick up a camera and make it a reality but I'm glad we took that leap because now I'm addicted to the process. Whether or not I become famous or make any profit, I'm going to keep making them because I love doing so. No formal training outside of utilizing the internet to learn what to do and what not to do and just getting down into the trenches.
Nathan: I love filmmaking and it will always be a hobby of mine. I donít know if Iíll ever be able to make a living in filmmaking but Iím fine with that. Like Joseph, no formal training at all for me outside of talking with other filmmakers and getting some tips.
What can you tell us about your filmwork prior to Gory Graduation?
Joseph: Like anyone with a video camera, I made a few home movies and stop motion things as a kid, but our first "real" movie was a slasher we shot in 2013 called The Night Before Easter. It was shot on a micro-budget, and I'm going to go ahead and be honest: 80% of the time, I didn't know what the heck I was doing; it was all trial and error. I'm my own worst critic so watching The Night Before Easter now is rather difficult because of all the "first time filmmaker" problems associated with it. However, it was an extremely rewarding experience not just because it was a lot of fun to shoot but because it taught me so many lessons that I needed to learn, the most important being "never stop learning." Since it wrapped, I've pretty much done nothing but study cinematography techniques, editing, lighting, staging, etc. Maybe one day I'll actually have a proper budget to utilize everything I've learned - haha.
Nathan: I made a lot of ďslasherĒ short films with my family when I was a teenager. They are actually quite hysterical to see now. The Night Before Easter was the first actual horror film for me. It was a great experience. It had a lot of highs and a few lows but overall it was a very good learning experience.
How would you describe yourself as directors?
Joseph: Friendly but very reserved. What I mean is, I rely more on logic and orchestral thinking when directing than, say, getting chummy with the actors and crew. That's not to say I'm a complete dick or anything; I haven't a mean bone in my body, but when it comes to directing, I tend to get a tad mechanical in order to get the best out of the situation. I'm actually trying to be more "approachable," I guess you'd call it - especially considering Gory Graduation is going to be so much bigger in scope than the confined aesthetic of The Night Before Easter.
Nathan: Iím more of the guy that gets chummy with the actors and crew while on set. I like to set up a great rapport during filming. We had fun although we were extremely tired most nights. Overall I know what I want to see and Joseph and I will discuss it and we can always work out a compromise to get what we both want out of the film.
Filmmakers who inspire you?
Joseph: I love old Sam Raimi (pre-Spider-Man), old Romero, Argento and I'd love to work with someone like Shane Carruth (Primer, Upstream Color).
Nathan: Argento, Fulci [Lucio Fulci bio - click here], Tobe HooperÖ Thereís so many really.
Your favourite movies?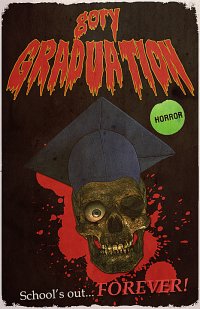 Feeling lucky ?
Want to
search
any of my partnershops yourself
for more, better results ?

The links below
will take you
just there!!!

Find Gory Graduation
at the amazons ...

amazon.com

amazon.co.uk

amazon.de
Looking for imports ?
Find Gory Graduation here ...
Something naughty ?
(Must be over 18 to go there !)

Joseph: Black Christmas and Stage Fright, to me, are two slashers I'd take with me to a deserted island. Outside of the genre, I'd say Primer, Radio Inside, Planes, Trains & Automobiles. I could probably list hundreds and be here all day, but I'll just leave it at that.
Nathan: The original Texas Chainsaw Massacre will always be my favorite film of all time. Outside of the horror genre I love a huge variety of movies: Harold and Maude, Ordinary People, Mannequin, Summer School, Bridesmaids, Pitch Perfect, Weíre the Millers, Horrible BossesÖ Iím all over the place with my love for film.
... and of course, films you really deplore?
Joseph: I try to see the good in just about everything because I know what kind of work goes into making a movie, but I just can't get into the Rob Zombie Halloween films or comic book/superhero movies.
Nathan: Thatís a tough one since I am known as the guy who likes everything. Like Joseph, Iím not a huge fan of Rob Zombieís Halloween films. I think he is a very talented director but the writing just doesnít work for me. And I know a lot of people will want to stone me for this but Iím not a fan of Star Wars or Star Trek.
Your/your movie's website, Facebook, whatever else?
Joseph: Look us up on Facebook: https://www.facebook.com/Gory.Graduation - we're trying to build the biggest audience possible right now and we'd appreciate your "like."
Anything else you are dying to mention and I have merely forgotten to ask?
Joseph: We hope you guys enjoy Gory Graduation; it's going to be a fast-paced, bloody good time! And if you hate it, that's okay, as long as you tell us WHY - we strive for constructive criticism.
Nathan: This is true. We are not opposed to constructive criticism. Thatís a great way to learn what to work on for our next project.
Thanks for the interview!