Your new movie All Over Again - in a few words, what is it about?
All Over Again is a story about never letting go of passions and pursuing dreams.
The poetry scene and open mic nights - are those at all circles you're moving in in your private life, and your thoughts about them?
The open mic night scenes are recreations of evenings I assisted running while attending Chestnut Hill College, being involved with the poetry club, along with the following three years after graduation where I traveled to different cafťs, coffee shops, and small restaurants between Philadelphia and New Jersey. Open mic nights were pretty incredible experiences, especially if you found a few places where the audience was open and sincere to all levels of performers. The atmosphere was very intimate and interesting to see what the next performer would have on their mind to discuss and watch the next musician play a new piece or cover.
Is All Over Again in any way an autobiographical film, and to what extent could you identify with your lead Luis?
The film is semi-autobiographical as far as the open mic night coffee shop scenes - Iíve participated reciting poetry in open mic nights since college along with performing in the Bus Stop Music Cafť, where principle photography for the film was shot. In reference to the character Luis - his poetry is along my style I like to perform at the mic, but I took it a step further with publishing a book, titled Perception in college - which I feel is what the end goal for Luis would be.
(Other) sources of inspiration when writing All Over Again?
Iíve always enjoyed music, especially blue grass folk music, ie. Bob Dylan, Dan Fogelberg, Jimmy Webb, etc. When Joe Fuoco and I met in acting classes he brought his guitar in and played a couple chords for us humming melodies, and this moment helped gain inspiration for one direction in telling the story.
You also wrote all the poetry in All Over Again - so do talk about Joseph McGovern the poet for a bit, and how do you usually approach writing poetry?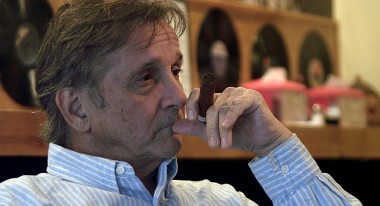 Iíve always considered myself a poet first, I began writing poetry at the end of my sophomore year of college as a form of therapy to help work through the death of my cousin Michael. In time, through a few wonderful professors' classes, including my own studies, I gained an appreciation for poetry and learned how effective a tool it can be used to challenge readers. In concerns of my approach to poetry - I donít have any direct approach to writing; depends on the piece as a case by case basis: How intricate do I want the piece to be, rhythm, will it rhyme, characters and development, plot, etc. I donít really believe much in structure and a particular form - for my personal work Iím aiming for two things: First and most importantly - I donít want the reader to be told, I want them to feel the words if theyíre right there experiencing the emotions and message. Second, I want to break down barriers of forms and not be bound in any way. Allen Ginsberg said it best, ďNot until after several hours of writing do you get to the good stuff.Ē
What can you tell us about your directorial approach to your story at hand?
When it comes to my approach for a project, while Iím writing the screenplay Iím envisioning the film in its entirety - not particularly every minor detail but the message as a whole. Storyboarding is minimal - most of the time left to stick figures if the crew or actors need a visual. I strongly encourage my actors to discuss every question they have no matter how small - I coach them to become the character overtime through table reads and rehearsals to the type of scenes. I try to remain as close to the screenplay as possible but am always up to creating on the spot from inspiration pertaining to the story and characters. The most important aspect to being a creator is I want the film to be as real as possible, I donít want the audience to be told the story but to feel the story. I want the audience to feel the emotions conveyed, as if theyíre present with the characters and they can put themselves in the characters shoes.
Do talk about your key cast, and why exactly those people?
While I was taking acting classes, with Weist-Barron Ryan of Atlantic City, I was scouting talent coming through the studio and in the classes I was taking for my own projects. I met Joseph Fuoco (Greg) and David Andro (Luis) in classes and audition sessions for the agents. Also, I did an open cast call for actors around the area at their studio and this is how I met Mahdid Shaji (Adam), and Constance Reshey (Victoria) was personally selected by the owner of the studio after watching her auditions. I personally felt everyone brought something to the table for me to work with and where character development was needed I coached them months in advance prior to shooting. When we were on set these principle actors brought a lot of energy and enthusiasm, wanted to learn, and when they werenít acting were eager to help with crew jobs to help move production along. That kind of drive canít be taught - Iíll take that form any day over the best talent because I can work with them to create my vision for the project.
A few words about the shoot as such, and the on-set atmosphere?
The on-set atmosphere in the cafe was very relaxed. The owner, Vic Martison, allowed us to come in after 8pm and film until we were finished for the evening which provided an opportunity to take our time. Everyone in the cast got along well. The shoot was very enjoyable.
The $64-question of course, where can your movie be seen?
All Over Again will be open to the public on Vimeo and possibly YouTube by this winter due to the film is still on the festival circuit and needs to remain private until completed.
Anything you can tell us about audience and critical reception of All Over Again?
So far when I attend film festival screenings for All Over Again the audience provides a positive reaction to it. I feel it helps everyone can one way or another relate to the story and Gregory. Critical reception have been between average to above average. There are both critic reviews and audience reviews on the filmís IMDb page.
Any future projects you'd like to share?
I have another short film, Hush - a little more on the controversial side - completed, and Inside Jonathan Fox - pertaining to the morning routine of Jonathan Fox who has OCD.
What got you into making movies in the first place, and did you receive any formal training on the subject?
Iíve been passionate about movies since I was a child. Beginning with the classic Disney animations growing up watching mostly mainstream films, and about my junior year of high school I began discovering independent film. Coming from a mainstream family and finding indie films, I loved the risks taken with the stories and characters. I didnít receive formal training in regards to filmmaking. I taught myself how to write screenplays over a five year period prior to writing All Over Again and I figured out how to produce a film, shoot on cinema cameras and do all post production work with the exception of sound design and scoring, which my good friend Matthew Amadio provides his talents.
What can you tell us about your filmwork prior to All Over Again?
Prior to All Over Again I had two failed attempts at creating two different short films, first one Before youíre Lost was a romantic comedy which I did finish but didnít come out as imagined. The second Stand Up was an anti-bully campaign PSA short which unfortunately was lost in post production, mainly from production errors and budgeting issues. After those two films didnít turn out the way I wanted I went back to acting school and began writing more short films, All Over Again being one, while I received a couple acting jobs in small independent films. I took up multiple jobs after the acting slowed down and with the assistance from my executive producers, together we began financing my current projects.
How would you describe yourself as a director?
As a creator Iím very meticulous. I know what I want for my end vision and I will do everything I can to arrive as close to perfection in my own perspective for the project. Most importantly Iím fair working in my productions.
Filmmakers who inspire you?
Terrence Malick, Stanley Kubrick, David Lynch, Woody Allen, David Mamet, James Cameron, Gus Van Sant, Lars von Trier, Sidney Lumet, Nicolas Winding Refn, Steve McQueen, Panos Cosmatos, Richard Linklater, Yorgos Lanthimos, Darren Aronofsky, David Fincher, Ang Lee, and many others have influenced me.
Your favourite movies?
My absolute favorite film is Into the Wild. Other films Iíve enjoyed: Tree of Life, Only God Forgives, Beyond the Black Rainbow, Eyes Wide Shut, Tape, My Own Private Idaho, Hunger, Elephant Man, The Deer Hunter, The Lobster, Fight Club, Oleanna, Titanic, Match Point, Total Eclipse, Taking Woodstock, Nymphomaniac Vol. I & II, Before the Devil Knows Youíre Dead, The Fountain, The Boondock Saints, Boys Donít Cry, Good Will Hunting and way too many more.
... and of course, films you really deplore?
Aside from the majority of mainstream movies, there is always some aspect to the creative process I can find enjoyable even with films I might not connect with.
Your/your movie's website, Facebook, whatever else?
Filmmaking/writing Facebook fan page: https://www.facebook.com/josephamcgovern/
All Over Again IMDb page: https://m.imdb.com/title/tt7009122/
Hush is up on IMDb with a trailer and production/BTS stills: https://m.imdb.com/title/tt7843928/
Anything else you're dying to mention and I have merely forgotten to ask?

Feeling lucky ?
Want to
search
any of my partnershops yourself
for more, better results ?

The links below
will take you
just there!!!


If you watch the film a second time and look a little deeper you will find more to the story, one example: Different level experiences of poetry being recited. I felt this was very important aspect to the story due to the Bus Stop Music Cafť was not only a location but a character in the film. And with the different levels of poetry being recited from beginners to professionals and in between it shows this was not a typical open mic night coffee shop - the audience encourages the performers to go on stage and are open to however experienced they were. In my opinion, having gone to many open mic nights and have been ďbooĒ off stage when I first began writing and performing, working my way up to clapping and ovations - I wanted to create a welcoming atmosphere and maybe it can help in the future for open mic nights such as this to have people become more open and accepting to performers and their stories.
Thanks for the interview!