Your movie The Divine Tragedies a.k.a. Blood Brothers - in a few words, what is it about?
It's a serial killer movie for the philosophically minded. Think Henry: Portrait of a Serial Killer by way of Zulawski's Possession.
As far as I know, The Divine Tragedies is loosely based on a real murder case from the 1920's. So what can you tell us about that one, what fascinated you about it, and how closely did you stick to the facts?
The Leopold and Loeb case was fascinating to me. The real case is quiet different than the direction I took, but there was something about a pair of cold-blooded intellectuals who wanted to experience the taking of a life that really dug itself into my imagination. We don't stick too closely to the real-world events, but there are easter eggs throughout for those familiar with the landmark murder trial.
Other sources of inspiration when writing The Divine Tragedies?
John Carpenter, David Lynch and David Cronenberg for damn sure. They make movies like no one else and they left a serious impact on my perception of filmic language, so I knew instantly I wanted to tell this through the skewed lenses they used for their films. When you see the film, you'll be able to see where there influences come through.
With the multitude of serial killer films around, what do you think will make yours stick out of the crowd?
Ultimately, it will stand out because it isn't really a serial killer film. It's about two half-brothers who let their ego run away with their imagination and it warps their perceptions of reality. It doesn't live in the grimy world of the serial killer genre, but flirts with it. It's not about blood and guts, it's an intellectually-minded study of the world around us and how reality and the people in our lives influence what we ultimately become and perceive to be the truth. It's a thinking man's carnage film. Plus and we've got some bizarre, never-before-seen visuals that will hopefully live on in people's minds.
What can you tell us about your directorial approach to your story at hand?
My idea since the beginning was that the camera was God. The audience is watching the movie, the unfolding of these events, through the eyes of God, who doesn't necessarily cast any judgements on the characters, but is there floating amongst them like the breeze. So I knew I wanted the camera to move a lot, but budget and time was a factor. Setting up dolly shots takes time, and steadi rigs are expensive. But my DP Kyle Stryker brought on his pal Mike, who owns a rig called a Movi. This is basically a handheld set up that allowed us to get these long, sweeping, uninterrupted tracking shots in less than half the time of tradition equipment. With this little baby we were able to get that God POV I was looking for and the film looks so much more cinematic because of it. But that's the technical side.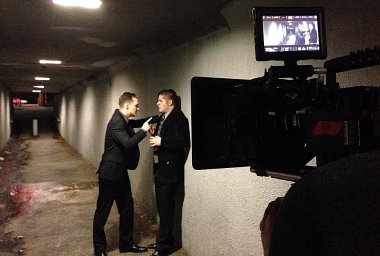 For the performance side, I wanted the actors to really understand what was happening. So many times you watch a film and you can tell an actor is "phoning it in" or really just not connecting to the material. It was imperative for me that Graham Denman and Jon Kondelik [Jon Kondelik interview - click here] knew who Charles and Thomas were, respectively. The same goes for the whole cast. You always want your guys to live and breathe the characters, but that's not always possible. However, this cast really delivered that and you will see Barbara Crampton and Ken Foree especially act like you have never seen them before.
Serial killer films usually suggest quite a bit of violence and gore - so how far does The Divine Tragedies go in that department?
Honestly, I find it quite a beautiful film. I wrote it from a very honest and melancholy place, wanting the experience of the film to genuinely mean something to the characters and hopefully the audience. I'm reminded that there are some extreme, graphic moments when fresh eyes watch the film and are taken aback by the sequences. But this isn't a gory film for the sake of gore. That's when blood becomes boring. I wanted all blood shed to mean something. No one will be wallowing in entrails in this one, but there is one incredibly fucked up scene that people will be talking about for a VERY LONG time, and it's not in there for whimsy's sake, it's a part of the character's perception of the world and so makes it an organic piece of the story, which is the only way blood and guts can really be sold.
Do talk about your key cast for a bit, why exactly these people, and how did you get them?
Well, I had invited Jon Kondelik [Jon Kondelik interview - click here] and Graham Denman over for a movie night one night because I wanted to show them this amazing film called COMPULSION with Dean Stockwell and Orson Welles. It's a version of the Leopold and Loeb case and I told them that I had always wanted to make this story and I saw them as these two killer characters. As soon as the movie was finished, Jon commissioned me to write the script and we were shooting the film 3 months later. It was truly just a thing that was meant to happen, I suppose.
Hiring Ken Foree, Sean Whalen and Barbara Crampton was a no-brainer. I'm a huge fan and when their names came up during casting, it was a simple decision to go out to them. Sean was the first I cast, I actually wrote the role for him and he said yes immediately. Ken and Barbara read the script, and I'm not ashamed of blowing myself a bit, but they absolutely loved it and were disturbed by it, but knew it was something they had to be a part of, which I will forever be honored by.
What can you tell us about the actual shoot and the on-set atmosphere?
I like to run a happy set. I don't want anyone grumpy, because that fucking brings me down. So I like to make my crew one big happy family. Everyone walked away smiling and sad to see it end, and that made me very happy. People were impressed from day one with the stuff we were getting and that is majorly important. If the crew smells that they're working on shit, they will do shit work in return. If everyone is on their a-game, especially the director who is the captain of the ship, then the production will be a smooth one.
Any idea when and where The Divine Tragedies might be released onto the general public yet?
We are weighing some nice offers right now and looking at a 2015 release.
Any future projects beyond The Divine Tragedies you'd like to share?
I am also currently working on a western script I wrote called A Magnificent Death from a Shattered Hand, which will be directed and starring Thomas Jane, with Jeremy Irons and Nick Nolte in the cast as well. We are hoping to roll in 2015, if all goes smoothly, but there have been so many delays, I can't say for sure. I will be working on a sequel to my 2013 film Hansel and Gretel that takes place 1 year after the events of the first one and is currently titled: Hansel vs. Gretel. That one will be out for Halloween 2014, I believe.
What got you into filmmaking in the first place, and did you receive any formal training on the subject?
I was an only child, so movies, books and TV became my siblings. I had a rocky childhood, so disappearing into fiction was a welcomed activitiy. I realized I had some aptitude and love for the creation of the medium, so I decided early on, around the age of 7 or so, that I would devote my life to writing and making movies, to hopefully inspire someone like I had been inspired, or at the very least to entertain folks for a few hours. I went to film school, got an associates degree, and never looked back.
Your directrorial debut was, I believe, The Monster Man - so what can you tell us about that one, and lessons learned from it?
I shot this one right out of film school with my best friends as cast and crew. I learned so much about marketing and editing and basically every facet of filmmaking on that that I wish I had skipped film school and used the money to make a bigger first film.
I did just that with my 2nd one, Corpses are Forever, which I am happy to say I shot on 35mm, something that is now a rarity. I wore many hats on that one too and burnt myself out, but I met my wife Jessica on that set so it has extra special memories.
Quite a few people might know your The Haunting of Whaley House - so do talk about that one for a bit!
The Haunting of Whaley House was my 3rd film and I loved every minute of making that one. I was hired to make a haunted house picture based on the true ghost stories and history surrounding the infamously haunted Whaley House in San Diego. I was pretty much left alone to make the film, and that's one of the reasons a lot of people notice the fact that it stands out from the typical haunted house film. We had very little money and very little time, but the cast was solid and we got to tell a fun and creepy, thrill ride. I got to work with friends and we just became this big, wonderful family unit. It was a fantastic experience and one of my favorite films that I've made.
Veronique Von Venom: Horror Hostess Hottie - you just have to talk about that one!
This was a fun web series I shot with my pal Mindy Robinson [Mindy Robinson interview - click here], who appears in The Haunting of Whaley House. It's basically Elvira as a valley girl, and is available on YouTube!
You have also written the ingeniously titled Mega Shark vs Mecha Shark - so you obviously have to talk about it, too!
This came to me from the producers of The Haunting of Whaley House. It's the 3rd in the illustrious Mega Shark series and I was honored that they came to me with it. I wasn't sure I was the right guy for the job at first, to be honest, but when I found that we could have a bit of fun with it, I jumped on board for the challenge.
How would you describe yourself as a director?
Jeez, I don't know. I'm passionate. I'm very detail-orientated. I like the actors to find small moments that make the scene feel more alive, and I will work with them on that. I never want to direct something that someone else wrote, I don't think I could be happy with that. All directors are control freaks and I insist on the words coming from me, whether I change them on set or not.
Besides working on films, you have also written quite a number of books, right? So what can you tell us about your books, and about Jose Prendes, the writer?
Writing novels is so much more satisfying, because at the end of the day you aren't getting any notes from people that divert or change the course of the story you first envisioned and fell in love with. Sure, you have an editor, and they will occasionally provide good advice, but for the most part you can tell them to make sure you just spelled it all correctly and they can fuck themselves with their opinion. Scripts are the quick and easy midnight snack, and novels are the sumptuous main course. In between movies, I usually write a book or two, just to refresh and embrace the world of words again.
I wrote a novel called Sharcano, which was about the apocalypse brought about by sharks from hell, and that has been doing very well on Amazon and in bookstores, and I will plunging into the writing of the sequel titled Sharks of the Living Dead. So you will all get a chance to finally see the zombies versus sharks battle we have been waiting for. There will be third book, whose title I can't reveal yet, but it will cap off what I call the Sharkpocalypse Trilogy.
Then I have a series of young adult adventure novellas titled Elementary, My Dear Watson, which features a young Sherlock Holmes and John Watson on this very first cases as 12 year olds in elementary school. Volume one is out currently and I am prepping to write 2 and 3, with a possible cartoon series in the works down the road.
Filmmakers, writers, whoever else who inspire you?

Feeling lucky ?
Want to
search
any of my partnershops yourself
for more, better results ?

The links below
will take you
just there!!!

Find Jose Prendes
at the amazons ...

amazon.com

amazon.co.uk

amazon.de
Looking for imports ?
Find Jose Prendes here ...
Something naughty ?
(Must be over 18 to go there !)

I'm inspired by madness, actually. But great, big, bizarre visionaries who have done things their way and were celebrated for it. Da Vinci is so fascinating. Rasputin is another mind-boggling character. Sun Tzu, Ernest Hemingway, Elmore Leonard, Napoleon, Howard Hughes; these guys inspire me to reach for bigger and better. As for filmmakers, I'd cite John Carpenter, David Cronenberg, Alejandro Jodorowsky, and David Lynch as guys who broke the mold of cinema, redefined it, and made it their own. That inspires me greatly to do the same, or at least die in the attempt.
Your favourite movies?
Jaws, It's a Wonderful Life, Monster Squad, those are my three films.
... and of course, films you really deplore?
Too many too name. But in general, I HATE THE LIVING GUTS OUT OF ROMANTIC COMEDIES.
Your/your movie's website, Facebook, whatever else?
Divine Tragedies can be followed here: https://www.facebook.com/divinetragediesmovie
The Haunting of Whaley House can be followed here: https://www.facebook.com/hauntingofwhaleyhouse
Thanks for the interview!