Your new movie Buzzard Hollow Beef - in a few words, what is it about?
A family, the Vollmers, gather for the Thanksgiving holiday weekend. Because of an unexpected guest (Bob) and his poultry allergy, they eat beef instead of the traditional Turkey dinner. The local butcher and his sons are suspicious when the family asks about the origins of their meat. When the Vollmers experience strange hallucinations, Bob realizes the locals are cannibals who have fed them human flesh and are going to eat them.
What were your sources of inspiration when writing Buzzard Hollow Beef? And was any of this based on personal experience ... or to put it another way, what were your worst Thanksgiving Dinners like?
I don't have any bad memories of Turkey Day, but this story does come from a specific time when I visited a small town in North Carolina with my wife and 6 month-old daughter. The locals knew just by looking at us that we were outsiders in their town and at times someone would actually call me out for being a "Yankee". I thought there's a good horror movie going on here. One lady stopped my wife and me in the street so she could see our baby. Then she got real quiet and said, "don't let anyone touch your baby." That was hella creepy and I loved it. Anyways, I just felt that everyone was so frightened of speaking with each other. There is a definite distrust between rural folks and urban folks in the USA and I wanted that to be shown or explored.
Also, I spent a lot of time in Portland, OR, and the food culture there can be overly political. When you have a baby you get a lot of unsolicited advice about everything and food is a big part of that. I wanted to make a statement about food and the politics behind it. It's another thing that divides us. People are paranoid about what they eat and what others eat. I don't think I'm better than anyone because of what I eat, I eat junk food, but I certainly don't push it on people's babies and I don't say, you have to breast feed your baby either. It's not a political movie at all, but I just thought it would be neat to show how far that paranoia could go.
What can you tell us about your co-writer Tara C. Hall, and what was your collaboration with her like?
Tara is not just my creative collaborator; she's my wife. I had this great idea for a horror movie that I just had to write and it took me a while, but I finally convinced to her to help me with it. We developed the characters and outlined the story together; then she sat down and wrote it. She's much more detailed than I am, so it works. I love to think on my feet and she likes to be grounded. We named our company A Man & A Woman Productions because we want to make movies together forever. It's tough because we fight a lot and we have kids and we try to share all the work creatively and at home, but that doesn't happen ever. It's a great collaboration! But sometimes it's not and I do all the work – kidding, she also wrote this interview to make me look smarter than I am.
Of all the lead characters in Buzzard Hollow Beef, who can you identify the most, actually, and who the least?
All of the characters have serious flaws, but each has something fun about them that I love. Joel is awesome because he's all about opening the doors of perception and trying everything. Paige is down for whatever and I love that. Bob is a goon, or a schmuck and pathetic and I find that part of him lovable. If I had to pick one I identify with the most it would be Bob, but I guess that's a character flaw that I might have.
How would you describe your movie's approach to horror?
I am very into classic horror, independent stuff with good characters, funny lines and practical effects. I knew I would use real blood and ears and hands and stuff, so when we wrote it we had all that built in. I also knew I was going to score it, so we had some sting moments that would have a Carpenteresque treatment. Other than that I just wanted to have fun. I made sure the set was fun with lots of comedians in the cast and the overall tone of the film is very tongue-in-cheek. We didn't have a big budget or A list actors, so we tried not to take ourselves too seriously as a production, but did our best to make an entertaining movie.
With Buzzard Hollow Beef being restricted to just one location for the most part, what were the advantages and also challenges filming there, and what kind of a challenge was it to keep things interesting?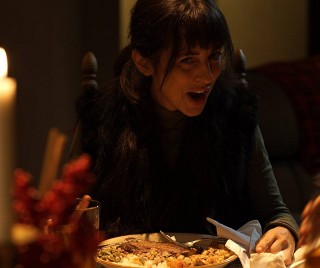 We had hardly any money. I take comfort in seeing films in the theaters and on Netflix and knowing that I spent 10% of what they spent. The locations on this film were a dream come true. We shot nearly the entire film at friend's houses in the small town where I grew up. I felt so blessed to get the help from people who I knew in high school that are now business owners and the like. But really you want to know what it was like at our main location? "THE DOME"!? It's a geodesic dome (if you don't know what that is, please look it up) that is a little run down because it's very hard to heat and no one wants to live there during the Washington winters. The driveway was nothing but mud and our lighting truck got stuck pretty bad. We had people sleeping there, which turned out to be a really bad idea - obviously. Because of a storm the power went out. Then the septic tank backed up and we had to stop going to the bathroom. But yeah, our shoot was only 16 days, so we had that going for us.
Do talk about your overall directorial approach to your story at hand!
This is something that was very intangible on set or to me. I typically direct reality TV (don't even get me started) so I know how to shoot a scene with no knowledge of what the scene is until I'm standing there on set. In feature film making that is not ideal, so I prepped as much as possible, but we didn't have much time for that, but we did what we could. We also, had next to no time to shoot Buzzard Hollow Beef so I fell back on some of this "run and gun" directing style to get what I needed and it worked well. We did not rehearse, which is bad for actors, camera, and for the director. We did not know certain locations until a few days before shooting, which is really bad for lighting and blocking and storyboards. But I knew that I could rely on thinking on my feet at any time. I'm not afraid of going in completely raw and just doing a scene without a net, but again this is not ideal and I don't condone any of this behavior. If I had to name my directorial style I'd call it "going with the flow."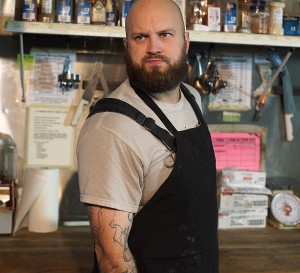 What can you tell us about your key cast, and why exactly these people?
A few of the actors we worked with on shorts, like the lead, Emily Letts who plays "Jordan" and Gabriel Caste who plays her brother "Joel". It was a combination of improv actors we knew in LA and local actors from the Pacific Northwest, and even some non-actors who we liked. I can't say enough about how hard everyone worked and the magic that happened when these perfect strangers met each other and became a family. I think you might be able to pick out some of the bad acting by total non-actors who might not have liked being on set, but I think being surrounded by loving, giving and talented people they were able to rise above that. They are going to think twice before they walk on a set, but I know they had a great time.
A few words about the shoot as such, and the on-set atmosphere?
The DP walked up to me one night after wrap when everyone was still on set drinking and dancing and said, "now I get why you were bugging me about my crew and asking if we were friends, asking me about if I was fun or liked to party? You only hire fun people."
Then, maybe even that same night, I dislocated my knee-cap. I was dancing and it just popped. I was in a lot of pain on the floor and I opened my eyes to see two of the guys picking me up and carrying me out to the car to rush me to the hospital. I directed the rest of the film on crutches.
The $64 question of course, where can Buzzard Hollow Beef be seen?
I can't wait to tell you. I promise to update you with screenings and distribution information. We will also post on our website and the movie's Facebook page.
Anything you can tell us about audience and critical reception of Buzzard Hollow Beef yet?
You're the first critic, but you won't be the last. Immediately after a cast and crew screening, Doug Perkins who played "Bob" pulled me aside and said, "don't take this the wrong way, but this film was much better than I thought it would be." That about sums it up.
Any future projects you'd like to share?
Tara and I are developing a serial killer thriller called God's Work Is Never Done. It takes place in the Pacific Northwest. We've gotten mixed reactions from readers, everything from "personally I felt disturbed in the worst possible way" to "It's not easy to make your audience "root" for an emotionless psychopath, but you've managed to pull this feat off superbly." Hopefully we'll have more information soon about production dates.
What got you into filmmaking in the first place, and did you receive any formal training on the subject?
I've been really into taking photos and making little things with my dad's 8mm since I was in high school. When I was around 13 or so I wanted to be a special effects person. I loved Alien and The Thing and Terminator and stuff like that. I wanted to make stuff that was so real and gross it would really frighten people. That's where it started, but I think I've grown a lot since then. In college (the Evergreen State College) I watched tons of experimental films and documentaries that changed my perspective a lot.
What can you tell us about your filmwork prior to Buzzard Hollow Beef?
Well, I've done some independent stuff, but mostly I have a career in Reality TV. I never thought I'd be here, but I'm bad at networking or figuring out what I want or maybe both. I moved to LA and thought I'd get into scripted work right away but that didn't happen. This film is my way of showing people I can do it. Even if it is a little tiny nobody film, we did it and we're proud of it. If I learned anything from my career it's that you need to D.I.Y. or DIE – the cavalry is not coming.
How would you describe yourself as a director?
6-foot tall white guy with a beard.
Filmmakers who inspire you?
I go through filmmakers like music. I might love jazz on one day and then switch to black metal, so don't nail me down. Lina Wertmuller is on my mind right now, but I was all John Carpenter a few months ago. I love the new Twin Peaks right now and I think Lynch is finally moving into the deepest phase of his deep phase filmmaking.
Your favourite movies?
I really like Cronenberg's early work. I love Alien and The Thing. And I like Contempt (Bertolucci) and Le Mepris (Godard). And I like Conan and The Goonies. I like Dirty Mary Crazy Larry. I like To Have and Have Not and all things Howard Hawks-related. I like Hellraiser - the latest book The Scarlet Gospels should be a movie and I wish I had the juice to make that happen. I love the stuff that Jeremy Saulnier has been doing - Green Room especially was like a time machine to my teenaged years. There are some pretty fucked up skinheads hiding in the PNW. Also, I Don't Feel at Home in This World Anymore and Get Out were revelations in filmmaking this year. If one or two movies like those come out every year then we can all rest assured that goodness still thrives on Earth.
... and of course, films you really deplore?
Oh, this is neat. I watch bad movies as a regular thing, but I never really get to openly hate stuff. Glitter is one of the worst movies I've ever seen. So was American Psycho 2 – I guess I didn't realize it was a comedy? I don't like Adam Sandler movies at all and in fact, he bothers me so much that I think I would have to have a serious talk with him if I ever met him.
I have never seen, nor will I ever see any of the Jurassic Park movies. It's not that I don't like Spielberg; I just think he's created a moviemaking machine where he doesn't really do anything as an author or filmmaker. I like folks who are responsible. I feel like Close Encounters was responsible, but if you look at the amount of movies he EPs these days, I can't imagine he could have anything to say about any of those movies that effect the creative input whatsoever. I think that's criminal, but I guess it's really not his fault. We as the audience have made the system.

Feeling lucky ?
Want to
search
any of my partnershops yourself
for more, better results ?

The links below
will take you
just there!!!


Your/your movie's website, Facebook, whatever else?
All this stuff is about to change. The addresses won't change, but we're updating them now, so they'll be different when the movie drops.
https://www.facebook.com/buzzardhollowbeef/
Anything else you're dying to mention and I have merely forgotten to ask?
I really want to make a film about a group of young kids awakening the grotesque, dwarf's statues in the park in downtown Salzburg but I don't have the story yet. Do you know about those statues? They are out of nowhere, right?
Thanks for the interview!