Your new movie Comfort - in a few words, what is it about, and what can you tell us about your character in it?
Comfort is a grounded feel-good foodie romance between two 20 something's figuring out this life thing. I play the character of Jasmine who is a stubborn, smart, vivacious gal straight out of college, and the daughter of a hot sauce business mogul.
What did you draw upon to bring your character to life, and how much Julie Zhan can we find in Jasmine?
There's surprisingly more Julie Zhan in it than most people think haha. I usually play quirkier, crazier characters, but Jasmine is very much a (more normal, grounded) side of me that I don't get to play as often. I love acting because we get to explore different facets of ourselves within each character, and what I learned from Jasmine is to be more confident and certain. But she's still got her cute, charming side.
To what extent could you identify with Comfort's overall theme actually?
I resonate so much with Comfort! And I think most people relate to these very universal themes, set within unique circumstances. The film touches on concepts of following your heart and dreams, figuring out who you are, parent-child relationships, our (my) obsession with food, and how lovely it is to be so open and human with someone else.
What got you involved with the project in the first place?
Chris Dinh, Comfort's very talented leading man, called me up one day, told me to come help read a script out loud, and then I jumped in his jeep and we went on a road trip to find Will. I fell in love with the script, they said "thank you, don't call us, we'll call you…" hahaha just kidding. They were very nice but the project was still very much in the infant stages of development, but I was lucky enough to get to officially audition a few months later. And the rest was history J
Do talk about your director William Lu, and what was your collaboration with him like?
Will is such a lovely director—very very collaborative, respectful and welcoming of our input, and gave me so much freedom to play and throw in some weird improv (Chris and I are a handful). I was a really lucky girl.
What can you tell us about the shoot as such, and the on-set atmosphere?
Will and the crew definitely spoiled us! Comfort singlehandedly made me realize what I love about acting the most: the collaborative environment of a group of wonderful, talented people coming together with the common goal of creating the best version of this film, and that's what our cast-crew-set-atmosphere felt like. It was family. My dad (Hot Sauce King Dad) Kelvin Han Yee even cooked dinner for Will, Chris, and me during one of our rehearsals, and food really truly is the way to my heart.
Any future projects you'd like to talk about?
I'm always scheming the next few projects for my YouTube channel, ShutUpAndDance and am also collaborating with some fantastic YouTubers like Whitney Avalon (Princess Rap Battles). My next feature film, The Reign, is currently up for IndieWire's Project of the Year (please vote on their site!). I have a show at the Electric Lodge coming up April 27-29, and I'll be doing some college tours and film festival rounds throughout April, so catch me around the US.
What got you into acting in the first place, and did you receive any formal training on the subject?
My mom caught in re-enacting a scene from "Hey Arnold" when I was a wee little thing, and I remember writing in my 5th grade assignment that when I grew up, I'd be an actress, so I always knew. Acting and dance are my favourite things in the world. It's my avenue through which I best connect to others, and I love telling stories, promoting empathy and understanding, and challenging the limits of my freedom of expression. I did plays throughout high school and college, but Asian genes = business major and engineering minor. I've since been full-time training and working as an actor in LA.
What can you tell us about your filmwork prior to Comfort?
I had been involved in a few other features and shorts and several TV shows, but Comfort was my first leading role in a feature.
Besides being an actress, you're also a dancer and dance choreographer, right? So do talk about that aspect of your career, and how does it compare to acting, actually?
Dance will always be my first love. I actually came out to LA torn between pursuing acting and dance, and found clarity in knowing that I wanted acting to be my career and dance to be my fun passion. I make sure I allocate enough time every week/month to still train in dance, go to jam sessions, and create/be a part of dance projects. I also perform dance at college tours.
Any other talents of yours you'd like to share?
The 3 things I'm best at in life: acting, dance, and encouraging people J
How would you describe yourself as an actress, and some of your techniques to bring your characters to life?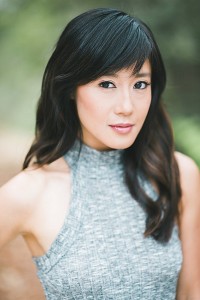 Feeling lucky ?
Want to
search
any of my partnershops yourself
for more, better results ?

The links below
will take you
just there!!!


The exciting and challenging thing about acting is there is no one process. Every single character is different, and requires me to think outside the box. I've accumulated a toolbox of general techniques (Meisner, substitution, imagination work, physicalization, etc etc) that I can apply to any of my roles as a starting point, but from there, I have to see how similar/different I am from the character, do a lot of research, and then just play. Fail, try, fail, try, play until I feel the character in my body… wow… is this what actors sound like?
Actresses (and indeed actors) who inspire you?
Oh my gosh…Gene Kelly!!!!! Viola Davis, Adam Driver, Taraji P. Henson, Julie Andrews, Meryl Streep, Leonardo DiCaprio, Ryan Gosling, Cate Blanchett, Eddie Redmayne, and of course, Jackie Chan J
Your favourite movies?
La La Land! Her, Amelie, Singing In The Rain, Chung King Express, Drunken Master, everything Jackie Chan, Howl's Moving Castle, everything Miyazaki!
... and of course, films you really deplore?
Wow…I can feel directors blacklisting me now haha. I'll just say really cheesy, over-the-top comedy and anything with bad acting…
Your website, Facebook, whatever else?
IMDb: http://www.imdb.me/juliezhan
Instagram: http://www.instagram.com/dancejujudance
Twitter: http://www.twitter.com/dancejujudance
Facebook: http://www.facebook.com/juliezhanofficial
Website: http://juliezhan.com
Anything else you're dying to mention and I have merely forgotten to ask?
I have a hamster named Ponyo. I can write backwards. And Chris Dinh friendzoned me J
Thanks for the interview!