Your movie Amityville: Vanishing Point - how did you get involved with the project in the first place?

I originally met the movie's director Dylan Greenberg [Dylan Greenberg interview - click here] on the set of our friend Rev Jen Millerís movie Werewolf Bitches From Outer Space in the summer of 2015. Dylan was helping Jen film the movie and I had a small role as an extra. After working on the set with Dylan, about a week later she had asked me if I would like to be in her film Dark Prism. I had such a great time working with Dylan and eventually we became friends. Over the winter Dylan had asked me if I would like to play Hank Denton in her new film and it seemed like such a fun character and movie that I was on board instantly

You've also been one of the writers of Amityville: Vanishing Point - so do talk about the writing process for a bit, and what were your sources of inspiration?

Dylan deserves the credit for writing the film, the plot, settings, characters and once the movie was in production we would discuss some ideas on set and on some occasions we would come up with some additional ideas but as far as the film in its entirety Dylan is the brains behind it all. I would say if I deserve any credit itís mainly for working on the character of Hank Denton and maybe a few ideas here and there. Dylan is so hands-on with everything and everyone and is open to your input and it just makes it that more special to be a part of, and feel like you're a part of...

Let's return to your character: What did you draw upon to bring special agent Denton to life, and did you write him with yourself in mind from the get-go?

I'm new to acting and pretty raw, so I feel like Iím just going with the flow. I imagine the character in my mind and then I start to spend time forgetting I am myself. The closest thing I can compare it to would be like a method actor, but since I have no formal training, I feel like it wouldn't be fair to consider myself a method actor, or any type of actor, so I guess itís just real life experiences that inspire me from events in my own life combined with many influences from films, books, stories, real life history. Having all of those different things to draw upon and I think just being sincere is my formula. I feel like you want to keep some type of traditional aspects of the character you are creating as well being original and authentic, yet traditional can be tricky. Do something that has never been done and create what he would be like based on my own experiences, and also I was influenced by Lefty, Dennis Hopper's character in Texas Chainsaw Massacre 2, well Dennis Hopper in general, he is one of my biggest influences. Combine that with a lot of beer, bourbon and bad habits and you have special agent Hank Denton! Corruption of the law and abuse of power, stalking women, gambling at the track, selling cigarettes to children, purchasing alcohol for minors, smiling at funerals, that type of stuff!

What were the challenges of making Amityville: Vanishing Point from a producer's point of view, and how hands-on or hands-off are you as a producer?

Dylan really makes it easy and you know, for me since I am kind of new to all of this Iím really learning a lot as I go. It doesnít even really feel like I am producing anything, or even acting for that matter when we were making the film. I was just having the time of my life and plugged in to what we were doing, and trying to make myself useful and available in any and every way.

Some of the specifics I would say from what I am learning is the expense part of making a film, the coordination of the cast and crew and how to get everyone together. Transporting people to locations for filming, taking care of everyone off camera when we are between filming. I think just helping out with things like that is why I got credit for producing the film with Dylan, but t the time it just felt like these are normal things I would do in my everyday life, it didn't really feel like I was producing a movie, just a part of something special.

What can you tell us about Amityville: Vanishing Point's director Dylan Greenberg [Dylan Greenberg interview - click here], and what was your collaboration like?

Dylan fucking rules!!! One of the brightest and most fun people you could know. And Dylan is just getting started, and I feel like she has done more as a teenager than most people do in a lifetime. Iím really happy to be a part of Dylanís world. I am a big fan.

Collaborating with Dylan is basically effortless. We share a lot of similar interests and I feel like we communicate easily, get where the other is coming from, and there is never a dull moment, itís very exciting. Also it's great to feel like you are part of something, part of a family. Everyone involved is incredible, I am blessed to be around some amazing people and truly grateful. I feel like these are some of the best people I have gotten to know, and I hope to do many more projects with Dylan and the rest of the Disck Pictures family.

Do talk about the shoot as such, and the on-set atmosphere?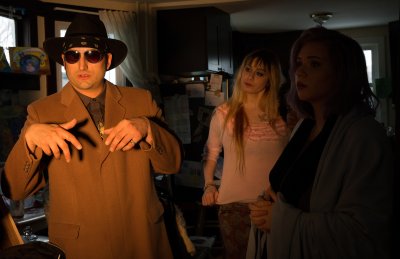 Good times. Everyone is great to work with and I feel like Iím meeting new people with every project and Iím having the time of my life. I almost donít know what to do with myself when we arenít making a film. On set of Amityville: Vanishing Point I was very comfortable and especially as the movie progressed, you just naturally start to absorb the character and the atmosphere and it really becomes special, almost like you are in an alternate reality, an escape from the everyday world and into our own. I had already met and spent time with many of the actors and others involved with the film, which made it easier to for me to work with them. The locations we went to were a lot of fun also and I feel like I'm getting a chance to see a lot of new places I normally wouldnít go to or know about. Everyone works well with each other, so the on-set atmosphere is great. Itís better than real life. I wish I could just live in the Amityville: Vanishing Point realm from now on and be Hank Denton for the rest of my life... that guy really gets away with murder! LOL
Any future projects you'd like to share?
We have a few projects we have been discussing and are in the the planning stages of a new film. I should probably keep the details on the DL for now, but itís coming soon.
What got you into the filmworld in the first place, and did you receive any formal training on the subject?
I started acting in the summer of 2015, when my friend Reverend Jen Miller asked me to be an extra in her film Werewolf Bitches From Outer Space, which comes out this summer and stars an amazing cast of people including Janine Garofalo and Robert Prichard. On the set I met Dylan and a few weeks later Dylan invited me to be in her film Dark Prism. I still consider myself a neophyte to acting but I love it and can't get enough of it and I feel like I am learning as I go.
What can you tell us about your filmwork prior to Amityville: Vanishing Point, in whatever position?
I first had the role in Werewolf Bitches From Outer Space, which was just a small part. Then I had a role in Dark Prism as President Bacel. Amityville: Vanishing Point is my 3rd film. Prior to that I had spent most of my life as a singer songwriter with projects such as my rock band The Slut Junkies, my hip hop crew Poison Farm, and I occasionally co-host the Rew & Who Show in NYC. Iím still pretty active with music and working on Rewís show.
Filmmakers, writers, producers, actors, whoever else who inspire you?
When it comes to inspiration I feel like everything inpires me, for better or worse. Everything in life, the more you can take in and absorb, the more you will be inspired. Whether a positive or negative experience it's still an expirience.
I am inspired by all sorts of people, places and events in history and many other things such as science and the universe, existence itself inspires me.
But to name a few speficic people, off the top of my head...
Dennis Hopper, Robin Williams, Charlie Chaplin, Harpo Marx, Vincent Price [Vincent Price bio - click here], Jack Nicholson, Robert De Niro, Stanley Kubrick, John Waters, David Lynch, Scorcese, Tarantino, George A. Romero, Tim Burton, Stephen King, Poe, those type of people have the biggest inlfuence me as well as many musicians and artists and historical figures throughout time.
Your favourite movies?
So many, movies are great. I like fun movies, I like a good suspense film, I love horror, dark comedies, the list goes on forever and my life is always changing but to name a few off the top of my head ... Texas Chainsaw Massacre (parts 1 and 2), Day of the Dead, Serial Mom, Blue Velvet, Full Metal Jacket, Apocalypse Now, The Fisher King, Dark Prism, Nosferatu, Maniac, Savage Streets, Friday the 13th part IV, God Bless America, Shakes the Clown, To Live and Die in LA, Reservoir Dogs, The Lost Boys, The Shining, Taxi Driver, Goodfellas, the Marx Brothersí Monkey Business, The Hunger, Another Day in Paradise, Wild at Heart, Vampireís Kiss, Mulholland Drive, Pink Flamingos, Nightmare on Elm Street, and just a few that come to mind... but there are so many great movies I could spend a week naming them...
... and of course, films you really deplore?

Feeling lucky ?
Want to
search
any of my partnershops yourself
for more, better results ?

The links below
will take you
just there!!!

Find Jurgen Azazel Munster
at the amazons ...

amazon.com

amazon.co.uk

amazon.de
Looking for imports ?
Find Jurgen Azazel Munster here ...
Something naughty ?
(Must be over 18 to go there !)

For me, any movie that is over produced with too many digital/computer effects. In my opinion those type of movies don't allow you to use your imagination. I like the vintage stuff, give me Ewoks and Muppets over Avatars and Minions anyday - I feel like back in the day you had to think outside the box and be creative when making a film, now computers do it for you - I feel like if itís overdone then it also creates your imagination for you, which is something you should do yourself. I used to like when movies seemed like movies, you knew it was just a movie and even if somethings werenít precise, your mind would fill in the blanks, and that's healthy for the brain. Today itís handed to you almost too often, it makes it harder to create your own perception, and using your imagination is a wonderful thing. I am also not a fan of movies with no substance or no plot or twist. I get tired of films that are just nonstop explosions with no story line....
Thanks for the interview!