Your new movie Winners Tape All: The Henderson Brothers Story - in a few words, what is it about?
Winners Tape All: The Henderson Brothers Story is basically a mockumentary about two stepbrothers who made two direct-to-VHS movies back in the '80s and how their films were rediscovered by the recent interest in vintage horror VHS. It's kind of like the British show Garth Marenghi's Darkplace, but geared toward fans of shot-on-video movies like Cannibal Campout, Video Violence, Sledge Hammer and 555.
With Winners Tape All: The Henderson Brothers Story being centered around shot-on-video horror filmmakers of yesteryear and today's VHS collectors - your personal thoughts on the subject? And when have you bought your first and your last VHS, actually?
As far as shot-on-video horror filmmakers, I look at them as an inspiration. When I first discovered shot-on-video movies at the video store, it made me decide that I could make my own movies that could make it to those same shelves. Even though I can't get behind all of the films - and I'm sure people think the same thing about my work - the simple fact they got the movie finished and out there is an amazing accomplishment.
Today's VHS collectors are very interesting to me. It's fascinating that these folks are out there cataloging and celebrating unsung gems that would've been lost if they hadn't stepped in. While some of the price-gouging aspects are kind of upsetting and claims of "VHS is better for horror" is kind of exaggerated, it's impossible to deny that VHS making a comeback in the past five years is fascinating in a lot of ways.
My first VHS was probably a copy of The Land Before Time my mom bought for me, and I watched repeatedly as a kid. But for the sake of horror films, I can say the first horror movie I ever watched on VHS was The Gate and the first VHS horror movie I bought on my own was an Anchor Bay VHS of Evil Dead 2 when I was in like 5th grade. I paid $5 in change I had saved up at a Wal-Mart for it. The last ones I bought were a stack I picked up at a horror convention about a year ago... I still haven't watched them, but the titles were The Surgeon, Midnight and Matinee (the Joe Dante flick).
While Winners Tape All: The Henderson Brothers Story is fictional of course, to what extent did you include your own experiences as an indie filmmaker and anecdotes from indie sets in your movie?
Well, much like the Henderson Brothers, I was inspired to make movies by seeing shot-on-video movies in the video store and thinking, "Hey, I can do that too!" Also, the clips of the early Henderson Brothers movie are actually clips and outtakes from a feature film I made when I was 16 called Raising the Stakes. There are a few other little aspects inspired by our previous work or things I'd said to my cast and crew - for example, I told Joshua Lively he had "that leading man look" as teenagers and he's been the lead in all my movies - and things inspired by actual events that happened during the production - like writing around rain and Josh announcing he was moving to Las Vegas during pre-production. But other than that, it was all fictionalized.
Other sources of inspiration when writing Winners Tape All: The Henderson Brothers Story?
To be completely honest, I watched Cannibal Campout at least three times (and once with commentary!) while writing the scenes for Curse of Stabberman and Cannibal Swim Club. Also, I used to do a podcast and interviewed a guy named Clint Kelly that sought out the filmmakers behind Sledge Hammer - the first shot-on-VHS movie to hit home video - and later worked on films with them and learned a lot. Between that interview and becoming friends with Louis Justin of Massacre Video - who has multiple crazy stories of finding SOV filmmakers - I knew I had a good framing device for a movie. But the biggest inspiration was definitely Garth Marenghi's Darkplace, which is a British comedy show that's framed as an old '80s sci-fi show being rediscovered and broadcast with interviews from the creators. It's the most pitch-perfect attempt at making something look intentionally old and cheesy and I can't deny its influence.
What can you tell us about your co-writers, co-producers and stars Zane Crosby and Joshua Lively, and what was your collaboration like on Winners Tape All: The Henderson Brothers Story?
Well, Josh, Zane and I have been best friends since we were 14 years old and they've been central collaborators in all of my films. We have a Trey Parker and Matt Stone type of collaboration where we pretty much just try to make each other laugh and hope the audience is entertained as well. For this movie, the collaboration was a bit different. We usually spend a lot of time writing and shooting, but it had to change a bit because we all lived in different cities.
I had come up with this idea back in 2010 and shot some b-roll for the VHS collecting segments, but abandoned it shortly afterward. After we were all itching to make something new, I brought it up again because I figured we could shoot it piecemeal over time and see what came out of the footage, then finish with wraparounds at the end. This plan was quickly changed when Josh told us he was moving with his girlfriend to Las Vegas. It was completely out of left field... like, he pretty much mentioned it in passing in a text message, so casually that Zane and I weren't sure if he was serious. When I found out he was, I decided to scrap the piecemeal idea and just get his scenes done in as much time as we had left.
You have worked with both Zane Crosby and Joshua Lively before - so do talk about your previous collaborations, and how have you first met even?
Remember that Evil Dead 2 VHS I mentioned? Well, I had it in my backpack during a junior high school marching band practice and Josh saw it and we started talking about the whole series. Zane was friends with Josh and I was introduced to him, though we had met before through a mutual love of Evil Dead. Zane was wearing an Evil Dead shirt with Ash holding a chainsaw and I randomly went up to him to rant about how I hated that poster, because Ash never actually used a chainsaw in the first movie. We later started hanging out, rented a ton of horror movies and discovered we were all interested in making our own movies.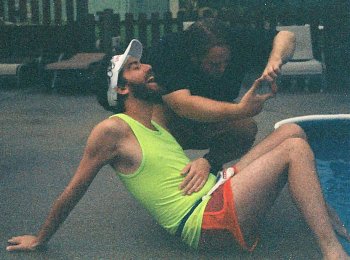 We started making silly shorts on a Digital8 camera and eventually, I started running Troma's official fansite and founded a small film festival, which allowed me to gather contacts and information on making movies. Josh and Zane are a year older than me and were set to graduate in 2005. I figured they'd leave for college and we'd be done making movies and I wanted to have something to show for our work other than some pretty embarrassing short films. That's when we made Raising the Stakes, which I funded on spending money for a school trip to Disney World that I pocketed. I wrote the script, which we actually followed a lot of, but Josh and Zane were fond of improvising on the set, often coming up with stuff that was better than what I wrote, so I went with it. This kind of set the mold for how we work. Raising the Stakes is not a very good movie, because it's a bunch of inexperienced teenagers trying to make a Kevin Smith vampire movie, but it managed to get a pretty good response and the funds for our next movie, a teen-romance-zombie-comedy called Die and Let Live. I wrote it as a completely different movie, because Josh didn't want to be the lead. We shot one day using my original script and it just didn't work, so we got together and reworked it, while also finding some other investors, and shot the final version a year later. Die and Let Live was kind of a dream come true, because I got to screen it at a movie theater I had started working in my freshman year of college, and we got a distribution deal through Heretic Films. That was always the dream - to get a movie on video store shelves. Unfortunately, we were a few years too late and even though Heretic got us into a lot of great stores, the DVD market dried up and they went out of business.
After that, I did a short film called Mike Wuz Here for an anthology called Faces of Schlock with our friends Henrique Couto, Chris LaMartina [Chris LaMartina interview - click here] and Andrew Shearer. We each directed a segment of the film. I'm really proud of Mike Wuz Here, because I got to shoot it in the movie theater where I worked (now closed, sadly) and it's a really different concept about a ghost working at a movie theater who is trying to be run out by the new manager who has a prejudice toward ghosts. It was a lot of fun dealing with such a heavy subject like racism is such an absurd way and I think we managed to do it without looking like total assholes. We also collaborated on a mockumentary webseries called 2 Dudes and a Sweet Prince, which is kind of like a slacker version of The Office about two roommates and their magical pet cat. We had a lot of fun doing that, because it was pretty much all improvisation and the mockumentary format really opens up a lot of opportunities for jokes you can't get in a standard narrative structure.
Back to Winners Tape All: The Henderson Brothers Story: Also talk about your third key castmember, the catalyst if you may, Chris LaMartina [Chris LaMartina interview - click here], an indie filmmaker in his own right, for a bit, and why did you cast exactly him?
I met Chris at a HorrorFind Weekend in Baltimore when we were teenagers. I remember I met our mutual friend, Henrique Couto, that same weekend and he introduced Chris to me as "my wop, Chris." I later saw a short film of Chris' and started chatting with him on AOL Instant Messenger. I soon put two-and-two together and said, "Hey, I think we've met... aren't you Henrique's wop?" He replied with something like, "Uh, yeah... Henrique thinks racism is really hilarious." We've been friends ever since. Of the Faces of Schlock crew, I definitely think Chris is the most talented. He and his partner in crime, Jimmy George, never cease to amaze me with what they accomplish. They come up with some real high-concept stuff and I always think there's no way they can pull it off at such a low budget, and they've done it every time. I stopped in for a few days to help out with his film President's Day and it was the most professional microbudget film set I've ever seen.
Chris was cast because he was on a work trip and drove near my apartment during production. We went out to lunch and I showed him some of the scenes on my phone and he said, "Can I be in this movie?" I thought he'd be perfect for the part and I went to Baltimore to shoot his scenes after we finished the bulk of the film. That day was interesting, because Chris' band, Pure Junk, were opening for one of my all-time favorite bands, The Dickies, later that night AND he was going into surgery at like 8am the next morning. That's a real sign of his talent and dedication
You also appear in front of the camera in Winners Tape All: The Henderson Brothers Story - so do talk about your character for a bit ... as well as the rest of your cast!
My character didn't even exist in the script! We got rained out on one of the only days we had left with Josh and had to improvise, so I ran in front of the camera to have that work out. Originally, I was going to play the part Chris LaMartina went on to play, but it wouldn't work with me being in the actual movie segments, so I had to change that.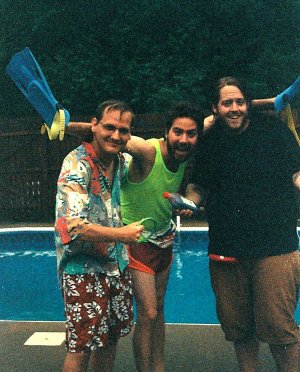 The rest of the cast are made up of people we'd worked with in the past that hadn't moved away and still wanted to help, except for Laura Ciarolla, who is Zane's fiancée and was gracious enough to let me not only kill her on camera, but also was fine with the extended joke about Zane's character not being fond of her character, and Madison Whiting, who was cast by Steve McElroy and was a great help around set. She was game to shoot in the pouring rain, helped out with setting up equipment and props and was just all-around great to work with. Steve is another actor we love to work with. He was a friend of my older brother's who went on to become a local theater actor, which is a great resource for someone young making movies. He's been so great throughout all the movies we've made and we couldn't have done a lot of things without him... especially on this movie, because we wouldn't have two major characters in the Cannibal Swim Camp segment and it would've just been Josh and Zane.
Another new member was Vincent Renfield from the horror-punk band The Renfields, who played Stabberman. The movie wouldn't be the same without him in that ill-fitting jumpsuit.
Winners Tape All: The Henderson Brothers Story takes the mockumentary approach to things - so do talk about that aspect of your movie for a bit!
As I mentioned, it was mainly brought on by our webseries, 2 Dudes and a Sweet Prince,"and our blatant ripping off of Garth Marenghi's Darkplace. It just was an interesting framing device for a horror comedy anthology. We had so much fun doing it with a straight comedy that we wanted to find a way to bring it into a horror film.
You also have to talk about the amazingly authentic looking clips from The Curse of the Stabberman and Cannibal Swim Club for a bit, and how much effort and also fun was it to make them?
Originally, I planned to shoot them on Super8 and VHS, but when we had to shoot quickly with little room for camera problems - and with no money other than what I could pay for out of my own pocket - I had to scrap that plan. I decided early on that if I couldn't shoot it on VHS natively, I wanted it took like a really bad film production that was edited on video instead. We shot it all in HD, then I spent a lot of time in AfterEffects making it look like a bad Super8 or 16mm film print. Once that was done, I made a 4x3 DVD and dubbed that to VHS. I managed to find an SVHS-to-MiniDV VCR at a Goodwill for $10 about a year earlier, so I dubbed the VHS tape back to MiniDV with that and the results were pretty surprising. I've had people tell me they swore we really shot it on film and edited on VHS.
We also spent a lot of time on set creating intentional continuity errors. I discovered it takes just as much planning to create continuity problems as it does to avoid them!
What can you tell us about the shoot as such, and the on-set atmosphere?
The shoots were mostly really laid back and a lot of fun, though the worst day was when we shot all of Josh's scenes for Cannibal Swim Club. The entire summer 2015 was a rainy mess and we got lucky with the day we shot the bulk of Curse of Stabberman."The weather forecast didn't look good for the one Cannibal Swim Club day we had with Josh, then the day before, it looked clear. We started shooting and about one scene in, we got hit with torrential downpours. I thought we were completely screwed, but the cast started coming up with ways that we could work around it and it actually made the movie better - and more realistic, in my opinion. Weather always screws with filmmakers shooting outdoors, so it needed to be represented. After that, no one really cared about being in the cold rain... it was like we took back summer from the shitty weather. Though it was disappointing when we came up with a funny gag involving the rain and when we were ready to shoot it, the sun started shining again. By the end, it was pretty much just Zane and I bringing people out for pickup shots. That's when it was most laid back. I think the final day, we only did some gore effects inserts and it literally took us about 5 hours to do maybe a minute of screen time. It wasn't that it took a lot of prep work, we just took our sweet ass time, because we were in the home stretch and ready to just relax.
Anything you can tell us about audience and critical reception of your movie yet?
Well, it's still pretty early, so really only friends and a few reviewers have seen it. So far, it's been positive. We pretty much set out to make something funny and entertaining that horror fans and general comedy fans alike could enjoy, so I hope that ends up working out for us.
Any future projects you'd like to share?
I hate mentioning any films I'd like to make in interviews, because I inevitably talk about an idea I end up hating and never wanting to do. The worst was when I went on about a seed of an idea in Gregory Lamberson's [Gregory Lamberson interview - click here] book Cheap Thrills that I never went on to make, but there it is in print forever for people to wonder what the hell I was talking about.
But I do have a music side project called Portopak and I'm working on getting a new album out soon. It's an experimental chiptune rock project where I program music on two Nintendo Game Boys and play guitar over it. Actually, a lot of the score for Winners Tape All: The Henderson Brothers Story were unfinished tracks from the album or previously finished tracks. You can check it out over at http://portopak.bandcamp.com or on Spotify, iTunes, etc.
What got you into filmmaking in the first place, and did you receive any formal training on the subject?
Well, I kind of got a bit into that earlier. But apart from horror movies, I'd say my only formal training is being a Troma fan. Running my Troma fansite gave me the opportunity to interview some fantastic filmmakers and screenwriters like Buddy Giovinazzo, James Gunn, Onur Tukel, Trent Haaga and more and they all gave me a bit of advice and support that helped me along. Apart from that, I have to give credit to my junior high teacher, Mark Tankersley, who got a grant to get digital video equipment for a school TV show and pretty much let me teach myself how to use the camera and editing software. I'm a poor coal miner's son from West Virginia, and if it weren't for him, I would've never had access to such tools.
What can you tell us about your filmwork prior to Winners Tape All: The Henderson Brothers Story?
I kind of covered all of that in Josh and Zane's section, but I've also done a little bit of work outside of our films. A few years ago, I found an affordable route to shoot Super8 film and made a little experimental short called Monorail as well as a music video for the band Librarians. From there, Chris LaMartina [Chris LaMartina interview - click here] actually got me a gig shooting Super8 for the web-video promotions for Eduardo Sanchez's movie Lovely Molly. That was a really fun gig and I really love what the transmedia unit did with the footage!
How would you describe yourself as a director?
I'm always willing to listen to a new idea from anyone on set. If it's a good idea, I don't care who came up with it. If it's a bad idea and Josh or Zane came up with it, I'll tell them we'll shoot it both ways to keep them happy, and inevitably keep my way in the final cut.
Filmmakers who inspire you?
I'd say the ones that had the biggest influence on me, whether it be style or work ethic, are Trey Parker, David Wain, Lloyd Kaufman, George A. Romero, Edgar Wright, Kevin Smith, Richard Linklater, David Zucker, Sam Raimi, Abel Ferrara and Buddy Giovinazzo. I also am incredibly inspired by the work Onur Tukel, who's probably most well-known for his recent films Summer of Blood and Applesauce. I screened his film Ding-A-Ling-Less at my coffee-shop film festival and he was the only filmmaker who drove from out of state for any of the events. That film is absolutely brilliant and it's a tragedy it barely got seen. He's really hit a renaissance with his recent films, where he's also branched out as an amazingly talented actor, and seeing the brilliant stories he's able to tell with such small budgets is really inspiring.
Your favourite movies?
Wet Hot American Summer, Evil Dead 2, Cannibal! The Musical, Annie Hall, Suspiria, and Dawn of the Dead.
... and of course, films you really deplore?

Feeling lucky ?
Want to
search
any of my partnershops yourself
for more, better results ?

The links below
will take you
just there!!!

Find Justin Channell
at the amazons ...

amazon.com

amazon.co.uk

amazon.de
Looking for imports ?
Find Justin Channell here ...
Something naughty ?
(Must be over 18 to go there !)

I try to not badmouth any movies these days, because it seems everyone wants to attack movies so much that I wonder if they even actually enjoy them anymore. But I will say that Zane and I did a podcast where we just reviewed G and PG rated movies and we came across so many family films that were clearly made by directors who just didn't give a shit about what they were making and were just in it for the money. That's something I deplore. If you don't want to make the movie, don't do it just to have a product to sell. Let someone who cares enough to make something entertaining do it.
Your/your movie's website, Facebook, whatever else?
www.iwcfilms.com is our main site, but it's kind of in disrepair at the moment, so I recommend just heading over to Facebook: www.facebook.com/winnerstapeall
Anything else you're dying to mention and I have merely forgotten to ask?
I really hope Winners Tape All: The Henderson Brothers Story finds its audience and they are entertained by it. That's my dream at this point.
Thanks for the interview!