1. You are writing, directing and producing the webast-series Something to be Desired. First of all, what is the series about ? And of course, where can the dedicated surfer find it ?
Something to Be Desired (or STBD) is a web sitcom about a group of DJs, artists and writers living in Pittsburgh (formerly America's top steel town, and now a city trying to find its identity). The series follows their loves, lives and very bad ideas, with a new 10-minute episode uploaded every Monday.

URL: http://www.somethingtobedesired.com OR http://www.stbd.tv.

We're also available on iTunes as well as the new Network2.tv.
2. How did you come up with the sitcom/soap opera concept for the series ?
The original concept behind the show was a story I'd intended to do as a short film for festivals back in 1999. The more I thought about it, the more interesting I found the possibility of expanding these characters' lives beyond the 30 minutes I'd need to tell that slice of their story. Thus, the idea of a serialized story became apealing, and since no one was doing a web video series at that time, I saw an opportunity and started exploring the possibility.
3. What made you choose the internet as the platform for your series ?
I knew web video would explode into the mainstream sooner or later. As soon as anyone realized you could move audio over the web, it was only a matter of time before the video technology was in place, and then I realized no one would need to be tied to their TV sets at a specific time of day -- they could watch everything on-demand. So we starting going in that direction early on, and now the market has caught up with us.
4. If you don't mind me asking, is there any kind of money to be made of a project like yours or is it just a labour of love ?
There is certainly money to be made, but we haven't made any money yet. I was just at a pair of conferences in Boston last month (PodCamp and Video on the Net), where that question was the hot topic. Traditional media are realizing that there's a whole new online video market emerging and everyone is coming to this space with their own ideas of how to profit from it. We, as show producers, are in the unique position of having content to offer people who have channels which need content. We're also working out deals with advertisers right now, which would provide a steady means of revenue for the show. And then there's merchandising and DVDs, which we haven't tackled either. (But yes, the labor part is definitely accurate.)
5. Your series is filmed in Pittsburgh, PA. Is there any kind of (independent) film scene im Pittsburgh and how receptive is Pittsburgh to projets like your own ?
There's a healthy independent art scene here in Pittsburgh, but it's fairly small and self-referencing. Beyond the initial enclave of like-minded artists, Pittsburgh itself (like most mainstream cities) isn't always as fast to adopt new ideas and technologies as we early adopters would like. But I feel it's important to give cities like Pittsburgh a voice, because otherwise the world might believe that all of our media is created in New York or Los Angeles, whereas there are millions of vibrant viewpoints in-between.
6. How easy/difficult is it to find actors for your series, especially since you can't pay them anything ?
Finding good actors willing to volunteer for a project like this isn't easy, but our casting has improved every season. This year, we had over a dozen new cast members join the show, and many of them have taken on additional duties (like PR, scheduling, etc.) because they believe in the potential of the project. Everyone realizes that this has the capacity to become something large (and revenue-generating), so it's in our best interests to work together and grow it into what we'd all like it to be: a self-sustaining success.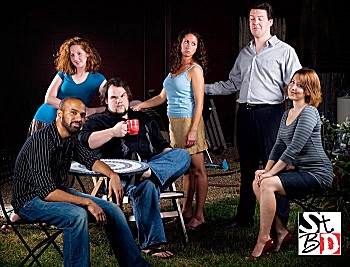 The current cast of the series, from L-R: Hans Rosemond (Lloyd), Clare Fogerty (Chloe), Will Guffey (Leo), Jennifer Koegler (Liz), Erik Schark (Rich) and Ann Turiano (Caroline)

7. Since the series has started in 2003, several (key-)actors have dropped out. How did that affect the narrative of the series ?
Whenever we lose an actor, it affects the direction of the show, but rarely does it derail any major plans. Only the loss of Jack Boyd (played by Dan Stripp) after the second season directly affected our goals for the show, forcing us to evolve into more of an ensemble piece rather than a central character-driven storyline. Fortunately, the series is often semi-improvised, and that provides us with the ability to adapt to situations as we go. Plus, as old cast members leave for other work, new cast members cycle in to take their place, so we're never at a loss for narrative options. We just need to remain flexible at all times and keep our eyes open for ways that potential problems can be turned into opportunities.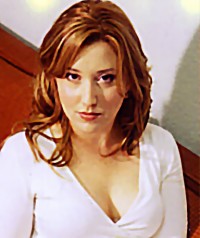 Ann Turiano (Caroline)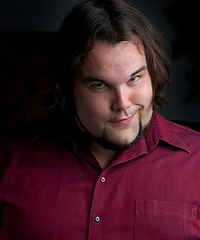 Will Guffey (Leo)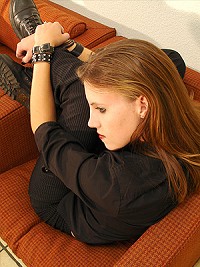 Lacey Fleming (Dierdre)

8. On the other hand, you also have a handful of actors who were with the series since the beginning. How easy/difficult is it to keep them ?
Ann Turiano (Caroline), Will Guffey (Leo) and Lacey Fleming (Dierdre) have been with STBD since the first season, and we've been fortunate to have them as long as we have. Each of them has their own side projects they work on, and Ann spent 9 months attaining her Master's Degree in London last year, but otherwise they've made themselves wholly available to the production and have provided it with the small amount of stability it's retained. Enabling the actors to offer story ideas and improvise to various degrees also helps with cast retention because they grow to feel a closer ownership of their characters than they might otherwise experience in a production that was fully scripted in advance.
9. Are any of your actors actually trained thespians or just guys playing pretty much themselves ?
Of the current cast, 2/3 are working actors (either full or part- time). The remainder are aspiring actors or individuals with strong personalities who just happened to fit a certain role. I won't spoil the guessing game by explaining which are which. (Interesting trivia note, though: Dan Stripp (aka Jack Boyd) was not a trained actor, yet he became the lead character for our first two seasons.)
10. How has the series evolved since its starting point in 2003, and how will it continue to evolve ?
When we began, we really just wanted to see IF we could do something like this. Once we realized it was possible, the challenge became, How MUCH can we do with this? The seasons have grown from an hour's worth of episodes in the first season to what will be 40 10-minute episodes this season (over 6 hours' worth). The storyline has evolved from seeing the world through Jack's eyes to seeing the various conflicts among an ever-widening pool of friends and coworkers who rarely see eye to yet are are all bound by a desire to get something more out of life. Friends one day, enemies the next -- kind of like real life, only bite-sized.

We see the show continuing to evolve, especially as our storytelling tyles shift and we find new ways to engage the audience. User feedback is becoming increasingly important, and we've just begun a feature called What Do You Want Weekends, in which the audience will (soon) be able to directly impact the kind of media we create. Giving viewers a say in the outcome of their favorite shows is not something traditional TV would have embraced, but the web video climate is enabling viewers like never before.

From a story point of view, should we continue with the series indefinitely, I foresee marriages and babies in the future as the lives of the characters begin to intersect the lives of the actors involved. But, like any twenty-something American with a few bucks in-hand, I doubt we're in much of a hurry for that ...
11. Do you plan to eventually let Something to be Desired end ?
I'd certainly prefer to end the series on our terms rather than having it end due to ennui, but as long as we keep gaining viewers (and generating revenue), I'm content to see the series continue to evolve. In the big picture, I've never seen a show (other than a traditional soap opera) evolve over more than a decade, with its characters' lives continually changing as they mature. That concept fascinates me more than the delivery method, which means I can see STBD surviving the next wave of portable media revolution as well -- perhaps holographic projection or mental telepathy is next ?
12. So, what's in store for future episodes/storylines of the series ?
Our immediate sticking point is the fate of the radio station, WANT FM, where the characters have worked (barely) for the past 3 seasons. The station is in jeopardy this season, and all signs point to its immediate demise ... though that may not officially be the case. If it happens, where will everyone move on to ? And, if it's saved, how and by whom ?

On the interpersonal level, none of the central characters are in particularly healthy relationships this season, but that's all likely to change as well over the coming months. (Though, really, how healthy IS the average relationship ?) Since we've never had a happy couple on the show for longer than ... ever, possibly ... it would be a nice change of pace, and serve to offset the naturally sarcastic vibe of the series.

And then there's the musical episode ... and the film noir episode ... and the zombie shootout ...
13. What were the key influences for Something to be Desired (if there were any) ?
I was a college radio DJ for a year, which profoundly affected the way I process media (and the people who create, publicize, distribute and consume it). I also worked for a few web and print publications, which set the stage for the Shout! Magazine portions of the show. And I've frequented coffee shops for inspiration for years now, which has taken shape in the form of the Affogato Cafe where Dierdre works this season.

Other than those direct experiences, the interpersonal relationships between the characters are drawn from composites in my own life, as well as voluminous notes taken while eavesdropping and people-watching over the past 30 years. Fortunately, the characters have been so well-established at this point that their mere existences generate new conflicts at all times, but my dialogue recording ear is always set to on, no matter where I am in the world.
14. Do you have any side projects besides Something to be Desired ?
I'm currently juggling half a dozen new projects, some of which are tailored as business plans and some of which would be nice hobbies if I could find the time. But STBD takes up so many of my waking hours that I'm rarely able to invest adequate time in anything else. Should that change, I have several more web series up my sleeve, as well as a few business ideas that could change the face of media. All in due time.
15. How would you describe your approach to filmmaking and did you have any formal training ?
I had minimal formal training in video editing and production at The Art Institute of Pittsburgh, where I studied animation and multimedia. I then spent 6 years creating industrial safety training videos for the steel and power industries, which involved conducting interviews and accident recreations in working plants. STBD grew out of that environment as a creative escape, but I was able to apply a lot of the same guerrilla techniques I used in my day job (always under deadline, never enough time) to the on-the-go production of the series.

As much as I realize our lives would be easier if I had the time to plan everything out well in advance, we'd lack some of the dive in and make it work approach that I think helps gives the series some of its raw, unpolished flavor. That's not to say we wouldn't all appreciate a shooting schedule a few weeks in advance, though ... That, I should work on ...

Feeling lucky ?
Want to
search
any of my partnershops yourself
for more, better results ?

The links below
will take you
just there!!!

Find Justin Kownacki
at the amazons ...

amazon.com

amazon.co.uk

amazon.de
Looking for imports ?
Find Justin Kownacki here ...
Something naughty ?
(Must be over 18 to go there !)

16. Your favourite filmmakers/films/series ?
My personal favorites change on a regular basis, but the ones that usually float near the top are:

Filmmakers: Michel Gondry, Whit Stillman, Spike Jonze, Jim Jarmusch, Atom Egoyan, Sofia Coppola, Quentin Tarantino, Baz Luhrmann.

Films: It's a Wonderful Life, Casablanca, A Hard Day's Night, The Sweet Hereafter, Swingers, Down by Law, Dead Man, Pulp Fiction, Trainspotting, Barcelona, Metropolitan, Eternal Sunshine of the Spotless Mind, The Mission.

Series: The BBC's version of The Office. I grew up on American sitcoms (Cheers, Night Court, Family Ties, etc.) and grew into Seinfeld. Lately, I watch very little (although I still enjoy The Simpsons and Family Guy).

Online: I'm still trying to find a number of shows that hook me and keep my attention, but I can usually find time for Tiki Bar TV, Ask a Ninja, Rocketboom and Jim Dupree: Enthusiast.
17. Any future plans besides more episodes/more seasons of Something to be Desired ?
We're exploring the opportunity to become a fully-operational production company, which would enable us to create a full array of shows. I'm also working with several emerging web channels as we decide, jointly, how best to promote web video content and what we need to bring it to the mainstream without losing the niche elements that make it vital to so many audiences already.
18. To plug the series once again, give us the URL, and what can be expected from the website (apart from the entire series so far) ?
http://www.somethingtobedesired.com OR http://www.stbd.tv.

Here, you can find all 4 seasons' worth of our show, as well as cast biographies, interviews, our production blog and our Flickr photo gallery. There's much more to come, especially as we keep unveiling the interactivity behind What Do You Want Weekends, so stay tuned!
19. Anything else you are just dying to tell but I forgot to ask ?
Creating a web series is both harder and easier than it looks.
Thanks for the interview,
and good luck with Something to be Desired !!!
Thank you and best wishes on your site as well !