Your new movie Dark Moon Rising - in a few words, what is it about?
First installment of a franchise about a group of alpha werewolves seeking to find a cure for their species. This cure is found in a more powerful and advanced species but that species is in the form of a woman, named Dawn.
With Dark Moon Rising being a werewolf movie, is that a subgenre at all dear to you, and some of your werewolf-favourites?
Dark Moon Rising is in Wal Mart right now and so far the response has been a very interesting and positive. I am a fan of sci-fi and romantic comedies so this was a great opportunity to mix the genres. I think one of my favorite werewolf films is Silver Bullet because of the very emotional angle of putting a child in position to save his town. It was awesome that they took a risk with the main characterís disability even in the late 80s.
(Other) sources of inspiration when writing Dark Moon Rising?
I drew a lot of inspiration from live anime and Japanese animation. The movie is weird because I wanted to mix horror elements and sci fi elements together. I am excited we were able to pull off and execute a story that can stand alone and also set up backstory, because we didnít have a graphic novel or a long history of material to draw from. That is why we are excited for Dark Moon Rising 2 and 3 J
When it comes to your approach to werewolf mythology, you've created a rather complex world more akin to fantasy than to horror - care to elaborate?
Big fan of shows such as Dragon Ball Z and Ninja Scrolls The Movie. I wanted to create a world that was outside of the box. I agree it comes off very disjointed but for each film I do in my company Pikchure Zero Entertainment, I want to represent out-of-the-box films. I wanted to allow audiences the chance to use their imaginations and not just predict a formulaic story about a small town and a mysterious animal in the woods. I mean if I do a film, you can say anything except you knew THAT was going to happen. I am excited to take that basis and create more complexities and execute things a lot better and that comes with growth and time and more resources and thatís why our Wal Mart results will dictate so much about the future of the franchise.
Werewolf movies demand special effects almost by definition - so do talk about the effects work on your movie for a bit!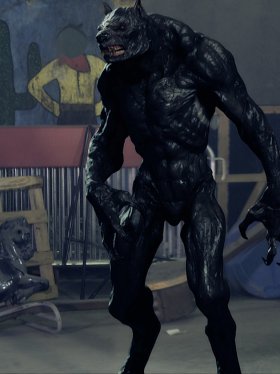 Oh loved the special effects. I loved that the team at Uncorkíd Entertainment let us have the freedom to show the wolf within the first three minutes of the film and we didnít show a leg here and an arm there and a broken window here. It was like ďthere it isĒ J Thatís exciting and every film we have done we try and do high budget concepts and push ourselves. So this presents the challenge of creating scenes heavy in fantasy VFX. The fantasy world took 5 months to design and 3 months to render out because itís done on a few computers and not at a major studio. So for a scene where Chace meets Dawn and they talk about love, its almost a year of work for 5 minutes. Regardless of how good you are as a director or filmmaker that time constraint can become very taxing and challenging and it just pushes you to think big and go for it. We are excited that people are responding to Dark Moon Rising.
What can you tell us about your overall directorial approach to your story at hand?
I wanted to focus in on creating a backdrop for the characters to exist. My goal with this film was to integrate a few elements. The main element was character development and history. How do you enlighten and entertain without any reference material? That was the challenge and it fueled the way Dark Moon Rising plays. To the untrained eye it could seem like a soup of a lot of ideas in one film, but itís the first movie in a franchise so we have to leave a lot of loose ends and tell the story in a way that leaves room to create within the world we set forth. So blessed to be in Wal mart and Redbox as we speak in order to gage the audienceís perspective on the film.
Your movie features a scene-stealing performance by fan favourite Eric Roberts - so what was it like working with him, and how did you get him even?
Angela Griffith my casting director works closely with us on every project, and we sat down to decide who we could get to fill the role of Henrick. She brought up Ericís name and we never looked for anyone else because we knew he was Henrick. Henrick had to be funny and smart and confident but yet maintain a sense of mystery to him. No one embodied those characteristics like Eric Roberts did and he is the reason the film works. He came to set and brought a sense of purpose to the film, and all of the actors responded. I am just glad he liked the script, because in the end an actor of his caliber can do Dark Knight with Christopher Nolan or a music video with Rhianna and not miss a stride maintaining his illustrious career. To have him read my script and sign off on being a part of my film was truly a blessing and I am forever grateful. He and his wife Eliza Roberts, who plays Mrs. Brownwyn in the film, are such great people that I am certain that when Dark Moon Rising is released audiences will know it would be because they believed in me and the film.
Do talk about the rest of your cast, and why exactly these people?
I can never say this enough, but the independent world allows us the liberty to present fresh faces to the masses. Our hope is to create a movement! We have casting directors such as Angela Griffith and Lamese Williams working alongside us to help us search and find new faces. Khu is Asian-American and grew up watching martial arts films with her family and as a fan of her culture it was important she took on the role of Kaio in the film. She speaks English and four other languages and is an amazing and stunning actress. The lead Anastasia Antonia could walk right off the pages of your favourite magazine and then be the girl next door with as much ease. To see her take the character Dawn and make audiences fall in love with her was a delight and made my job that much easier. Cameron White who plays Chace worked with us on The Cloth, and his talent was very apparent early on. We immediately knew we had to give him more lines in our next film! Lisa May, who plays Feighn in the film, is young and yet has this mysterious danger to her acting. I could go on for days talking about Deanna Congo and Ana Lopes and Matthew Simmons who is one of the more talented guys I have ever met. But I will just say that we are so blessed to be able to make a film and find such up and coming talent and itís just the beginning for all involved as their futures are much too bright to be defined within one film or one franchise. We are grateful to Uncorkíd Entertainment and to the fans for supporting us because it is truly one of the main reasons we love independent films. I canít imagine films without the wonderful cast we have and if we never saw their talent on stage or on the screen, we would all be lesser for it.
What can you tell us about the shoot as such, and the on-set atmosphere?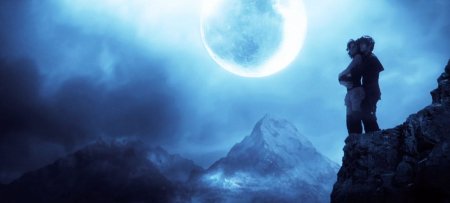 What is crazy is the film spans 2 years and over 4 states. We shot in Mexico, LA, Alton Texas and the RGV and also Georgia and Alabama. This is the part where someone should have jumped in to limit my brain because I tend to want to see what I see. I know that we have a lot to learn and grow within this framework but Im willing to take 10 people to a covered bridge in Blakely Georgia because of the woods and spend my budget doing it so when she gets out the water, it looks beautiful. I donít know if budgets would allow me that freedom because so much goes into films with higher expectations and although we risk a lot to make a film, in the end I can live with being able to have characters speak in their heads and that be okay. I remember on set one day we had a chair in the middle of the room and the lighting guy and DP pulled me to the side and said, ďthis doesnít make sense, why is there a chair there for the scene?Ē and I told them ďitís a movie, do we have to explain why?Ē and that chair was the chair Eric got tortured in. Speaking of the covered bridge in Blakely Georgia, on set it was at least 20 below 0 degrees Fahrenheit and freezing that night during the camp-fire scene. The wolf-pack members had to all come out dressed in close to nothing and the majority of the money went into keeping actors warm. Stuntmen had pulleys and pick points set up that eventually froze over because it was so cold so everything went to manual pulling. So ten guys were pulling people by hand up into spider webs and trees all for a scene that lasted about 1 minute and 30 seconds in the film. Lisa May who plays Feighn takes guts off of a guy laying on the ground basically sleep from hyperthermia and she flies up with grace. That moment I will remember forever.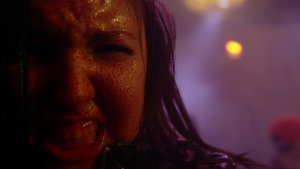 A few words about audience and critical reception of Dark Moon Rising so far?
Well we are holding strong with a 6.0 on IMDb out of 7k votes which is pretty amazing! We have over 200k views on the trailer and thus far each film we have done has had a great reception. Thatís a blessing in itself. Dark Moon Rising hits WAL MART today and so we are very excited for people to buy a copy and see the special features and share in the experience of the film.
Any future projects you'd like to share?
Thank you for your questions, and Dark Moon Rising is the first of many we hope to share. I look forward to writing graphic novels and TV series in the future. I am developing a few projects now actually. We have a web-series we are developing for TV and Hulu called Flesh to Ashes and also we are doing an urban action thriller being looked at by Lionsgate called Ace of Spades. Ace of Spades is sort of an urban version of the skulls and centers around a guy (Michael) who is the descendant of the black panthers trying to bring his city together after the town is split apart by a tragic incident. We are finishing our latest film Forsaken to be released by Uncorkíd Entertainment. The film is about a priest who possesses his wife and damns his soul in the process, opening the gateway to hell. We are also looking to start production on the next Dark Moon Rising and part 2 and 3 are coming 2016-2017. The fan response to Dark Moon Rising 1 is very important to how far we can go with it and we are more than amped to see what transpires with WAL MART and Vudu and VOD. We have another film starring Ana Lopes called Internal Revenue about organ trafficking in South America. We are hoping to produce alongside Cristina Trevino a film about the true story of her fallen softball coach, killed by a drunk driver called Sticks which has a League of Their Own vibe to it. Snare is in post-production as well and centers around underground street fighting. I would love also to direct a film for Marvel or Disney! To be able to tackle a character that has a history would be ideal so I am hopeful for that as well.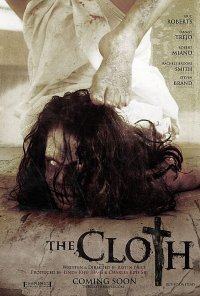 What got you into filmmaking in the first place, and did you receive any formal training on the subject?
Pikchure Zero Entertainment, my production company, was started from a small handy cam and a few scripts. I attended university in NY and LA and have my degrees in film and broadcasting. I mainly act and wanted to make films for minorities to have a voice in different genres. I work mainly with diverse cast and women and so far we have been very successful. Thatís what led me to start the company and I wrote a script about a nerd having access to a secret technology, and in order for him to give up the information, he had to get the help of the CIA to get him a girlfriend. From there we worked on a film called The Cloth starring Danny Trejo and it was a mixing of genres. We felt that instead of having priests use regular weapons, why not have transforming weapons to the likes of a sci-fi film and explain how it spanned back centuries! Since we started this company, Khu, my producing partner, and I, we have met so many talented artists who have vision and creative prowess at the independent level. So we started from the grassroots of filmmaking and there is where you will find the most inventive filmmakers. That is what makes every film we do so special to us because we do it with the underground artist in mind and we carry their energy throughout every phase of the creative process. Before we began Dark Moon Rising we sat and watched independent romantic dramas and also we watched a lot of anime. I love anime! The idea is to grow and expand and gather more resources to truly execute the style and look we are striving for and we feel hopeful that after this film we can grow along with the Dark Moon Rising audience.
How would you describe yourself as a director?
I think I am inventing new ways to articulate the images and stories in my head into a visual medium and with that comes a lot of understanding the process and execution. So for me I think as it is with life it is a constant evolving thing, it's fluid and relative to each project regardless of subject or budget or time. I am open to failing terribly for the craft and I breathe for the medium. I believe this is what me and my contemporaries all do in every project and we give it to the masses to be consumed however and whichever way God deems fit and thatís art.
Filmmakers who inspire you?
James Cameron, Christopher Nolan, Lynch, Affleck, Gina Prince, Katheryn Bigelow, Julie Taymor, Lucas and Spielberg and Michael Bay to name a few.
Your favourite movies?
Legends of the Fall and Across the Universe! Love and Basketball, Avatar, Interstellar and Beetlejuice and The Unbearable Lightness of Being and The Heart is a Dark Forest and Requiem for a Dream, The Labyrinth, Closer and Moulin Rouge. I can go on forever but I love films that take me to a place and that I can watch at anytime.
... and of course, films you really deplore?

Feeling lucky ?
Want to
search
any of my partnershops yourself
for more, better results ?

The links below
will take you
just there!!!

Find Justin Price
at the amazons ...

amazon.com

amazon.co.uk

amazon.de
Looking for imports ?
Find Justin Price here ...
Something naughty ?
(Must be over 18 to go there !)

I only hate films that were never madeÖ so I am mad at Legends of the Winter... I am totally disgusted with Interstellar 2 (does he get with Anne Hathaway!) J I have too much respect for those doing films better than me to call a film a bad film. There is something great about everything even films done with no budget at least it has heart and it took dedication.
Your/your movie's website, Facebook, whatever else?
Follow my company on Facebook: www.facebook.com/pikchurezero
Twitter: jupiterrings
Anything else you're dying to mention and I have merely forgotten to ask?
Thank you for the interview! Dark Moon Rising is in WAL MART NOW! Go get a copy and support film and cinema and we are excited to share with you this first installment! Khu is up for the role of Mulan! How awesome is that! Get it right Disney!
Thanks for the interview!