Your new movie Revelator - in a few words, what is it about?
Revelator is about a man that sees the dead, who has to solve the murder of a wealthy familyís last heir.
What were your sources of inspiration when writing Revelator?
As far as writing, Iím sure I ended up stealing a lot from Eric Roth. Thereís an understated quality to his screenwriting, especially when characters have to choose their words carefully.
Do talk about your movie's approach to horror!
I have to admit Iím not generally a huge fan of the genre as an audience member. From the beginning, I was always concerned with what actually qualified (to me) as scary, and how a lot of those common tropes didnít serve us. I think that ended up pushing our film closer to what theyíd call a Ďpsychological horrorí. It might be a consequence of my life experience, but thereís little scary to me about a roughly adult-sized person trying to injure me. When I stripped the story of Revelator down to its core themes, the most frightening part to come from it was the question, ďWhat if Iím wrong?Ē I think thatís fundamentally scary to everyone.
In Revelator, you make good use of some awesome exterior locations - so do talk about those for a bit, and what was it like filming there?
Revelator was absolutely shoe-string from the get-go. What I desperately needed to avoid was feeling boxed in, like so, so many other projects Iíve worked on under similar time/money constraints. By far the most time and money I spent was making sure that this story moved around, and took the audience along a journey. Thereís something so tedious to me about single location stories, or bottle episodes. I feel that if the audience gets the idea that the whole thing is going to take place here, they already know at least some part of how it ends, and their attention is already half gone. Iíve lived in Southern California for years, and so had a little list of places not over-represented in films, and made a great effort to shoot there, writing large chunks of the story centered around them as set pieces. Revelator is undeniably a ĎCaliforniaí film, but I wanted to shoot parts we hadnít seen before.
Shooting on location certainly brings its own set of headaches, but the free reign you get when a whole area is cordoned off just for you is fantastic. In finding locations, remember that youíre not just looking for what serves the story, and what works for production, youíre also essentially auditioning the location owners, who are going to have their own personalities and requirements. Keep your ears open and your guard up.
What can you tell us about your overall directorial approach to your story at hand?
Iíd say itís almost entirely based on faith in the people I had working with me. Iíve had the exceptional luck you be close with such talented people, that I could rely on them to perform exactly as Iíd expected. There was very little cajoling or changing things up, really. Everyone got into the script and latched on to the atmosphere we had designed, and it just clicked. We got away with very, very few takes because of that. Going back to Eric Roth, the only prep I requested from everyone was to watch The Good Shepherd before coming on, to see the style I was aiming for. Itís very austere and oppressive. Really itís a movie about people watching other people, and thatís what we had on our hands with Revelator.
You also play the lead in Revelator - so do talk about your character for a bit, and what did you draw upon to bring him to life? And did you write him with yourself in mind from the get-go?
Iíll admit that I wanted to play the lead from the beginning, and definitely wrote to what I believed were to be my strengths, or at least the kind of mode I knew I could fit into for the duration. It didnít require a lot of Ďstretchingí from me, and that most definitely worked in everyoneís favor, ha! I tried to play the part as grounded as I could, not all too different than my usual demeanor, save for the fact that the character is absolutely terrified the entire time, and how that manifests in different ways. Sometimes youíll freeze up, or run, sometimes your fight-or-flight tips the other way and anger comes out. John is a character who canít trust any of the people around him. He canít even trust what he sees, ie. always asking himself if heís wrong about everything. His guard is always up, and so I had to work to let little bits of his vulnerability poke through as it starts to crack.
What can you tell us about the rest of your cast, and why exactly these people?
Most of the cast were people I had worked with previously in some capacity. Again, Iím so unbelievably fortunate to know them in the first place, and convince them somehow to be a part of the project. What auditions there were were very short, and mostly involved me explaining the project and the process. I worked a lot from peopleís reels, felt them out in a short interview and rolled from there. Everyone was so gracious about the hands-off approach, and understanding how much I had to handle on my end. No one needed hand holding, or felt lost on any part. It just seemed to click into place, and all the credit goes to them.
I will say: The first and most critical decision was approaching Mindy Rae. Weíd worked together a number of times before, and since the relationship between her character and mine was so integral to the story, if Mindy had turned it down, I wholly believe I would have done a different script altogether.
A few words about the shoot as such, and the on-set atmosphere?
Honestly, it wasnít too strenuous (for anyone but me). I did my best to take on absolutely as much responsibility as possible, and make it as easy and painless for everyone else to come on board as I could. Even under the best circumstances, itís no small thing to go and do someone elseís movie, so I labored to take away all the typical negative things I generally experience working as a crew member. I plotted out exactly how each dayís schedule would be spent, down to 15 minute increments, and we stuck to it nearly verbatim. With that much planning and organization, and a painfully myopic director like me in charge, it wasnít hard to keep us on track. The downside to it was that I wasnít as personally available to each person as I would have liked. Maybe itís the Midwestern part of me, but Iím forever chronically frightened that the people working with me arenít content.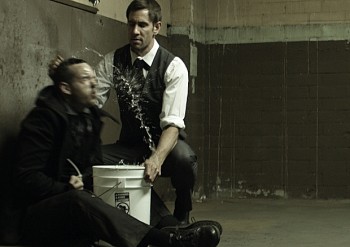 You've also composed the score for Revelator - so do talk about the music in your film for a bit, and your musical influences?
Iíve been recording music for a number of years, though I hadnít scored anything previous. I had a definite idea in mind for a kind of dissonant, sparse soundscape using a lot of atypical instruments. Luckily I live in Los Angeles, and anything can be rented! I did a lot of experimentation with foreign string instruments, and modulating them while holding notes. Like every piece of the production, I just desperately wanted it to be different that what an audience walking into an ďindependent horror filmĒ would expect.
Anything you can tell us about audience and critical reception of your movie yet?
The only audience Iíve seen it with was at the premiere in Beverly Hills. Thatís a half-truth, as I spent the duration of the movie chainsmoking just out the door. But afterwards, it was extraordinarily positive, beyond the usual backpatting you might expect. My goal from the beginning was to make something that lived up to the standards of the people making it, and I definitely got that impression that night.
After the full digital release, Iíve kept a close eye on the reviews and ratings. At this point with the project, Iím not a creative lead, Iím a manager for a small business, and so itís my full time job now to keep tabs on its reception and performance. What Iím seeing in general is an extremely happy audience, and a very encouraging critical response. Even reviews that take issue with the film (I certainly have my own) seem to judge it on the merits of being a real, actual movie. Thatís such a strange context for me to see people judge it in. For me itís been this little personal project thatís sat on my laptop forever, and Iím continually amazed when itís spoken about by objective viewers in the same way they talk about any other film they saw in the theater.
Any future projects you'd like to share?
Iíd love to! Just as soon as I figure out what theyíll be. I have a lot of material developed that Iíd love to produce, so now itís just down to finding who wants to work together.
What got you into the filmworld to begin with, and did you receive any formal training on the subject?
Itís what Iíve wanted to do for about as long as I considered having a grown-up job. I received my degrees in both film and theater from Columbia College Chicago.
When it comes to filmmaking you have worked in numerous positions in front of as well as behind the camera - why is that, and what did you enjoy the most, what could you do without?
There are a lot of parts of this process I enjoy a great deal, and Iím always looking for whichever opportunities present themselves. Theyíre each their own kind of fun. Iíd say Iím best at being a cinematographer, as thatís where Iíve spent the majority of my career. I did dolly grip for a number of years though, and I think thatís quite enough of that.
What can you tell us about your filmwork prior to Revelator, in whatever position?
As mentioned, the majority of my work is as a cinematographer. That was my concentration in college, and itís how I keep the bills paid. I really wish Iíd kept a better list of everything Iíd worked on, as itís been such a long and varied path so far (and IMDb doesnít even cover a quarter of it).
Filmmakers, actors, writers, musicians, whoever else who inspire you?
Directors like Amir Shervan, James Nguyen, Neil Breen, and Francis Coleman I keep coming back to. Of course I have to give a lot of credit to Mark Borchardt.
Your favourite movies?

Feeling lucky ?
Want to
search
any of my partnershops yourself
for more, better results ?

The links below
will take you
just there!!!


Currently? Iíve been revisiting The Witch, or some Nicholas Winding Refn stuff.
... and of course, films you really deplore?
Movies that let whatever it is they want to say get in the way of actually telling a story. I recently walked out of a film for the second time in my life. As it stretched past its second hour, it had yet to bother to tell a story, and I knew damn well where it was going to end up, all in service of making a painfully obvious point that I donít think needed a movie to be made.
Your/your movie's website, Facebook, whatever else?
Everything about it you can find at RevelationMachine.com
Thanks for the interview!