Your upcoming movie The Scarehouse - in a few words, what is it about, and what can you tell us about your character in it?
The Scarehouse is all about revenge and the lengths we go to get it. Two sorority inductees are wrongly jailed for a crime others were involved with and once they are released they set out to take down everyone who wronged them. I play Jaqueline Gill, she is the president of the sorority and the Queen Bee. Everyone bows to Jacqueline and she uses fear and blackmail to keep all her minions in line.
What did you draw upon to bring your character to life, and how much of Katherine Barrell can we find in Jaqueline?
I absolutely loved playing Jaqueline – playing a villain is SO much fun and something I don't get to do very often. I think there a little of Jacqueline in all of us – the yearning for power, prowess and control. However I find that the meaner someone is on the outside the more insecure they are on the inside. What other reason would you have to bring others down? Jaqueline's got some deep set insecurities and she uses her power to make sure no one sees her weakness. Thankfully I don't think Jaqueline and I are very much alike – I get pretty shy around large groups of people and just have a small tight-knit group of friends. I definitely wouldn't want to be president of a sorority!
How did you get hooked up with the project in the first place, and to what extent can you identify with the film's horror theme?
The funny thing is that I can't watch scary movies! I'm a huge wuss – I watched the entire 2 hours of The Ring through the weave of a blanket! I had been friends with Sarah Booth [Sarah Booth interview - click here] for a few years and when I found out she was auditioning for her film I sent in a self tape. They called me back and I met with Gavin [Gavin Michael Booth interview - click here]. Since I was in the middle of filming My Ex Ex I didn't have time to memorize my audition material for the callback. Gavin said "I don't care if you make up every single word, I just want to see that you can handle the emotion." I loved that freedom as an actor, and it showed me that Gavin wasn't precious about his written words being exact – he was interested in performance and story and I knew as an actor he would push me to get that performance.
What can you tell us about your director Gavin Michael Booth [Gavin Michael Booth interview - click here], and what was your collaboration like?
I really enjoyed working with Gavin and since shooting The Scarehouse we have become really good friends – Gavin is currently editing a project I produced called Mature Young Adults. Gavin and I collaborate well together – I always felt comfortable speaking up if something wasn't feeling good and we would work it out together until we were both happy.
What can you tell us about the shoot as such, and the on-set atmosphere?
The Scarehouse was a tough shoot! We had some problems with a construction site right next door so the noise was terrible and we had to switch to night shoots – which basically meant that no one saw the sun for a month! Luckily I was only there for a week but it really messes with your internal clock!
The biggest challenge for me as an actor was maintaining the high stakes and level of intensity over several days of shooting and trying to match the same levels you had on day 1 when you're on your fourth day and still shooting the same scene. The scenes are literally life or death for these characters, so the emotions are through the roof!
You have recently produced the short Mature Young Adults - so you just have to talk about that one for a bit!
Yes we are in the editing phase of Mature Young Adults. It's a beautiful project about two fifteen year olds who fall in love but don't want anyone to know for fear they'll be ostracized in their small town. So they imagine in detail the "horrible" things that would happen to the entire world if they were to kiss. It's a fantasy story, and as they imagine these things actually start happening around them. Think Scott Pilgrim vs the World with a dash of Wes Anderson aesthetic. My dear friend and business partner, Kent Nolan, directed it. Kent passed away very suddenly during the editing process a few weeks ago so I am finishing the film for him. Thus, this film is extremely special to me and has taken on a whole new meaning to honor my friend who was such a promising young director – Kent was going to do amazing things and I am doing my best to celebrate him with this film.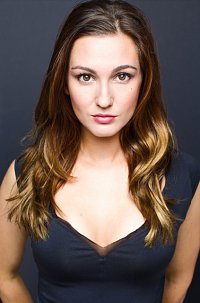 Mature Young Adults isn't the first film you've produced. So how do you pick the projects you want to produce, and how would you describe yourself as a producer?
I really love producing! I would say I am a creative producer – since I come from an acting, and thus story-driven background, I like to be very involved with the creative choices around the project. I hate the paperwork – but I think everyone does! Being a producer gives me the power to create my own work, and I am a much better actor because I understand so much more about how the business works and what happens on the 'other side of the table'. One of my favourite parts of producing is the casting process! Also, getting to watch your final project and think 'I made that happen, I gave all those people jobs and a chance to do what they love' – that's pretty special. For all the projects I produce it's the story that has to grab me. The script must be very strong. So many people are in a huge rush to shoot because that's the exciting part, but if the script isn't ready the movie will never be any good. I'd say 80% of the problems bad films face can be fixed in the script stage – before you've spent any money other than the $2.75 for the printer paper!
Any future projects you'd like to share?
I am just about to fly to Ottawa to shoot a feature called Definition of Fear. It a psychological ghost story about a group of friends who set out to study the science behind fear and end up face to face with the supernatural. I am starring alongside Jacqueline Fernandez, she's an extremely talented actress and her movie Kick just broke Bollywood box office records!
What got you into acting in the first place, and did you receive any formal training on the subject?
My first memory of understanding what an "actor" actually was, was when I was about 5 years old. I had a VHS of Disney's Beauty and the Beast that I would watch over and over again. One day I guess I got distracted and the end credits rolled through. After the credits the "special features" came on, it was behind the scenes footage of Angela Lansbury in the sound booth voicing Mrs. Potts. I remember that moment so clearly thinking, "wow - those are real people doing those voices." Of course I don't think I had any idea what a job that even was at the time but I told my mother I wanted to be "the voice of the Disney characters" one day and that's when it all started! It is a definite career goal of mine to voice a cartoon – that would be a dream come true full circle moment!
I trained at both Sheridan College in Musical Theatre then went on to study Classical Theatre at George Brown College in Toronto. There I studied all the classics – Shakespeare, Shaw, Ibsen etc. I got to work with some of the most acclaimed Canadian theatre directors. Now that I've graduated I continue to study privately and do on camera coachings, especially if I have a big audition coming up. Acting is a physical job – like an athlete you have to keep training and sharp. You can't run a marathon feature film mentally or physically without constant practice.
Can you still remember your first time in front of a camera, and what was that experience like?
Absolutely I can – its very vivid! I had just come out of theatre school and I booked a guest star part on a huge ABC pilot called Poe. It is still the biggest set I've been on to this day but at the time I had nothing to compare it to! I was playing opposite huge actors, Natalie Dormer (The Hunger Games, Rush, Game of Thrones) who I was absolutely in awe of from watching her in HBO's The Tudors, and Kevin McNally (Downtown Abby, Pirates of the Caribbean). The first scene I shot I had to stab a man in a bathtub wearing next to no clothes and juggling a fiery-lit candelabra! Once we finished the first take the 1st AD called out "back to ones!" which is a common term telling everyone to go back to their starting places so we can do another take. But I didn't know that term at the time so I just sat there there, soaking, squished into a tiny bath tub with a poor actor "playing dead", holding my flaming candlesticks starring at the first AD in total confusion. It's probably good that I was so green and didn't understand the magnitude of a shoot like that or I probably would have been too nervous to speak. I spent 9 days on that set and every single one was absolutely magical.
What can you tell us about your filmwork prior to The Scarehouse?
Scarehouse was my second feature. I had just come off of shooting My Ex Ex a week prior, which is a romantic comedy, so it was a total gear shift!
How would you describe yourself as an actress, and some of your techniques to bring your characters to life?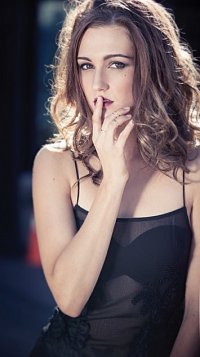 Feeling lucky ?
Want to
search
any of my partnershops yourself
for more, better results ?

The links below
will take you
just there!!!

Find Katherine Barrell
at the amazons ...

amazon.com

amazon.co.uk

amazon.de
Looking for imports ?
Find Katherine Barrell here ...
Something naughty ?
(Must be over 18 to go there !)

Every project is different and my approach is different depending on the style and character. That being said I am a very "outside in actor"; meaning I try to find something physical that helps me tap into or trigger the emotional world of the character. Often I try to find their posture, how they move physically through the world, where they hold their tension. Sometimes its breath – is this a person who is very nervous and flighty and never takes a deep breath, or are they grounded? Working with the costume team is extremely important to me. I often find once I put on my character's clothes it tells me so much about them. So I use outside things to help me "tap in" and then the emotional connection is there.
Actresses (and indeed actors) who inspire you?
Marion Cotillard, Robin Wright, Kristin Wigg, Cate Blanchett, I admire how fearless Jennifer Lawrence is, and of course Meryl Streep – I watched her movies over and over again when I was struggling through theatre school.
Your favourite movies?
I absolutely love period pieces! I love the magic of living in a completely different world. I also love history so doing research for these projects is a blast! I am a sucker for Sophia Coppola's Marie Antoinette. I also love anything Wes Anderson does. I tend to gravitate towards films with high art concepts and very stylized pieces. I guess I like a bit of theatricality in the medium.
Your website, Facebook, whatever else?
Website: www.katherinebarrell.com
Twitter: @katbarrell
Instagram: Katbarrell
Thanks for the interview!