Your upcoming film Dead Walkers: Rise of the 4th Reich- in a few words, what is it about, and what can you tell us about your character in it?
Dead Walkers: Rise of the 4th Reich has many different levels to it, quite literally, but other than "Nazis", "Vril" and "having a nose bleed", I can't really tell you too much about the film or my character in it.
How did you get involved with the project in the first place?
I became involved with the project once simply when I knew I was available for the filming dates. Philip Gardiner [Philip Gardiner interview - click here] then quickly increased my involvement by accessing the more organised qualities that I have at my disposal and I became part of the off-screen team too. The team concentrates on the organisation and smooth running of shoot days, so that the director can concentrate on the quality of the content that he needs and nothing else, as well as the behind the scenes, unseen work that is integral to keeping everyone in the loop and in the right place at the right time.
Seriously, when you initially heard the film's title - Dead Walkers: Rise of the 4th Reich -, what were the first thoughts going through your mind? And how can you relate to the film's subject matter?
I can't really remember my initial thoughts, a lot has happened since then, but now when I hear the title I think…"ow! My nose!"
What can you tell us about Dead Walkers: Rise of the 4th Reich's director Philip Gardiner [Philip Gardiner interview - click here], and what was your collaboration like? And how did you first hook up with him?
Philip is an incredibly talented director and has a knack for getting what he wants. When he asks me to do something (acting related) I will go for it full throttle and deliver, or so he tells me anyway. This makes our time together, short but, sweet - very much like the first time I met Mr Gardiner, for an audition, he gave a description and stimulus for a scene and within minutes the audition was over and I remember this clearly, he said "I liked it because it was clever" - the next time I heard from him I was being given a script to look at. I honestly couldn't believe it as this was my first film audition…
Your role in Dead Walkers: Rise of the 4th Reich was physically quite challenging, right? So how did you prepare for that/cope with that?
With Gardiner films there is no such thing as preparation, well actually sometimes there is a lot of prep work and rehearsal time, but then it all gets changed when actually shooting the scene. I know that a lot of the screams and yells were real during some of the scenes, including my own, especially if someone hadn't been properly prepared for the sequence of events. Actor Tom Vardy was prepped and ready for a section in a major "torture" scene which turned out to be entirely different to how they had rehearsed it. The drowning gurgling noises that dominated the craziest scene I have ever been involved with, as he had his head dipped in and out of a sink were absolutely real, and the memory will haunt his dreams forever - but he's perfectly alright, don't worry.
From what I heard, at least parts of Dead Walkers: Rise of the 4th Reich were shot in an unheated warehouse during the coldest days of the year - so what can you tell us about the shoot as such and the on-set atmosphere?
I won't say "cold" because you've already guessed it, but the atmosphere was truly awesome. Working with Awesome Talent Agency actors and other people that were willing to club together, fetching each other blankets, dressing gowns, making hot drinks and still getting the scenes completed to Phil's satisfaction, made the arctic/polar/FREEZING! temperatures that little bit more bearable.
If there ever was a Dead Walkers II: Let's Raise the 5th Reich in a Freezer, would you be on board?
As long as the freezer was big enough for everyone, turned off or I could be on top of it, yes!
You of ourse also have to talk about your previous film with Philip Gardiner [Philip Gardiner interview - click here], Exorcist Chronicles, for a bit!
Oh Exorcist Chronicles is still very much a highlight for me. I'm not sure what I'm allowed or not allowed to say so I'm going to just leave you with, it was definitely warmer and slightly less painful than Dead Walkers.
Philip Gardiner is said to push his actors and actresses quite a bit on set. Was that ever an issue with you?
He certainly does push actors and actresses to get what he wants. As far as I'm aware, and hope, he isn't done with me yet. In the past he has simply given the instruction "Kay you know the scene don't you? Do something like this" (usually followed with a bit of action, convulsing and/or rocking) and then I would interpret that into the scene, my character and how that connects to the other characters in the room from previous research and just act as if it is all real. I'm sure this has given him the effect he has been going for as he has never said anything to the contrary.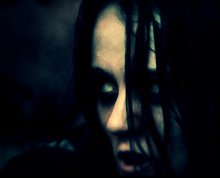 Exorcist Chronicles
You are to appear in the documentary Exorcism of Evil, right? Anything you can tell us about that project yet?
I am and I could tell you, but it will probably all change anyway, knowing the company so there's not much point right now…
Any other future projects you'd like to talk about?
There are many, many projects in the pipeline for the Awesome Talent Agency and I look forward to fitting them all in in the future months and years.
You are relatively new to movies but have a looong career on stage under your belt (especially considering your young age). So what can you tell us about Kay Vardy the stage actress, and what prompted you to try your hands on movies?
I have enjoyed the thrill of entertaining an audience from a very young age. My first dance show was when I was two years old. One thing that I will admit, that many actresses won't, is that I actually enjoy to watch back plays and performances I have been in just to see what was good about it, what could have been improved and what blatantly didn't work but no one had the bottle to tell us at the time, so that when I ventured onto another stage performance I would be conscious of personal areas of development and improve each experience as well as being able to tell others their key areas that they needed to be aware of. I am very analytical, honest and enjoyed the essays at University as much as the performance side of my Drama course. Watching a recording of a stage show is nothing like watching a film and I am yet to see what the result is of a film that I have been in, and decide if I like it or not. I don't think I ever expected to get involved with film really but thought I'd audition when the opportunity arose because of how much I enjoy (and am supposedly good at) acting…
Performing on stage vs acting in front of a camera: How do the two compare, and which do you prefer, actually?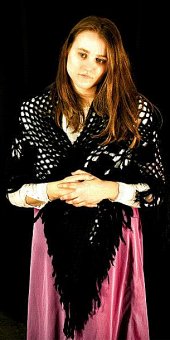 I like this type of question… how long have you got? I've already answered this a bit, the fact that you are entertaining a live audience that you can see is a positive for stage and theatre. There are also many different factors to theatre, escapism, education, therapy, a family night out, which are all very moral, decent reasons for theatre to continue in all forms and I support this and will continue with it as long as I can. Film can be used for many of the same reasons, but reach even further wider groups of people. You aren't wholly aware of who your audience members are, may never get feedback from them. The analytical side of me sways towards theatre and I think it always will, due to my long experience with it, however acting is acting, whether it is in front of an audience, on set, on stage or just to make your friends and family laugh at dinner time. We are all acting all of the time, some people don't realise it, but even when we retell stories of our previous day we do it in a way to entertain, interest and engage our "audience", and this can be for many of the same reasons as controlled acting, entertainment, education or therapeutic reasons. I can't realistically split one type of acting from another, put them on different sides of the table and choose to sit with one and not the other. If I had to, my table would definitely be round and each acting side of me would be linked arm in arm, if one of these tried to break away or was removed by force my performance quality would quickly deteriorate and directors would not see the quality that they are used to.
Do you still even remember your first time on stage, and what can you tell us about your training as an actress?
I think I have false memory of it due to what people have told me and shown me through old camera footage and costumes, but I do have some very real early memories of theatre and stage work, just not quite as early as 2 years old. I trained as a dancer to begin with and then quickly became interested in acting on stage as well. My training up until September 2008 mostly consisted of dance, performance experience and school study of the performance arts. In September 2008 I went to university to study a Drama in the Community"degree for three years and completed this successfully as well as helping several others complete it with good grades too. During this course I completed stage combat training, street theatre courses, Shakespeare study with professional actors as well as directing and acting training in different theatre forms, Theatre of the Oppressed, Stanislavski, Brechtian Form, Theatre in Education, Professional Codes of Practice, Professional Development in Performance, Theatre in Social Context, Directing and Devising/Playwrights, Teacher in Role and lots more which suggests quite an intense study period, and I haven't even mentioned personal final year projects and the dreaded "dissertation". I really enjoyed the intensity of the course and how much I was opened up to as an actress in training.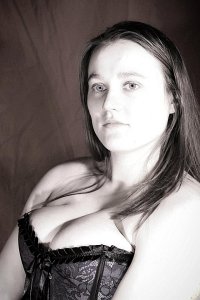 How would you describe yourself as an actress, and what do you draw upon to bring your characters to life?
I don't really know, I enjoy it and for me that's enough. To bring characters to life, I use life. Real life. Emotional memory always helps, and knowing what works to make things look realistic is a great head start. Knowing which emotion or memory to access is a brilliant assistance to the real life characters that are being portrayed in a lot of theatre and film work. When we need to go beyond what is real for us, knowing how to tune into the darker psyche of ourselves, without being actually crazy, is the only way to make this portrayal more accurate or genuine. I enjoy doing this, people never know what to expect and are never sure if I am are acting or not, watching people work this out is more entertaining than the acting itself and that is saying something…
You of course also have to talk about your book The Anecdotal Drama Teen and the play based on it for a bit!
A Prop Me Up Theatre Company are taking the play version of The Anecdotal Drama Teen - which is about a young girl who ends up in the last place on earth that she wants to be and how she learns to cope with the situation - and producing it as a stage play in 2013. The most exciting part of this for me is that I get to act again with many of the fantastic actors and actresses from the Awesome Talent Agency, and for a long period of time, as I'm sure you are aware the acting side of theatre is a longer process than film. The actors are becoming the characters for a longer period of time and this takes a much more intense rehearsal process to achieve a believable quality of performance. The support that A Prop Me Up Theatre Company has been given so far, financially or otherwise, is incredible and fast growing. The commitment of these outstanding talents in their busy schedules is honourable. Some of the main cast names involved, that you will know are, Jack Burrows, Lauren Taylor, Tom Vardy, Nikki Webster [Nikki Webster interview - click here], Jane Haslehurst [Jane Haslehurst interview - click here] and Sandy Slade [Sandy Slade interview - click here], as well as other support coming from Michelle Gent [Michelle Gent interview - click here] and Philip Gardiner [Philip Gardiner interview - click here]. The book is available for purchase on google, amazon and authorhouse. It is also available as an e-book/kindle edition from amazon UK - http://www.amazon.co.uk/exec/obidos/ASIN/B007AD8OIK/researmytra00-21.
Actresses (and indeed actors) who inspire you?

Feeling lucky ?
Want to
search
any of my partnershops yourself
for more, better results ?

The links below
will take you
just there!!!

Find Kay Vardy
at the amazons ...

amazon.com

amazon.co.uk

amazon.de
Looking for imports ?
Find Kay Vardy here ...
Something naughty ?
(Must be over 18 to go there !)

Actresses I admire (and inspire me) for all different reasons are Nikki Webster [Nikki Webster interview - click here], Eirian Cohen [Eirian Cohen interview - click here], Lauren Taylor, Jane Haslehurst [Jane Haslehurst interview - click here], Demi Peters, Melissa Hollett [Melissa Hollett interview - click here], Rachel Malone [Rachel Malone interview - click here] (I could go on). Oh, and Helena Bonham Carter, Maggie Smith, Emma Thompson, Julie Walters, Miranda Hart – yeah they're awesome too. Actors that I find brilliant are Russell Brand, Alan Rickman, Johnny Depp, Warwick Davis, Rowan Atkinson, Bill Nye, Morgan Freeman, Jack Burrows, Tom Vardy, Bob Lee and Sacha Baron Cohen. There's too many to name them all! I have obviously spent a lot of time observing and developing my "actor tool-box" by looking at what works and using this when necessary.
Your favourite movies?
Harry Potter! Shawshank Redemption. Unleashed. (Again I could go on.)
... and of course, films you really deplore?
Twilight and anything else with shocking (poor) acting, can't stand watching really bad acting, especially when other people think it's good and it just isn't…
Your website, Facebook, whatever else?
http://www.facebook.com/KayVardyActress
http://www.awesometalentagency.com/
Thanks for the interview!